Stay up to date with the latest releases and features from Productboard.
April 2021
April 22, 2021

March 2021
March 31, 2021
User Impact Scores and Tags on Roadmaps
It's easier than ever to convey relevant information to your stakeholders by adding user impact scores and tags to your roadmaps:

Here are a few suggested ways to use this feature:
Display user impact scores to explain how important or timely a feature is for your customers
Use tags to display which pricing plans receive a feature (i.e. Basic, Enterprise)
Use tags to display which platform a feature will launch on (i.e. iOS, Android)
Use tags to display what type of feature you're building (i.e. improvement, bug fix)
Add user impact scores and/or tags to any roadmap via the Settings menu in the top right corner - don't forget to save your changes before you share your roadmap!
March 4, 2021
Features in time under objectives or releases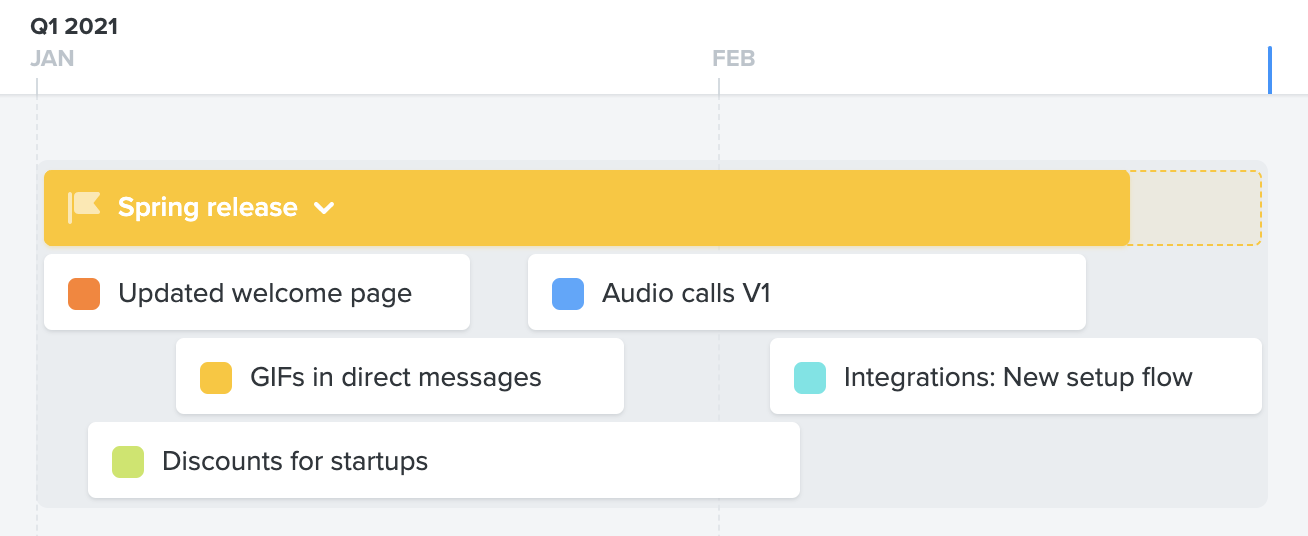 We've made it easier than ever for product teams to communicate their plans!
Release timeline roadmaps (All plans) and Objective timeline rodmaps (Scale and Enterprise plans) will now display features in time! See at a glance exactly when your teams are working on specific features, and manage those feature timeframes right from your roadmap.
If any of your features are scheduled outside the timeframe of its objective or release, the roadmap will display an overlap. Double click the overlap to automatically adjust the timeframe of your objective or release.
If any of your associated features don't have a timeframe of their own, you can assign the objective or releases's timeframe in a single click.
Need to unassign a timeframe from a feature on your roadmap? Click

•

•

• on a feature, then click Clear timeframe.
Features with assigned timeframes can nestle next to one another on the same line of your roadmap. So compact!
Custom fields swimlanes:
February 2021
February 22, 2021 - Salesforce integration
Our Salesforce integration has graduated! 🎓 After a few months of careful testing, validation and refinement, the integration moved from Early Access to General Availability. Scale and Enterprise users can import company data from their CRM straight into Productboard, then use that data to build dynamic segments.
February 19, 2021 - Slack integration update
Slack integration updated to conform with Slack API updates. Users can now push messages from private channels or private group chats, and control the channels to which Productboard has access.
February 2, 2021 - Editor version history
February 2, 2021 - Jira integration enhancements
One of our most essential integrations just received a big upgrade. Check it out:
New features and functions ✨
You can now unlink and relink features and subfeatures from Jira issues.
Something going funky during configuration? Our new troubleshooting page will help you identify and resolve configuration errors ASAP. We've also expanded our Troubleshooting Jira Help Center article.
Using underline, quote, or Jira color markdown elements in your Productboard feature description will be supported in your Jira issue description field.
You can now re-authorize a Jira integration with a new Jira administrator.
Don't want to use 2-way sync? Even with the checkbox unchecked in your integration settings, we will still sync your Jira status to Productboard.
Using Jira next-gen projects? Productboard releases now sync with Jira next-gen fix versions.
Happy little improvements 🛠
Productboard will prevent you from creating multiple releases with the same name (which would cause an error during Jira synchronization).
Previously, a user pushing a feature or subfeature into Jira would encounter an error if they were not the owner of that feature or subfeature in Productboard. Now, users can push that feature or subfeature into Jira, and the owner of the Productboard feature will be listed as the Reporter in the Jira issue.