Stay up to date with the latest releases and features from Productboard.
September 2022
September 19, 2022
Locking views on the Feature and Roadmap board to prevent editing
Locking of Features and Roadmap views allows you to control who can save changes to the view by assigning an owner to the view. By locking or unlocking the view, you can now control which makers can save changes to shared views. This feature aims to prevent accidental changes to views by other makers who have access to the view.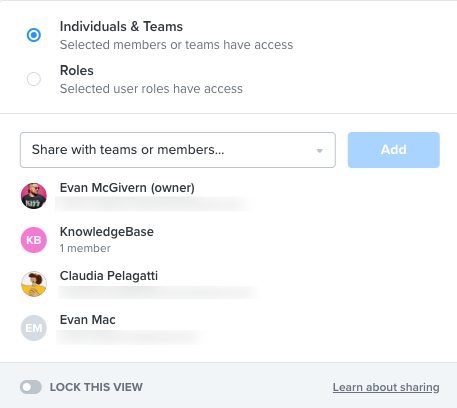 August 2022
August 25, 2022
Import features from a spreadsheet

We've just launched a new way to import features, you can now use our downloadable template to reduce import errors. We also added more data-rich import support
including the ability to now import:
Feature Status
Feature Owner (as long as they have a valid Maker account)
Feature Timeframe (start and end)
Feature Effort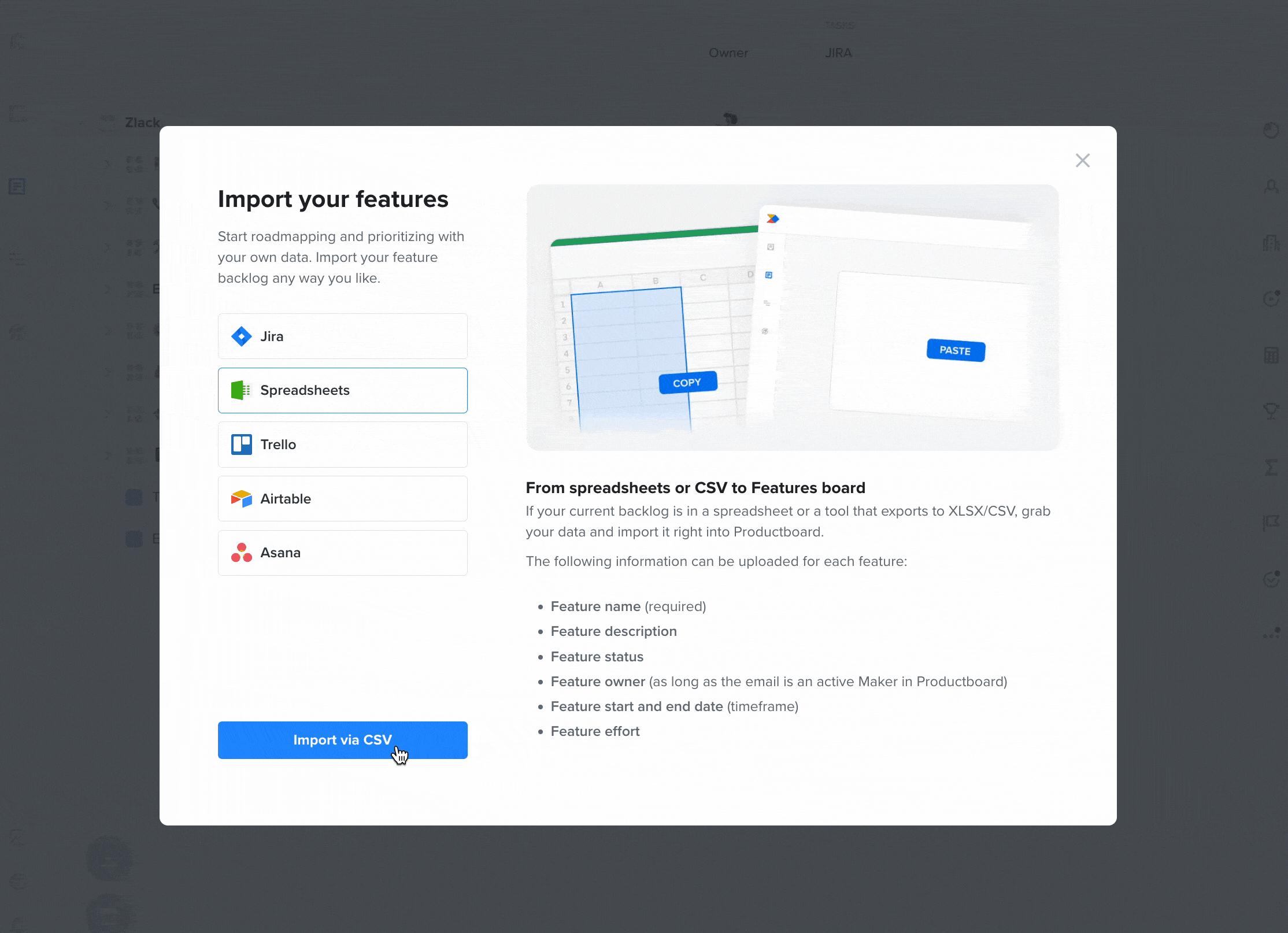 August 24, 2022
Productboard and SatisMeter integration
SatisMeter helps you to understand how your customers see your product by automatically collecting customer feedback using Net Promoter Score (NPS), Customer Satisfaction (CSAT or CES), or Product-market fit (PMF) surveys on an ongoing basis. When you integrate SatisMeter with Productboard the survey results are sent to Productboard as notes in your workspace and the product team can further process these into insights and add them to feature ideas.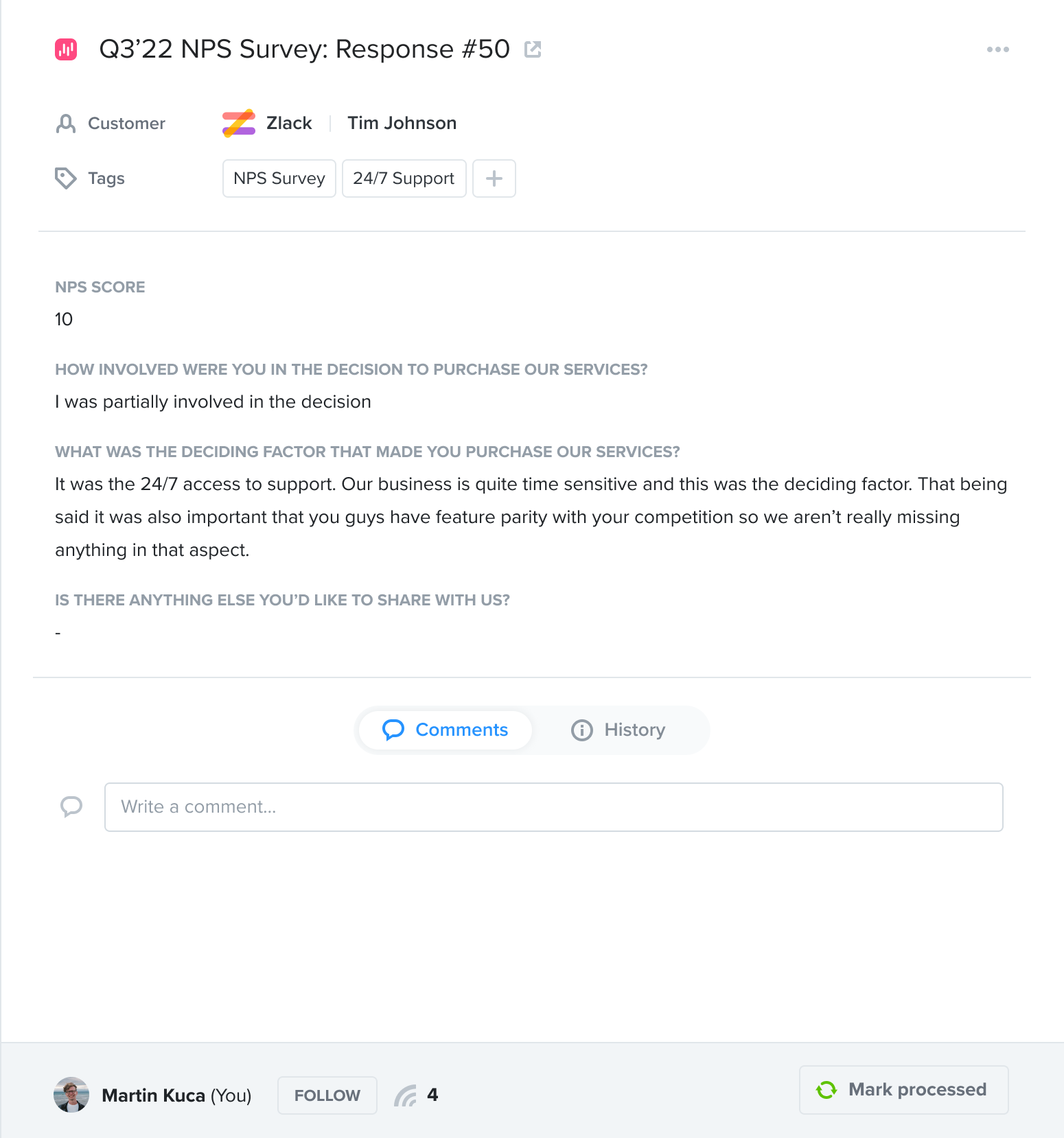 August 12, 2022
How to share a link to a feature, sub-feature, product, or component

You can easily share a link to any part of your product hierarchy, whether it's a feature, sub-feature, or component. This allows you to share a decluttered of any part of your product hierarchy without needing to share the board.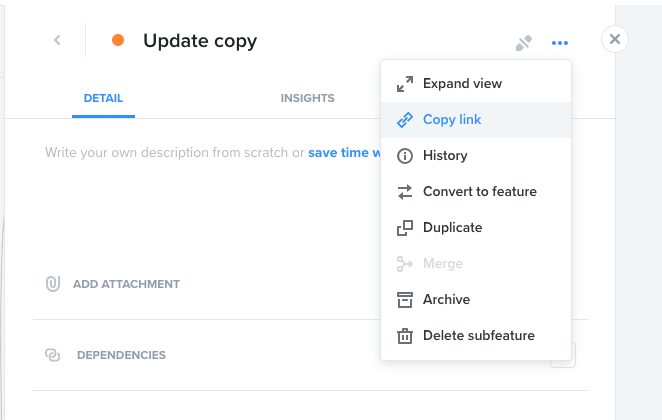 August 2, 2022
External ID support for note-creating users
Productboard is designed to help you understand your customers and build for their needs. To help you achieve this, we are introducing new ways of connecting Productboard to sources of customer data.
We have now launched a beta of user external ID support for Intercom, Zendesk, and our public API. This means that users (individuals associated with notes) will be identifiable without an email address.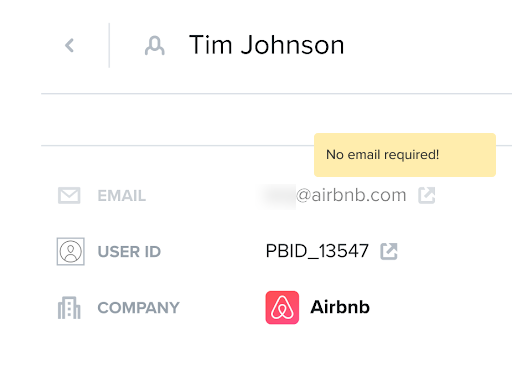 July 2022
July 28, 2022
How to factor Salesforce Accounts' attributes into your prioritization process
The aggregated company field is now available in Productboard. This allows you to prioritize your feature requests based on revenue or other attributes that are tied to companies that provide feedback on a specific feature.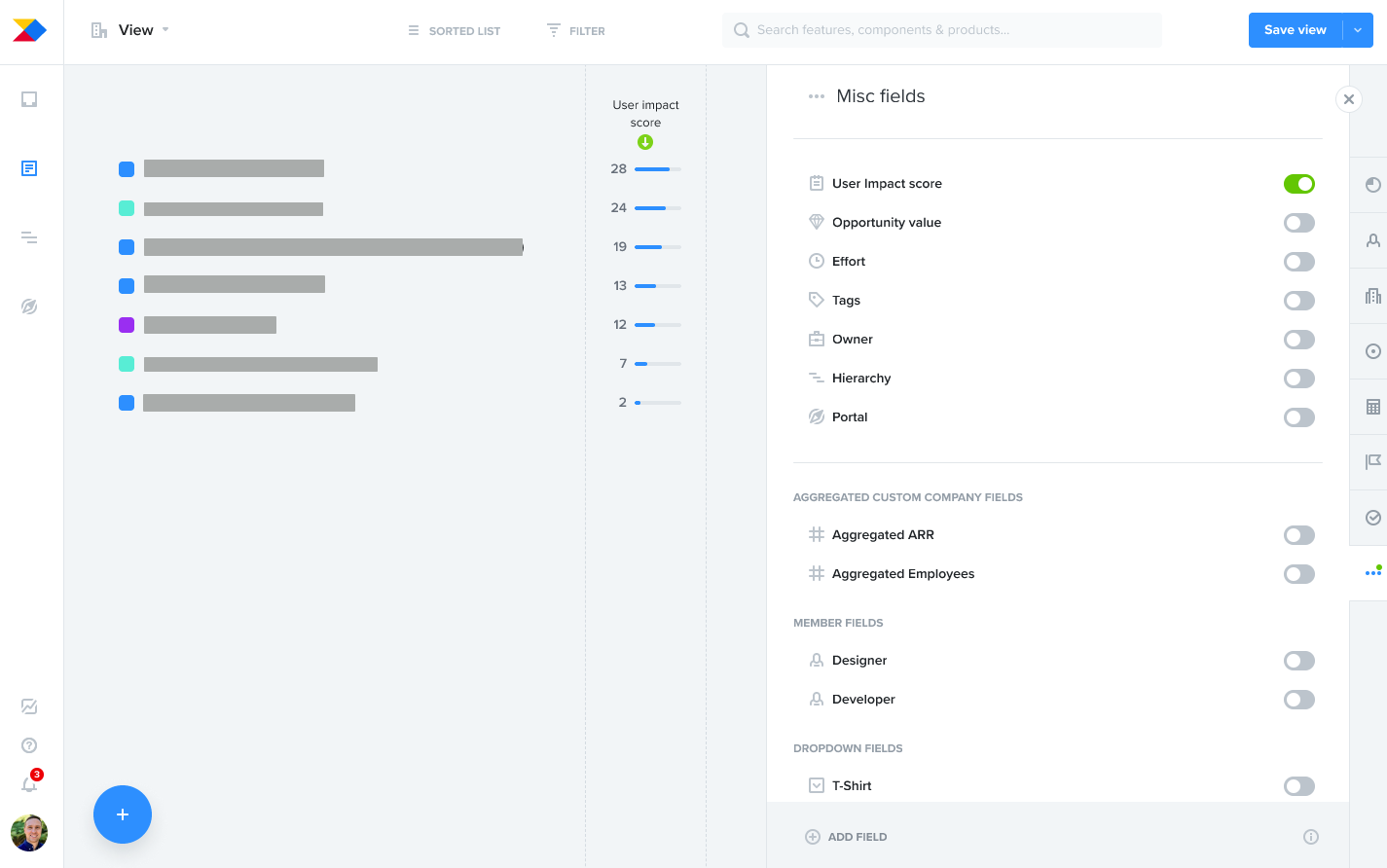 July 20, 2022
Automatically update a Productboard Feature status based on an Azure DevOps status
As a Product Manager, keeping track of the delivery statuses across every product area has not always been simple and can lead to misalignment between tools. Now with the automatic synchronization between Azure DevOps statuses and Productboard Feature status, there is clarity about the status of each product team and their associated feature.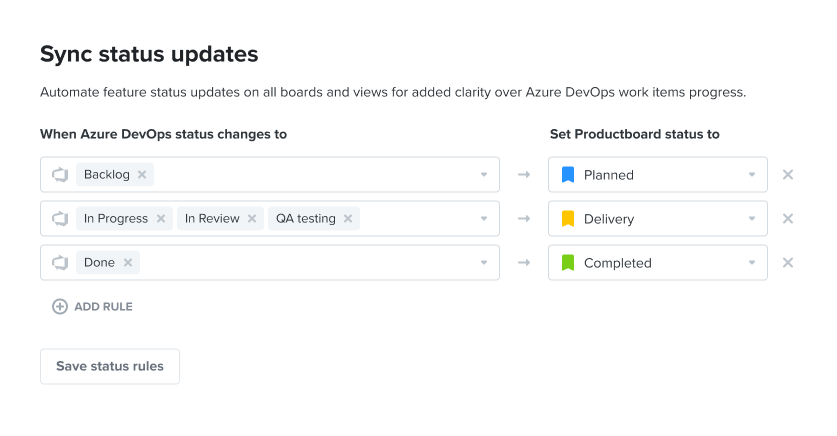 June 2022
June 16, 2022
User Impact Score in Formulas
With the release of the User Impact Score in Formulas, you can now include the User Impact Score in a custom Formula.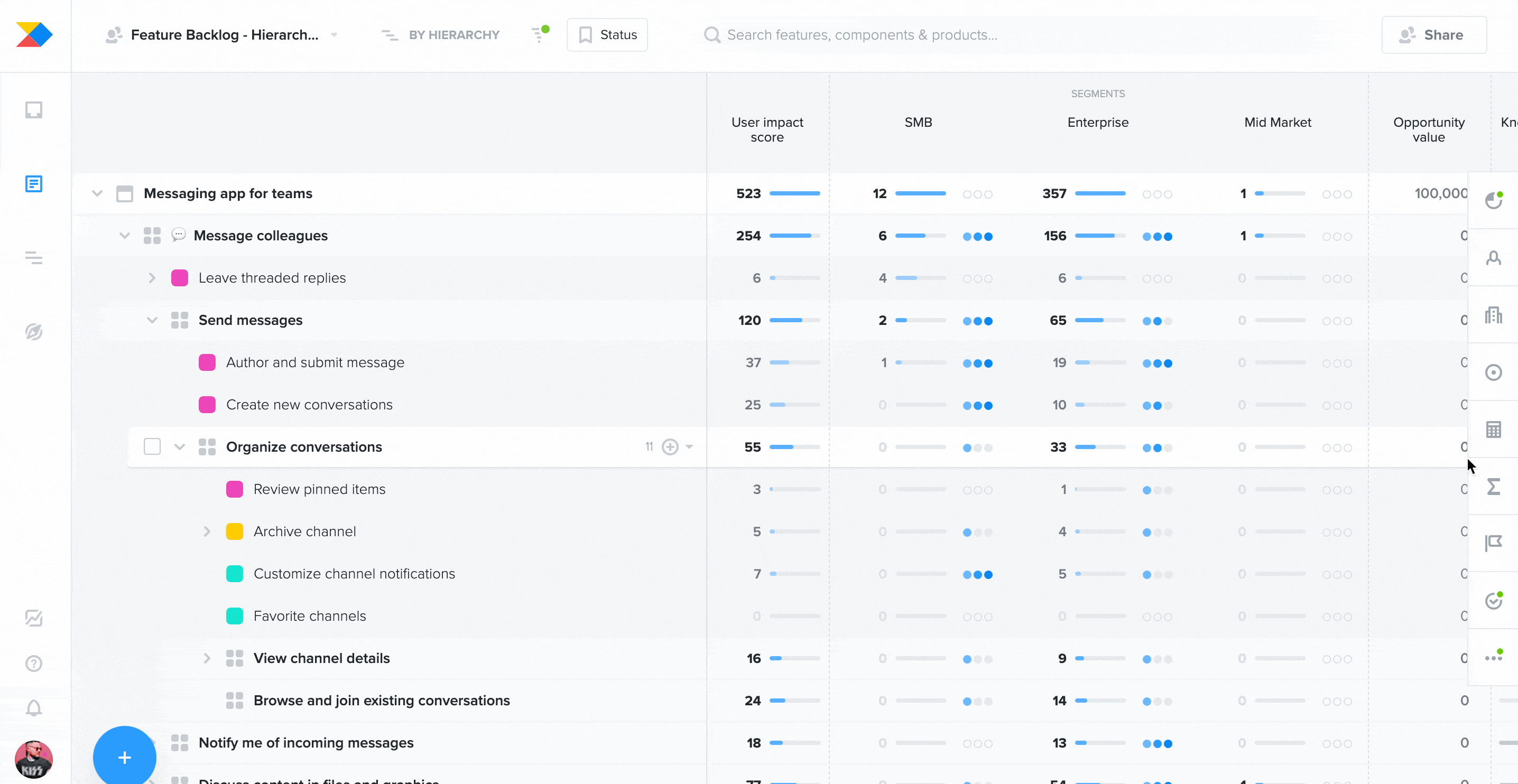 Subfeature improvements
We have updated the subfeature functionality!
Before, subfeatures didn't have all the prioritization and planning capabilities that features had – and why should features have all the fun? To extend and improve our subfeature functionality, we have released the following improvements:
Prioritization improvements for subfeatures

We've released prioritization capabilities for subfeatures. You can now add drivers and scores to subfeatures, add formulas for subfeatures and use the drivers and scores filters on the Features board to filter subfeatures.

Learn more here:
Dependency improvements for subfeatures

Previously, it was only possible to capture dependencies between features. Now, you can indicate dependency in subfeatures. It can either be a dependency between subfeatures or a dependency between features and subfeatures and can visualize the dependency on a roadmap and on a Features board.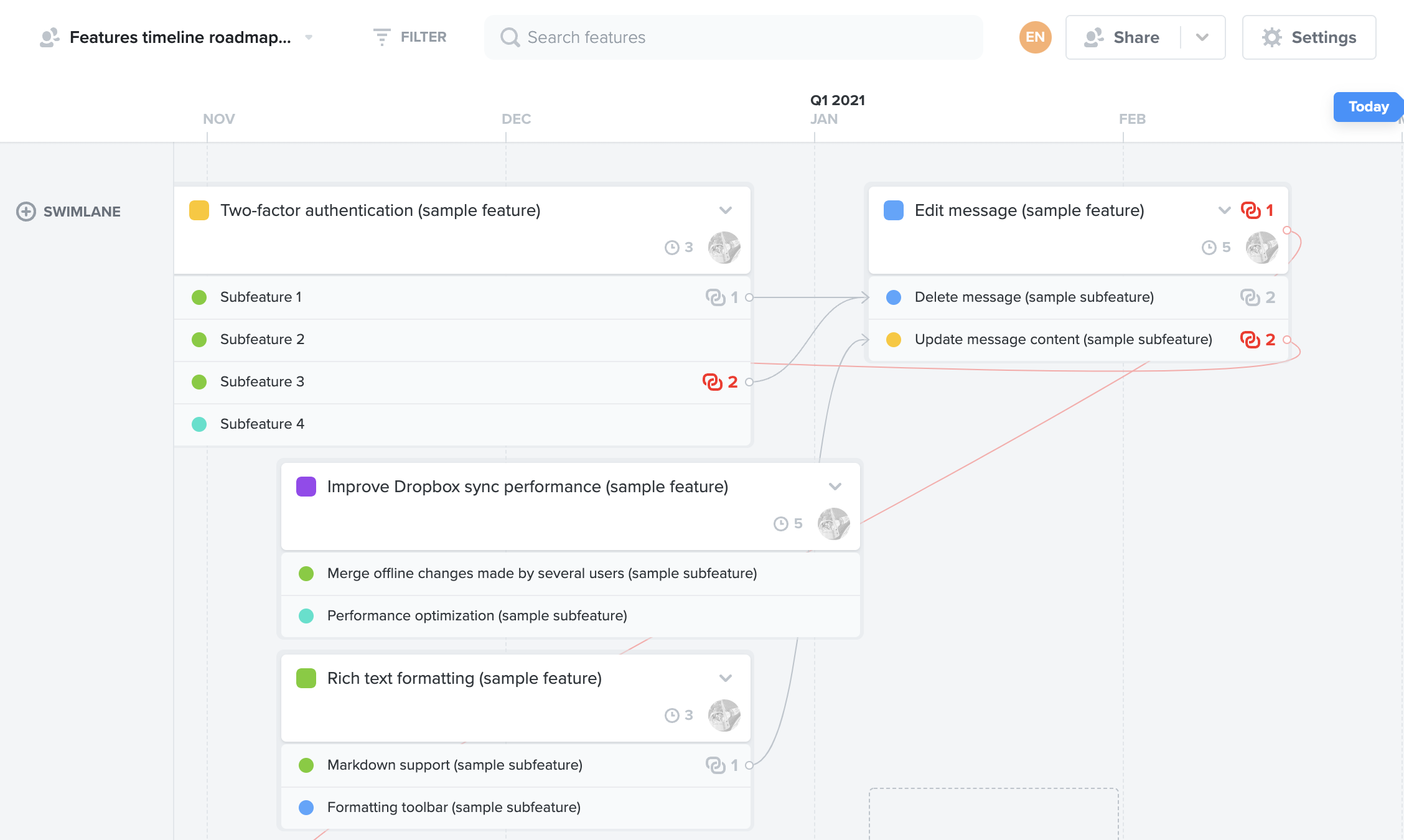 Planning improvements for subfeatures
We've released planning capabilities for subfeatures. You can now add a timeframe to subfeatures, and visualize subfeatures in time on the Features in time roadmap - All new features in a time-based roadmap will have subfeature visualization in time turned on by default. You can also visualize the Subfeature timeframe on a Features board and also filter subfeatures by timeline.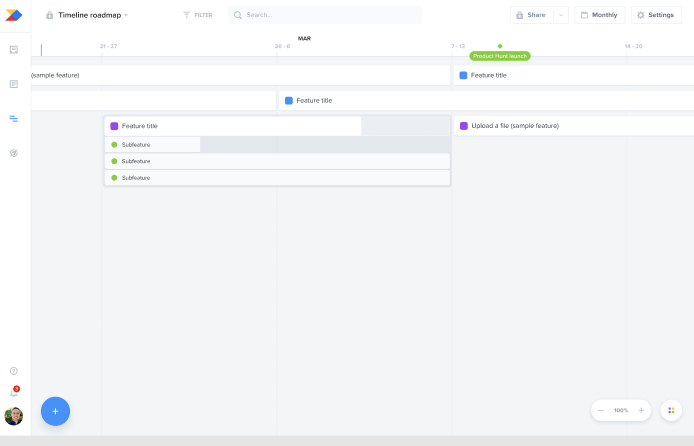 June 9, 2022
Allow access to your Productboard workspace for remote support
To help you during your onboarding or when troubleshooting issues, you can now allow Productboard to access your workspace for a specific amount of time.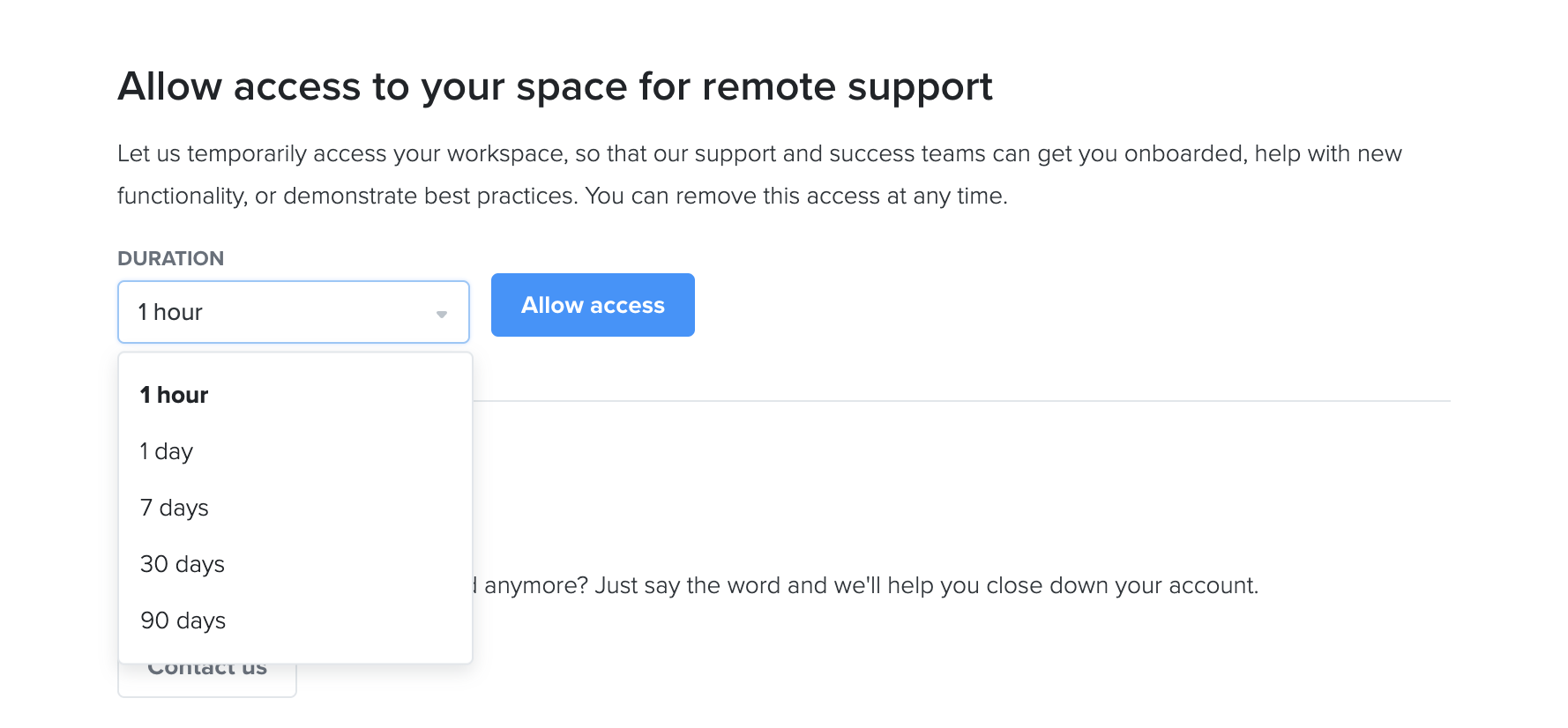 May 2022
May 25, 2022
Automatically update a Productboard feature status based on a Jira issue status
The Jira status automation sync is available in Productboard! This will allow you to easily track from Productboard what is happening across your delivery teams and make it easier for you to keep your stakeholders aligned.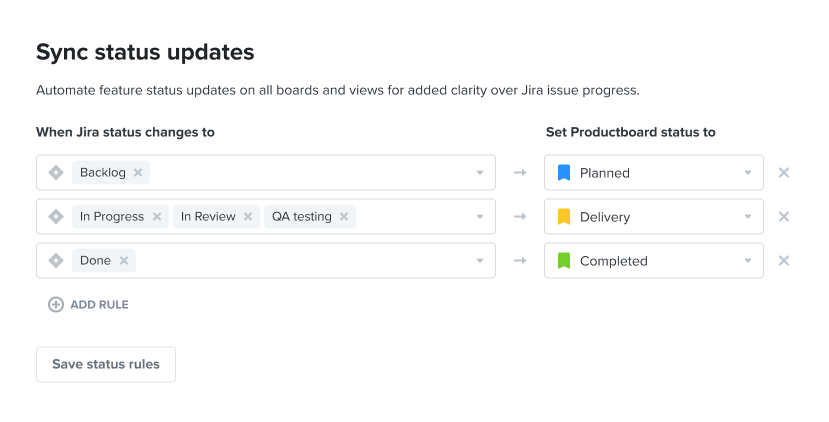 April 2022
April 28, 2022
Create templates to save time and align your team
By creating templates, your team will save time when creating new features, products, components, objectives, releases, or insight notes, while ensuring that the most valuable information is included.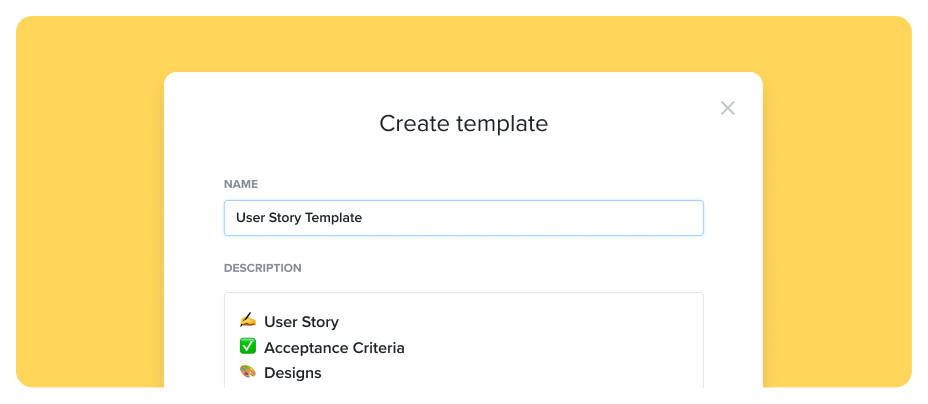 April 21, 2022
Loom Integration for Roadmaps
The Loom integration for Roadmaps is now available to all customers. You can now click the video icon on any roadmap to start recording a walkthrough.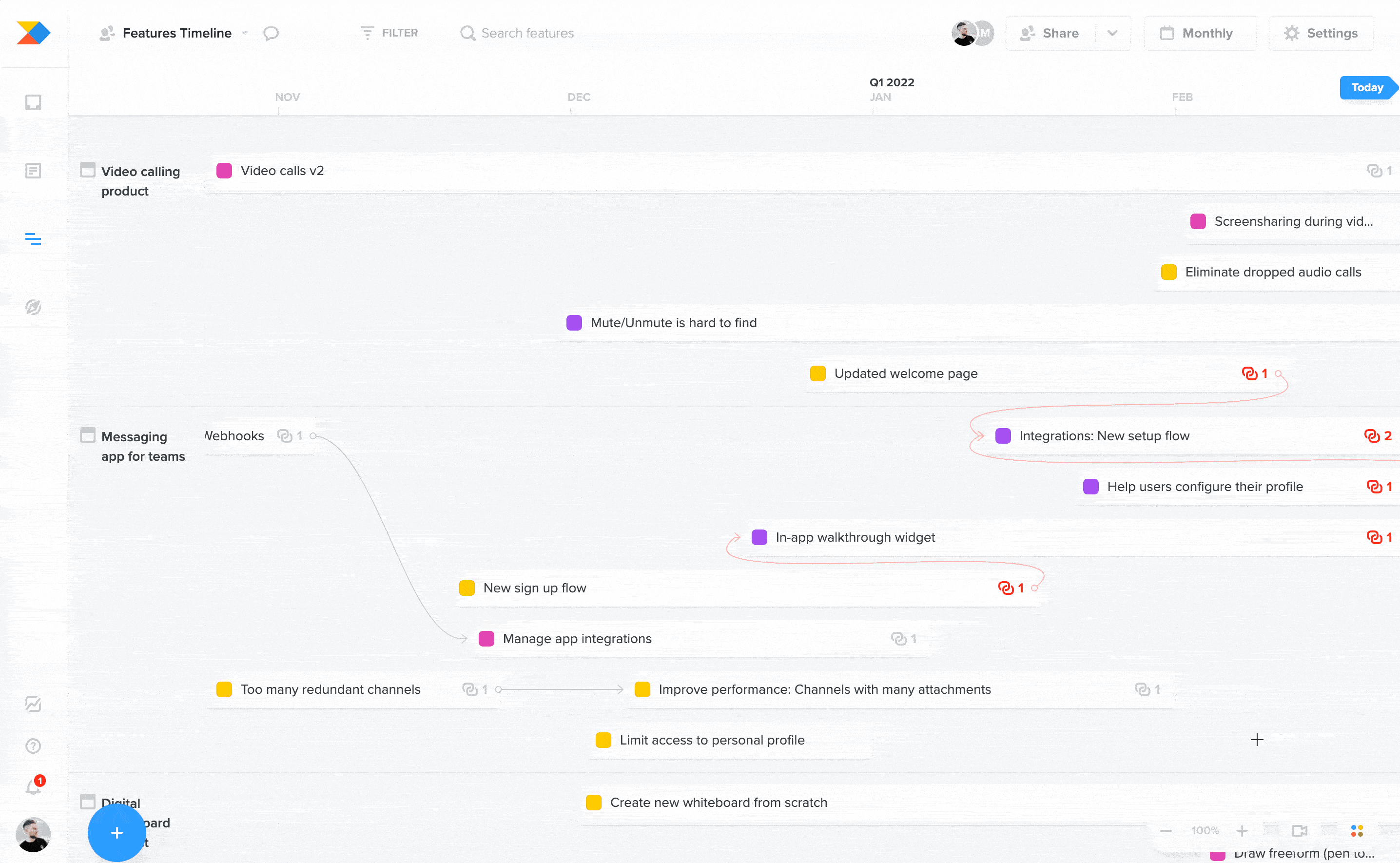 April 7, 2022
Suggested notes for features
With machine learning, productboard can automatically find additional feedback related to a feature or component and surface it as suggested notes in your features tab.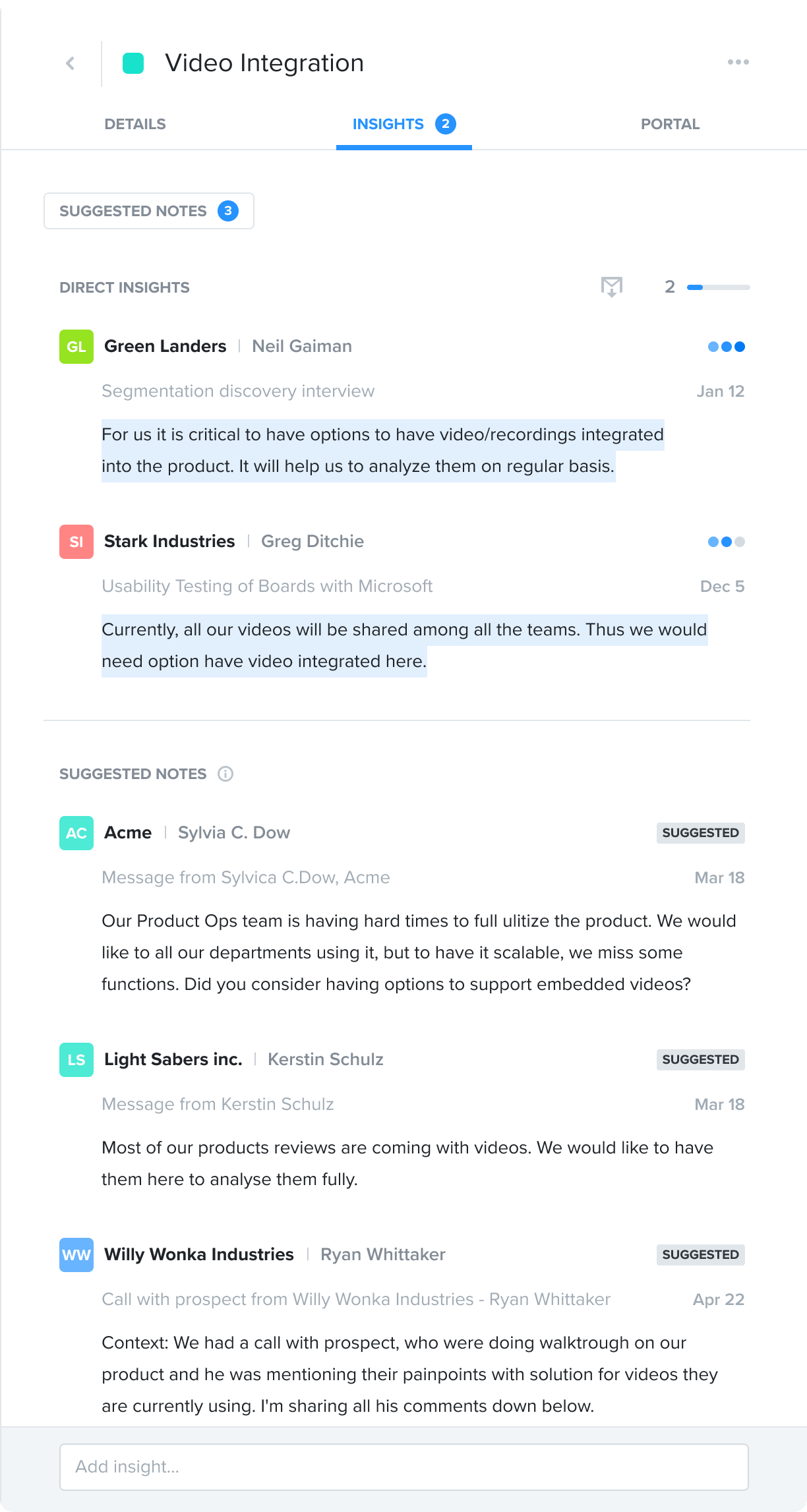 Learn more
Manual progress tracking
In the sidebar of features, objectives, and releases, you can now toggle on manual progress tracking. You can then drag the progress manually to a value that you wish to have.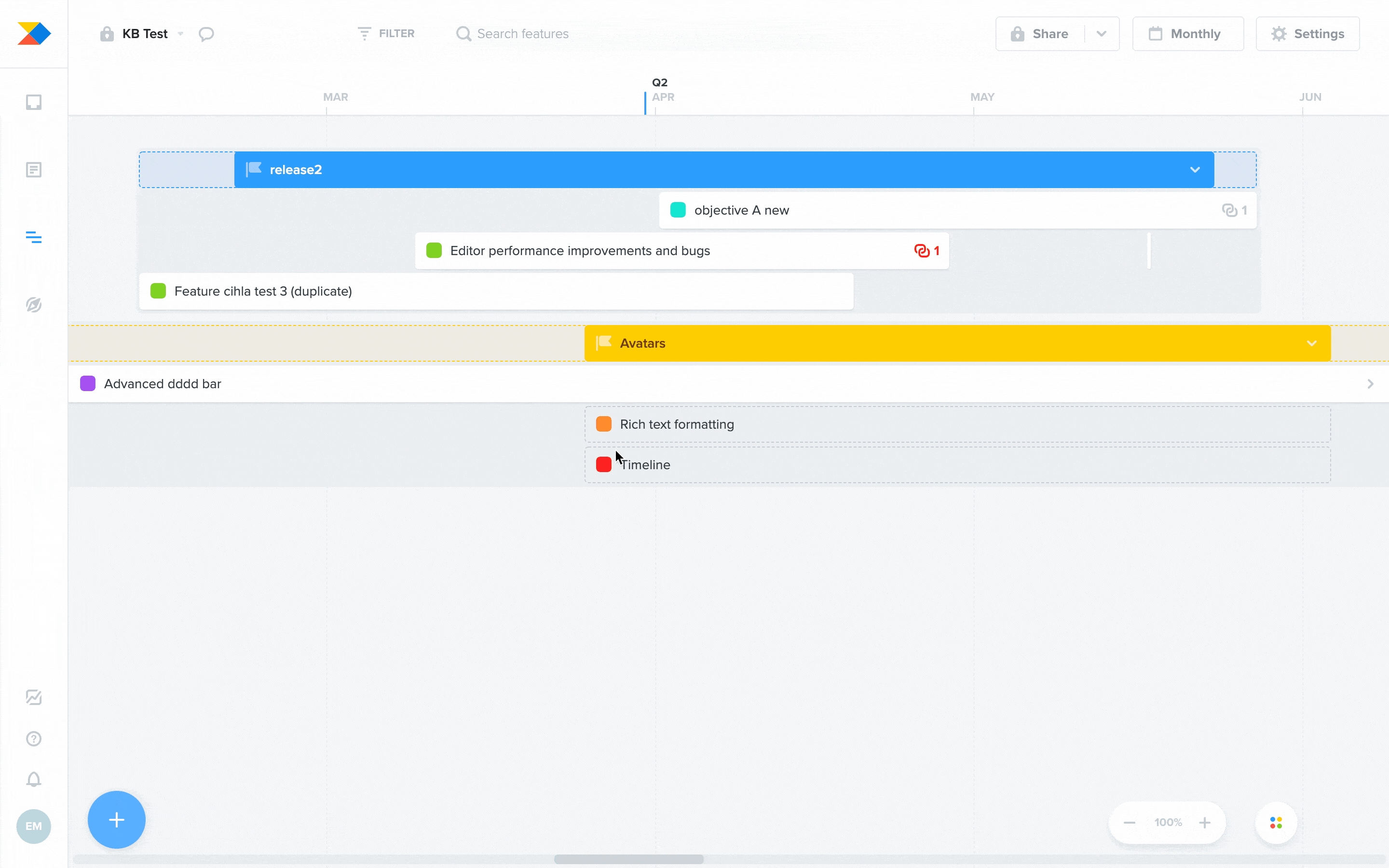 March 2022
March 31, 2022
Calculated objective and release progress tracking

You can now visualize objectives and release progress on roadmaps to keep the rest of the team and your stakeholders in the loop on how they are progressing. The progress is calculated from the status of the underlying features.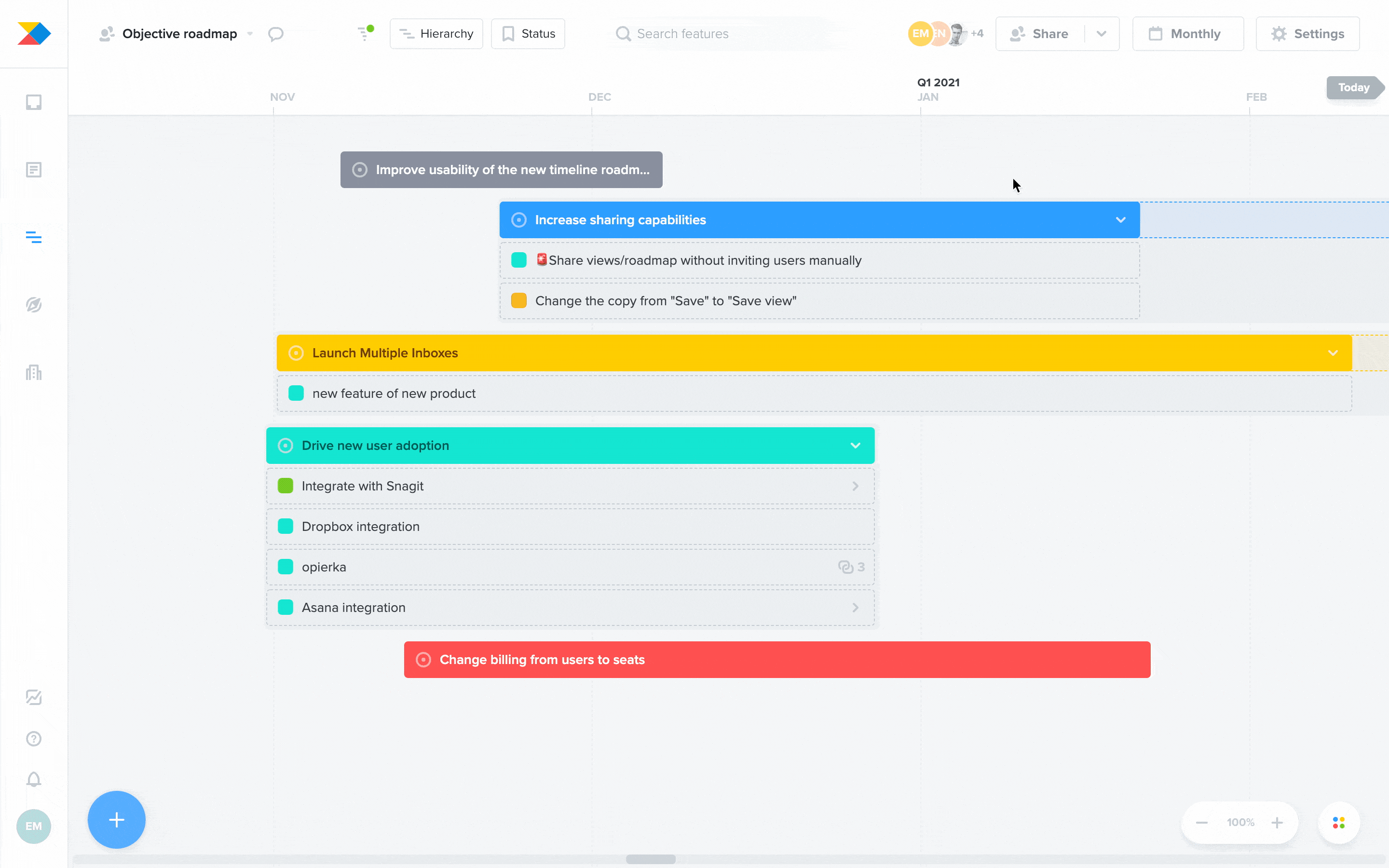 March 21, 2022
Create your own prioritization formulas
We've just released Formulas, Productboard will now support all the best-known formula-based prioritization frameworks such as WSJF, RICE, ROI as well as home-build formulas.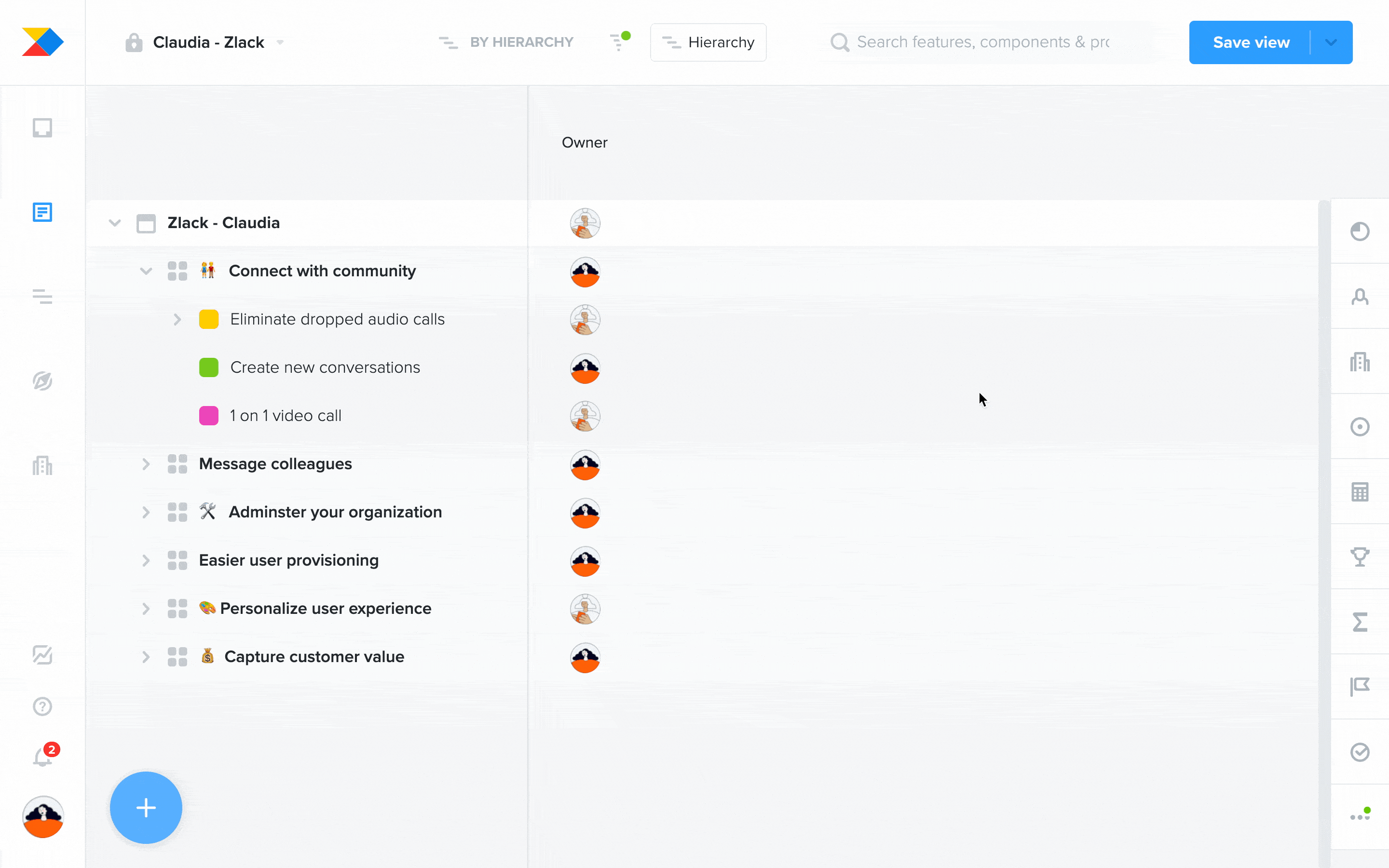 March 17, 2022
Track feature progress on roadmaps
Visualize progress on roadmaps to keep the rest of the team and your stakeholders in the loop on how your features are progressing. The progress is automatically calculated as your features status changes.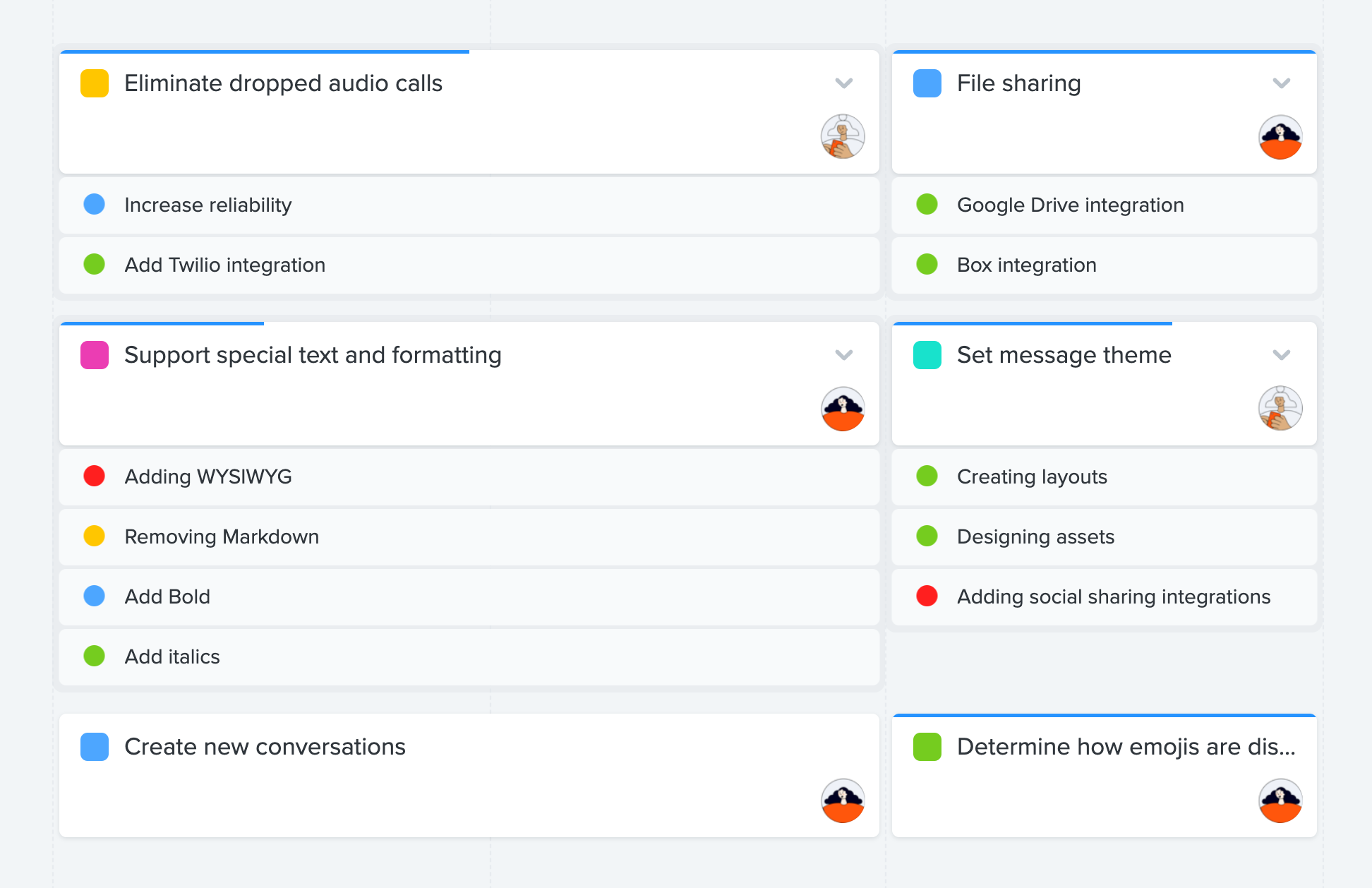 March 09, 2022
LABS 🧪: Localize your customer-facing Portal


You can now select your desired language in a Portal's settings to have all system-generated strings including Portal copy, buttons, and emails automatically translated in your language of choice.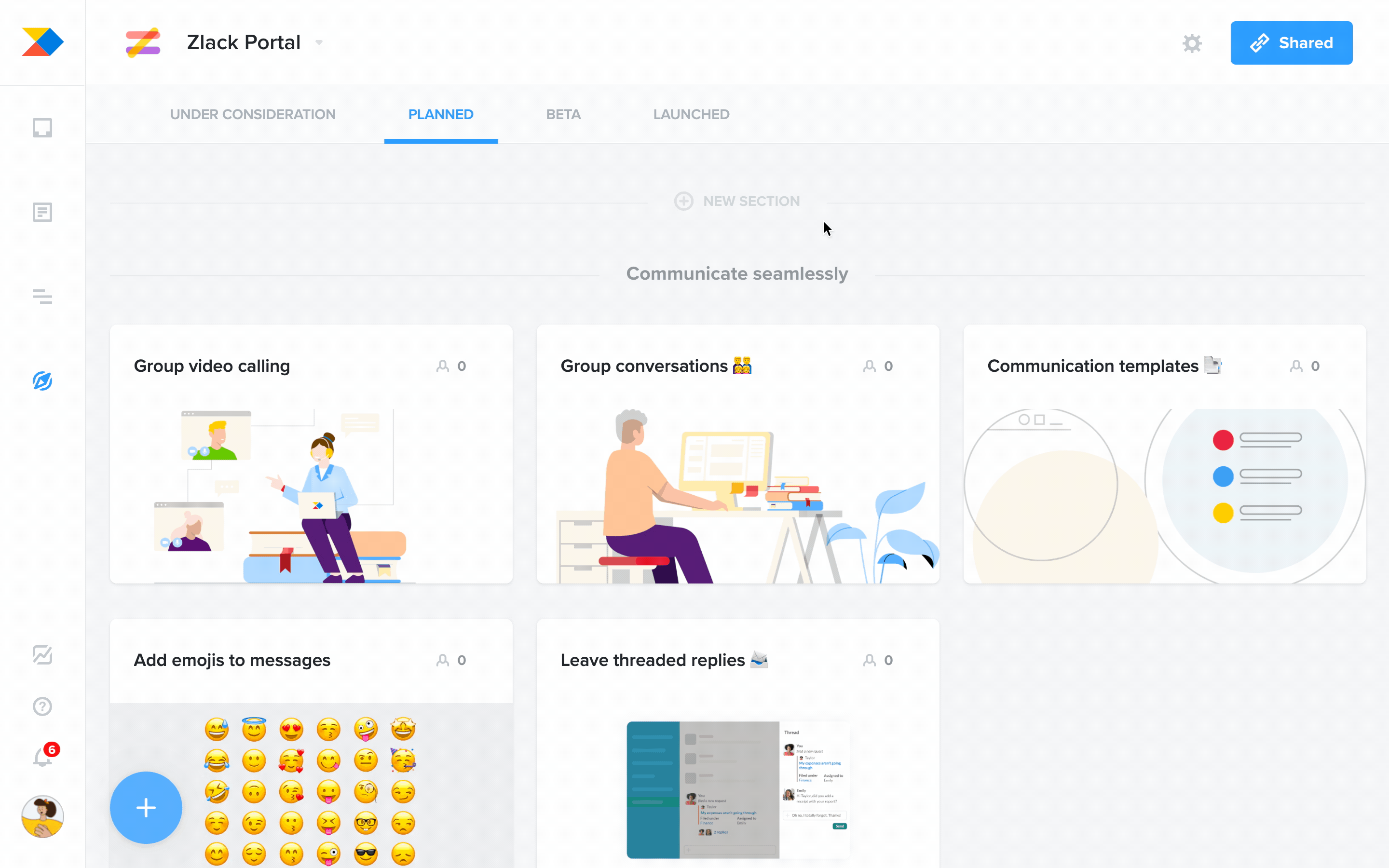 March 03, 2022
Find out who has visited your roadmap

You can now view who has visited your roadmaps in the roadmap header, so you can make sure that your team and key stakeholders have seen your plan.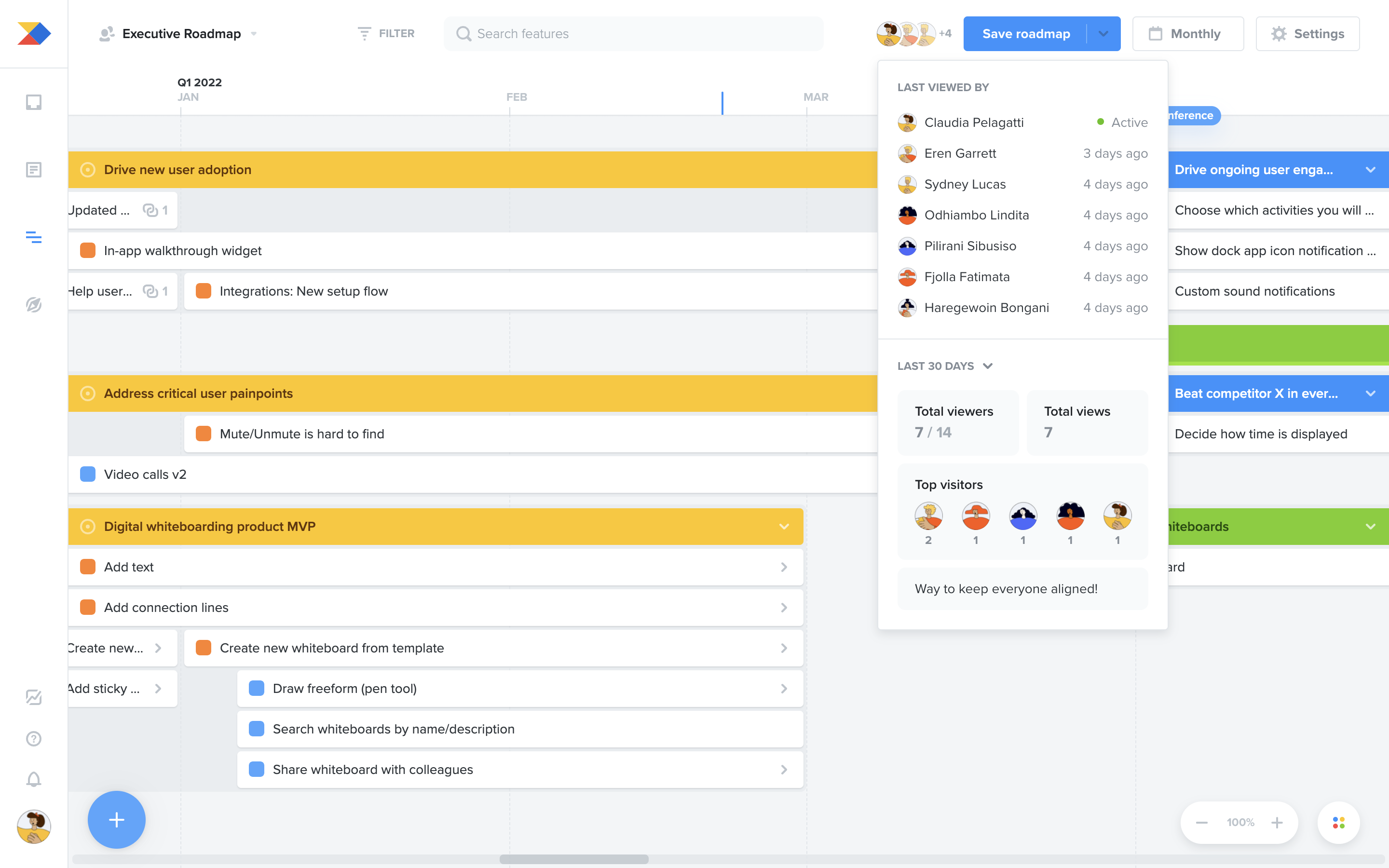 March 02, 2022
RICE score formula
We've just added a new tab (Formulas
)in the Features board sidebar, where you can enable the RICE score. You can use the RICE score formula to get started with prioritizing your features quickly. Using this popular prioritization framework, you can decide what to build next by scoring your ideas against the RICE score formula: reach, impact, confidence, and effort.
March 01, 2022
Insights automation
We've just released Insights automation easy-to-use automation engine, allowing admin Makers to set up simple rules to tag notes or assign them to the relevant owner based on the content and attributes of the given note. No more manual triaging - just set up your rules and let Insights Automation do the routing for you!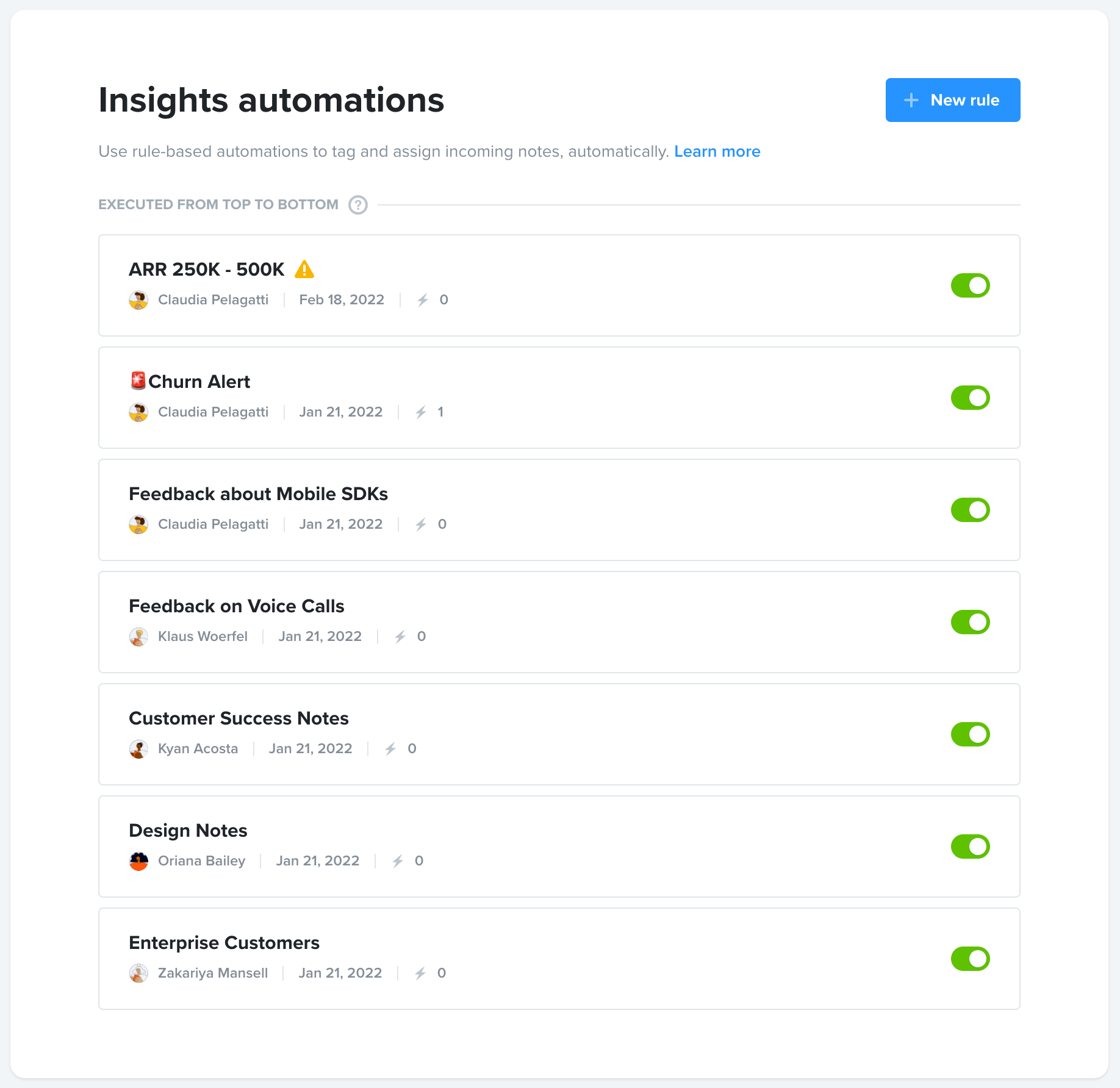 Productboard <> JIRA integration improvements
You can now authorize the JIRA integration in Productboard even if you're not an admin in JIRA, this way you can import your JIRA backlog to Productboard without needing to chase up your JIRA administrator.
LABS 🧪: Share your roadmaps with external stakeholders and customers
We've just released customer-facing roadmaps to LABS 🧪! If you enable the feature, you can share your column-based roadmaps with customers and external stakeholders.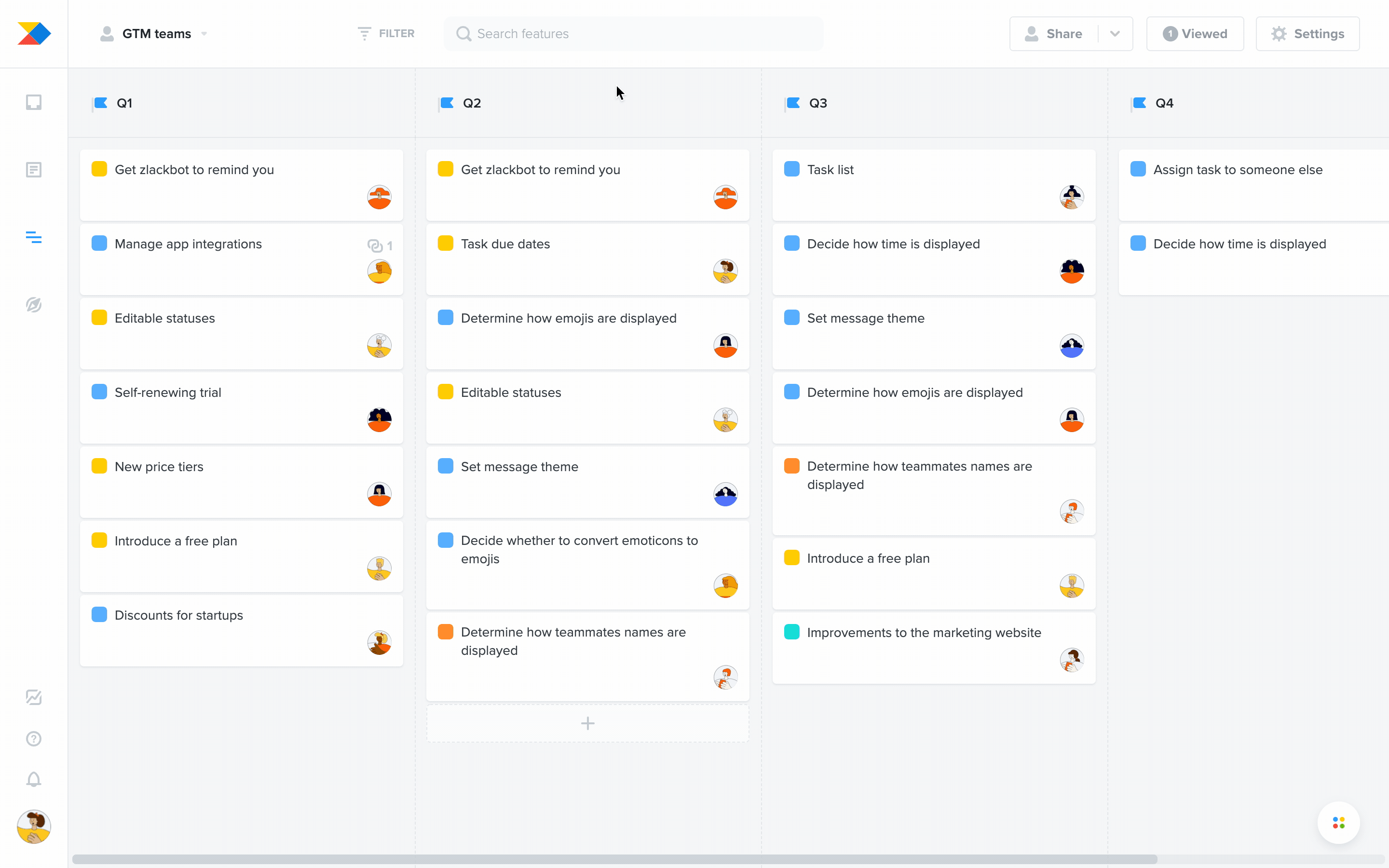 February 2022
February 25, 2022
LABS 🧪: Add emoji to feature comments
You can now use the following emojis ( ✅, 😍, 🎉, 🙏, 👀, 👍) to react to comments to give quick feedback to your colleagues.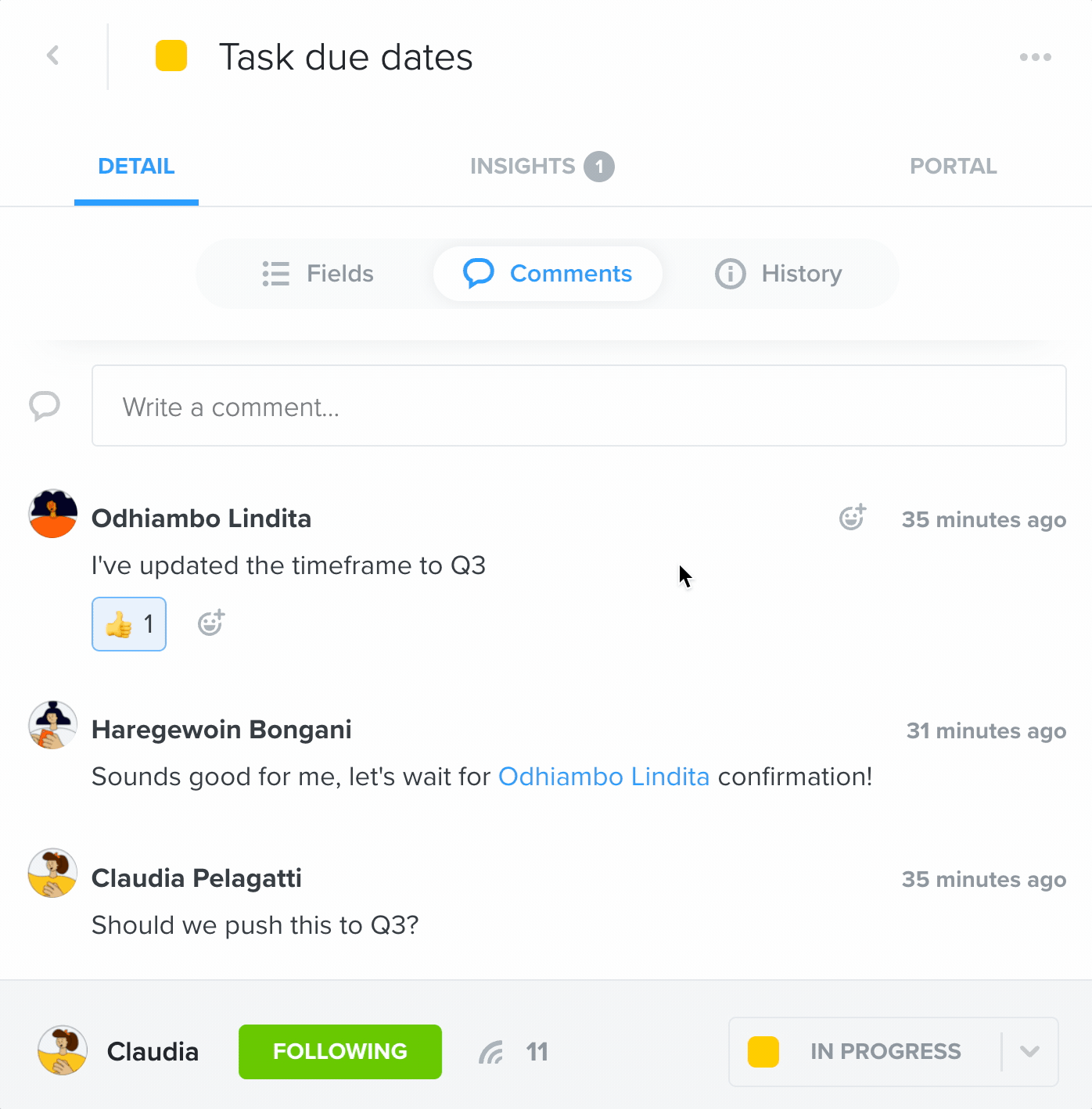 February 24, 2022
Insights digest weekly email
You can now receive the Insights trends weekly email digest! The digest gives makers and contributors an overview of trends in their workspace to help them understand where they need to focus their efforts or if anything needs their attention.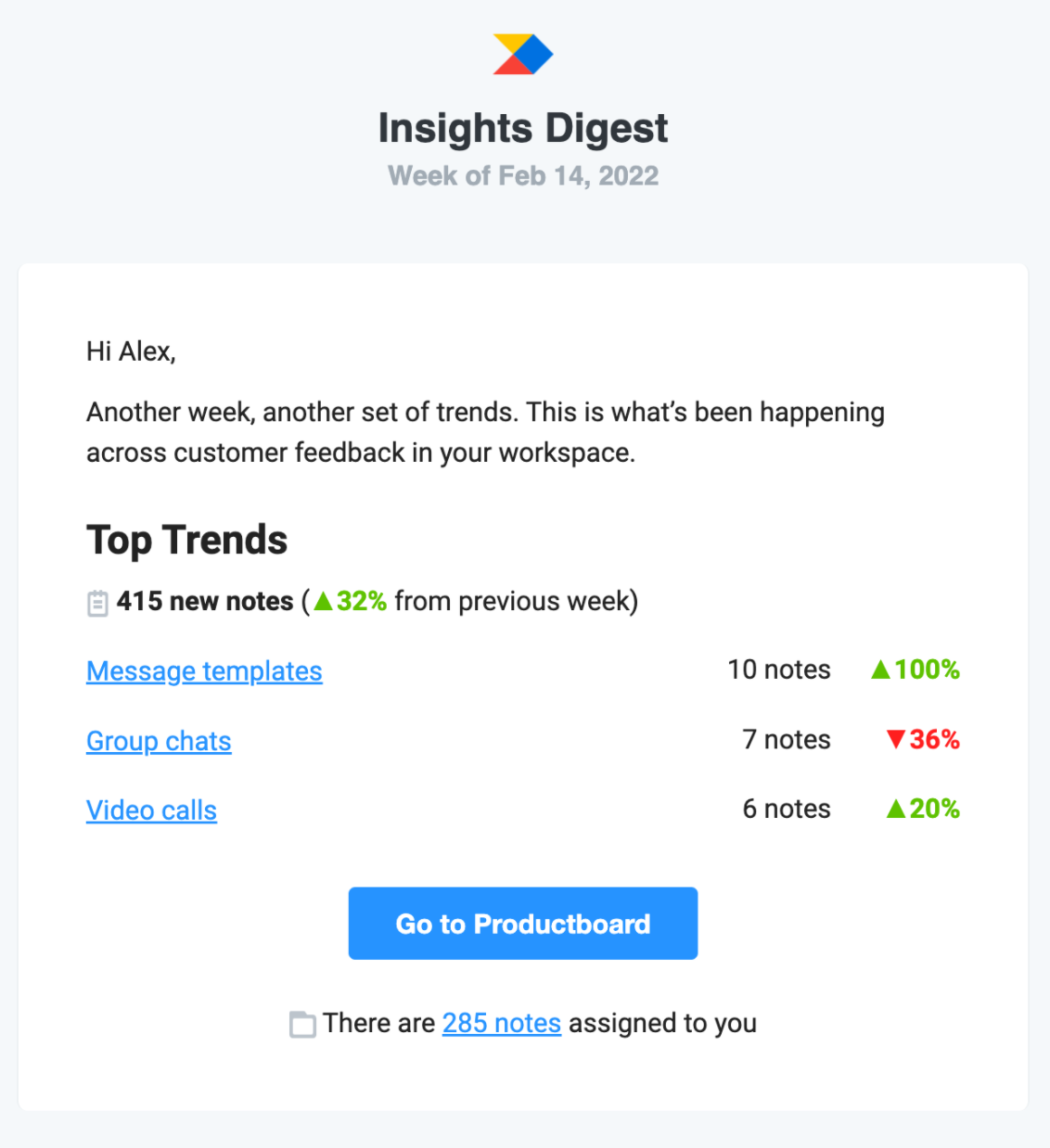 February 17, 2022
Amplitude and Mixpanel integrations

You can now integrate Productboard with Amplitude and Mixpanel!

With both integrations, you'll be able to:
Mixpanel: Learn more | Amplitude: Learn more


Improvements to time-based roadmap interactions
We have improved the dragging of cards on the timeline roadmaps, to minimize unintentional empty spaces on the roadmap.
When changing swimlanes, time horizon, time granularity, or filtering all cards will be condensed with no gaps by default.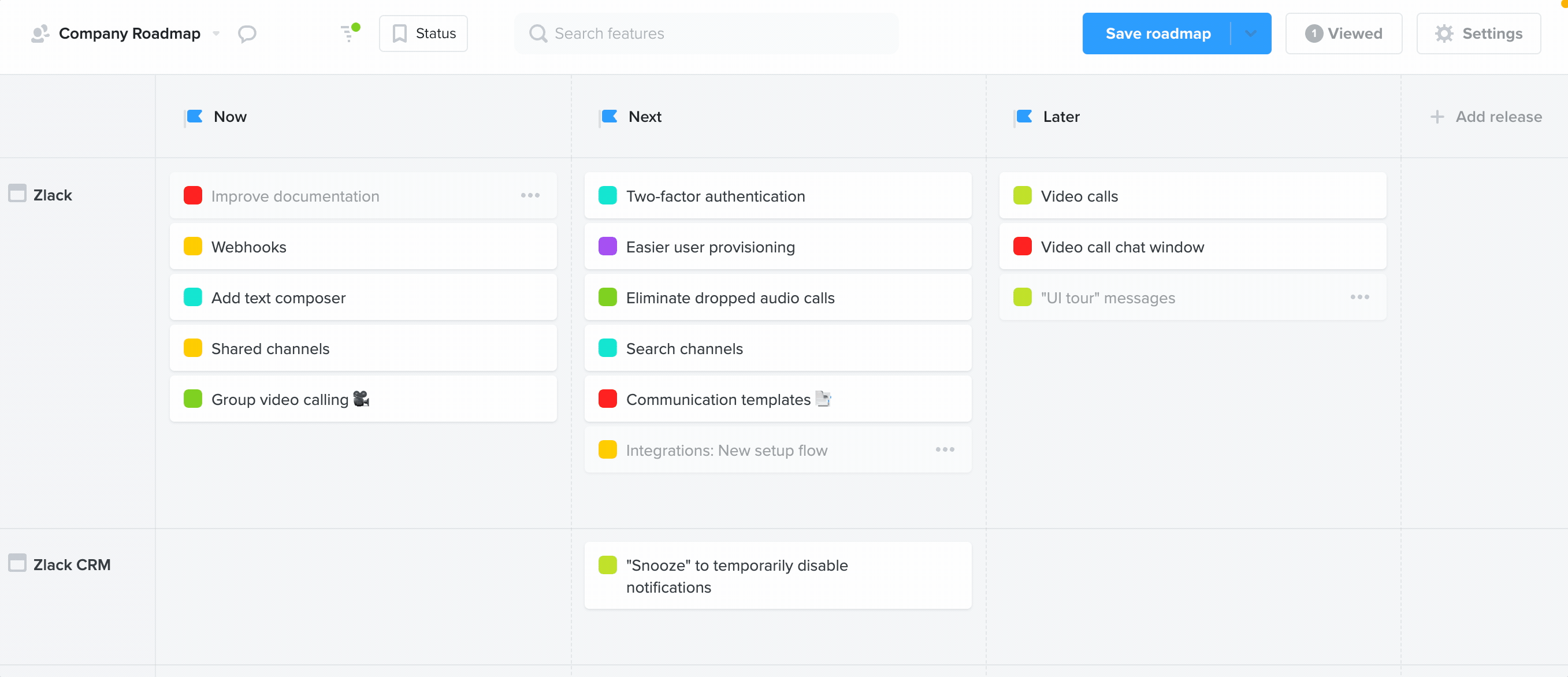 February 15, 2022
Feature Collaboration enhancements

Notifications: You can switch between Direct notifications for the features you own, and Following notifications for the items you follow. Additionally, when you click on a notification it'll take you directly

to the comment section and

scroll down to the comment, so you don't need to scroll and look for it.

Learn more

Feature view: To help you navigate inside the feature's view, we added segmentation for fields, comments, and history.



February 04, 2022
Salesforce integration error handling
We improved error handling for our Salesforce integration.

Now, you'll see the exact reason why the integration attempt failed during the Salesforce account or opportunity sync, so you can easily fix the issue.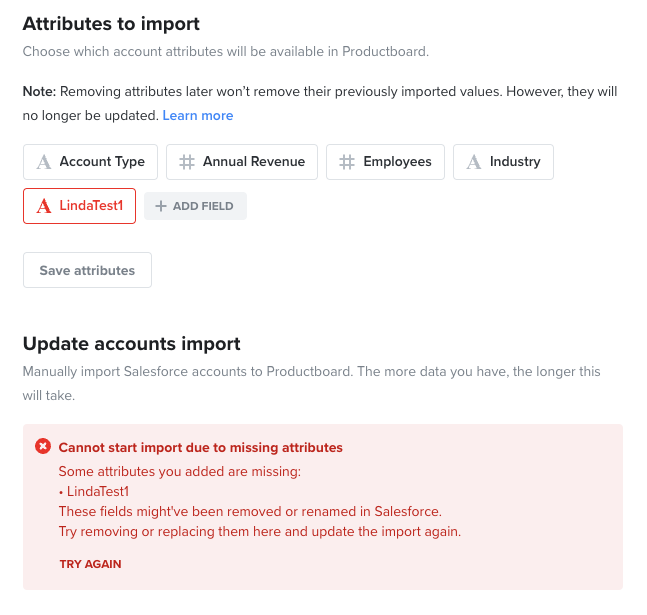 January 2022
January 31, 2022
Jira workspaces

We have just released Jira workspaces! It's now easier than ever to keep your Productboard <> Jira integration working seamlessly!
Each Jira workspace has its settings that you can access to reauthorize or manage your Jira integrations.

January 19, 2022

Department and job titles
You can now add your department and job title to your profile! Click on the avatar on the bottom left, and then your name to access your profile and add your job and department: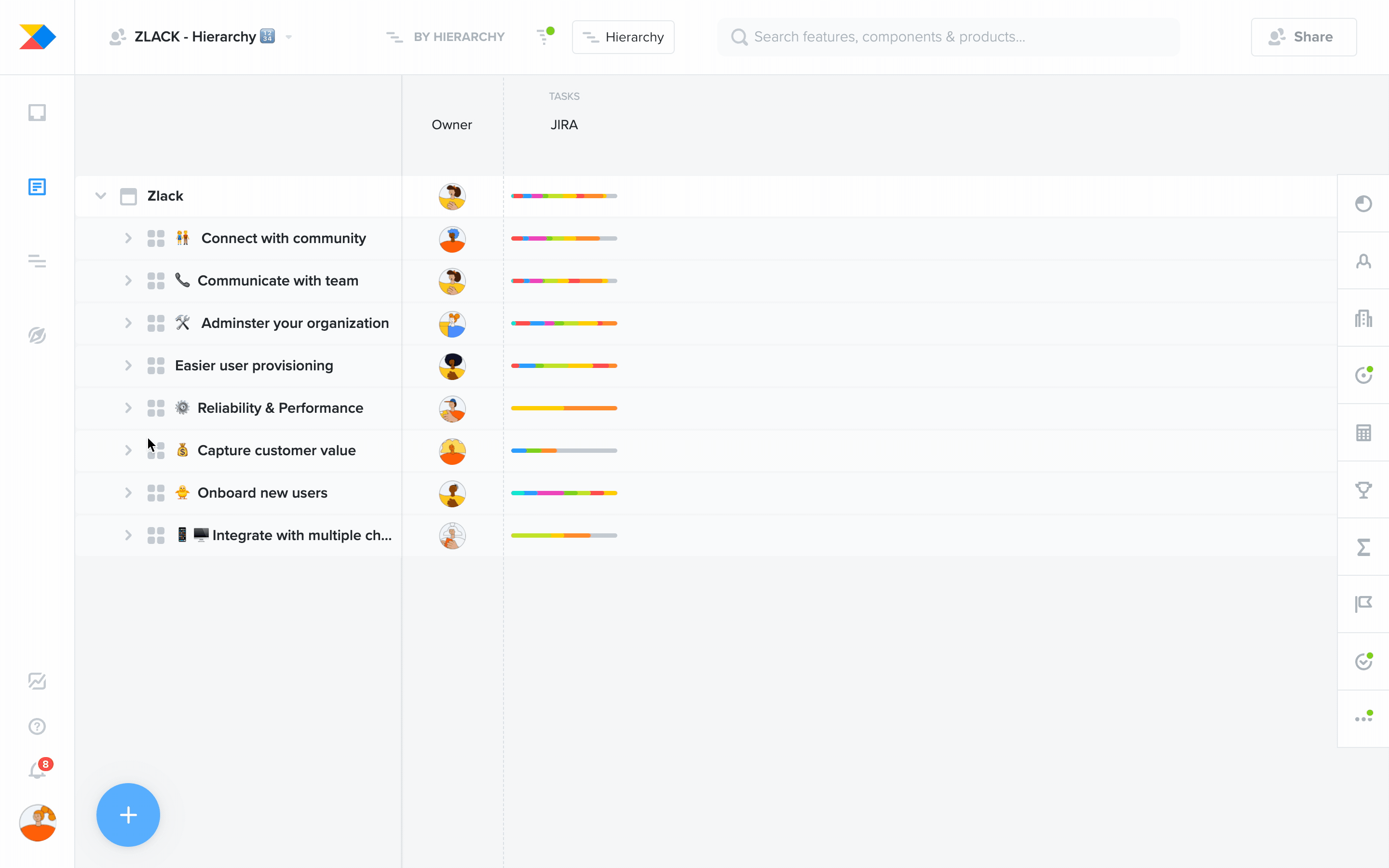 Follower improvements
We have released some improvements to the following functionality:
Follow any supported item (Feature, Note, Objective ...) with just one click!
Add multiple followers to an item in the same go without the need to reopen the follower dialog multiple times.
Understand the number of followers of any item.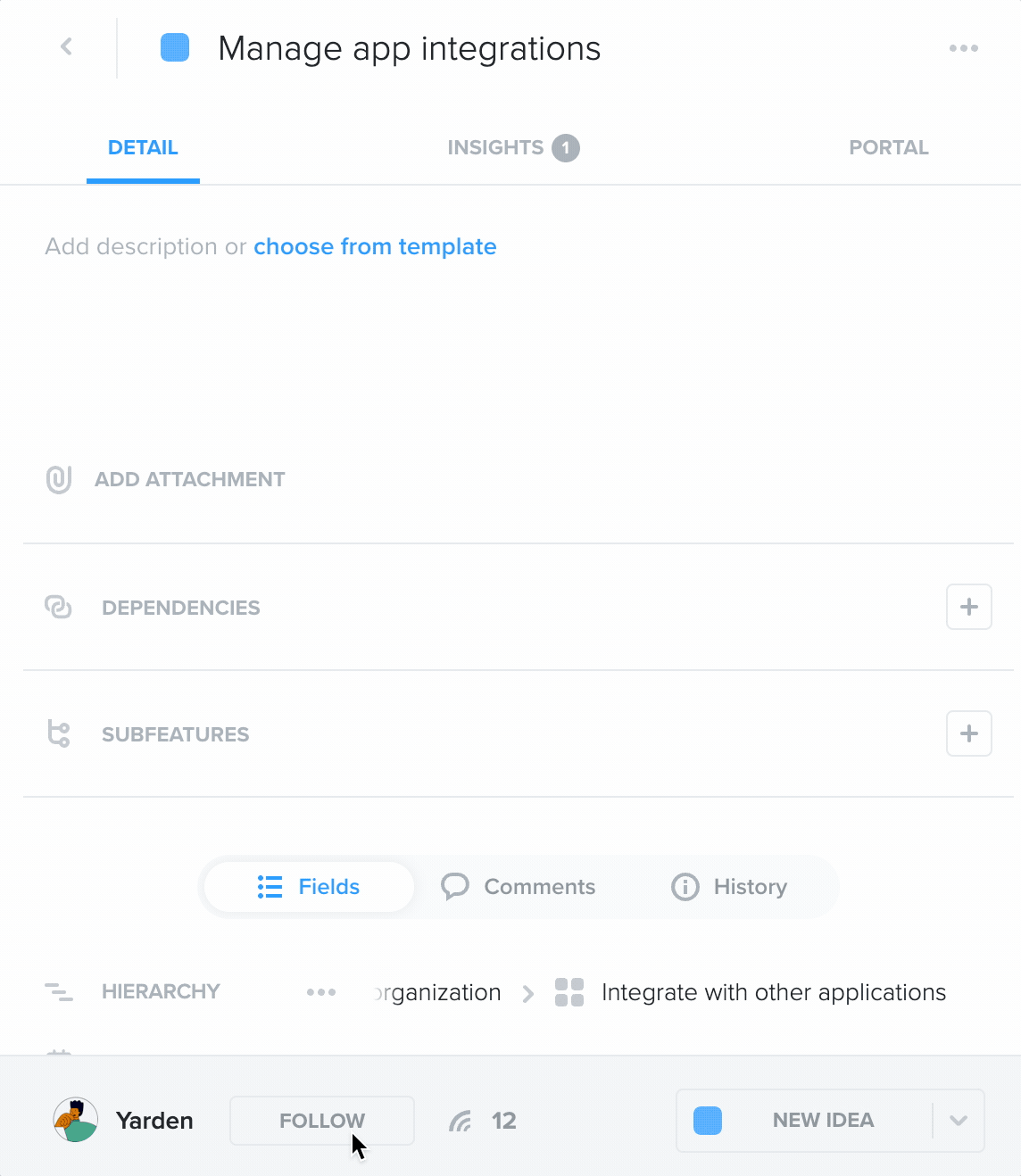 January 14, 2022
LABS 🧪: Feature release and timeframe change email notification
Whenever you follow a feature where timeframe or release is changed, you will receive an email notification containing all the important information about such change - what was changed, when, by whom.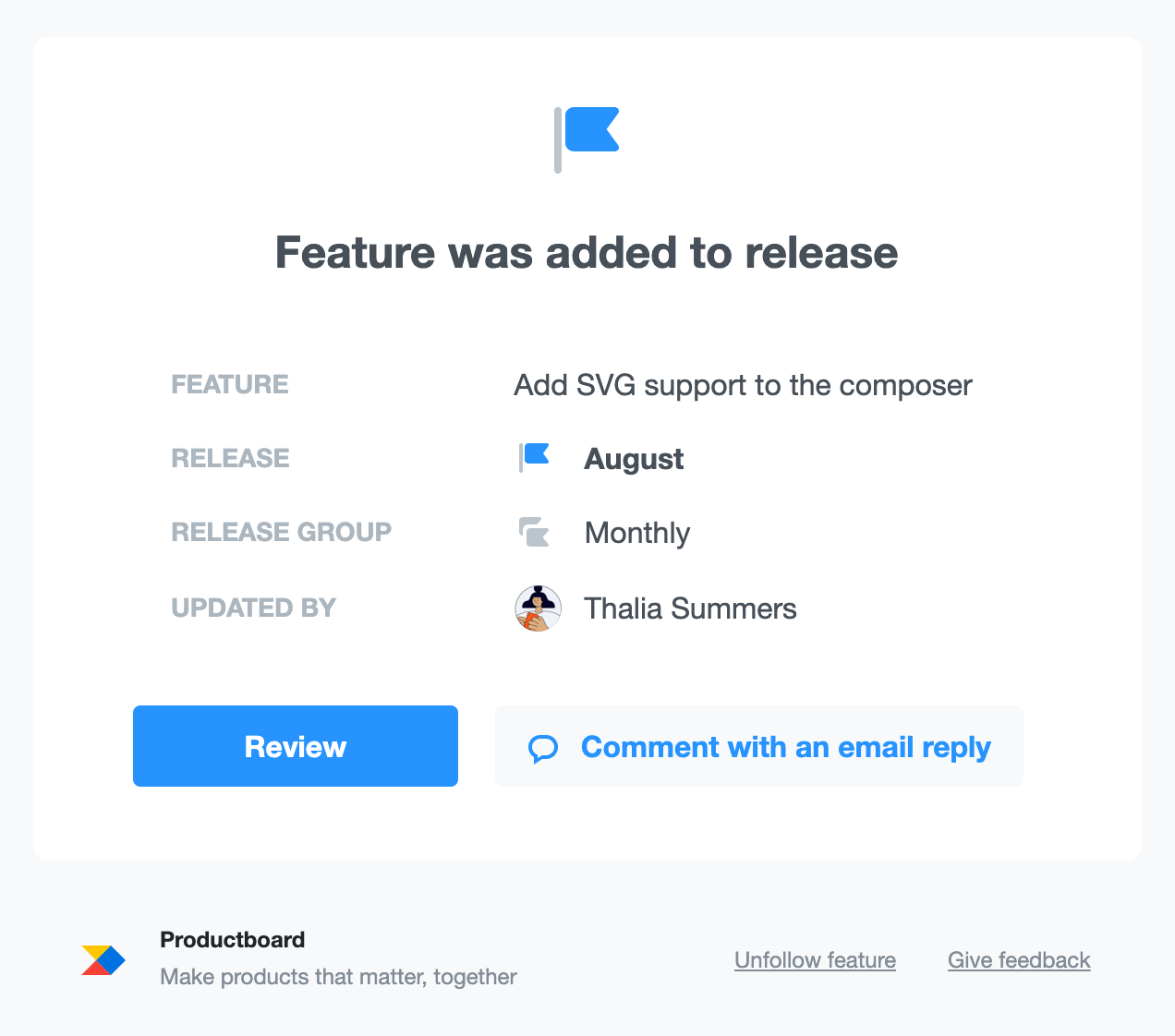 December 2021
December 22, 2021
Azure DevOps integration improvement
We released a small but powerful improvement in the Azure DevOps integration. We are now supporting Azure DevOps parent-child relations to work items.
You can now enable parent-child relations to work items. This way, you can track parent (usually epic) to child (usually feature or other work item type) relationship between Productboard and Azure DevOps.

Learn more


December 17, 2021
Roadmaps enhancements
You can now easily

remove features from releases

directly on the canvas [column and timeline]
You can now easily

remove features from objectives

on a timeline roadmap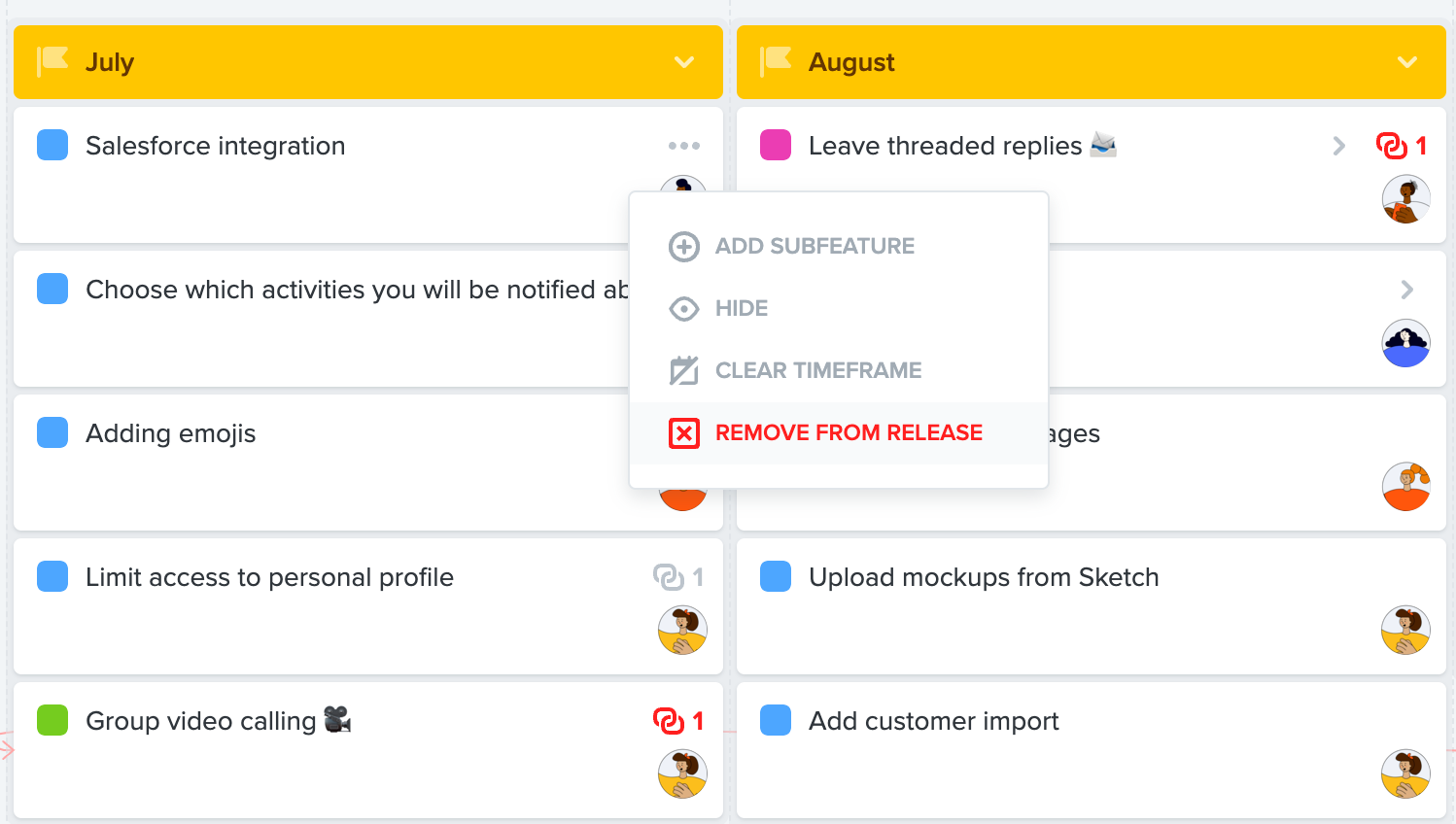 December 16, 2021
Insights trends
Insights Trends is a summary layer that sits on top of the Insights board to visualize how your feedback changes over time. It helps makers to quickly identify and stay on top of the most relevant, recent, or trending themes in the collected feedback.
Whether you are preparing for strategic planning or want to check how a recent campaign has impacted your incoming feedback, Insights Trends are here for you.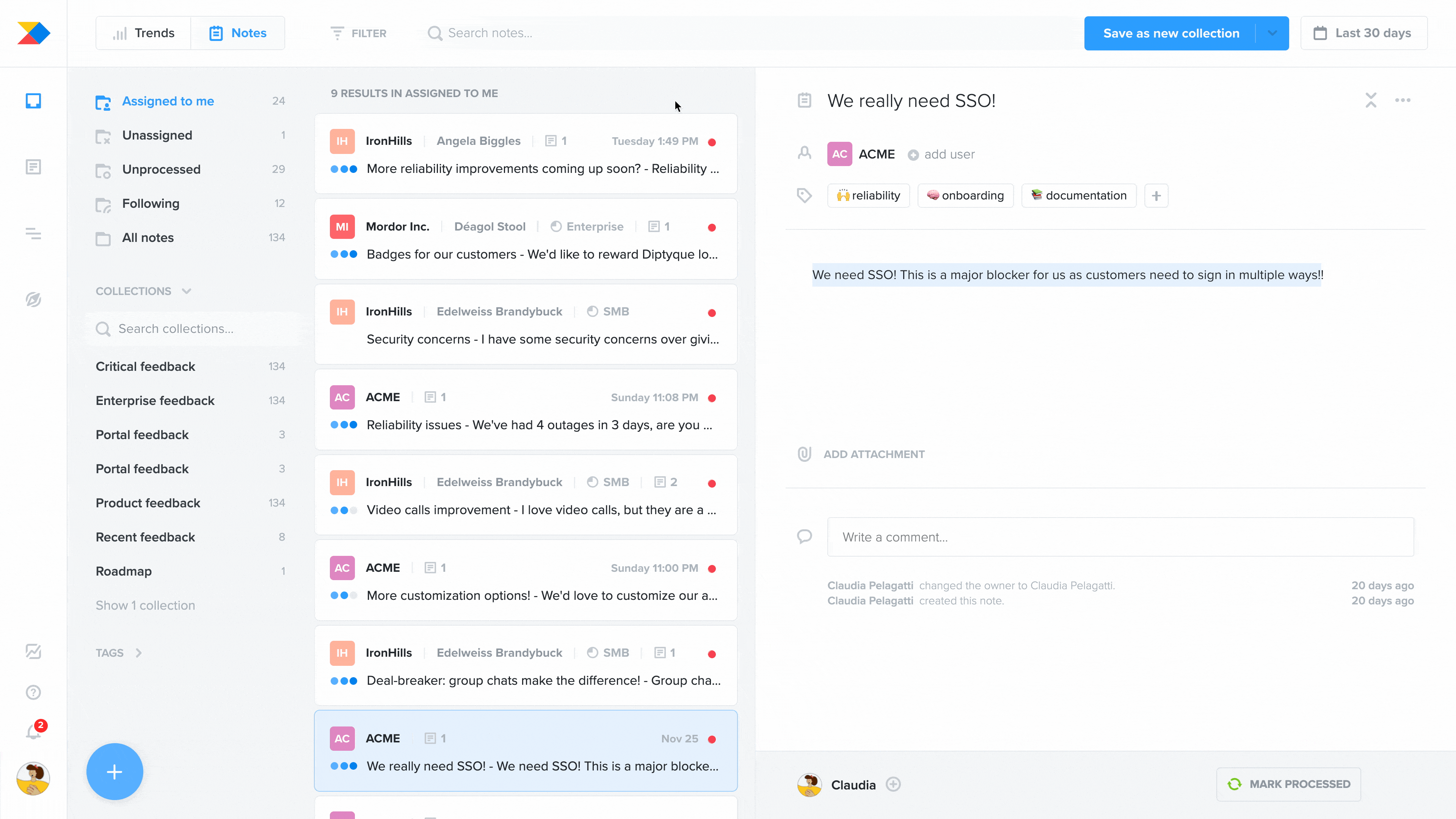 December 01, 2021
Custom Field Swimlanes for feature time-based roadmaps
You can now use any existing custom dropdown field as a swimlane on feature time-based roadmaps
You can create new custom field swimlanes straight from the roadmap.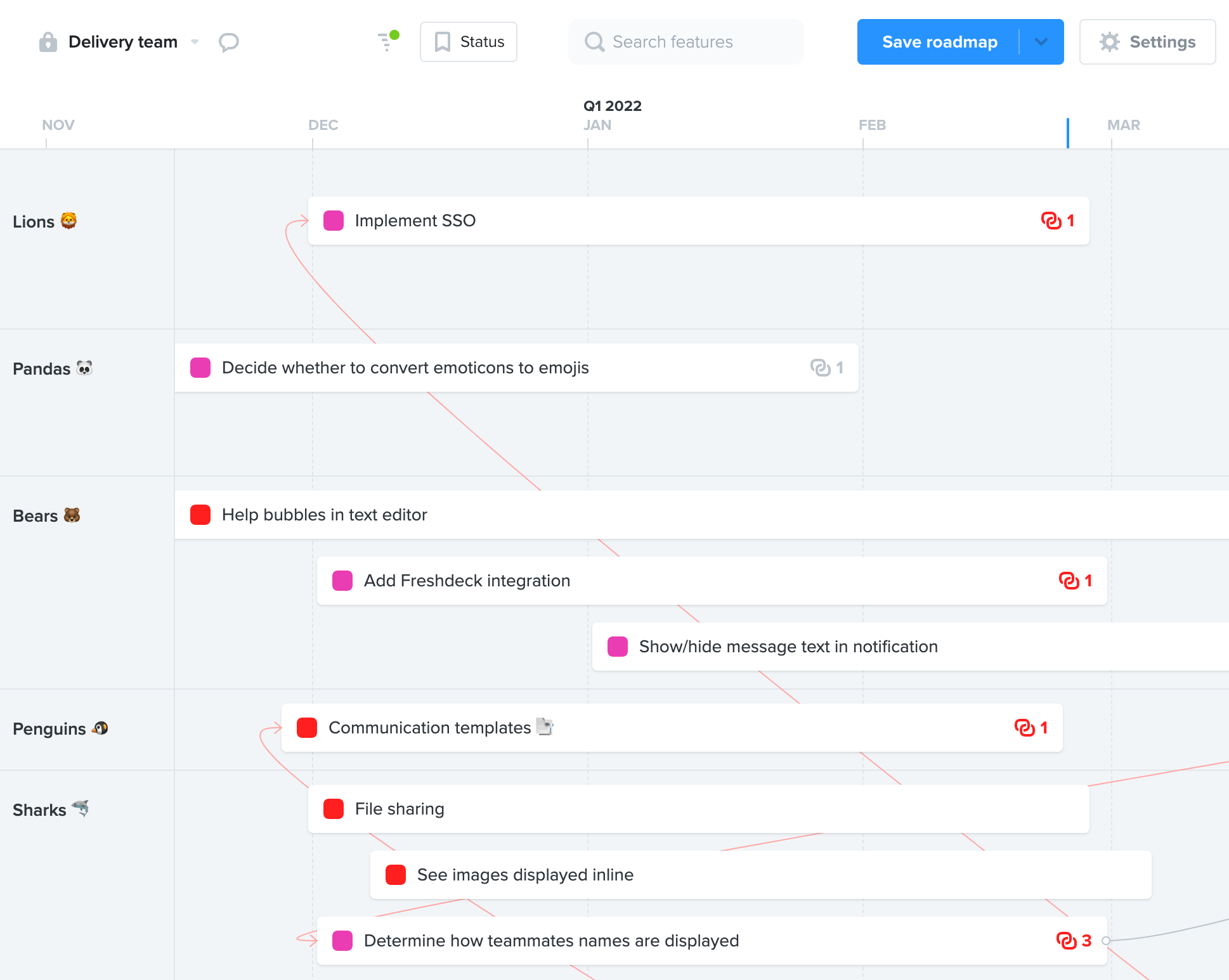 November 2021
November 15, 2021
Bulk assign a timeframe to features
You can now select multiple features and update their high-level or specific timeframe in bulk on your features board.

Learn more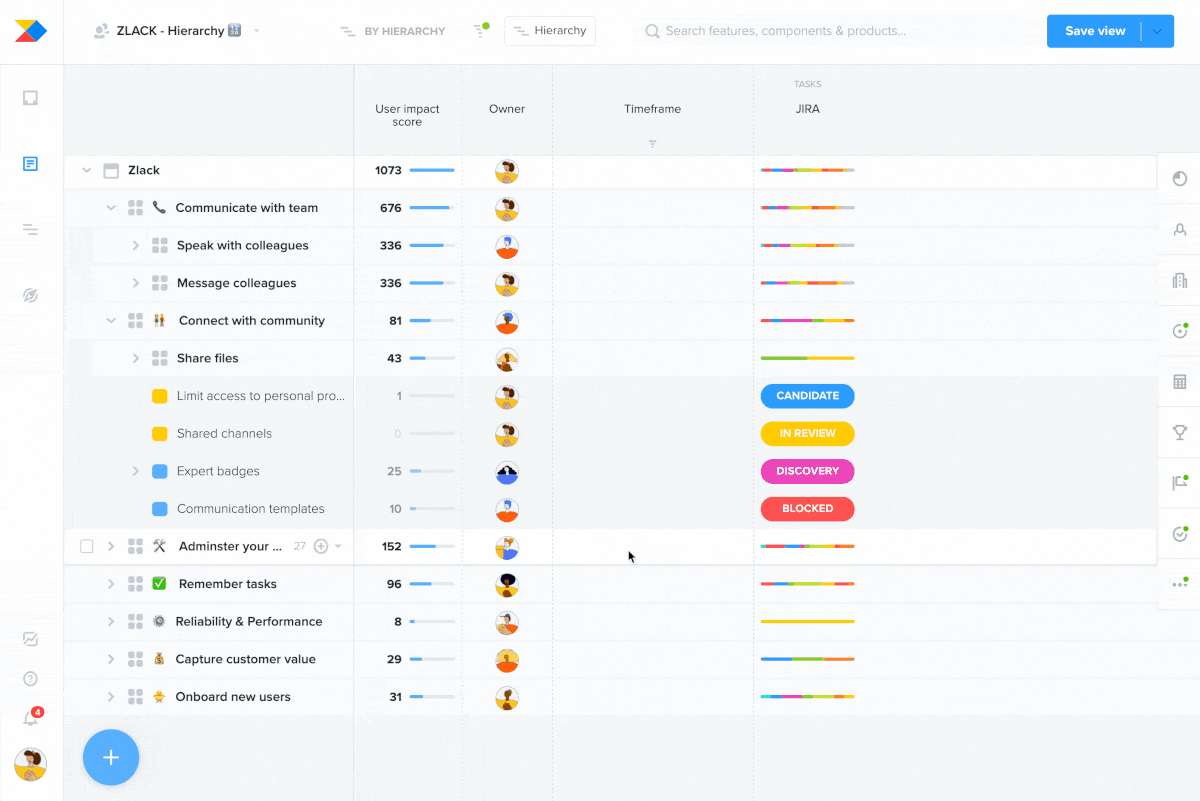 November 09, 2021

Azure DevOps Areas
We're releasing an improvement in the Productboard <> Azure DevOps integration. We are now supporting Azure DevOps Areas in the Push dialog.

You can now choose an Area path to push your features or subfeatures from Productboard to Azure DevOps.

Learn more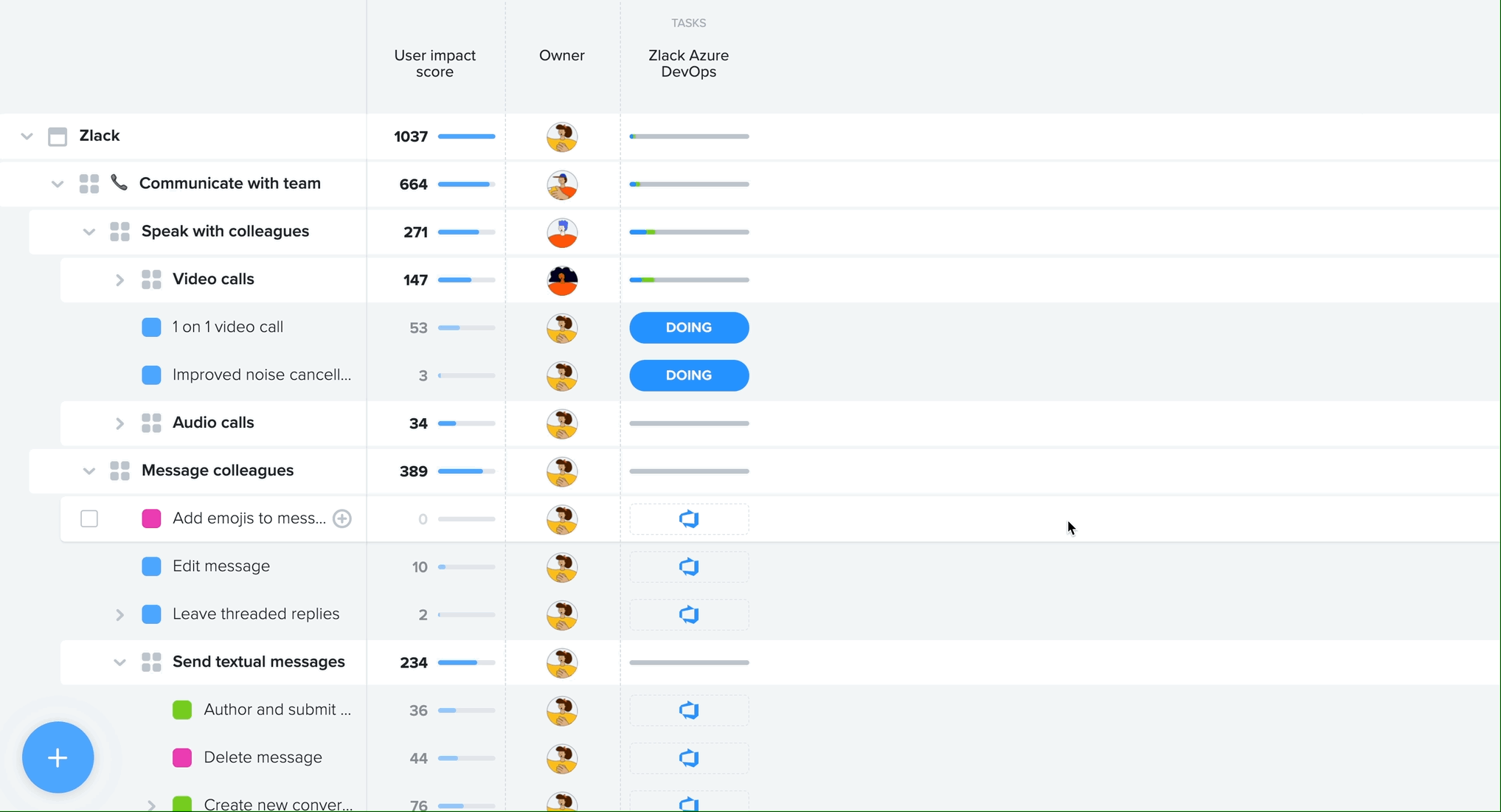 November 05, 2021
Tags and Title / Content filters
When applying Tags as a filter on the Insights board, you can now choose between three different options:
Any of the selected tags
All of the selected tags
None of the selected tags
We also made improvements to the Title and Content filters. You can now choose the options:
Contains any of these keywords or phrases
Contains all of these keywords or phrases
Contains none of these keywords or phrases
Applying filters from the Tag Cloud will be disabled after the release. You will still be able to see the count of tags for your currently viewed notes but won't be able to click on them.

You can learn more about the Tags and Tile and Content filters here.
November 03, 2021
Reports
We've just launched Reports! In your Productboard workspace, you can now access Reports to better understand how your product team is operating, so you know what to focus your efforts on as a team.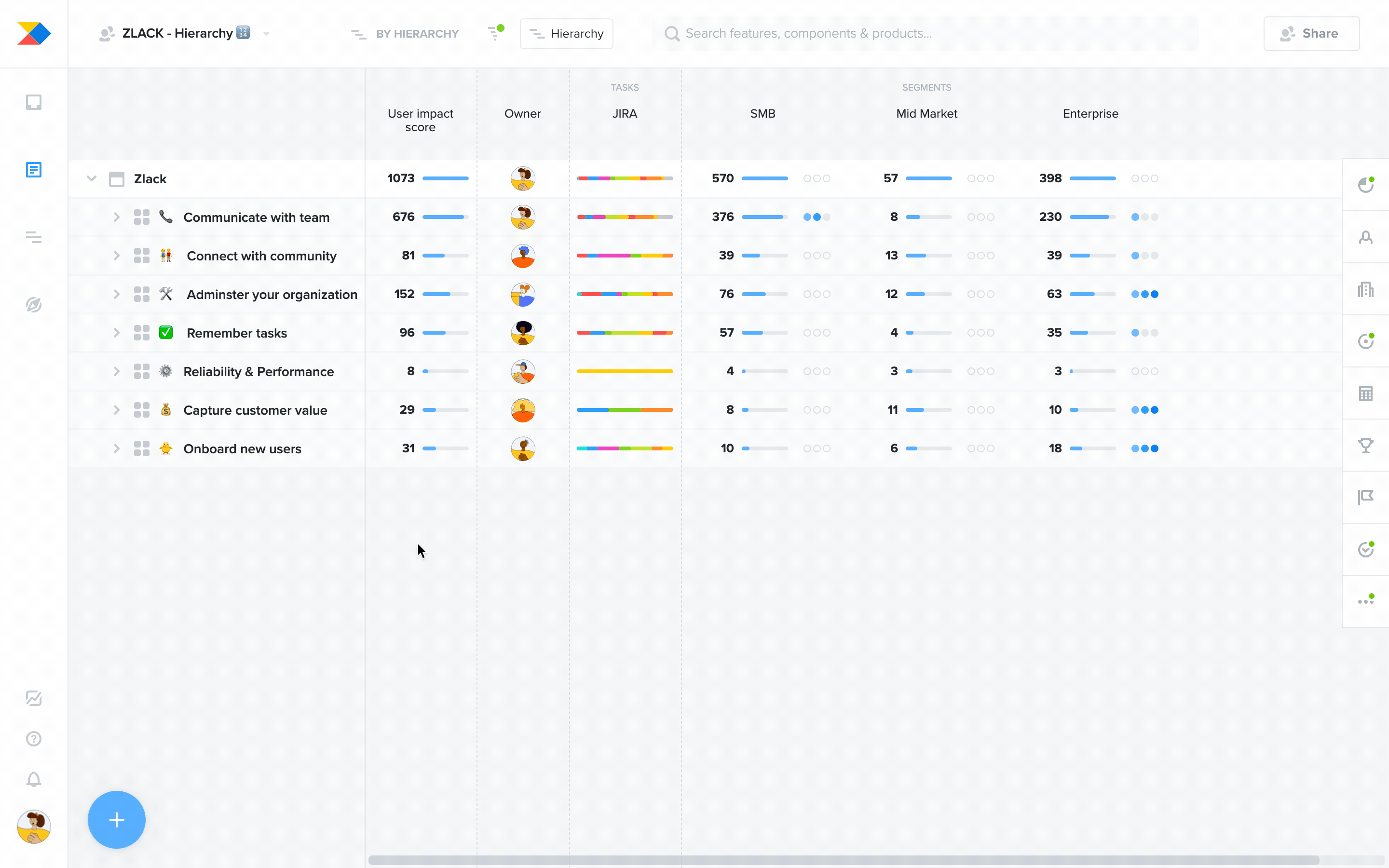 With Reports you can:
understand the overall Productboard adoption over time.
understand if your team is actioning on the feedback.
understand if stakeholders are visiting roadmaps to drive alignment
Timeframe column
You can now toggle on the Timeframe column on the Features board. Using the Timeframe column, you can overview what the team planned and when things change, you can easily make changes to keep your plans up to date.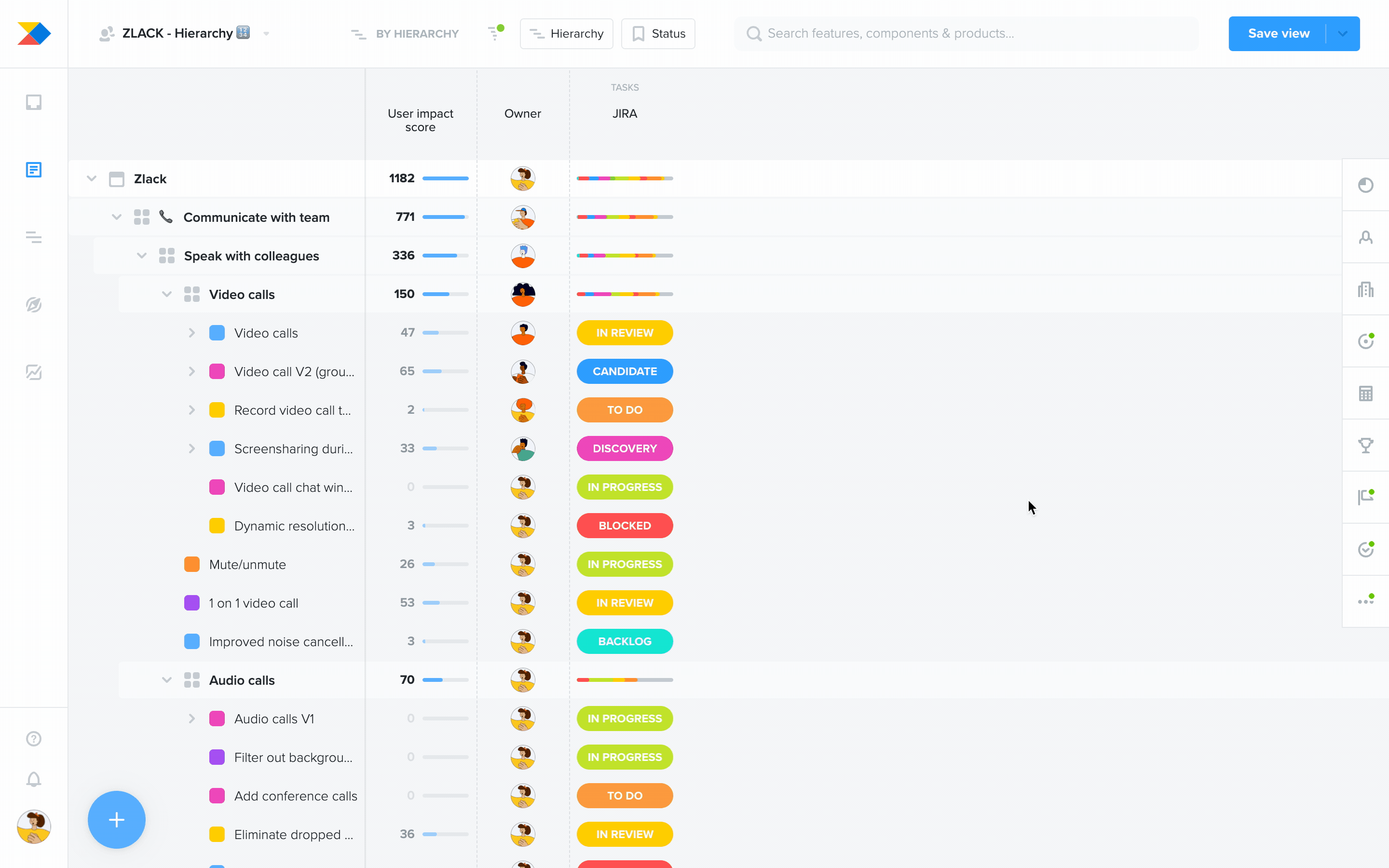 With the Timeframe column, you can:
Add a time frame value directly on the Features board

Filter and sort features by time frame
October 2021
October 19, 2021

Features API improvements
We have just added

support for the CREATE Feature endpoint.
To support the CREATE Feature API, we are also now

supporting a minimal READ Hierarchy API. Specifically,

Products API (List all the Products + READ details of a Product) + Components API (List all the Components + READ details of a Component)

so you can determine where you want to CREATE a new feature in the hierarchy.
October 14, 2021
Date created filter on the Insights Board


We've just updated the placement of Date created filter on the Insights Board. This will allow you to access the filter more easily.
Date created filter will now be always accessible at the top right of Insight Board.
The options and functionality remain unchanged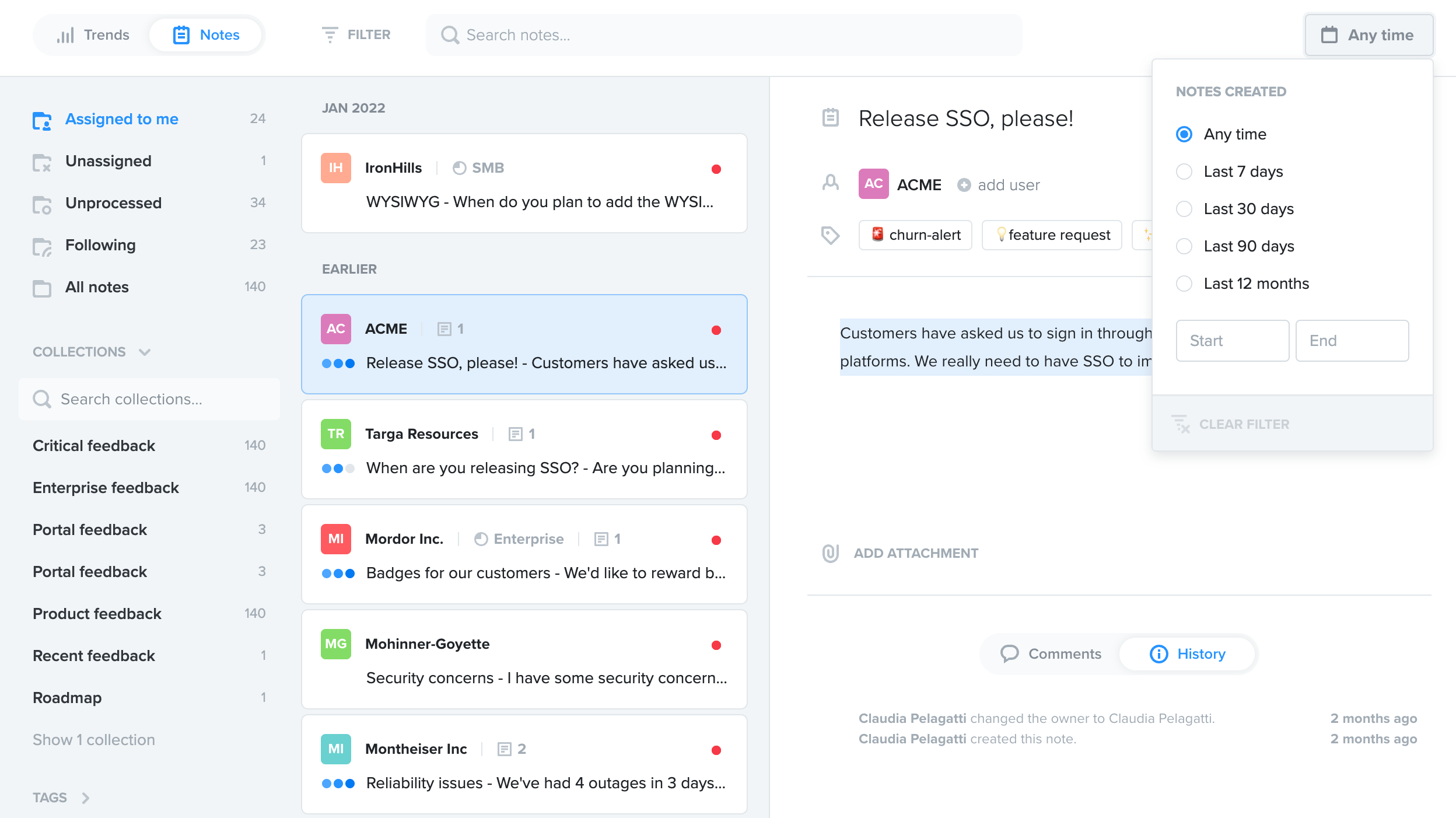 October 07, 2021
Feature visualisualization on time roadmaps: Flat list

You'll have now the option to choose if you want to show featureDurationunder objectives or just keep it as a Flat list. This will give you flexibility to control how feature timelines are communicated on the roadmap. For example, you'll be able to plan features in time on one view and have a view the flat list of the same features on the sprint planed in time.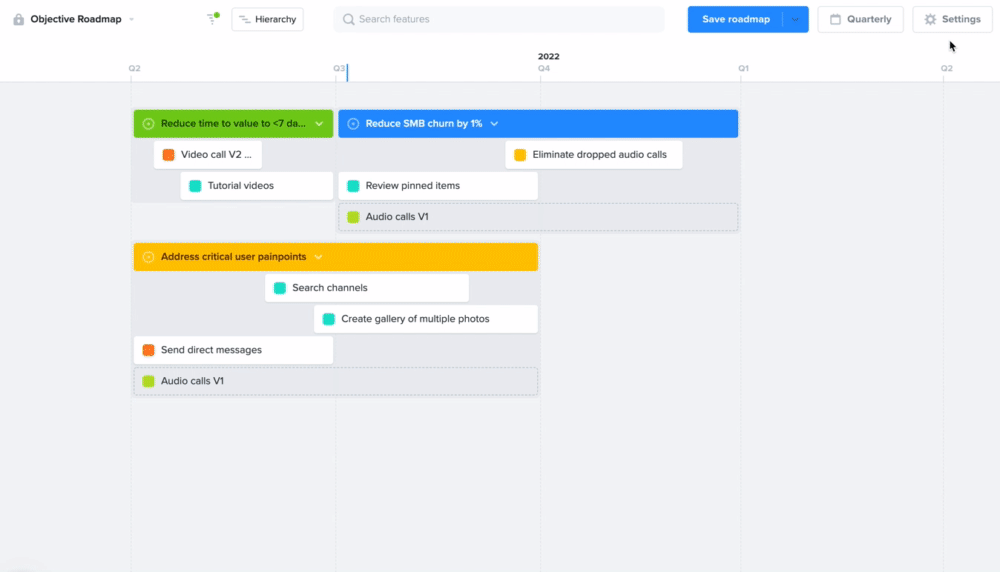 September 2021
September 29, 2021
Microsoft Teams integration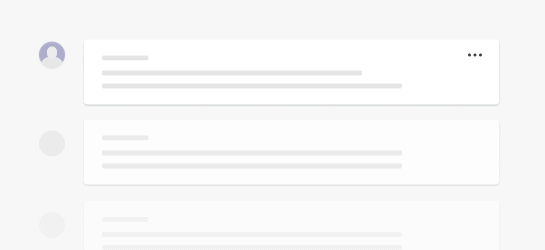 One of our most popular feature requests is now LIVE: our brand new Microsoft Teams integration allows you to push messages from Teams into Productboard, receive notifications when your messages are processed, and track the status of your notes in an overview tab. Now it's easier than ever for organizations using Microsoft Teams to collect invaluable product feedback.
September 27, 2021
Favorite collections
Makers and contributors can mark their most important insights collections as favorites. This allows users to customize the order in which collections are displayed, so locating notes and processing insights is easier.
The Insights board now contains a new Favorites section to access these collections easily.
September 22, 2021
Time horizons roadmaps are here!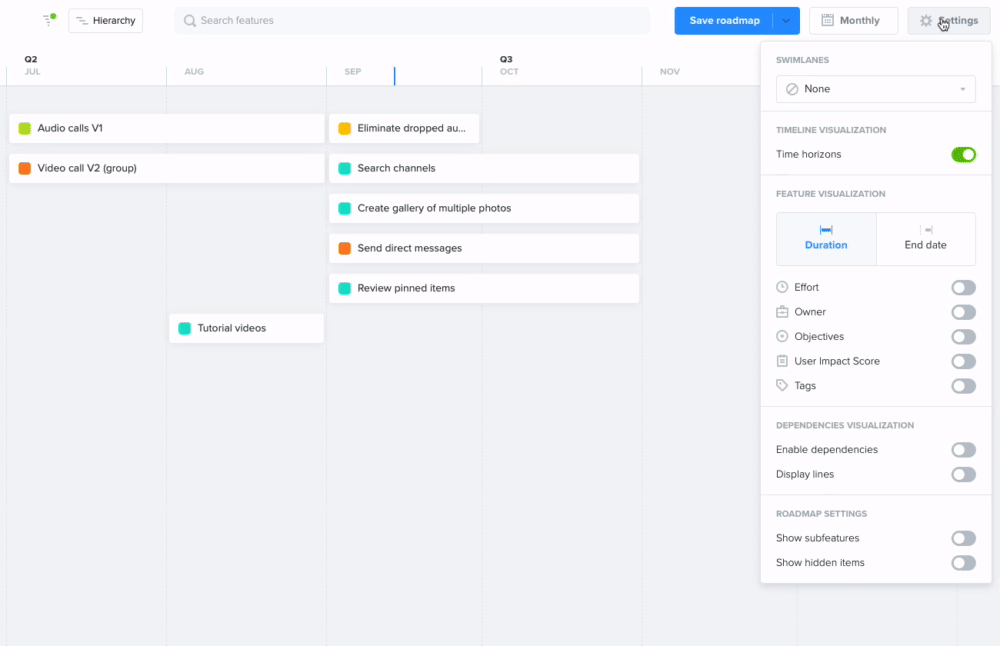 In the settings of any timeline roadmap, users can toggle on time horizons to plan and communicate in quarters, months or weeks.
With time horizons toggled on, users can display feature visualizations:

Duration: when things are being worked on
End date: when things will be launched

Users can assign timeframes such as months, years or quarters to features, objectives and releases by using the new date picker or through interactions on time horizons roadmaps
We've renamed the Objectives timeline roadmap to High-level objectives roadmap and now have time horizons turned on by default
We've launched a brand new type of roadmap: How to create a Feature launch roadmap
September 21, 2021
We've added support for feature timeframes on our Features APIs: READ, UPDATE, Notifications (Webhooks)
We now support Jira IDs in our APIs.
Together, these releases allow users to sync Jira Timeframes to Productboard using the API. Learn more in our API documentation located in our Developer portal.
September 14, 2021
🧪 New Labs feature: Collaborate on your product vision using roadmap comments! When enabled, a new icon will display a sidebar so you can view user comments and create your own. Users will see a red dot notification on the icon if there are unread comments.
🧪 New Labs feature: Find out who has viewed your timeline roadmaps recently, so you can ensure everyone stays in the loop, aligned around a common vision.
Importing companies into Productboard from your Salesforce account? Previous, we required a domain for de-duplication. Now, if a company in your Salesforce account is missing a domain, we will use the company's name to de-duplicate as well, keeping your Productboard account nice and tidy.
September 13, 2021
September 7, 2021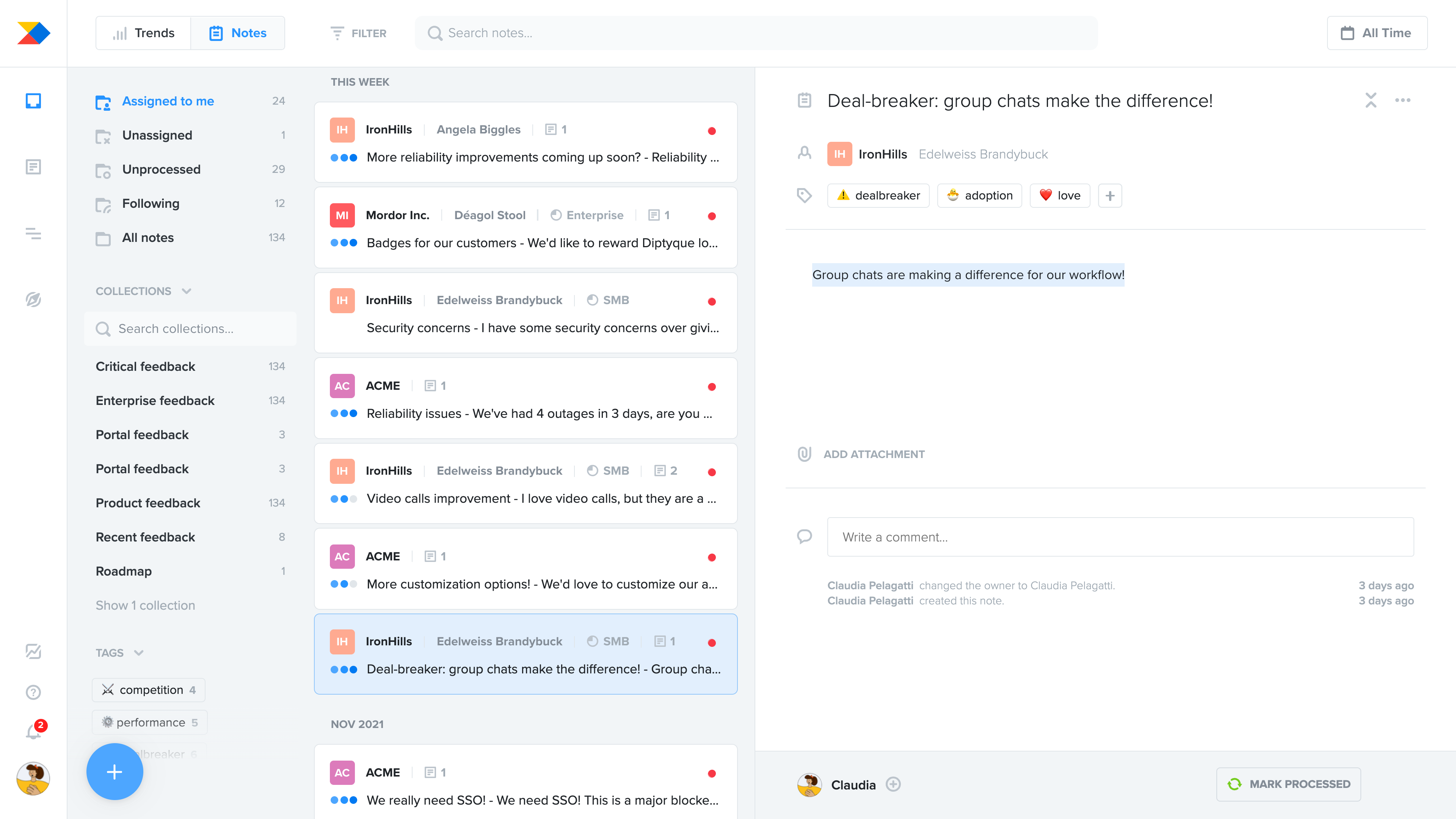 Our Insights board offers new default folders to help makers triage customer feedback more efficiently! 🚀
There is now a new default folder called Unassigned. This folder collects all unprocessed notes which don't have owners assigned to them.
My inbox has now been renamed to Assigned to me. You can find all notes which are assigned to you as the owner here.
Shared inbox has now been renamed to Unprocessed. You can find all the unprocessed notes in the organization here.
These changes should allow makers to triage feedback quickly among teammates, so your team can capture more insights than ever!
September 6, 2021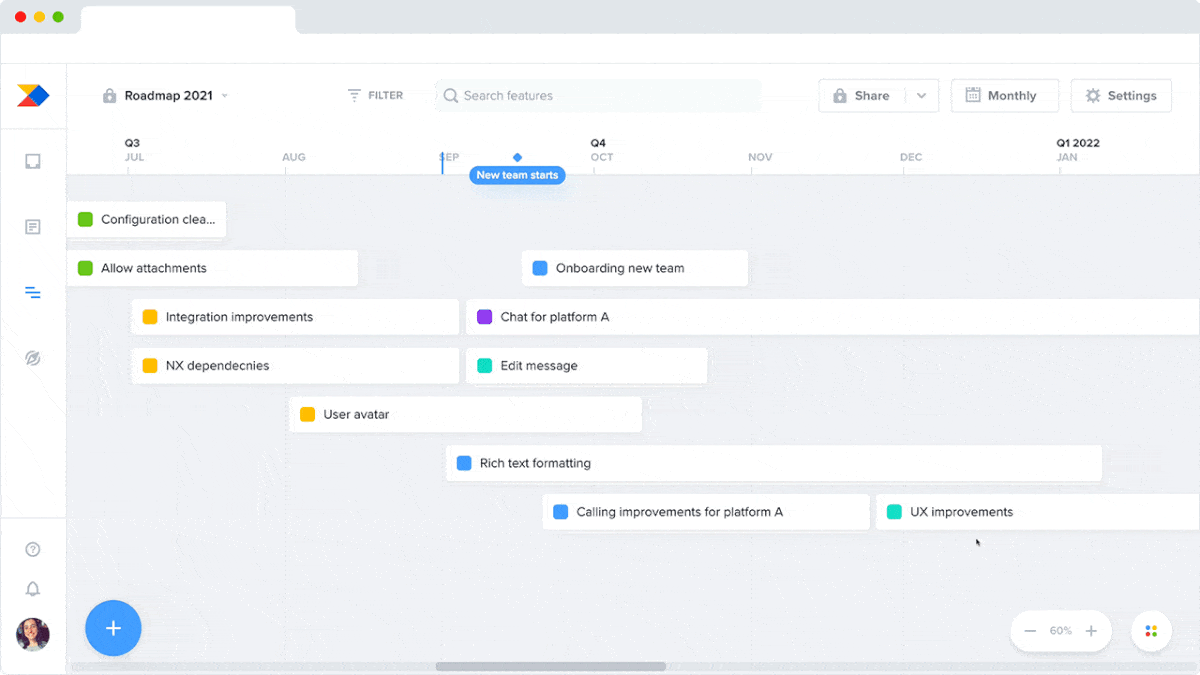 Take complete control over the granularity of your roadmaps with zoom! 🔎
In the bottom right corner of any timeline roadmap, you will see -100%+ indicating the current level of granularity. Click the minus button to zoom out and click the plus button to zoom in.
If using a trackpad-enabled device, you can zoom in and out of a timeline roadmap by pinching.
September 2, 2021

September 1, 2021
Does your fiscal year start sometime other than January 1? Instead of configuring this separately for each individual roadmap you make, you can now set your fiscal year start date across your entire account in your Settings page.
August 2021
August 26, 2021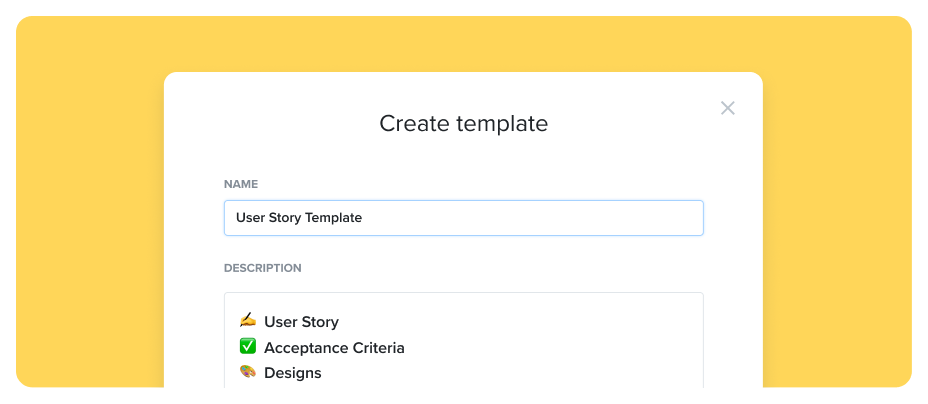 New Labs 🧪 feature:
Save time and effort with feature detail templates that standardize your team's feature descriptions. Turn these on today in your Settings.
August 20, 2021
August 19, 2021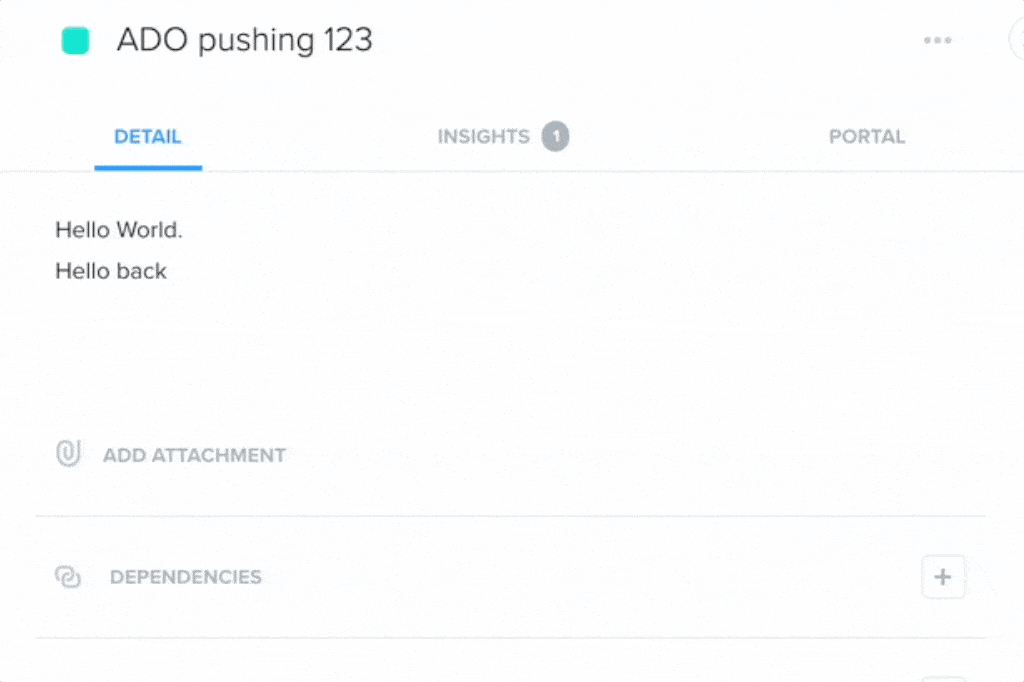 Our Azure DevOps <> Productboard integration now offers two-way synchronization for feature names and descriptions, so your teams can stay up-to-date across tools.
August 11, 2021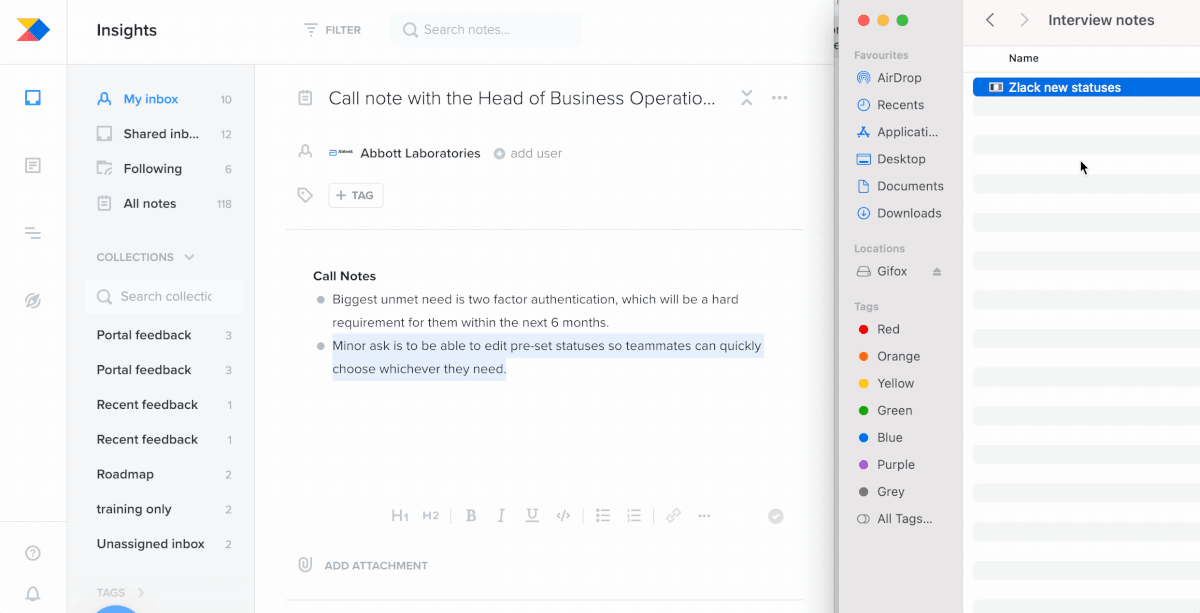 Users can now drag-and-drop images straight into a note or a feature description!
August 4, 2021
July 2021
July 1, 2021
Smart feature suggestions

✨ Scale or Enterprise plans: Once you've linked a significant number of notes to features, Productboard will offer smart feature suggestions powered by machine learning. We'll highlight the most relevant features so you can save time and process notes more efficiently.
In order to see smart feature suggestions:
The note must be written in English
The note must contain at least 5 words (excluding stopwords like "and", "or", "they" etc)
Suggestions can only include features that are linked to at least one note.
June 2021
June 24, 2021
Visualize & resolve dependencies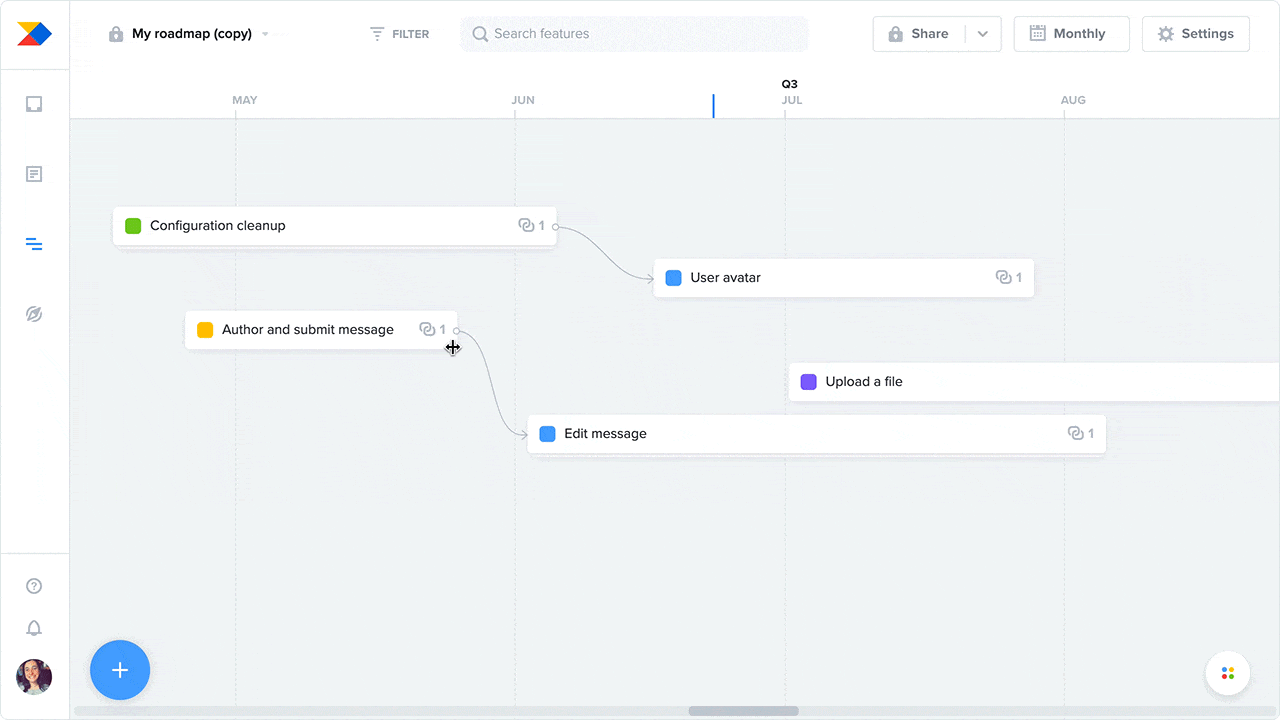 It's easier than ever to keep your project on track with dependencies:
June 23, 2021
Clubhouse.io integration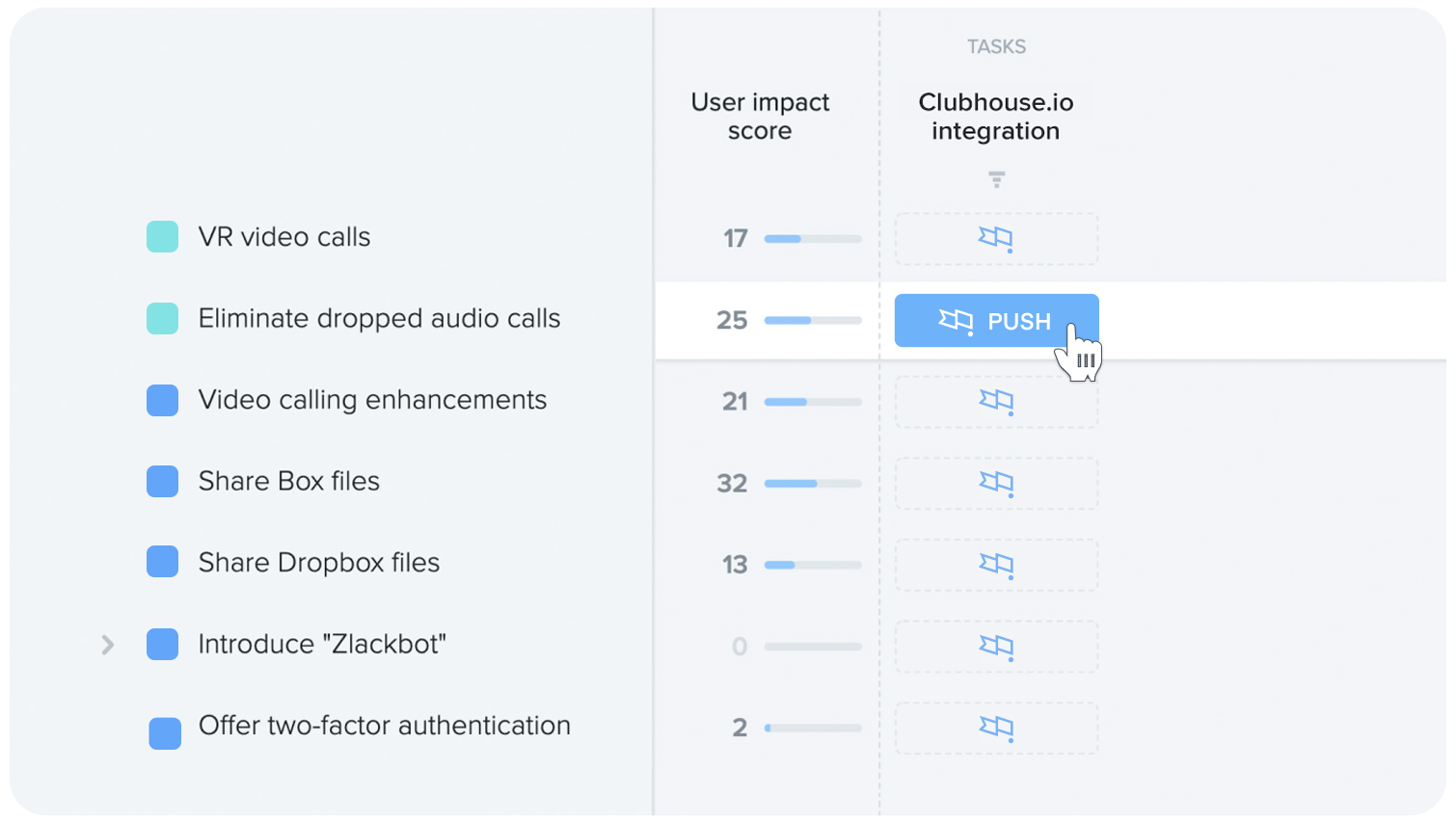 Once you've defined your product strategy in Productboard, use our new Clubhouse.io integration to implement your plans:
Automatically push a Productboard feature into a Clubhouse Epic
Seamlessly sync development status between both tools
Learn more about configuring the integration here.
June 16, 2021
Salesforce Opportunities integration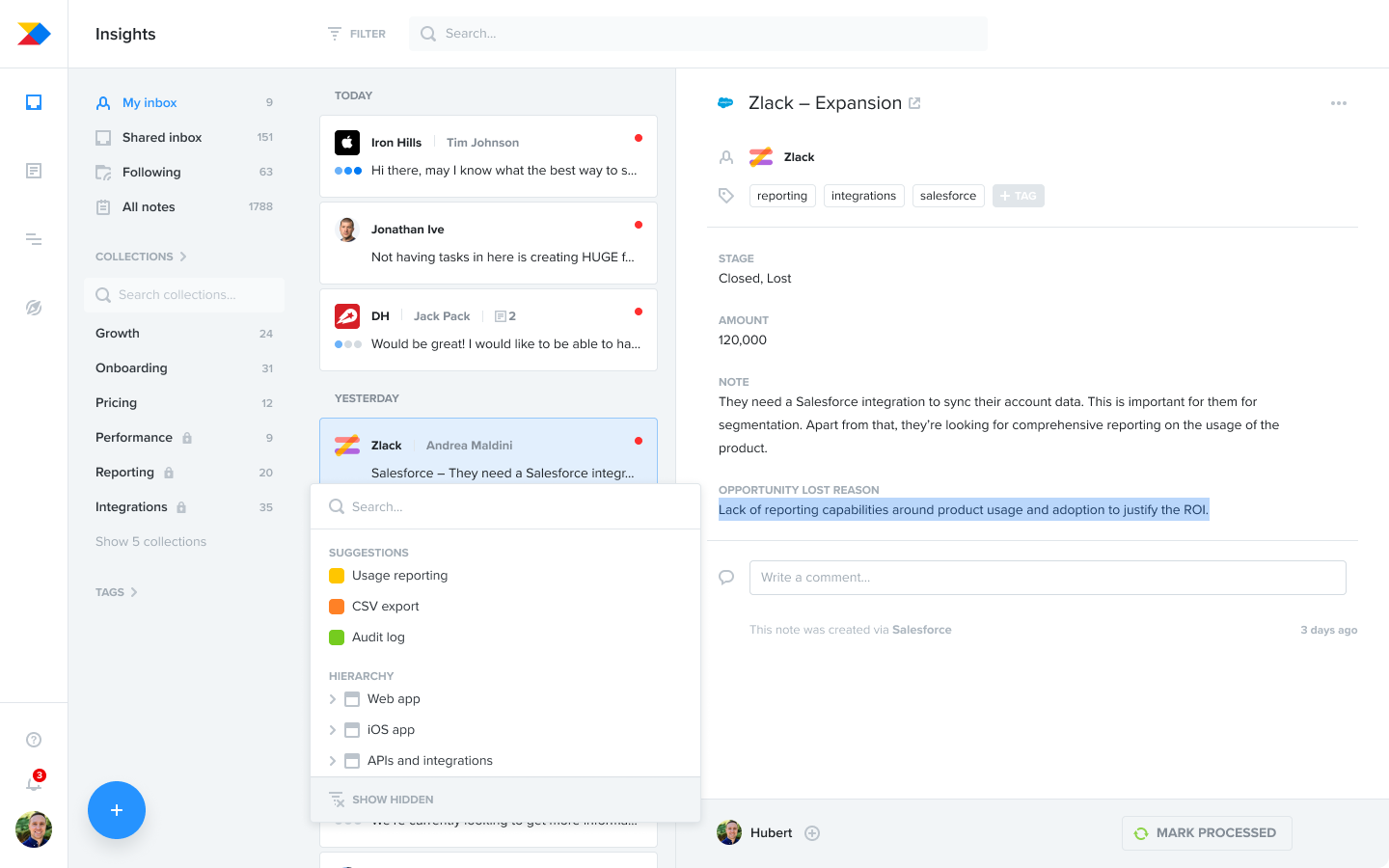 After careful beta testing, our Salesforce opportunity integration is live!
Turn critical go-to-market information into product feedback via insights 💡
Set up collections or filters to find your Salesforce feedback in your Inbox or your Features board 🔎
Identify which feature ideas are tied to potential revenue 💰
Turn on the integration here (admins only) or learn more in our Help Center article.
June 10, 2021
Product Permissions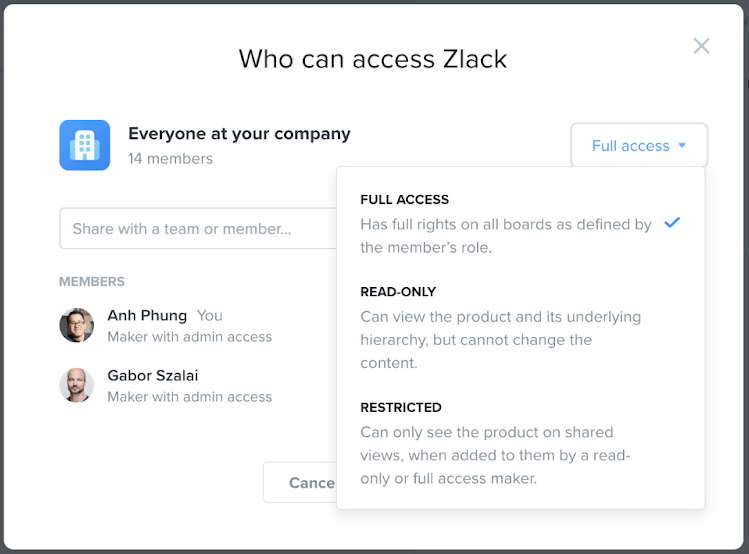 Product Permissions 🔐 allow your team to collaborate without losing control over your most sensitive data by granting full, read-only, or restricted access to each of your products.
May 2021
May 20, 2021
Thematic roadmaps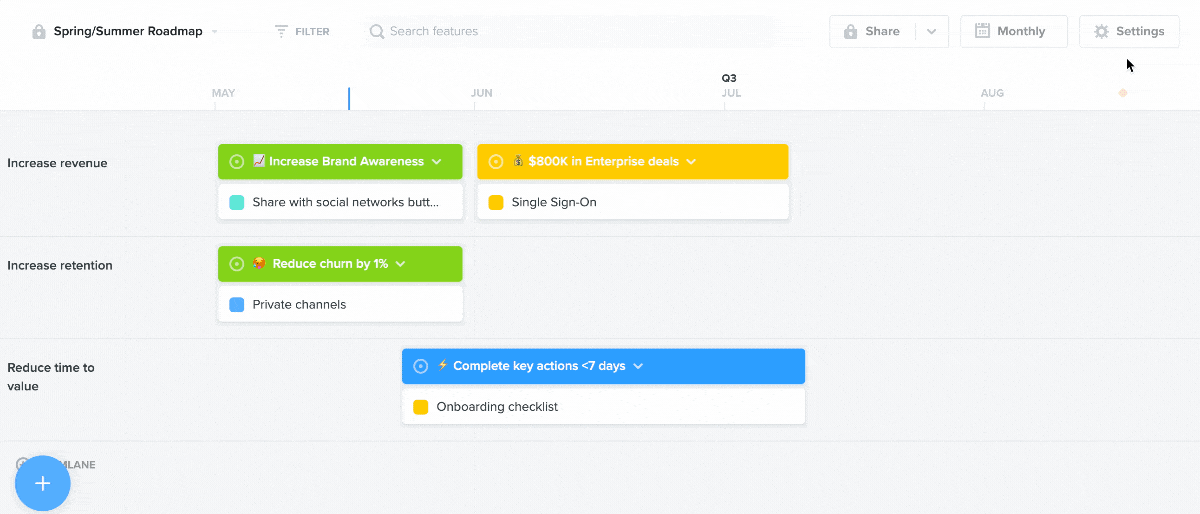 Thematic roadmaps are here! 🌈 Organize your roadmap thematically by grouping together similar objectives. Use themes to communicate which objectives
support the same goals
relate to the same product
are built by the same team
share similar levels of importance
or some other organizing principle. Then, use custom colors to visualize your themes right on your roadmap! Read the new Help Center article: How to color-code your objectives by theme
Insights from Images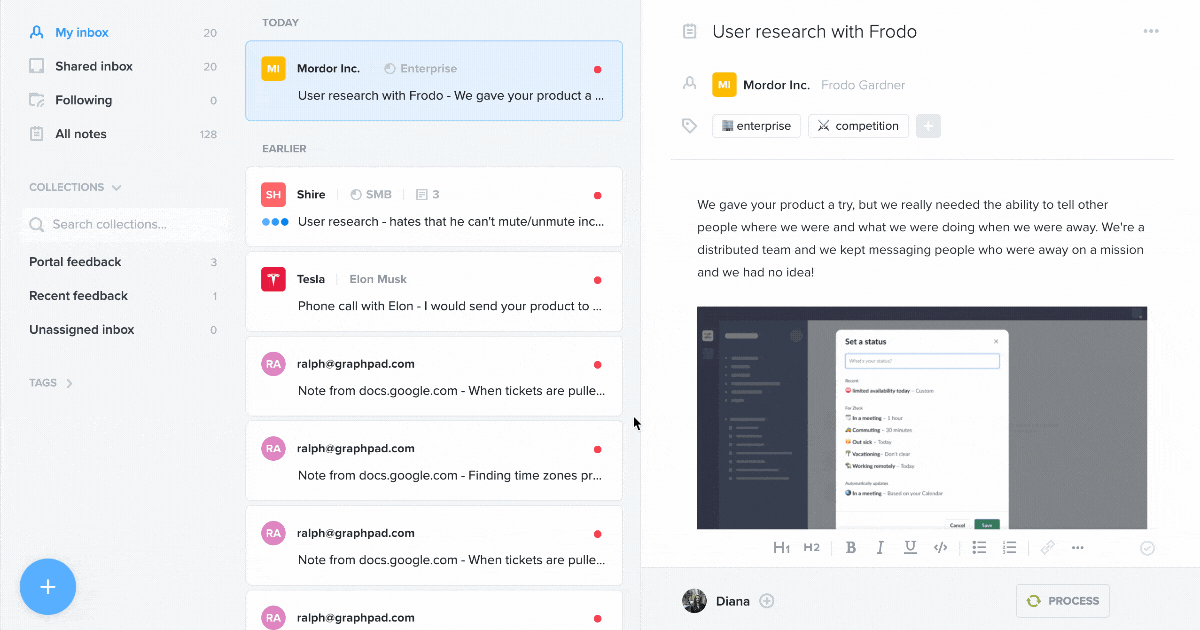 One of our most popular requests is here! Starting today, you can create insights from images! 🏞 Screenshots, gifs, any other useful images can now be connected to feature ideas.
To add an inline image to a note, simply copy-paste the image into your note, or copy-paste an image URL into your note.
Highlight an image to generate an insight. View the image in a feature idea's Insights detail.
Click on the image to expand it to full-size.
April 2021
April 22, 2021

March 2021
March 31, 2021
User Impact Scores and Tags on Roadmaps
It's easier than ever to convey relevant information to your stakeholders by adding user impact scores and tags to your roadmaps:

Here are a few suggested ways to use this feature:
Display user impact scores to explain how important or timely a feature is for your customers
Use tags to display which pricing plans receive a feature (i.e. Basic, Enterprise)
Use tags to display which platform a feature will launch on (i.e. iOS, Android)
Use tags to display what type of feature you're building (i.e. improvement, bug fix)
Add user impact scores and/or tags to any roadmap via the Settings menu in the top right corner - don't forget to save your changes before you share your roadmap!
March 4, 2021
Features in time under objectives or releases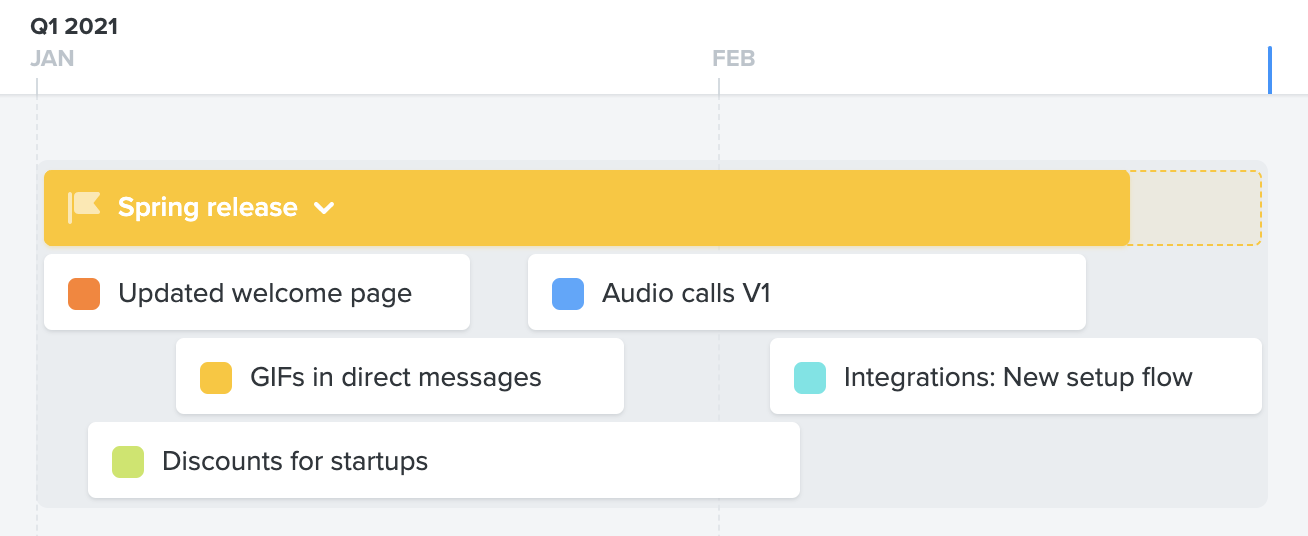 We've made it easier than ever for product teams to communicate their plans!
Release timeline roadmaps (All plans) and Objective timeline rodmaps (Scale and Enterprise plans) will now display features in time! See at a glance exactly when your teams are working on specific features, and manage those feature timeframes right from your roadmap.
If any of your features are scheduled outside the timeframe of its objective or release, the roadmap will display an overlap. Double click the overlap to automatically adjust the timeframe of your objective or release.
If any of your associated features don't have a timeframe of their own, you can assign the objective or releases' timeframe in a single click.
Need to unassign a timeframe from a feature on your roadmap? Click

•

•

• on a feature, then click Clear timeframe.
Features with assigned timeframes can nestle next to one another on the same line of your roadmap. So compact!
Custom fields swimlanes:
February 2021
February 22, 2021
Salesforce integration
Our Salesforce integration has graduated! 🎓 After a few months of careful testing, validation, and refinement, the integration moved from Early Access to General Availability. Scale and Enterprise users can import company data from their CRM straight into Productboard, then use that data to build dynamic segments.
February 19, 2021
Slack integration update
Slack integration updated to conform with Slack API updates. Users can now push messages from private channels or private group chats, and control the channels to which Productboard has access.
February 2, 2021
Editor version history
Jira integration enhancements
One of our most essential integrations just received a big upgrade. Check it out:
New features and functions ✨
You can now unlink and relink features and subfeatures from Jira issues.
Something going funky during configuration? Our new troubleshooting page will help you identify and resolve configuration errors ASAP. We've also expanded our Troubleshooting Jira Help Center article.
Using underline, quote, or Jira color markdown elements in your Productboard feature description will be supported in your Jira issue description field.
You can now re-authorize a Jira integration with a new Jira administrator.
Don't want to use 2-way sync? Even with the checkbox unchecked in your integration settings, we will still sync your Jira status to Productboard.
Using Jira next-gen projects? Productboard releases now sync with Jira next-gen fix versions.
Happy little improvements 🛠
Productboard will prevent you from creating multiple releases with the same name (which would cause an error during Jira synchronization).
Previously, a user pushing a feature or subfeature into Jira would encounter an error if they were not the owner of that feature or subfeature in Productboard. Now, users can push that feature or subfeature into Jira, and the owner of the Productboard feature will be listed as the Reporter in the Jira issue.