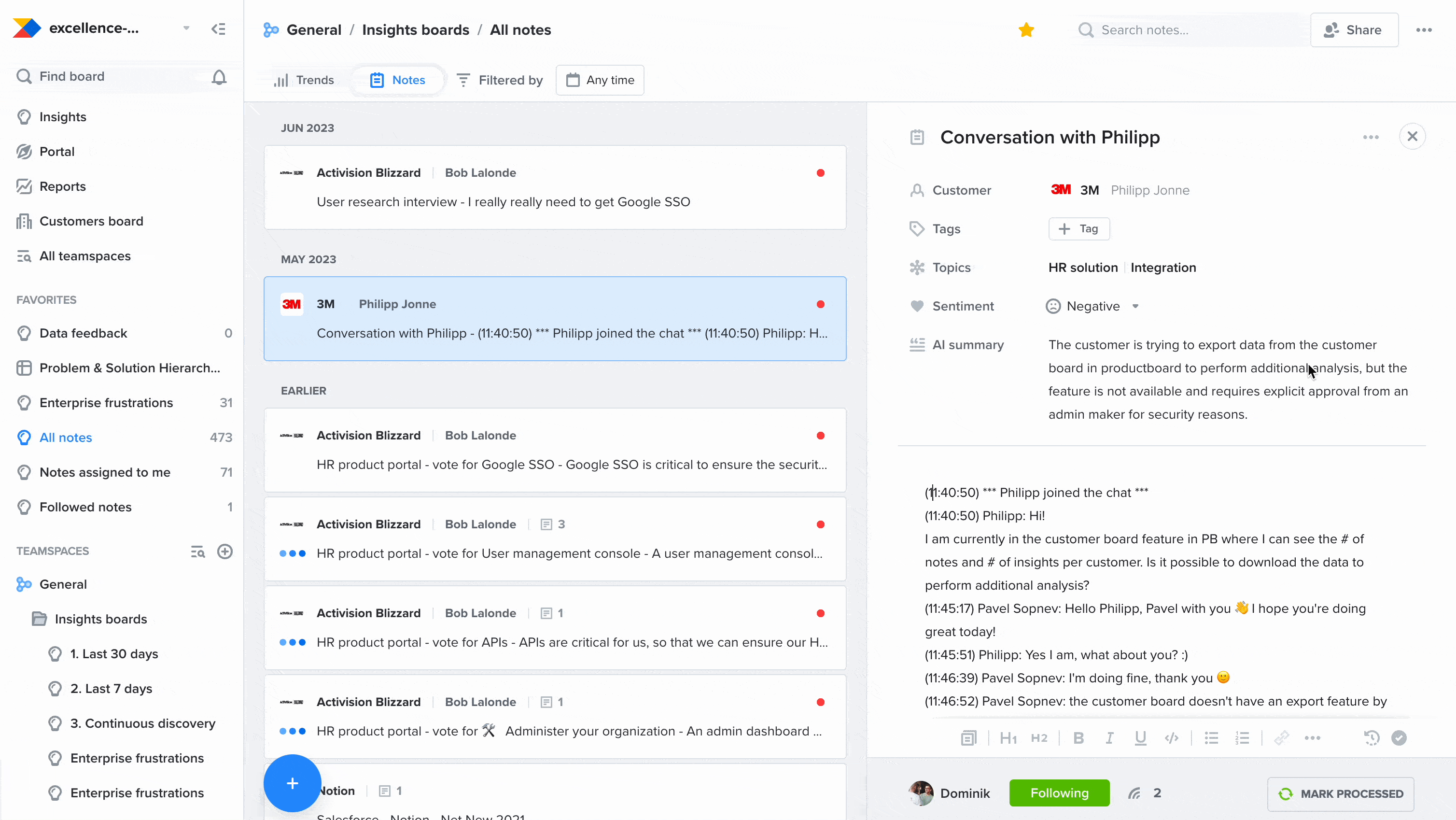 Whenever you receive user feedback about your product - whether in an email, a support ticket, a phone call, research notes, or some other form - Productboard allows you to capture the most important takeaway from that feedback and link it to a relevant feature idea. When you identify the most relevant takeaway and link it to a feature, we call that link an insight.
Linking feedback to feature ideas allows you to:
create a user impact score to identify your highest-priority customer needs
consolidate feedback about an idea in a single place
identify which users requested a given feature idea
In this article:
How to link a piece of feedback to a feature idea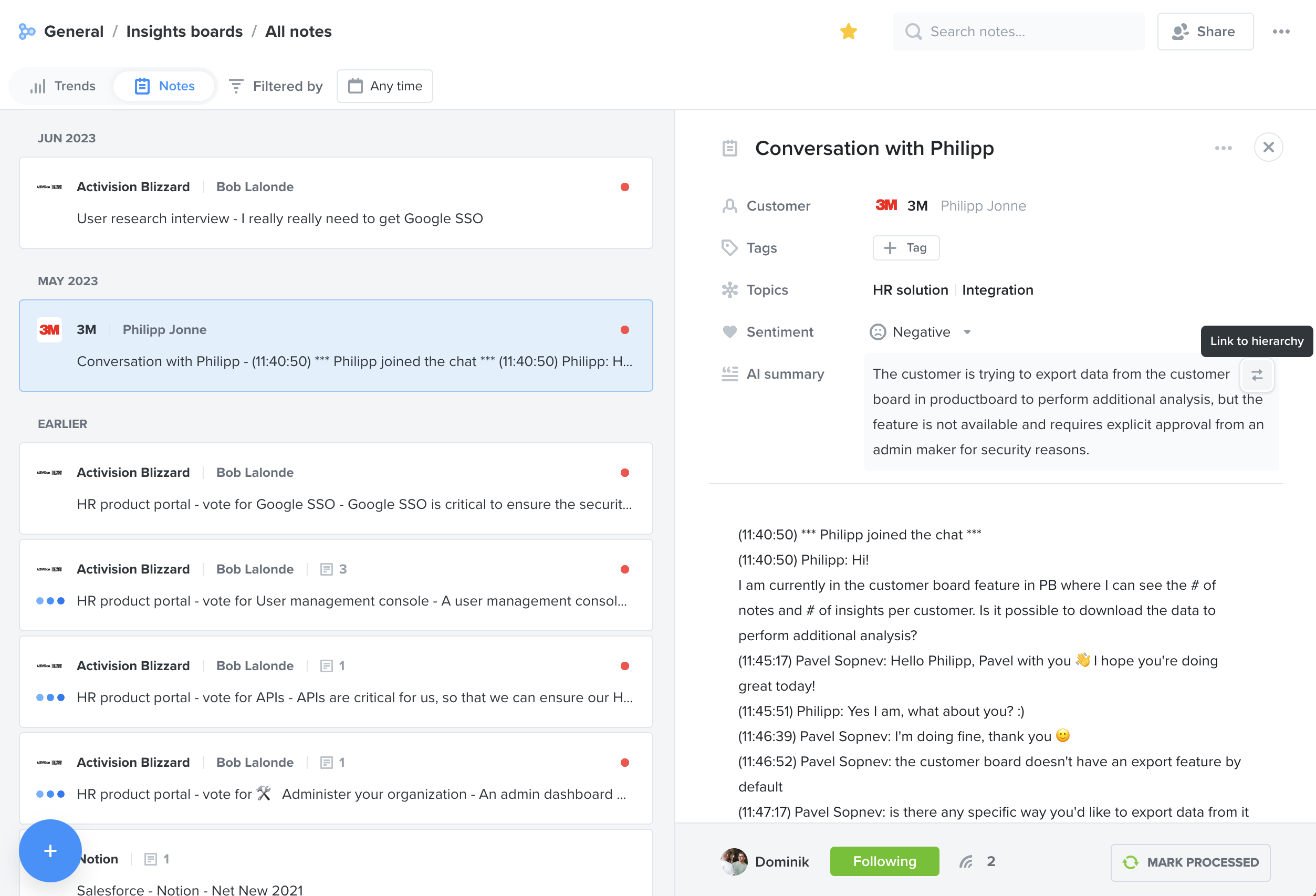 Navigate to your Insight board in your teamspace or folder.
Click the blue + button to create a new note.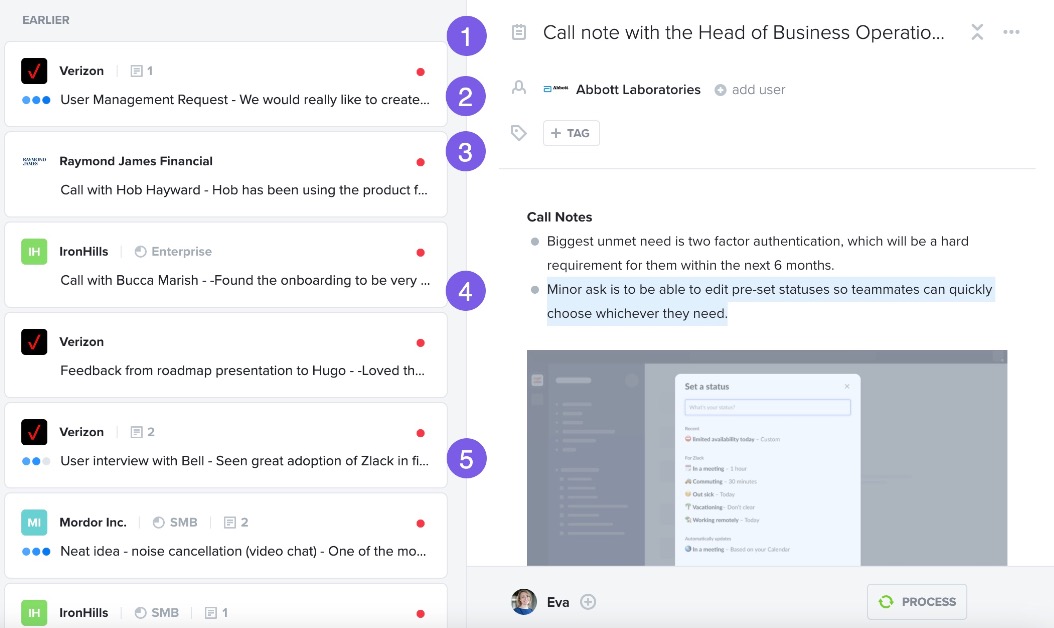 Give your note a title.
If you know it, add the associated company and/or user. (See more about adding companies to Productboard here.)
Add any relevant tags. We have suggested tag ideas below.
Copy-paste the user feedback. Productboard supports rich text.
To add an inline image to a note, simply drag and drop the image into your note. Alternatively, you can also copy-paste the image or copy-paste the URL for an image into your note. (Make sure to include the entire image URL, beginning with https://...)
Note: Productboard supports jpg, jpeg, png, gif and bmp image types. Drag-and-drop images is not currently supported in Safari.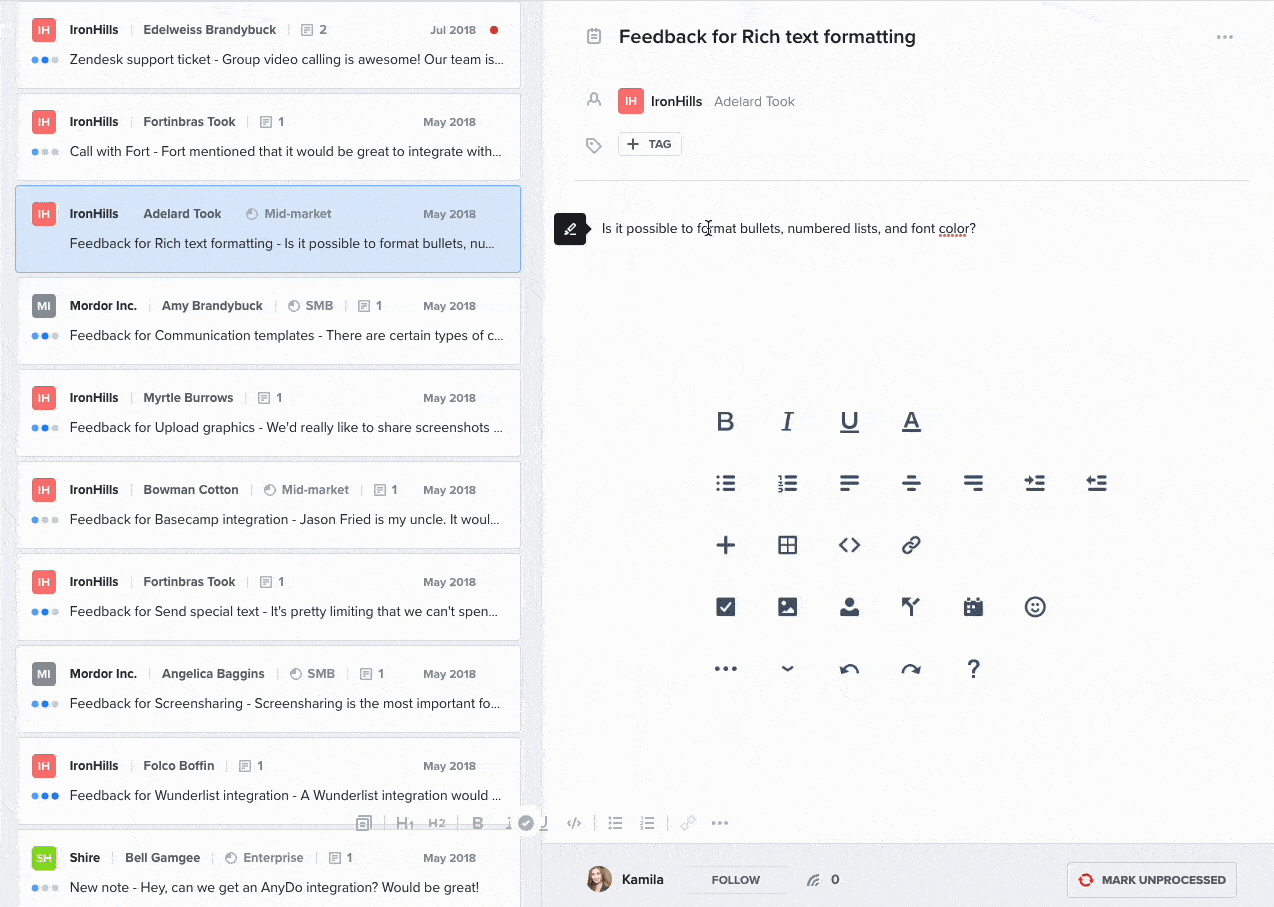 Now for the fun part: time to create an insight!
Select the most relevant text or images.
Click the highlighter icon which appears.
Search for the relevant feature idea. Select a feature from your product hierarchy, or create a new feature idea.
Identify the importance of this feature to this particular user or company. Was this a nice-to-have (+1) or a dealbreaker (+3)?
Once you've selected the importance level, you've successfully created an insight! 🎉
We'll always show a list of recently linked features, in case you're processing a batch of related notes. If you're on a Enterprise plan, we'll use machine learning to offer smart suggestions as well.
Sometimes it's clear what a user needs but you just don't have a feature idea for it yet. You can create a new feature right from the linking popup by typing its name and then selecting [+] ... (new).

Or, from the linking popup, use the [+] icon to add a feature or subfeature somewhere in the product hierarchy: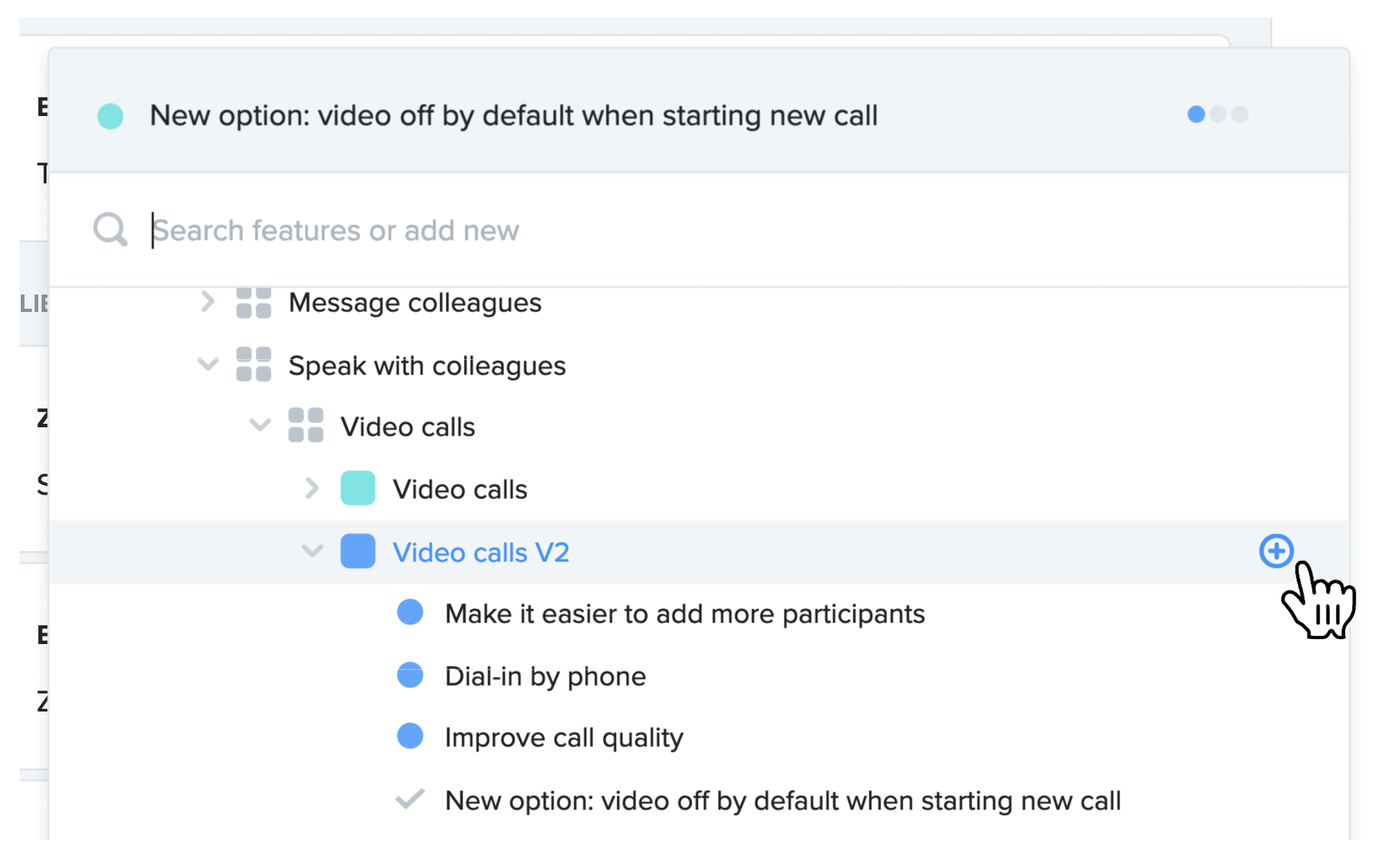 Note: You can link a note to multiple feature ideas, and you can link the same highlighted text or image to multiple feature ideas!
Smart feature suggestions
Once you've linked a significant number of notes to features, Productboard will offer smart feature suggestions powered by machine learning. We'll highlight the most relevant features so you can save time and process notes more efficiently.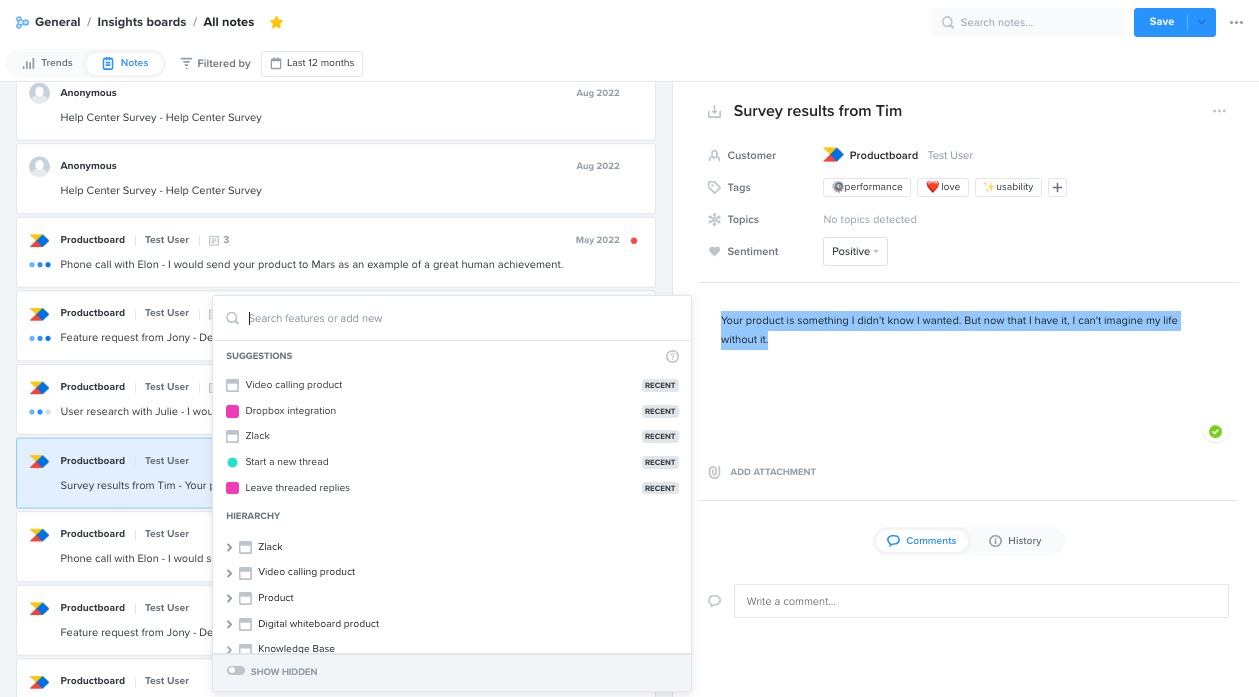 In order to see smart feature suggestions:
The note must be written in English
The note must contain at least 5 words (excluding stopwords like "and", "or", "they" etc)
Suggestions can only include features that are linked to at least one note.
Suggestions for manual notes can take up to one day to appear after the note is created.
How to process a note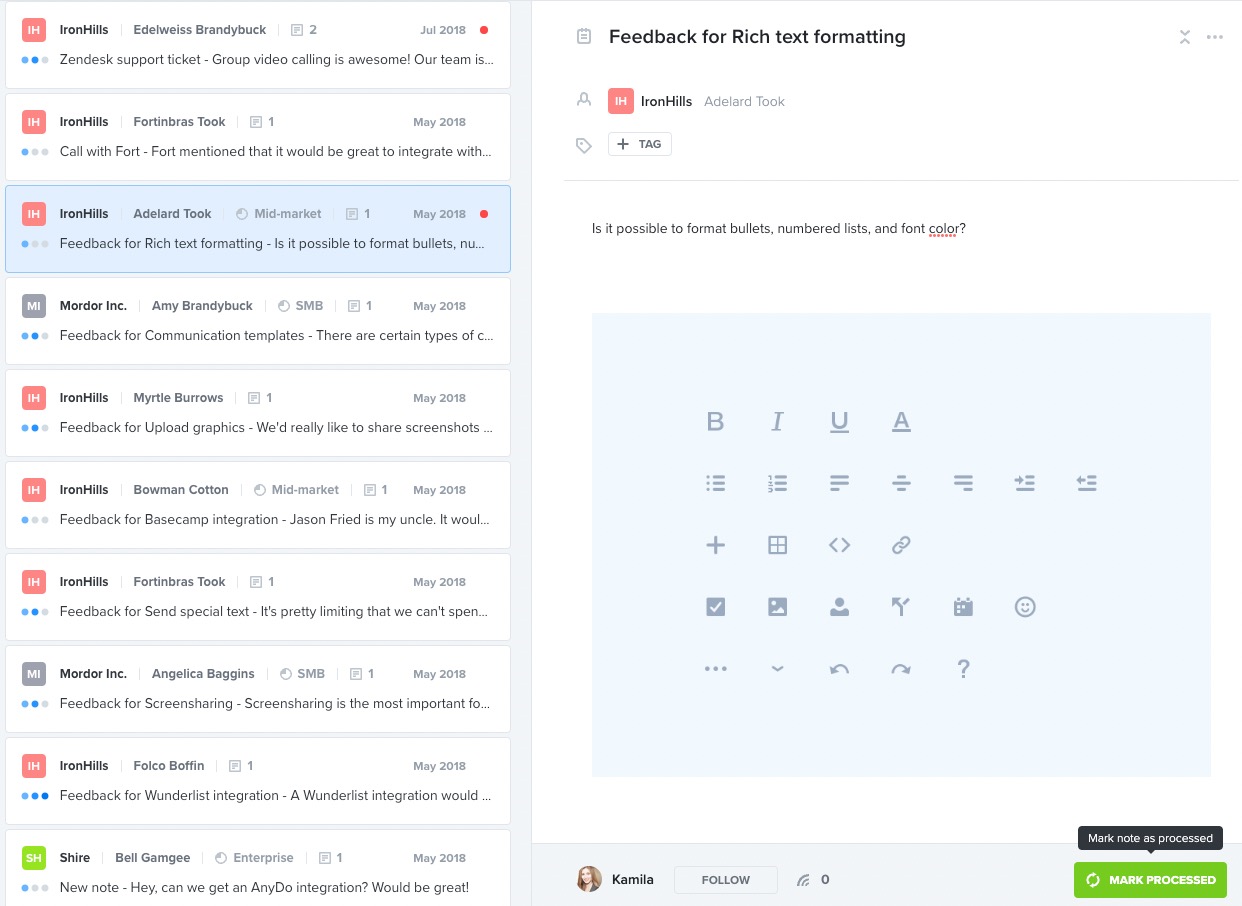 Once you've finished linking your note to any relevant feature ideas, you're not quite done!
When you're done categorizing a new note, mark it processed so you and your colleagues will know it's been reviewed. Doing so moves the note out of Unprocessed. (You'll still be able to find it in All notes.)
That way, everyone can focus on the new notes that have not yet been reviewed.
Leave a comment about the note, or @-mention a colleague to draw their attention.
Click Process to remove the note from Unprocessed.
Tip: Don't forget to process your notes when you're finished with them! 📭
Who should process a note?
When you come across a note your colleague should process, assign them ownership so it shows up in their Assigned to me. You can also claim ownership of notes that you will be processing in the same way.
Notes with an owner will still appear in Unprocessed until processed.
Once processed, notes will no longer appear in Unprocessed or Assigned to me.
How to process notes in bulk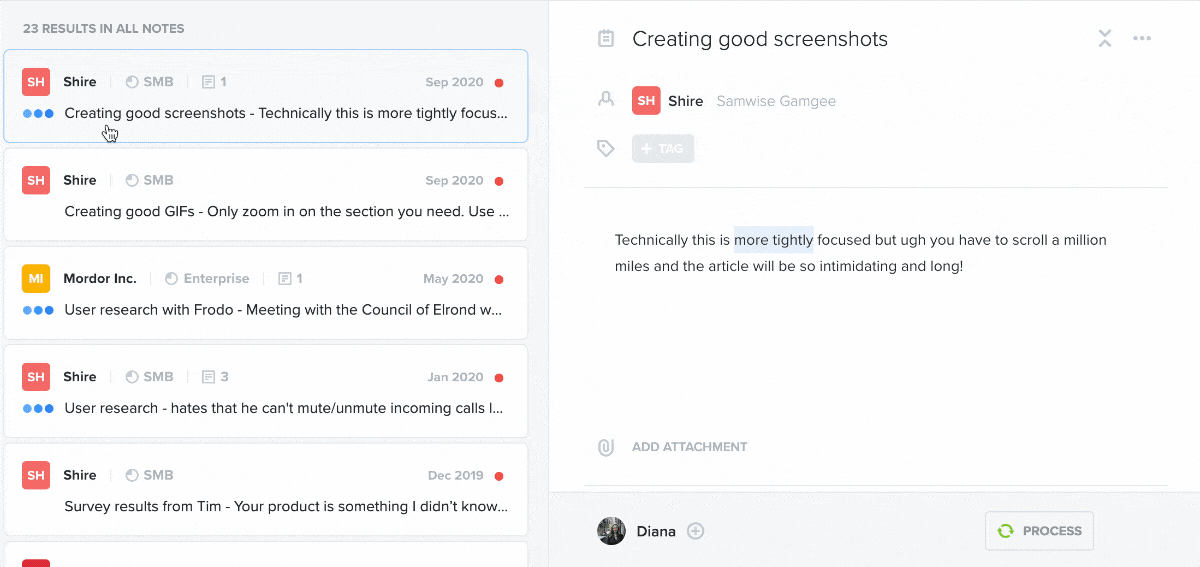 You can select a range of notes by holding shift or selecting the checkboxes beside their name. In the notes sidebar, you can then use the following bulk operations:
(Un)process
Archive
Delete
(Un)assign owner
Add followers
Tag
Update Users/Companies
Once you're done, just deselect all the updated notes.
How to use insights to generate a user impact score
Linking a snippet of user feedback to a feature idea creates a user impact score.
The user impact score represents the sum total of insights linked to a feature, weighted by importance:
+1 for unknown importance *
+1 for nice-to-have
+2 for important
+ 3 for critical
Most user insights related to a feature are expressing a related need, so by default, any linked insights increase a feature's user impact score by +1.
You can find a feature's user impact score in its details pane, or by using the user impact score column on your Features board.

We go into this in greater detail here: Use the user impact score to surface your top-requested features.
See also