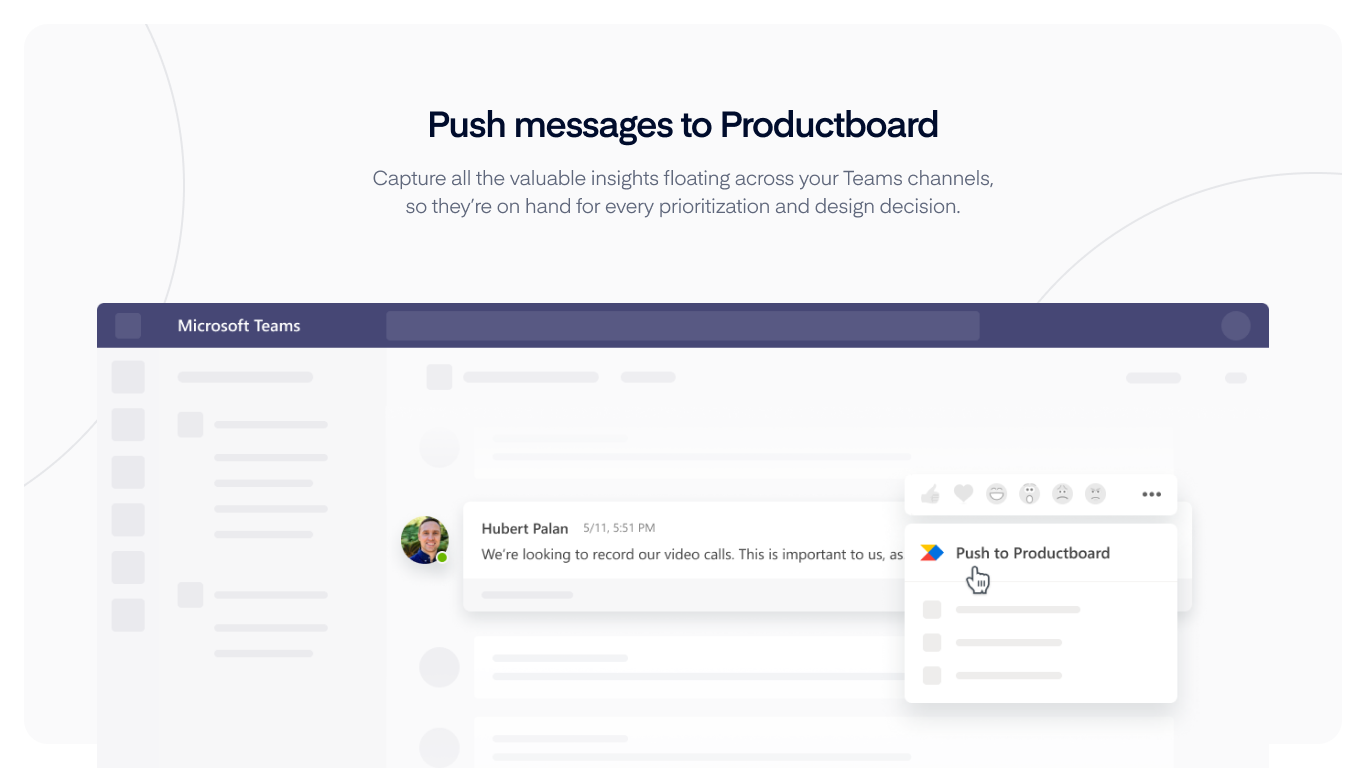 As your company uses Microsoft Teams to collaborate on projects or initiatives, you'll often encounter invaluable product feedback.
At Productboard, we want to ensure that you have a mechanism for housing this in a system-of-record. This enables you to record, categorize and leverage feedback for feature or roadmap prioritization.
By integrating Microsoft Teams and Productboard, you'll unlock the ability to:
Push Microsoft Teams messages into Productboard as notes
Receive Teams notifications when a note has been processed
Track the status of your pushed notes through our notes overview tab
school

Productboard Academy Quick Tip Video

For more quick tip videos and on-demand webinars, check out Productboard's Academy.
Note: Additional Academy content is available to trial users and paid customers only.
In this article:
How to enable the integration
Note: You must have permission in Microsoft Teams and a paid

Microsoft 365 plan

to install apps in Microsoft Teams.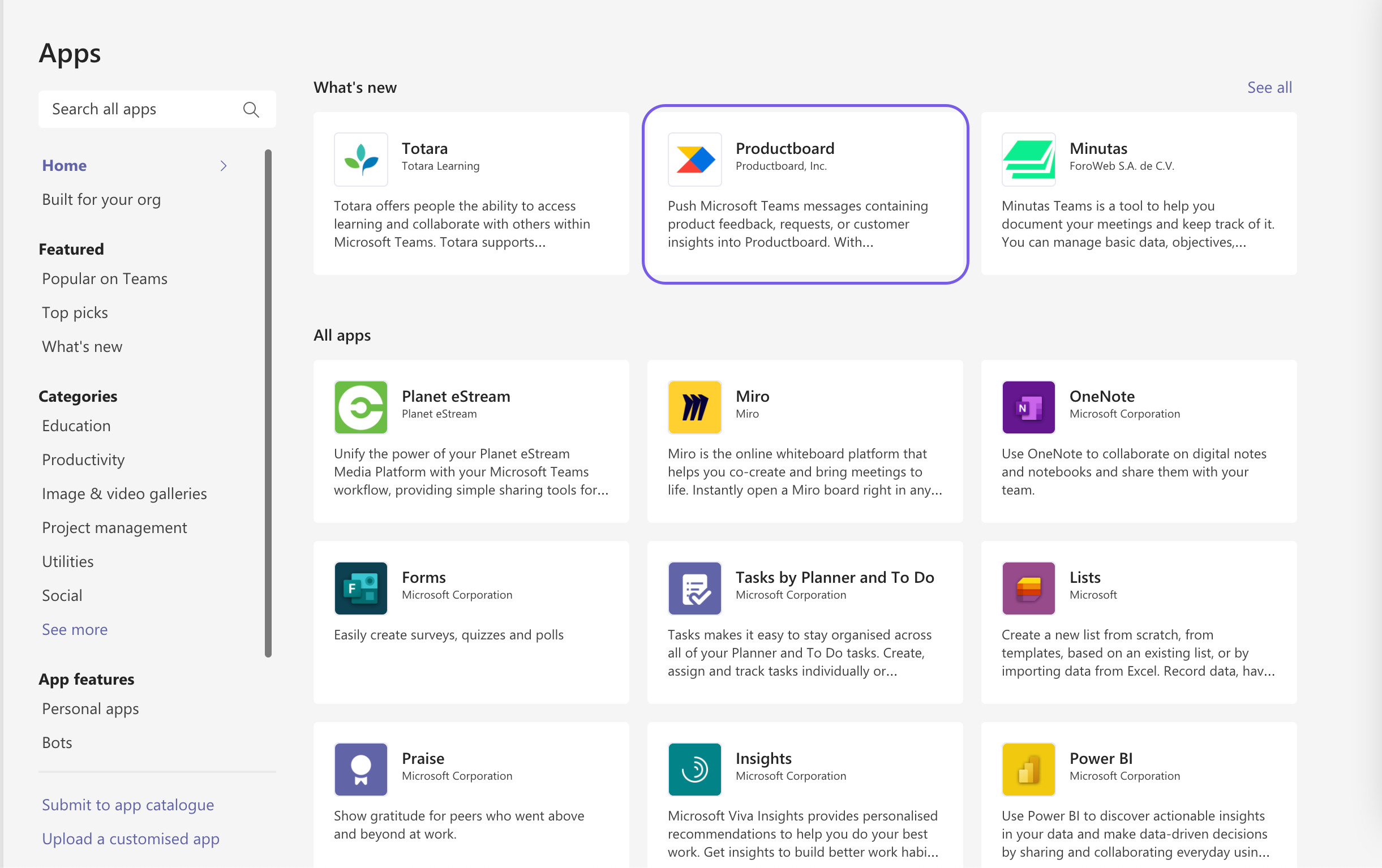 Go to the Microsoft Teams Marketplace and search for "Productboard" or click this link.
Click on Install.
Sign into your Productboard space.

Add the Productboard app to the channels of your choice.



How to push messages from Microsoft Teams into Productboard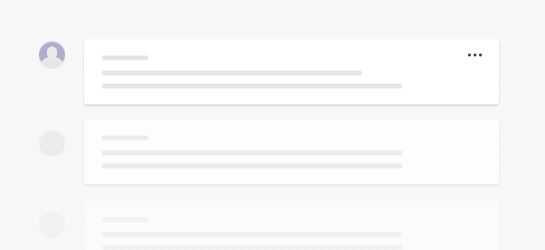 Hover over a message.
Select More actions [...].
Select Push to Productboard.
(Optional) Provide additional comments to the note.
Select the Productboard space to which the note will be pushed.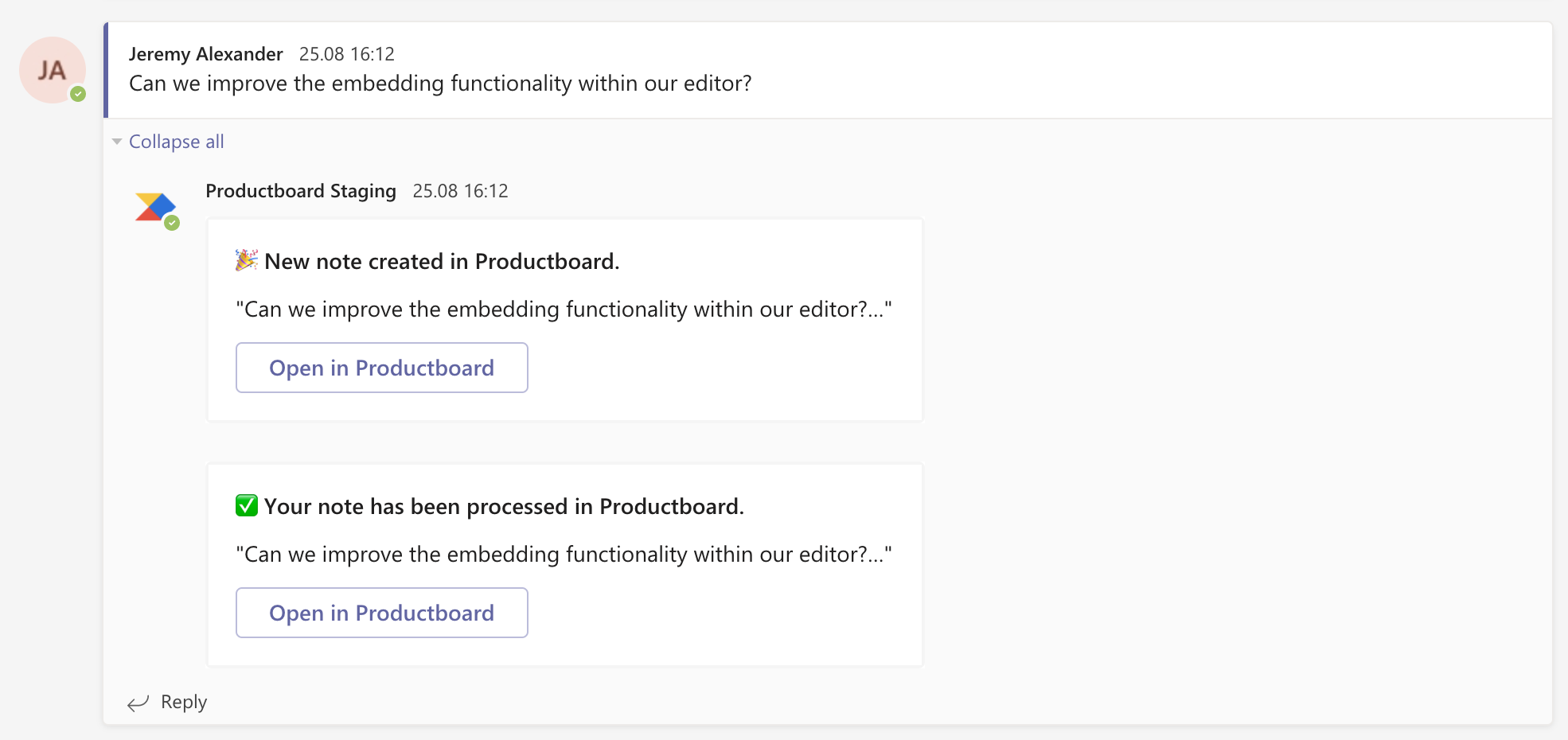 You will receive a bot message indicating that the note has been successfully pushed to Productboard. Select Open in Productboard to open the note in your Insights board.
How to track the status of your pushed notes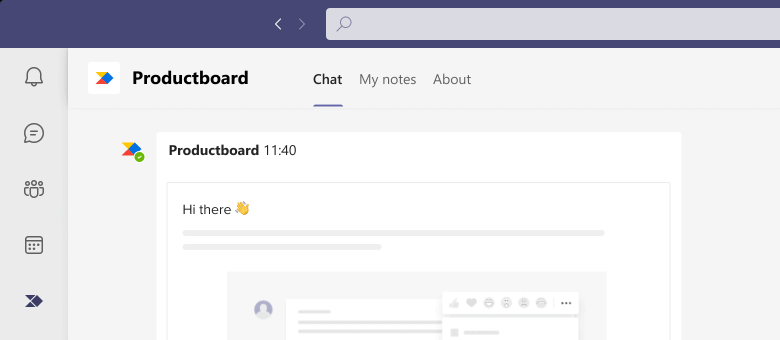 Select the Productboard tab from the left sidebar.
Within the Productboard tab, select My notes from the top navigation bar.
If you have pushed notes, you will see them chronologically ordered. You will also see their associated status (processed/unprocessed).
What types of messages can be pushed to Productboard from Microsoft Teams?
You can push all plain text messages from private channels, team channels or chats.
Each note only records a single message. Therefore, if you wish to push multiple notes from the same thread, you will need to push each note separately. Each of the pushed messages will be recorded as a separate note in Productboard, i.e. they will not be threaded together.
Known issues
Authentication failure
Issue description
Depending on your SSO implementation, it can happen that the Microsoft Teams native application for Mac or Windows sometimes fails to authenticate a sign-in. If this happens, you'll get an error message similar to the below one:

Issue resolution
Follow the steps below to resolve the issue:
On your browser of choice, log into Microsoft Teams.
Authenticate the Productboard app. You can find it here. 
By following these steps, you'll set up Productboard in the browser and the Microsoft Teams desktop apps.
Productboard is actively working with Microsoft to resolve this issue.
Limitations
Can users push notes that include images to Productboard with the Teams integration?
No, You can only push simple text and HTML messages with the Teams integration.