Teamspaces enable you to organize your entire product organization in one workspace. With teamspaces, each team has its own space to manage boards and data everyone has easy access to all the information that's relevant to their work and can customize the Productboard main menu sidebar to reflect their role and priorities.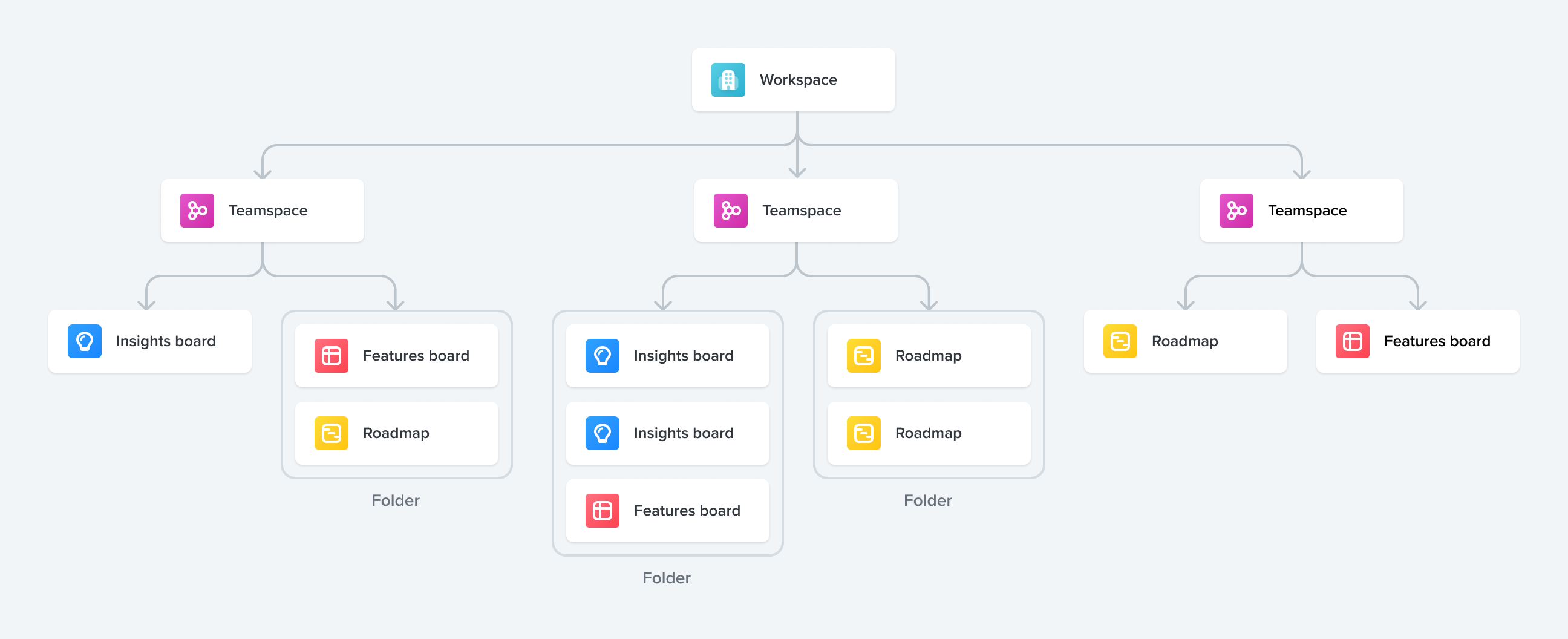 In this article: 
Getting started with teamspaces
Whether your organization consists of 50 people, or 5000, chances are it's made up of various teams, all working on their products, tasks, projects, and goals.
With all that data living side by side in the shared workspace, you need a clear path to the content you use daily. Product leaders have to make sure everyone on their team is on track and can find what they need to get work done.
Joining teamspaces
To join one of your company's teamspaces: 
Navigate to the All teamspaces section in the main menu OR select the

🔎

icon in your teamspaces section.
Here you'll see all the teamspaces you can join. Find the one you want and click the Join button.
Note: 

All new users are automatically added to the default teamspace.
The default teamspace cannot be archived.
The original name given to the default teamspace is 'General,' but the name can be changed by the members with admin access.
Users will be automatically added to a Teamspace if a Team they are part of is added to that teamspace. 
Creating teamspaces for different teams in your organization
Your Productboard workspace doesn't have to be one size fits all. With teamspaces, each department and team can choose how they view information and set up unique workflows. Individuals may belong to many teamspaces based on their department, role, or product in the company.
Unite cross-functional product teams  — Create teamspaces for your product teams to focus on their day-to-day work.
Create teamspaces for other departments in your company — At Productboard, we have teamspaces for Product and Engineering as well as our Go-To-Market teams, such as customer success, marketing, and sales.
Bring people together to collaborate on projects — You can create a teamspace to organize the boards and tasks for any kind of project or initiative, even if it's short-term. When the work is done, you can archive the Teamspace (all its contents can be recovered later, if you ever need them.)
Important: Customers on the Essentials Plan can create 2 teamspaces, Pro customers can create 3, and there are unlimited on teamspaces available on Enterprise. 
Creating a teamspace
To create a new teamspace: 
Click the + button to the right of the teamspaces label in your sidebar, or go to All teamspaces, and click + Create teamspace. 
Give your teamspace a name and description, and choose the color for the teamspace icon.
The teamspace will appear in your sidebar. 
You can add other members or entire teams when creating a teamspace or add them later via Teamspace settings.
Note: You can edit your teamspace settings by clicking the More actions  button next to your teamspace and selecting Edit.
Who can create a teamspace?
By default, all makers and makers with admin access can create teamspaces. To ensure better control over teamspace creation, admins can restrict access to create to teamspaces to admin users only. 
To toggle this on:
Click your

 

workspace name

 

in the top left of your account, and then click Settings.
Under the section Features for bigger teams, toggle on Teamspace creation for admins only.
Organizing your boards for easy access and discoverability
If you have multiple product teams, your Productboard workspace likely contains 100s of various boards. You can organize your boards into a hierarchy using folders. Folders will help users navigate information in Teamspaces and find the information they need. Using folders will also help contextualize groups of boards that otherwise would not paint a bigger picture.
Using folders
Your default teamspace will contain folders with the default boards (Insights, Features, Roadmap, and Customer board). You can use these folders, create additional ones, move them between teamspaces, and build a nested hierarchy.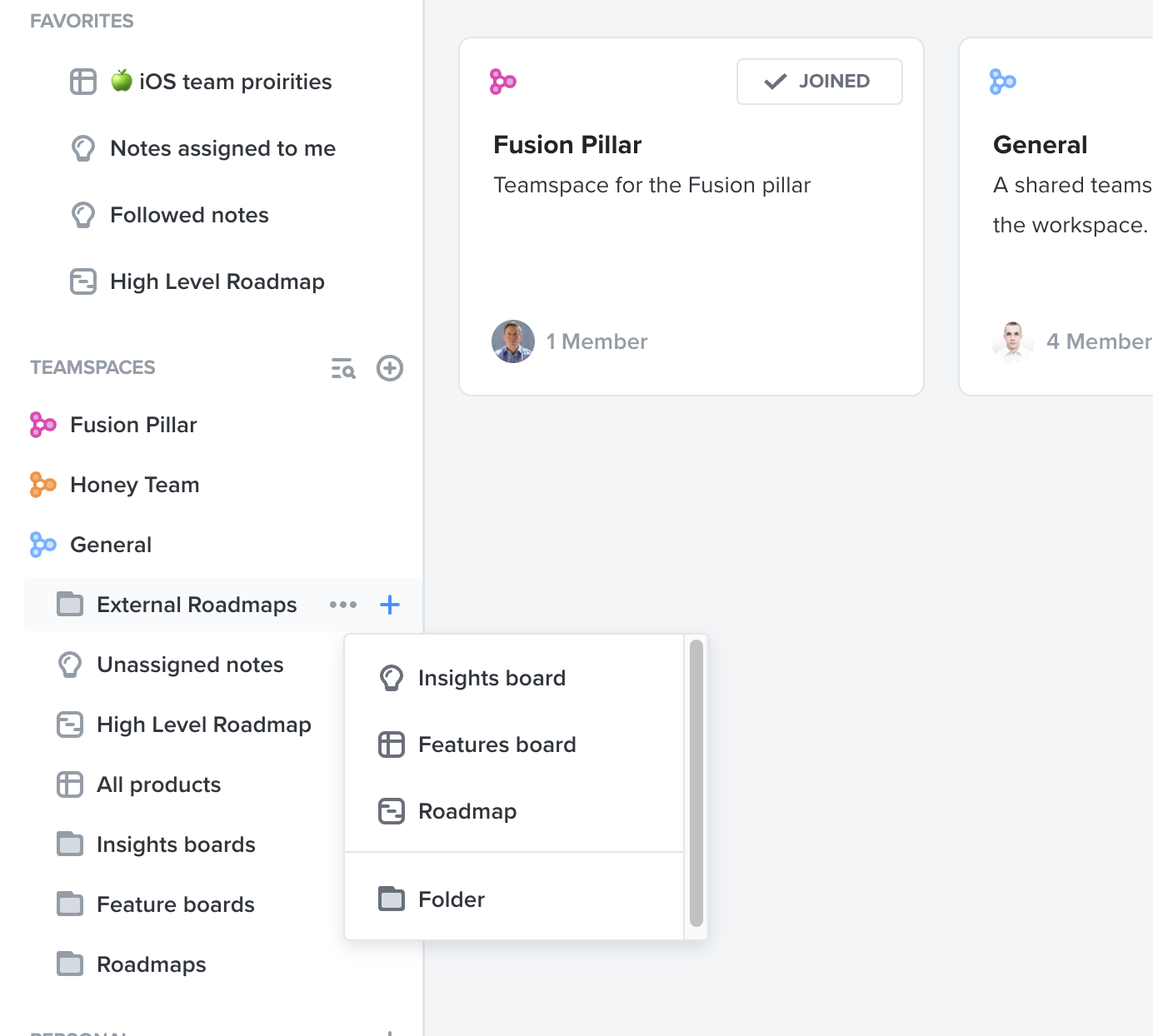 To create a folder: 
Select the teamspace where you want to create the folder.
Click the + button to the right of the teamspace title.
Select Folder from the list. 
The folder will appear in your sidebar and is visible to all users.
Rename the folder.
You can start moving or creating boards under the new folder.
Managing boards in a teamspace
Teamspaces and folders give you endless flexibility when it comes to organizing your boards. Boards can live anywhere in your teamspace and folder hierarchy. You can simply list boards within a teamspace, or you can create a nested hierarchy using folders.
Adding boards to your teamspace or folder
To add boards to your teamspace or folder:
Select the teamspace or folder where you want to create the board.
Click the + button to the right of the teamspace or folder title.
Select the type of board you want to create from the list.
The board will appear in your sidebar
Give it a name (No one likes a list of 'untitled' boards).
The board will be only visible to you until you decide to share it with others. To learn more about sharing, go to 'board sharing'.
Board types

Productboard allows you to create three types of boards:

Insights boards
Feature boards
Roadmaps
Moving boards and folders
You can move boards within a teamspace or between teamspaces. You can do this individually by dragging a board and dropping it into the desired teamspace or folder. You can also use the 'move to' option available from the
 menu next to the board.
Moving boards in bulk
If you need to move multiple boards, you can just move the parent folder to the new destination. When moving folders, some boards might not be visible to you, and they might be restricting the ability to move the whole folder.
Board shortcuts
With board shortcuts, you can easily share boards across multiple teamspaces, saving you time and streamlining your workspace.
Creating a board shortcut:
With board shortcuts, effortlessly sharing boards across multiple teamspaces is as easy as a few clicks. Here's how you can create a shortcut to a board:
Navigate to the board you want to share.
Create a shortcut by clicking Add shortcut to.
Choose the teamspace where you want this shortcut to be available.
Confirm your selection, and voilà! Your shortcut is now ready to streamline your collaboration.
Accessing boards through shortcuts: Once you've created a shortcut, the board becomes directly accessible through the link within the teamspace where it's linked. Simply click the link, and you're in.
Adding shortcuts to multiple teamspaces: You can add the same board to multiple teamspaces. Follow the same process to create shortcuts in other teamspaces, ensuring all relevant teams have easy access to the information.
Managing existing shortcuts: You can delete any existing shortcuts that you no longer need. This helps maintain an organized workspace without clutter.
Benefits of using board shortcuts:
Simplified workflow: No more manual board duplication; share boards seamlessly.
Reduced manual maintenance: Say goodbye to the hassle of managing multiple board versions.
Enhanced team collaboration: Large organizations can effectively utilize teamspaces without duplicated boards.
Improved user experience: Navigating teamspaces and accessing shared information is straightforward, boosting user satisfaction.
Competitive advantage: Addressing a common customer pain point sets you apart from competitors and enhances your product's value.
Permissions in teamspaces
Creating teamspaces
By default, your workspace admins will have full permission to create and manage teamspaces. Makers can create teamspaces.
Managing teamspaces
Admins will have full access to manage all existing teamspaces. They can rename the teamspaces, update the description, archive active teamspaces and delete archived teamspaces.
Makers will only be able to manage teamspaces when they are assigned teamspace owners. Admins can assign team ownership to another maker. Makers automatically become owners when they create a teamspace.
Board permissions
Board permissions are still managed on the individual board level. Adding a board into a teamspace will not automatically change the permissions on the board level.
Leaving or archiving a teamspace
Leaving a teamspace
To leave a teamspace: 
Navigate to All teamspaces section in the main menu OR select the 🔎 icon in your teamspaces section.
Find the Teamspace you want to leave, and click Leave.
The Teamspace will be removed from your main menu list.
Note: Teamspace owners will have to transfer ownership of the teamspace before leaving the teamspace. If you were added to a teamspace by being part of a Team, you wont be able to leave the teamspace.
Archiving a teamspace
To archive a teamspace that you are the teamspace owner of: 
Navigate to All teamspaces section in the main menu OR select the 🔎 icon in your teamspaces section.
Hover over the teamspace you want to archive.
Click the  button and then choose the Archive option.
Note: Teamspace owners and workspace admins will be able to restore archived teamspaces in the All teamspaces section. Archived teamspace will be removed from the main main for all users. The boards will still be available via search or direct link.
school

Productboard Academy Webinar

Get ready to see the newly redesigned navigation and improved collaboration in your workspace. Learn how to prepare your workspace for greater productivity, better ways of working, and faster execution.
See also: