This executive report allows you to understand where and how you are investing your resources.
In this article:
What questions does the report help you to answer?
When you consider everything you're building, how much is meant for growth vs. keeping existing customers happy vs. driving down debt? Are you investing the right amount in each area?
Are people working on things that are not aligned with your priorities?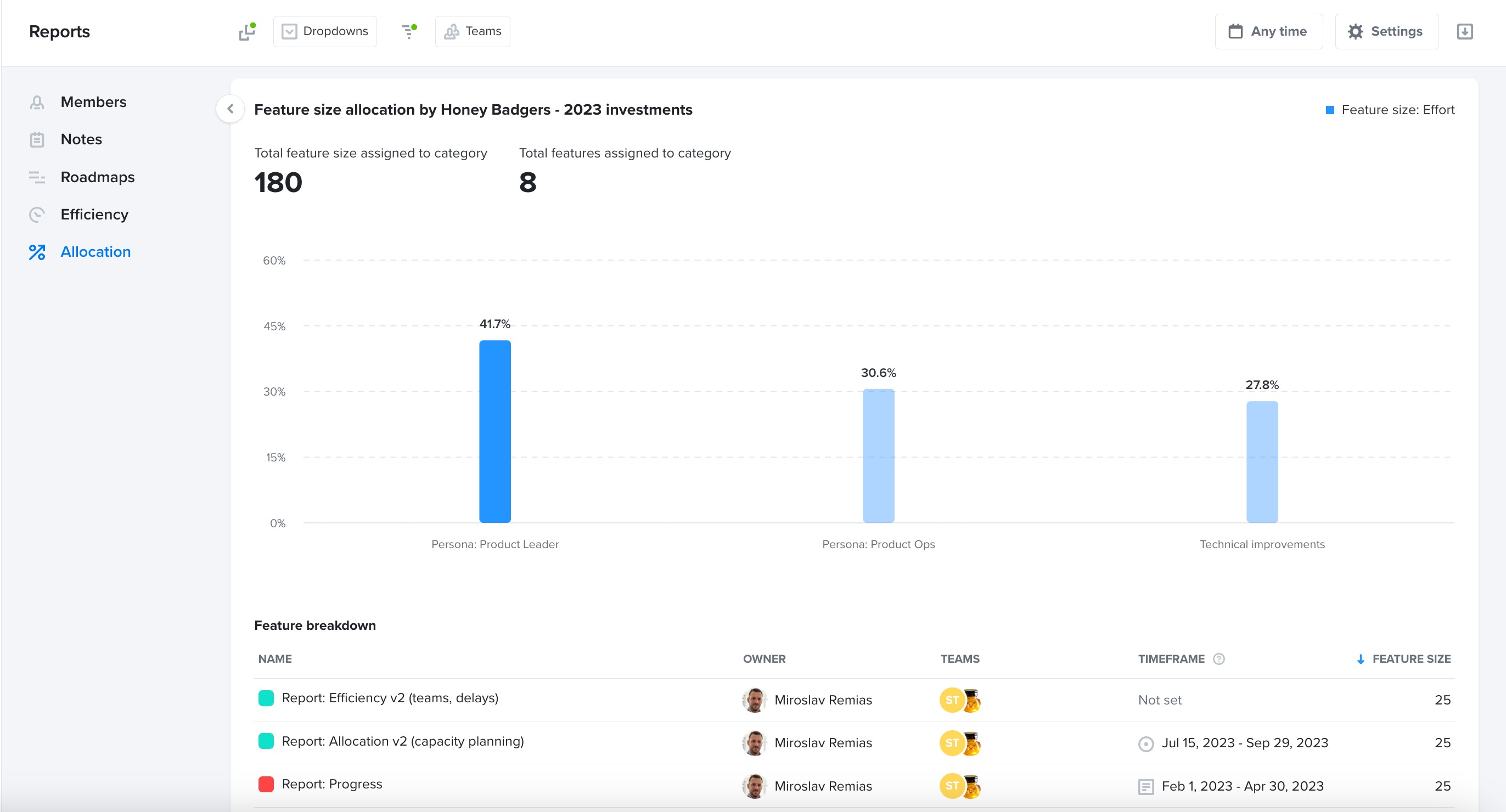 Note: Getting a high quality outlook of your investment strategy requires a process for defining feature size and assigning features to a category such as objectives. To learn more about assigning objectives, see the article Prioritize around clear objectives
Widgets
Feature size allocation by <category>
This widget allows you to see how much you are investing in each of your investment categories. It shows:
Total feature size assigned to category – The sum of all features <effort> across all categories. This number is 100% when all the features are assigned to a category.
Total features assigned to category – The sum of all features assigned to a category. This number is 100% when all the features are assigned to a category.
Note: It's best to keep a feature assigned to just one category at a time, because otherwise, its effort counts multiple times, one per each category.
Total features with size set – The sum of all features that have <effort> set. This number is 100% when all of the features have <effort> defined.


You can drill down into the details of each category and see a list of all features that contribute to it by clicking on the category bar chart.
Note: It is not possible to drill down into categories that do not have any features assigned.
Timeframe – each feature can have multiple timeframes defined. Those can be direct (on a feature level), indirect (via associated release or objective), or a combination of both. The timeframe on the feature level is displayed primarily, followed by the timeframe coming from a release, and lastly timeframe from an objective.

Category Selector
You can select one of the available categories, including Products, Objectives, Themes, and Dropdowns - a custom field on the feature level of the type dropdown.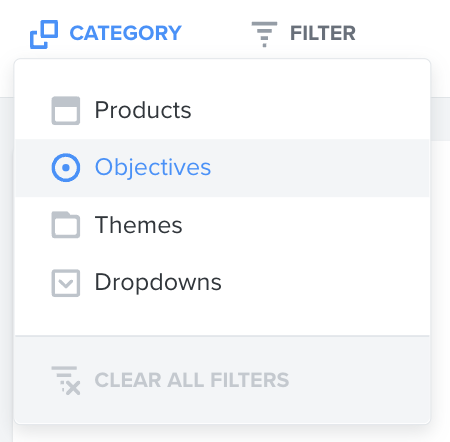 Note: There are many ways you can define your categories, so think about what is important for your product strategy – are you addressing the needs of a specific user or buyer personas (e.g., developer vs. marketer), funnel stages (e.g., acquisition vs. retention), or customer types (SMB vs. Enterprise)?
Filters
You can filter the data based on Hierarchy, Owner, Teams, Releases, and Statuses.
Note: To display relevant data using the Team filter, your Feature needs to be assigned to an Objective associated with a Team.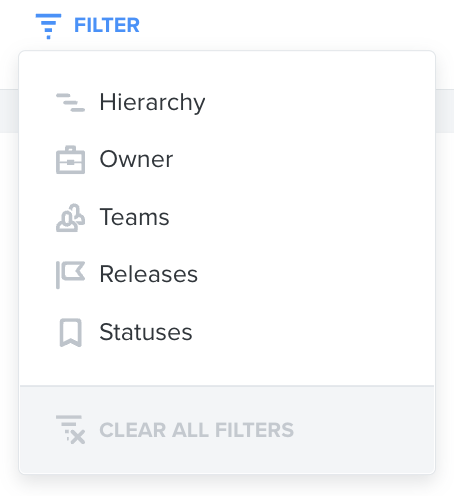 Time range selector
You can select the next 30 days, 90 days, 12 months, and a Custom time range. When you select the not set option, only features with no direct or indirect timeframes are considered. This is useful if you would like to see features without a timeframe defined.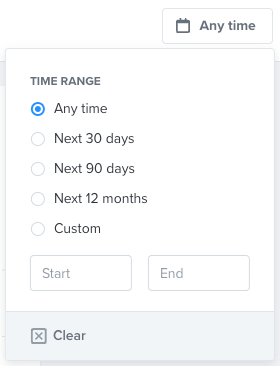 Settings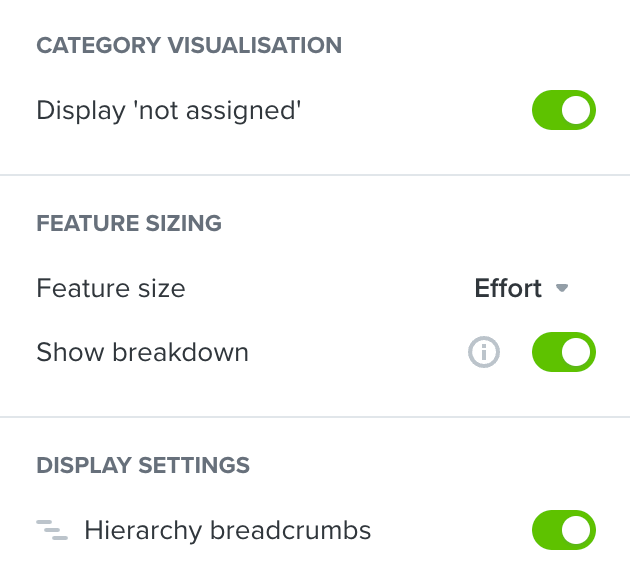 Display 'not assigned'
Once enabled, you will see a separate category called Not assigned that holds a list of features that are not assigned to any selected category. This is helpful to identify planned work that might need to be aligned with your product strategy or goals. You can then consider if someone should work on such items or if the right category should be selected for such items.
Feature size
Here you can select which field on a feature level will represent its size. The sum of all such fields of features in a given category represents the size of the category.
Effort – This is a system field on a feature level where you can store the number of story points from 0.5 to 100.
Feature count – In case you don't have effort defined on the feature level, you can still check how many features contribute to each investment category.
Number field – Any custom numeric field which can be typically used when calculating effort in man-days or T-shirt sizes.
Notes:
- When planning your work, this can be done in iterations when it comes to the size of features. At inception, you can use guesstimates such as T-shirt size. Once you gain more clarity about the problems and solutions, you can go the route of further detailing the estimates in more accurate units of work, such as man-days or so.
- When looking at portfolio allocation across your product(s), it's best if all teams are using the same type of estimate.
- Consider synchronizing feature sizes with Jira using our two-way synchronization. For more information, see Mapping fields between Jira and Productboard.
Show breakdown
Once enabled, you can see at a glance how many features contribute to each category and how many of these have their feature size defined.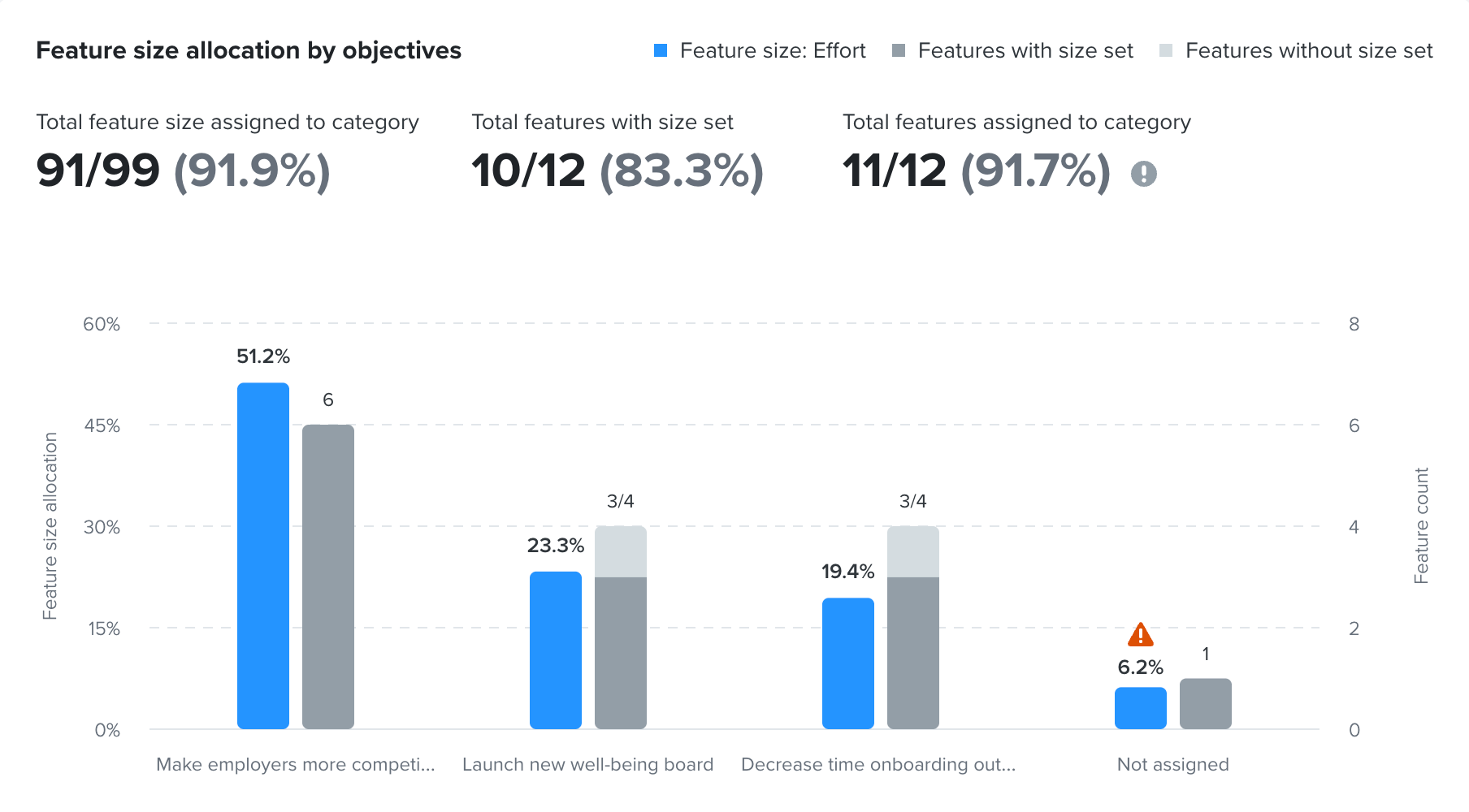 Display settings
Here you can enable what should be displayed in the category detail view such as feature hierarchy breadcrumbs and others.
Export to CSV
You can export the raw data of this report to a CSV file. Its contents will match your currently applied filters and date range selections.  Just click the Export button in the report's header and you will receive an email with a link to download the CSV file.

See also: