Your roadmap tells a story about your product - and sometimes a big story needs to be broken into chapters for easier reading. Use swimlanes to arrange your feature ideas for greater clarity and storytelling.
In this article:
How to add swimlanes to your roadmap
Add swimlanes to your roadmap using the Settings menu:


The types of swimlane you can add to your roadmap depend on the type of roadmap you're creating.
How to create a custom swimlane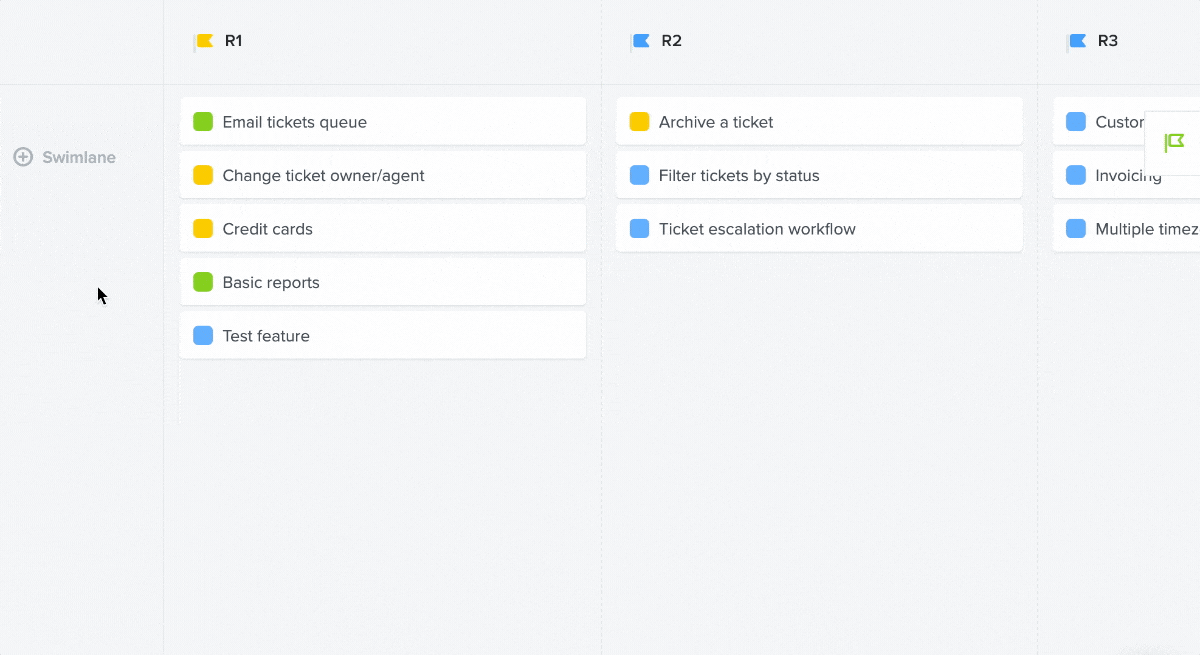 Click + Swimlane to create a new swimlane.
Give your swimlane a name and hit return.
To create another swimlane, click + Swimlane below.
To move a feature to another swimlane, simply drag and drop that feature into the desired swimlane.
How to reorder a custom swimlane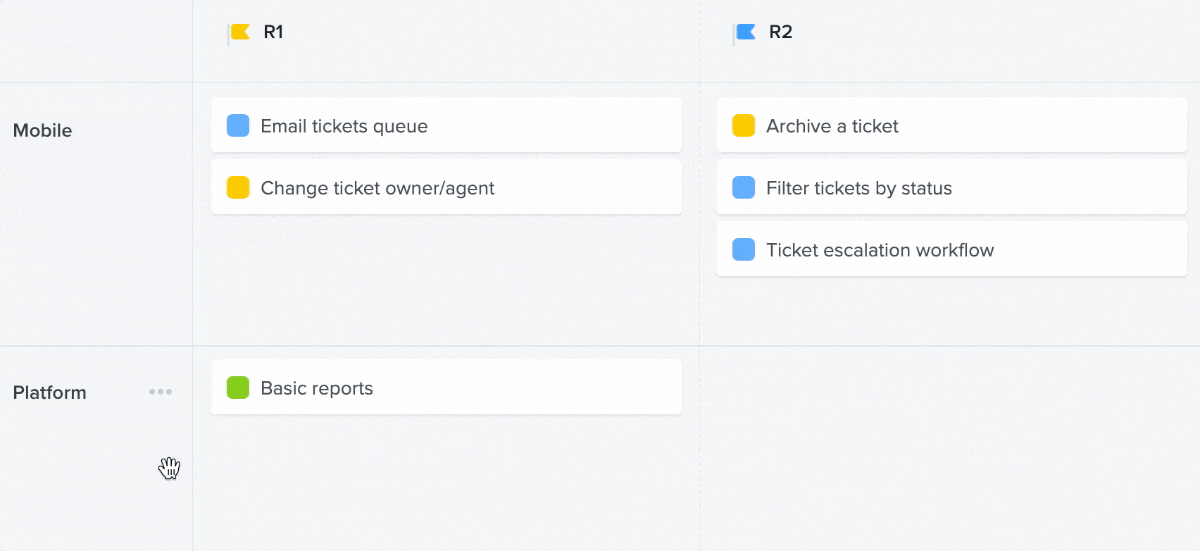 Click on a swimlane title and hold down.
Drag and drop the swimlane to the desired position.
How to rename or remove a custom swimlane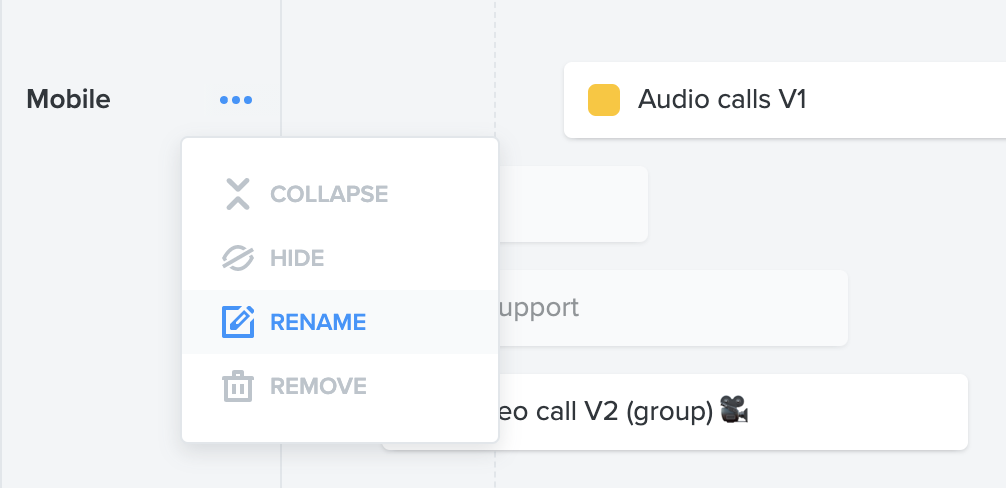 Hover over a swimlane title and click the ・・・which appears.
Click Rename to edit the name of your swimlane.
Click Remove to delete the swimlane. This will not impact features associated with your swimlane. Any features in a deleted swimlane will be migrated to the next swimlane.
How to add a Product swimlane
Product swimlanes are generated automatically from your product hierarchy:


To create a new product in your roadmap, you'll need to create a new product in your Features hierarchy: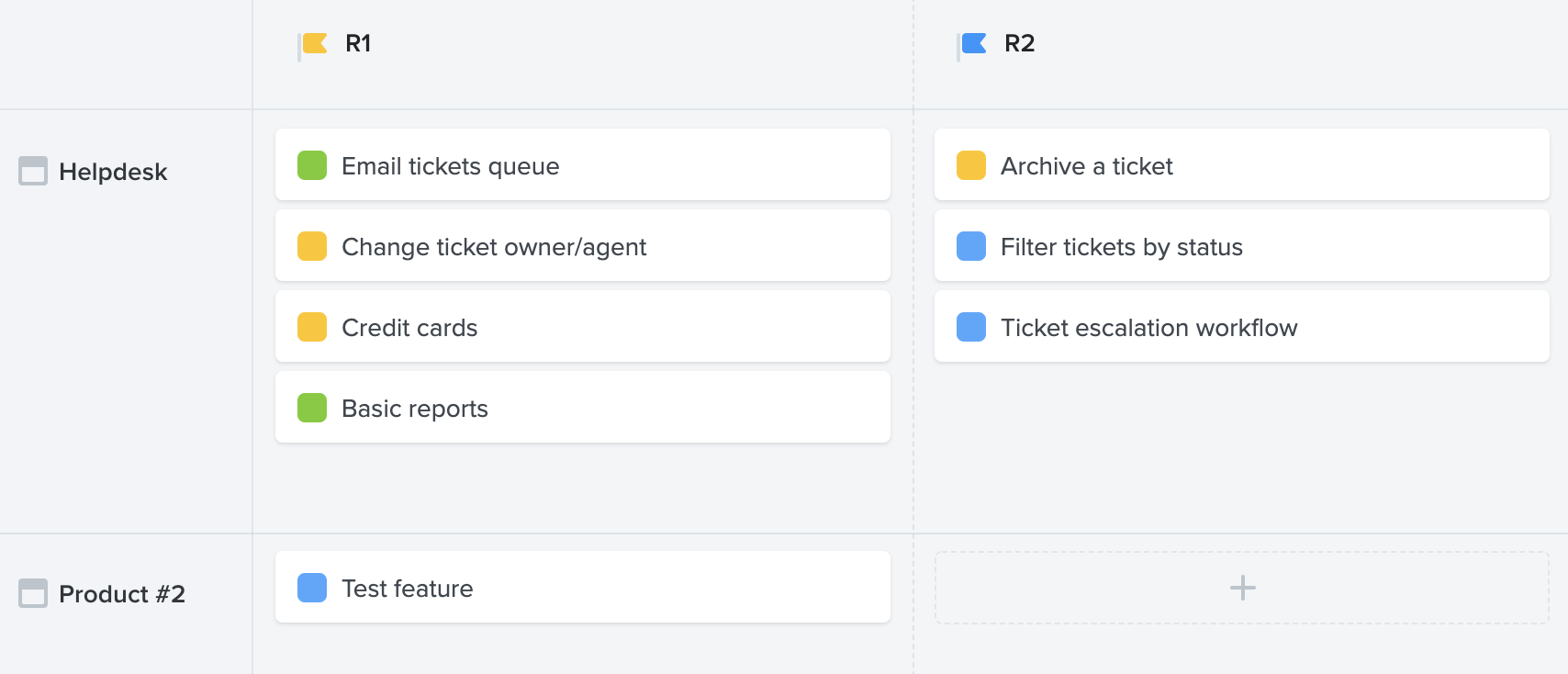 Note: A product will not appear on your timeline until at least one of its features meets the roadmap's inclusion criteria. For example, in a Release plan or Sprint plan roadmap, a product will show up as a swimlane once once of its features is assigned to one of the selected releases.
How to add a custom field swimlane
NOTE: Available on Pro, Scale or Enterprise plans, on a column based roadmap (e.g. Release plan roadmap, Sprint plan roadmap, Now-next-later roadmap, or Kanban roadmap)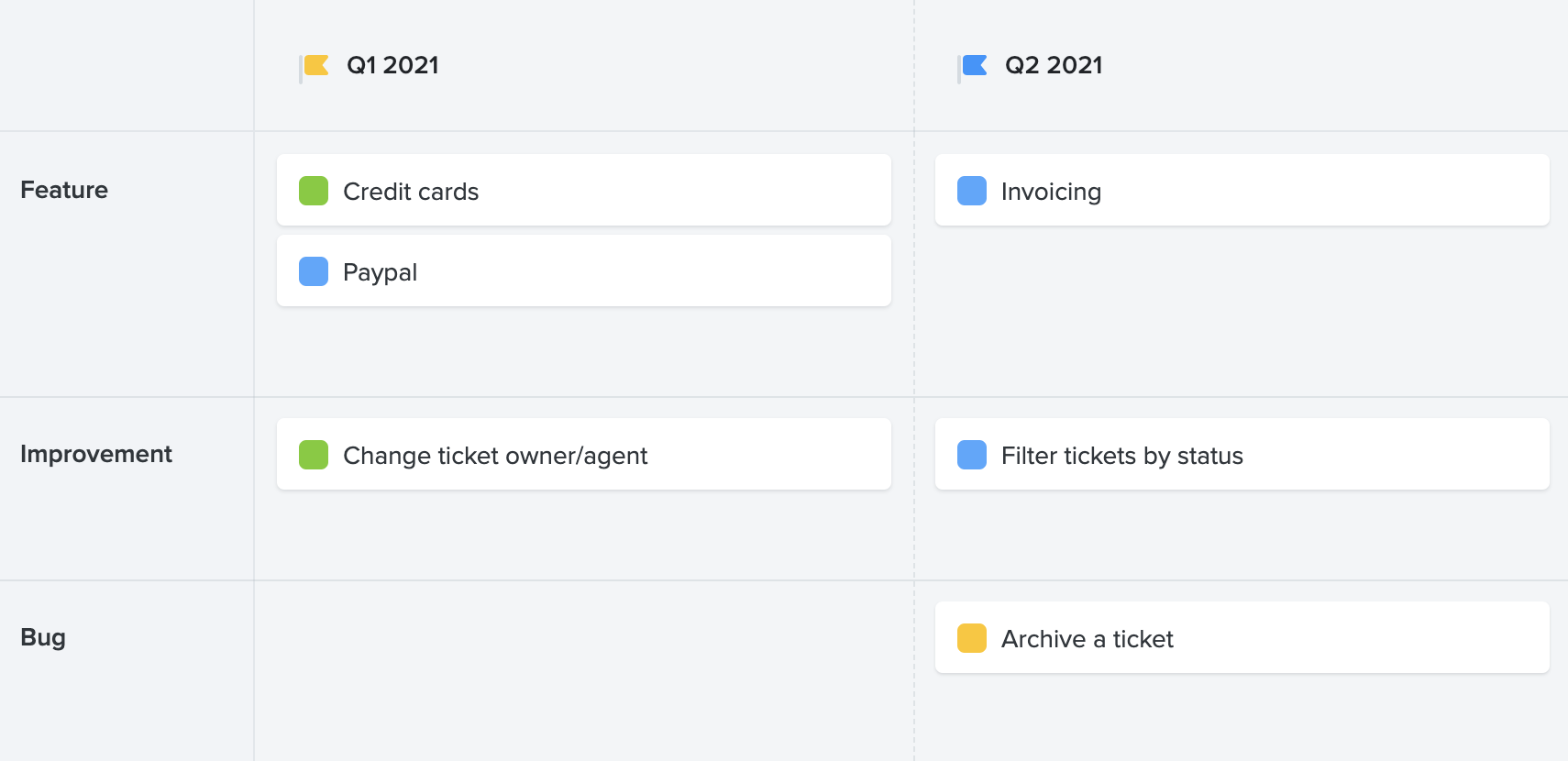 Organize your roadmap by the criteria that matters most to your team. If you've created a custom field, you can organize your column-based roadmap by those field values in a single click.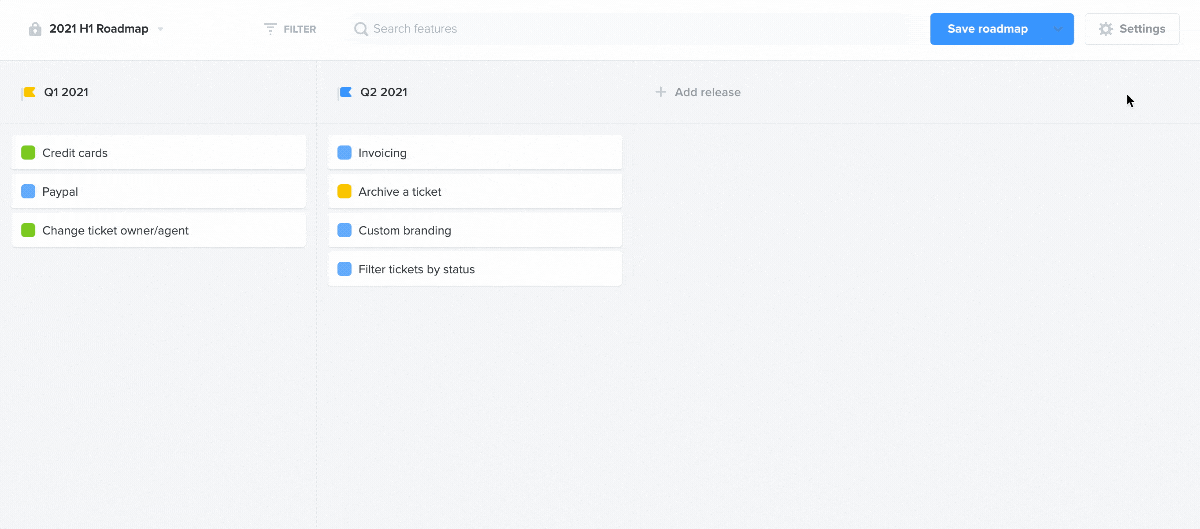 Click Settings.
Click the Swimlanes menu, and scroll down to a list of your Custom Fields.
Select the custom field to generate swimlanes for each field value.
How to hide or collapse a swimlane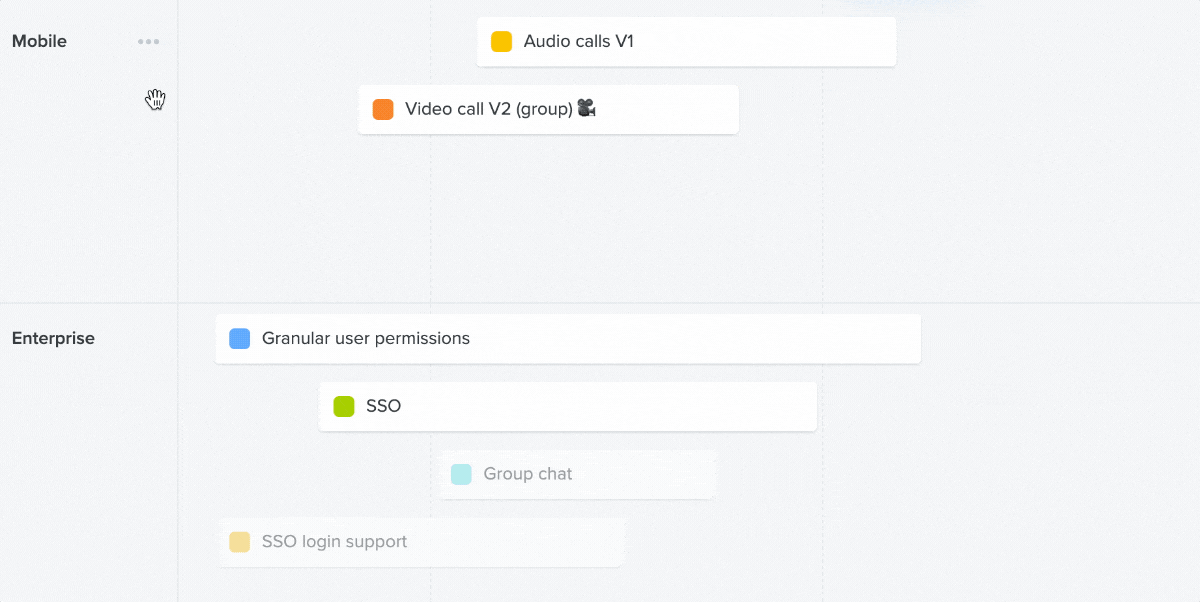 Hover over a swimlane and click the ・・・ menu which appears.
Select Collapse to collapse the swimlane.
Select Expand to restore the swimlane.
Select Hide to prevent contributors and viewers from seeing this swimlane or its associated features. (Learn more about access roles here.)
Select Show to restore the visibility of a hidden swimlane.
Don't forgive to click Save roadmap in the top right corner to save changes to swimlane visibility!
Note: Contributors and viewers will be able to collapse or expand a swimlane. This is the only modification they are able to make, and will not impact the "default" view.