Note: For users on a Pro plan, set up the integration using Zapier.
SatisMeter helps you to understand how your customers see your product by automatically collecting customer feedback using Net Promoter Score (NPS), Customer Satisfaction (CSAT or CES), or Product-market fit (PMF) surveys on an ongoing basis. SatisMeter provides valuable insights for your Go-To-Market, marketing, and product teams with a detailed breakdown of ratings, including valuable insights in comments and enriched user information.
When you integrate SatisMeter with Productboard the survey results are sent to Productboard as notes in your workspace and the product team can further process these into insights and add them to feature ideas.
In this article:
Required permissions
To set up this integration, the following permissions are required:
Be a Productboard Maker admin with a workspace on the Enterprise plan.
Have Admin or Editor rights for your project in your SatisMeter account.
How to set up the SatisMeter integration in Productboard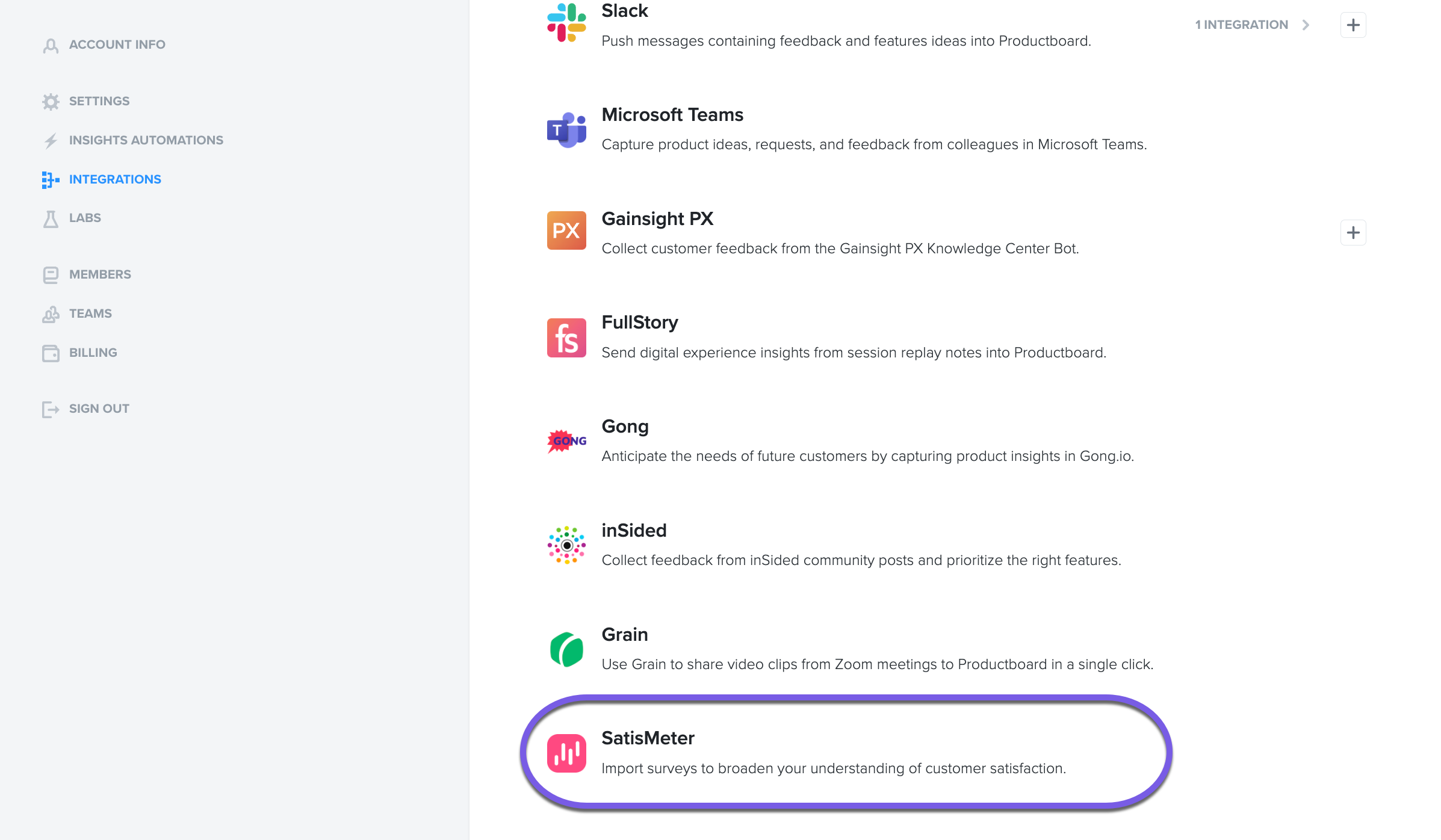 To set up the integration in Productboard, follow the steps below:
Log into your Productboard workspace using your Productboard credentials.
In your Productboard workspace, click the menu in the top left corner and go to

Integrations .
Scroll to the section

Consolidate user insights,

and you'll find SatisMeter listed.
Copy the token for SatisMeter integration.

Create and configure the integration in SatisMeter
To enable the integration in your SatisMeter account, follow the steps below:
Log into your SatisMeter account using your SatisMeter credentials.
In your SatisMeter project navigate to

Settings > Integrations > Productboard.


Paste the token you copied from Productboard into the textbox and click on the

Connect to Productboard

button.
If the token is correct the project will be now connected to the Productboard workspace. After that, you can configure the surveys that you would like to import into Productboard.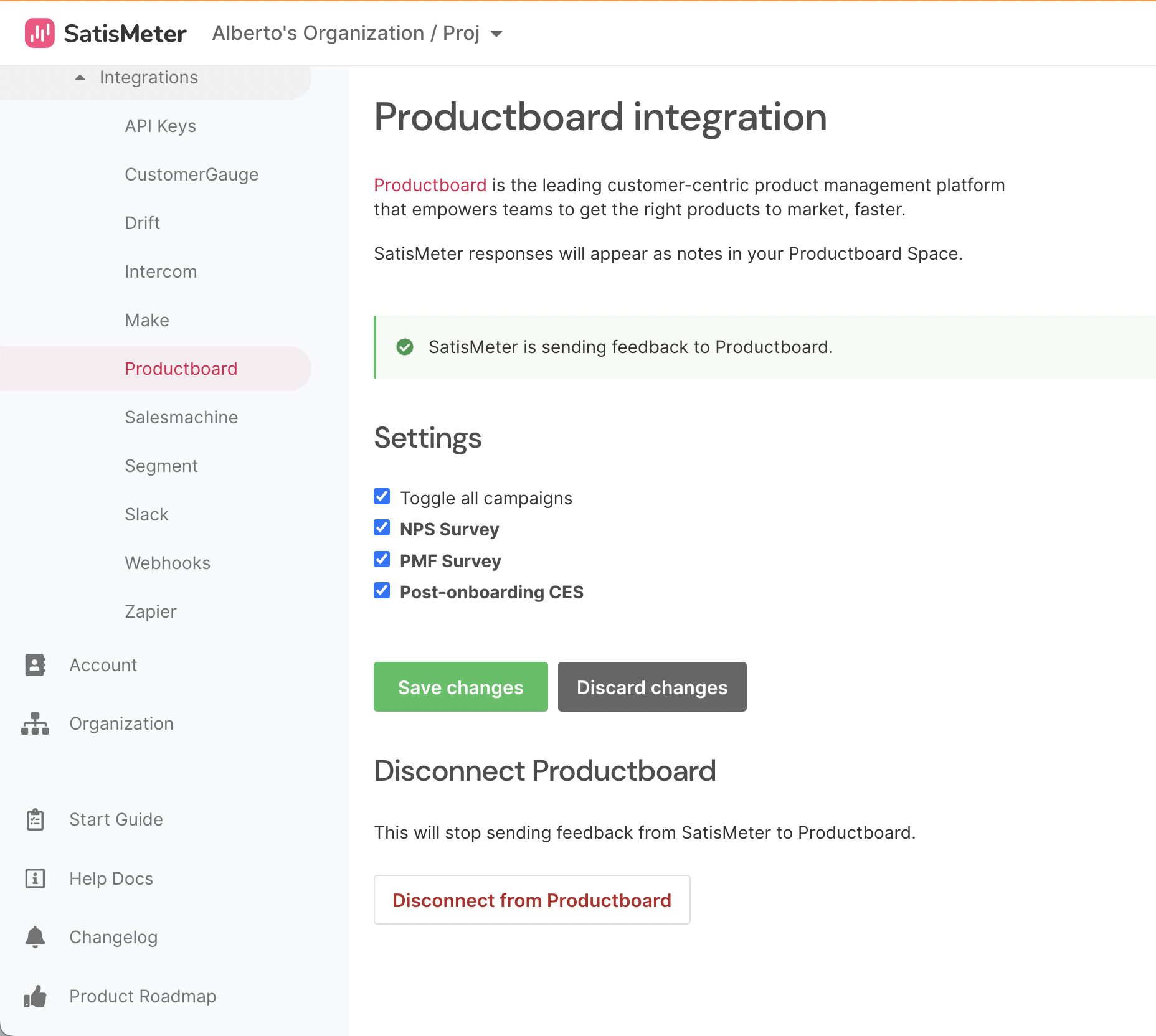 While the project is connected, when a user answers any of the surveys, SatisMeter will send the response as a note in Productboard. Notes coming from the SatisMeter integration contain the name of the survey campaign that the response belongs to. You can also filter by survey campaigns or by the SatisMeter import source.
For more information, see Filter the Insights board to find relevant feedback
Note: You can also set up an automation rule that filters to the Survey title and assign the ticket to the survey owner. For more information, see Use Insights Automation to create rules to route and categorize notes efficiently.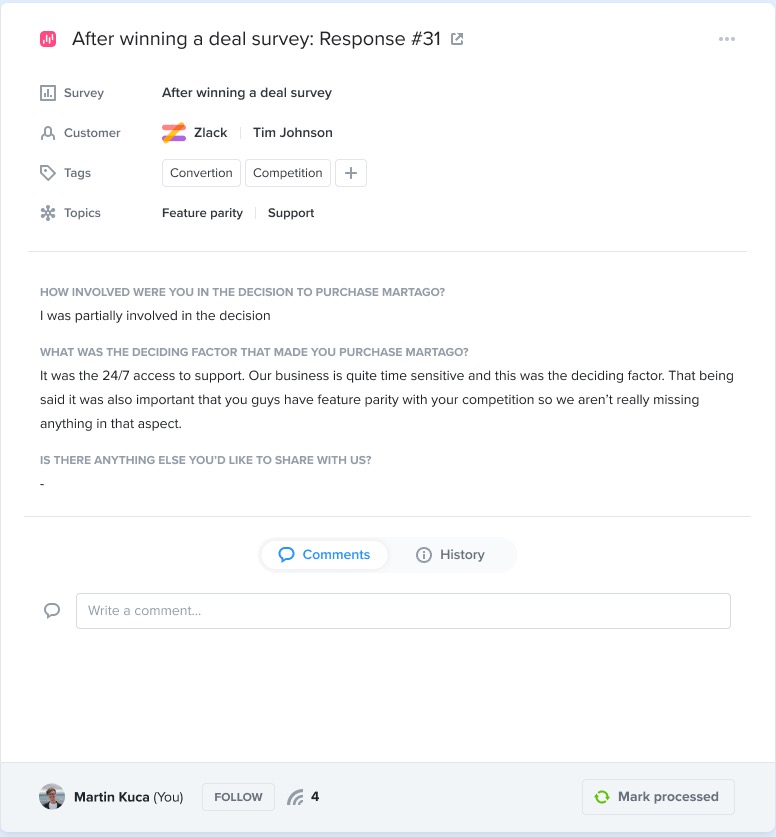 Note:

The integration is not limited by the number of surveys or responses. You can connect as many surveys as you want to your Productboard space, and all the responses will be sent as notes.
school

Productboard Academy Webinar

Whether you're a SatisMeter customer looking to get started, a Productboard customer who wants to know more about how to use SatisMeter, or both, you're in the right place! In this webinar, we're going to be talking about how you can use SatisMeter to design simple but powerful surveys for your customers to shape the direction of your product.
👉 Watch now 👈
See also: