Sometimes it can feel like there's a gap between the product team and the customers we serve. The Portal can help bridge it.
It's a flexible, interactive interface you can share with colleagues and/or customers to validate ideas and keep everyone informed:
Collect feedback on ideas still under consideration. Learn which would help them most, and why.
Share what's planned, and what you've recently launched, to keep everyone informed.
Source brand new ideas/requests.
Allow colleagues to submit ideas or feedback on behalf of certain users.
All new ideas and feedback submitted on the Portal are routed back to your Insights board for you to analyze alongside inputs streaming in from other channels.
In this article: 
Understanding how the Portal works
When finished, your Portal will display a number of ideas that colleagues and customers can provide feedback on.
Each idea on your Portal is represented as a card. 
When you share your Portal with others, they'll be able to click on those cards to learn more about the idea, indicate how important it is to them, and explain why.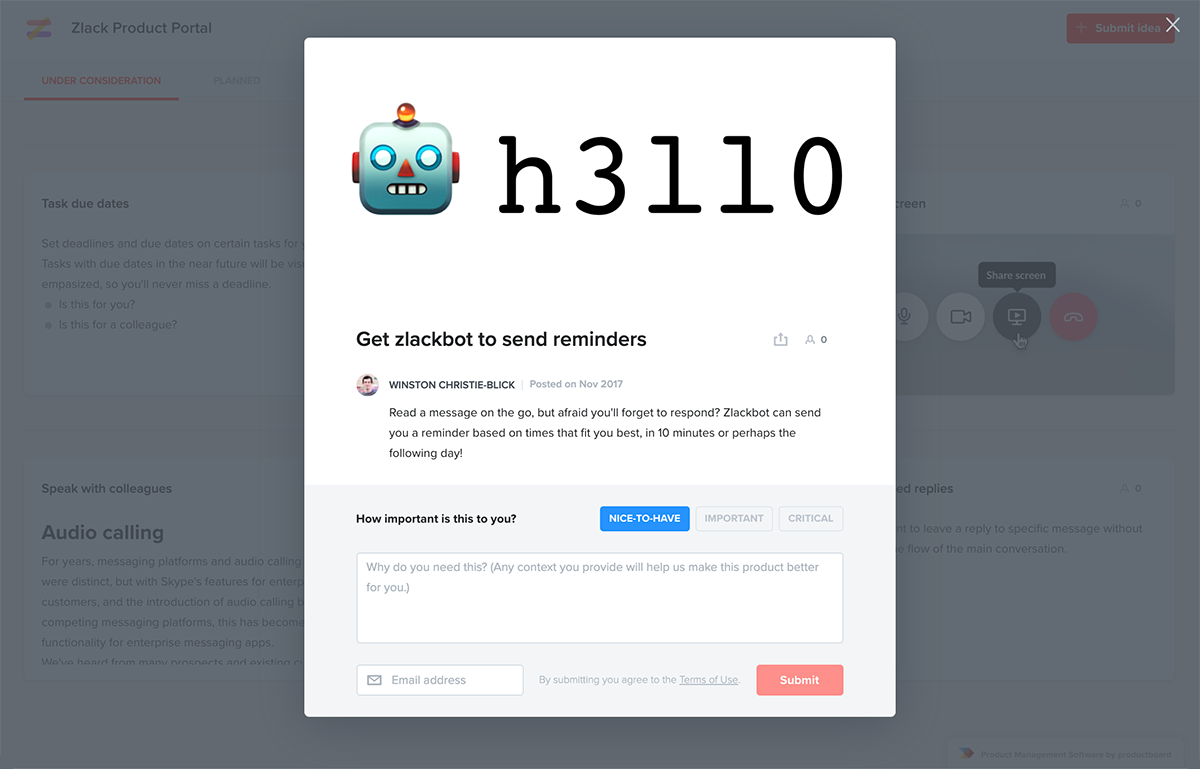 When users provide feedback on ideas in this way, their feedback is routed back to your Insights board, pre-highlighted, and automatically linked to a related entity on your Features board! ✨That's because every card on your Portal is associated with a feature, subfeature, or component. These entities' user impact score will also increase by +1 (nice-to-have), +2 (important), or +3 (critical), based on the importance indicated by the user.
Users can submit brand new ideas on your Portal as well. These will be routed to your Insights board as well but won't be linked to any feature ideas yet.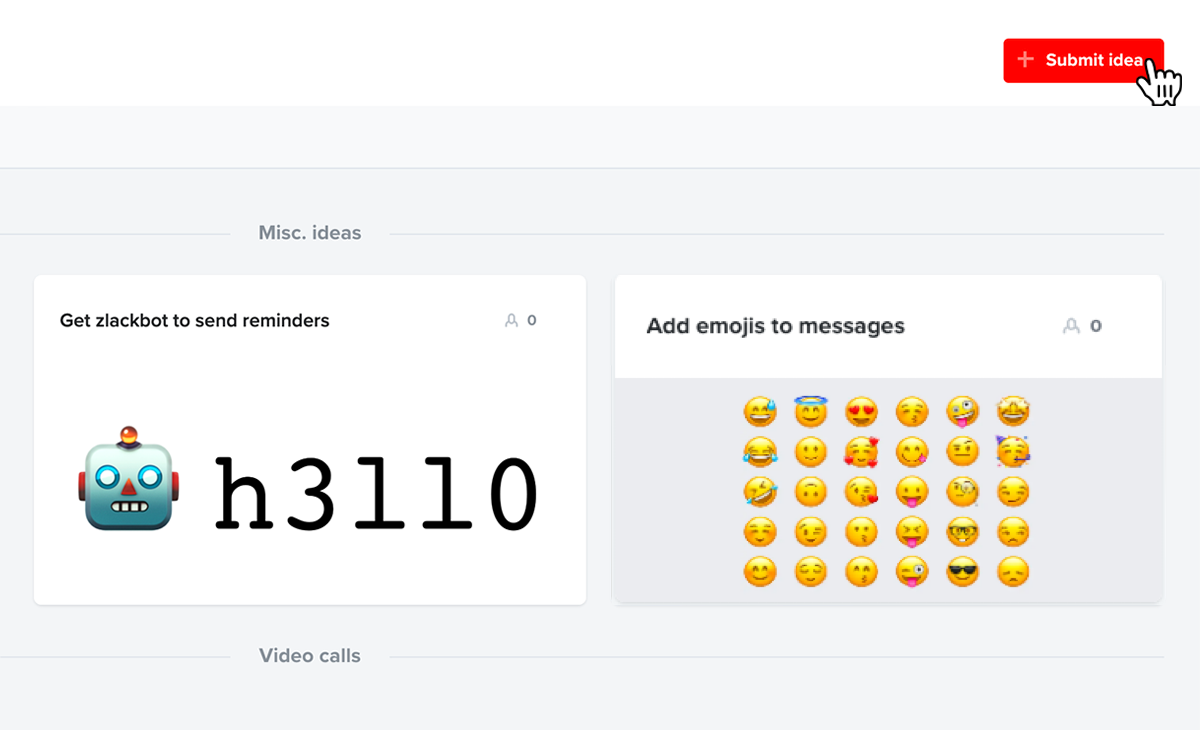 User identity verification
Note that to submit an idea or provide feedback on the Portal, users are required to verify their identities by email. It makes their feedback more valuable to your team, helps you follow up with the right users down the road, and prevents spam. For embedded Portals, you can verify identity via SSO. 


Understanding the difference between Internal and Public portal
There are two versions of your Portal, an internal and a customer-facing Portal.

Only members of your workspace can access the internal version of your Portal unless you opted for the Hidden sharing option. On the other hand, customer-facing is available only if you share it publicly or via a private link.

Note: The private link sharing option allows anyone with the link to access it. Compared to the Public sharing option, the private link prevents google web crawlers from indexing the page in google search results.
Internal Portal
Here you can:
Add a new feature or a new Portal if your plan allows it.

You can access the Portal settings.

Share or embed your Portal.

On the Portal cards, you can see the Insights linked to the feature, and you can also access the feature detail view.

Once the feature is released, you can also compose an update to let all customers who left insights know about it.
Customer-facing Portal
Here you can:
Submit a new idea
Check the features on the Portal
Rate how important the feature is for you
Configuring your Portal
When you're just starting out, your Portal begins as a blank slate. It's up to you what ideas get posted there. 
To create a Portal card, you can select an existing feature, subfeature, or component, or create a new one on the fly.
Adding cards to your Portal
From the Portal: Using the blue [+] icon, select a feature/subfeature/component to post it to your Portal. You can also create a new entity from here, which will be posted to your Portal as well as your Features board.
From a feature's details: From the Features or Roadmap board, select a feature to open its details in the side pane, then select the Portal tab. Select Create portal card, and then post it to one or more Portals. You can also place the card on a particular Portal tab or subsection from here.
From the Features board Portal columns: Display the Portals column on your Features board. This will allow you to easily see which Portal(s) a feature, subfeature, or component has been posted to and update what tab/subsection it's on.
(Note: It's not currently possible to update these fields in bulk via multi-select.)
Customizing a Portal card
Portal cards allow you to customize a Public Title and Public Description that will be displayed on the Portal card. You can embed a Loom or Youtube video to the Public Description by pasting in the URL.
You can also add an portal card owner by selecting the appropriate person in the portal tab.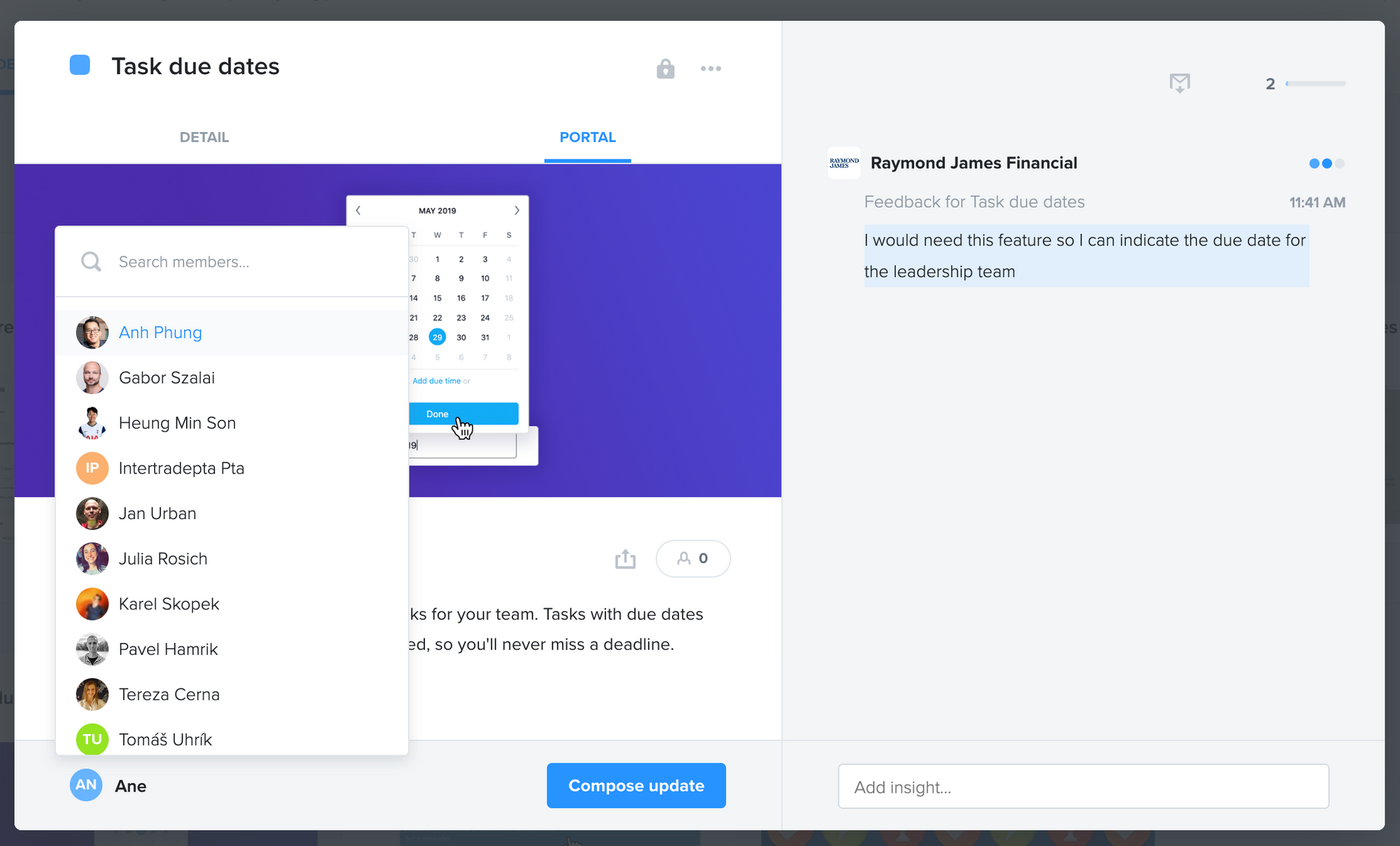 Limitation
Portal feature card descriptions do not support a certain sequence of special characters such as // or /#. If these characters are used, when shared, the portal will load a blank page.
Portal card graphics
Add a graphic to illustrate your idea. The recommended graphic size is 1480px wide by 643px tall, and the maximum allowed size is 3MB. Your GIFs will play.
Since there are only basic options to adjust graphics once in Productboard, we recommend designing (or resizing) graphics in a design tool like Sketch, Figma, or Photoshop on an artboard/frame/canvas of the dimensions listed above.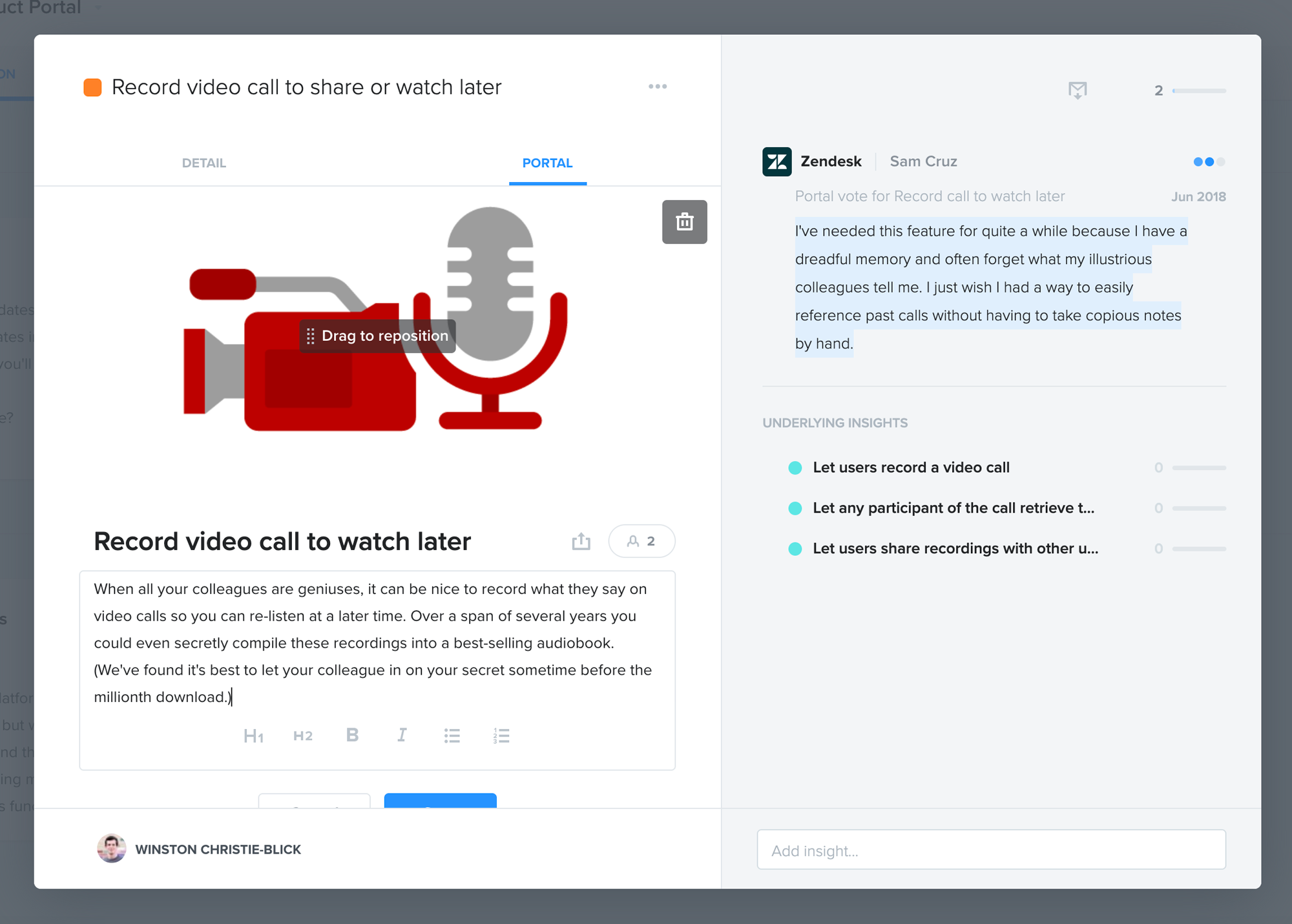 What end-users will be able to see
Since each card is linked to a feature, subfeature, or component, you can toggle between the details for that entity that only you and your teammates can see and the details that Portal users will be able to see.

Your portal end-users will be able to search for portal cards. The search works only for the Public Title.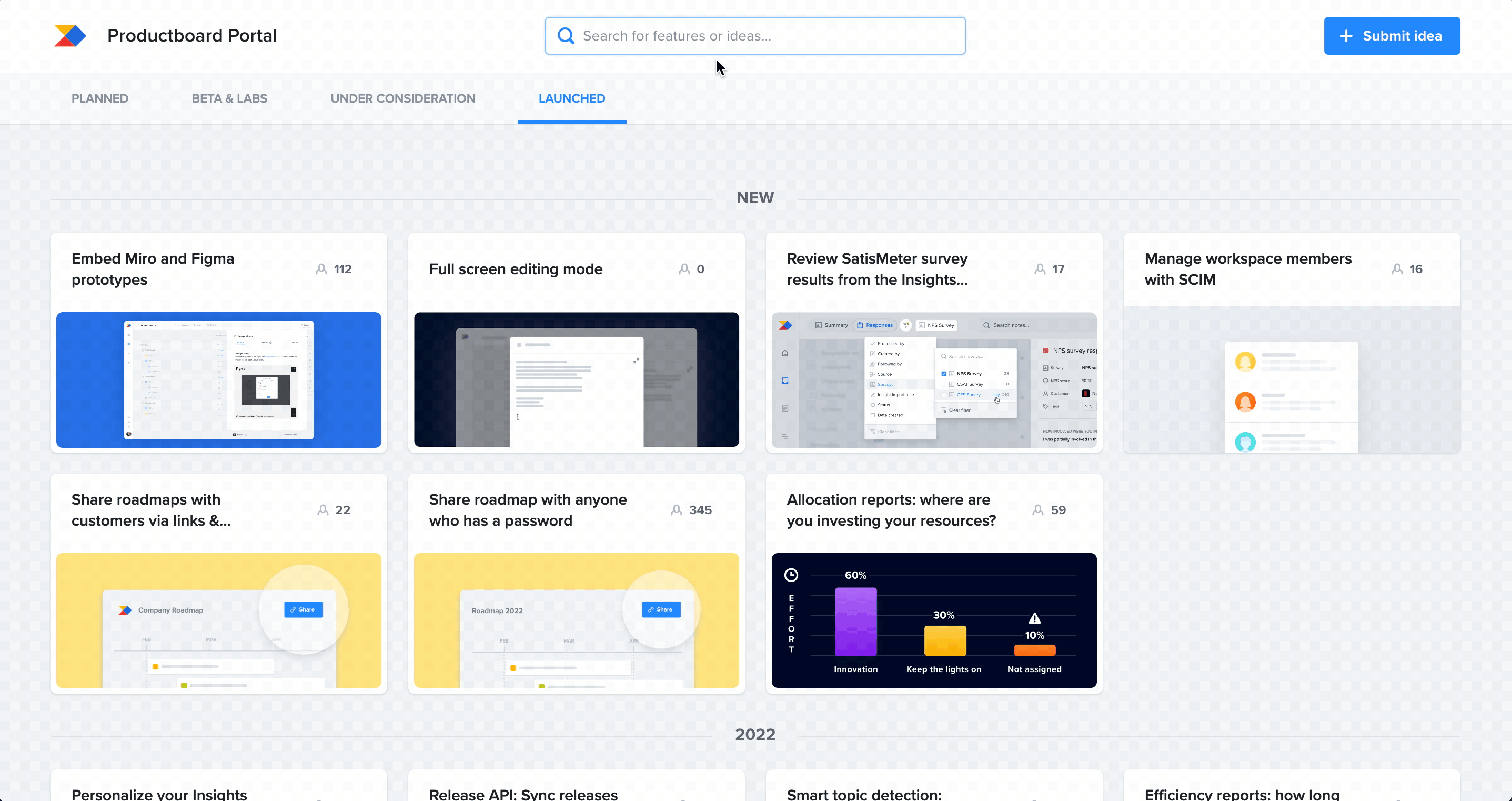 Arranging your Portal cards on tabs and subsections
Drag and drop Portal cards to re-arrange them.
Customize the names of the main tabs.
Add new sections to tabs by hovering over the blank space above and below each row of Portal cards, then select the [+] icon that appears.
Removing a card from a Portal
You can remove a card from a Portal without affecting its appearance on other Portals. Likewise, removing a card will not delete its associated feature/subfeature/component on the Features board.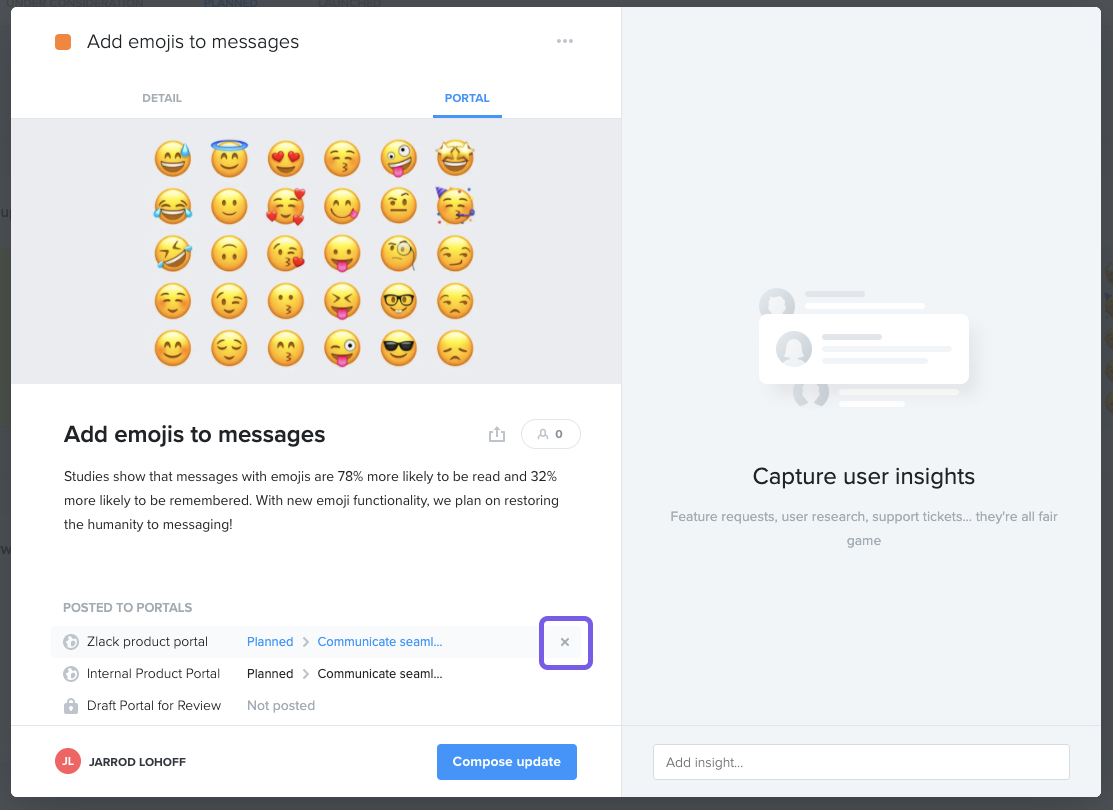 Select a card to open its details.
Under Posted to Portals hover beside the name of the Portal in question and select X to remove the card from this Portal.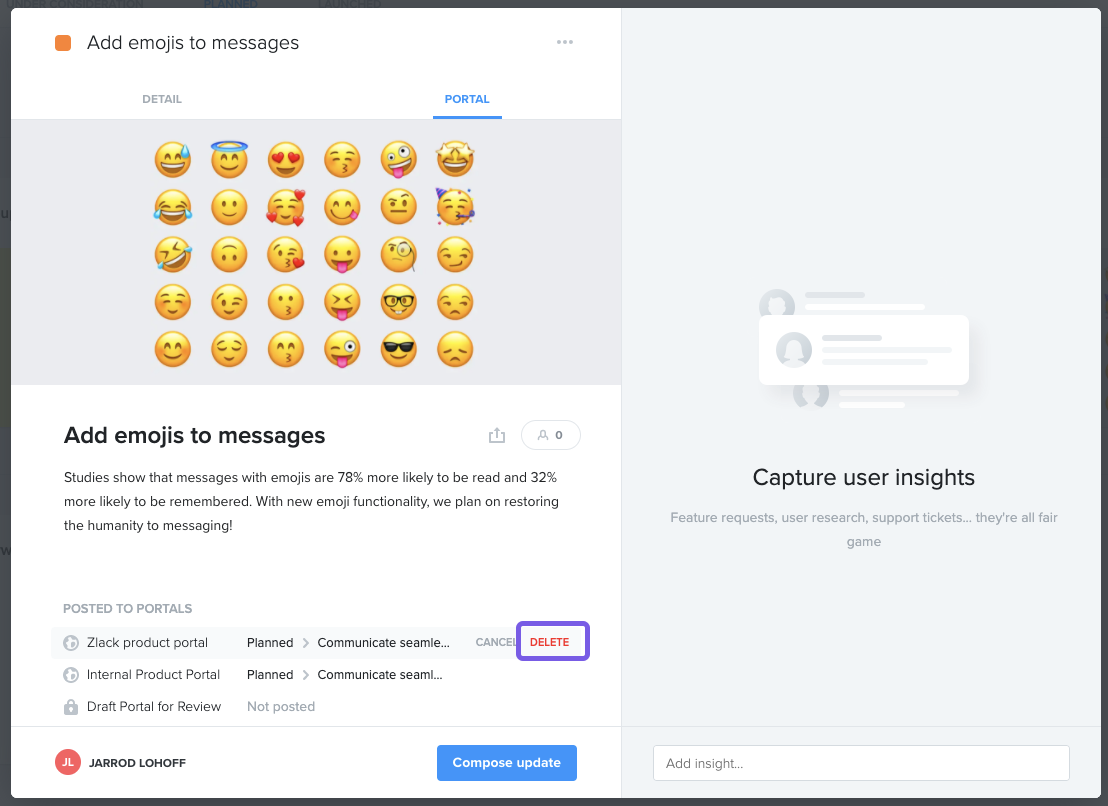 Click Delete next to the portal from which you wish to remove/unlink the card.
This step will delete the portal card from a portal. It will not delete the underlying feature/subfeature, or impact its appearance on other portals. However..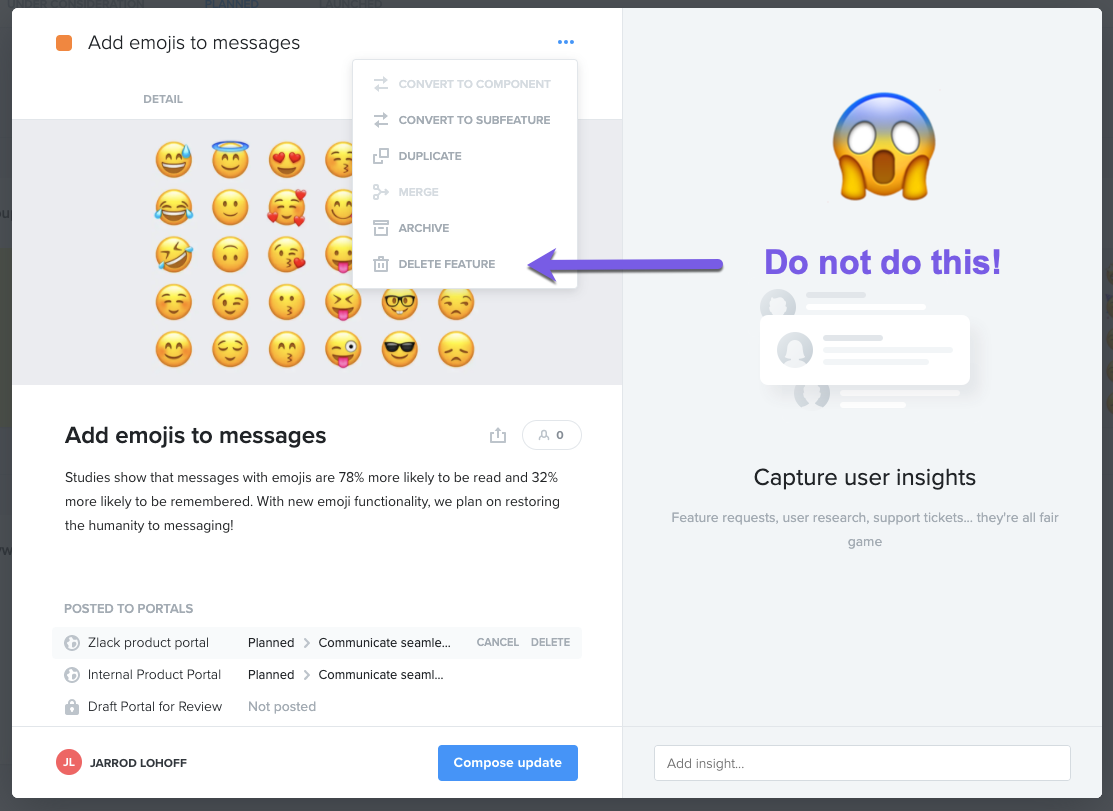 Important: Do not try to delete a Portal card by selecting "Delete Feature" from the ••• menu! Doing so will delete the underlying feature, thus removing it from all other portals, and your Productboard hierarchy.
Moving a card from one tab to another
Move a card from one tab to another by selecting it to open its details. Then, beside the name of the Portal in question, click the breadcrumb and choose where to move the card.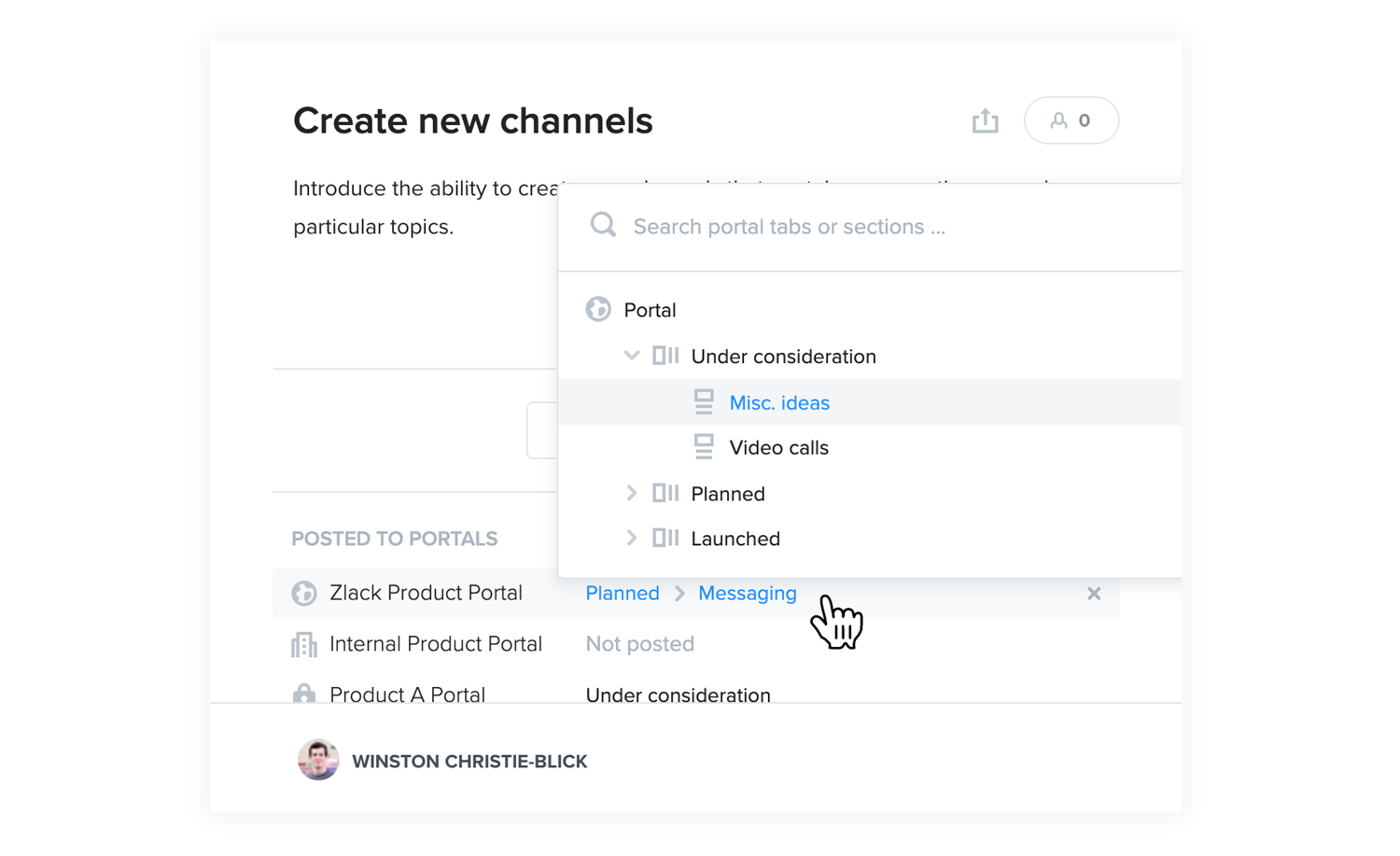 Sending an update to customers who requested a feature
You can post one or more timestamped updates to each Portal card to keep users informed about a feature's progress:
Send out a survey to all who requested a feature to better understand their needs
Recruit participants for product discovery research sessions or for a beta
Delight users with good news when a feature they requested goes live
Updates will be visible to all users who visit a Portal card as well as colleagues in your Productboard workspace. They can also be emailed to all who requested a feature on the Portal and anyone who has submitted an insight that was linked to the feature.
Ultimately, updates show customers that you're listening. And that means they'll be even more willing to provide quality insights in the future.
More info: Close the feedback loop with Portal card updates
Customizing Portal settings
Add a logo to your Portal, which will also appear on any confirmation emails your customers receive when they vote or submit ideas. 72px by 72px works best.
Note: Adding a Portal image updates the favicon externally, however, this is not reflected internally for the Portal.
Makers with admin access will find additional settings under the gear icon:
Enable/disable new idea submissions: When new idea submissions are disabled, users will be able to vote on existing cards but won't be able to suggest new ideas.
Show/hide the number of votes for each idea: Users will see how many have voted on each idea.
Remove productboard branding (premium feature available on the Enterprise plan): Hides the "powered by Productboard" badge
Customize Portal primary color: Match your brand's color scheme

Customize the naming and explanation of the importance scoring

: Name the "Critical", "Important", "Nice-to-have" and "Not important" differently.


If you have multiple Portals, the settings for each can be customized independently.
Sharing your Portal
Check your Portal sharing settings to verify who has access to your Portal. 
Makers with admin access can select any of the following sharing settings:
If the Portal is shared with Company, Anyone with the link, or Public, members with the contributor and viewer roles will see the Portal in the navigation when logged in to Productboard.
If you have multiple Portals, the sharing settings of each can be updated independently.
Managing multiple Portals
You can now create multiple Portals for different products or audiences, all within the same Productboard workspace.
Start an internal Portal to collect inputs from colleagues in sales and customer success. Whether they're adding brand new ideas or submitting feedback on existing ones, they'll be able to do so on behalf of certain users. It's an efficient way for colleagues to inform the product team which ideas matter to the prospects and customers they're working with.



Selecting a Portal card will allow them to submit ideas and feedback on behalf of an end-user.






If the Portal is shared with a Private link

 or 

Public and they are provided the Portal sharing link, they too will experience the Portal as end-users. It's typically best for colleagues to log in to Productboard to access the Portal, so they can attribute feedback to the relevant end-users.



Use additional Portals to target customer segments (like SMB vs. enterprise), showing them feature ideas that most relate to their needs.
Create Portals for each of several products you manage out o

f a single Productboard workspace.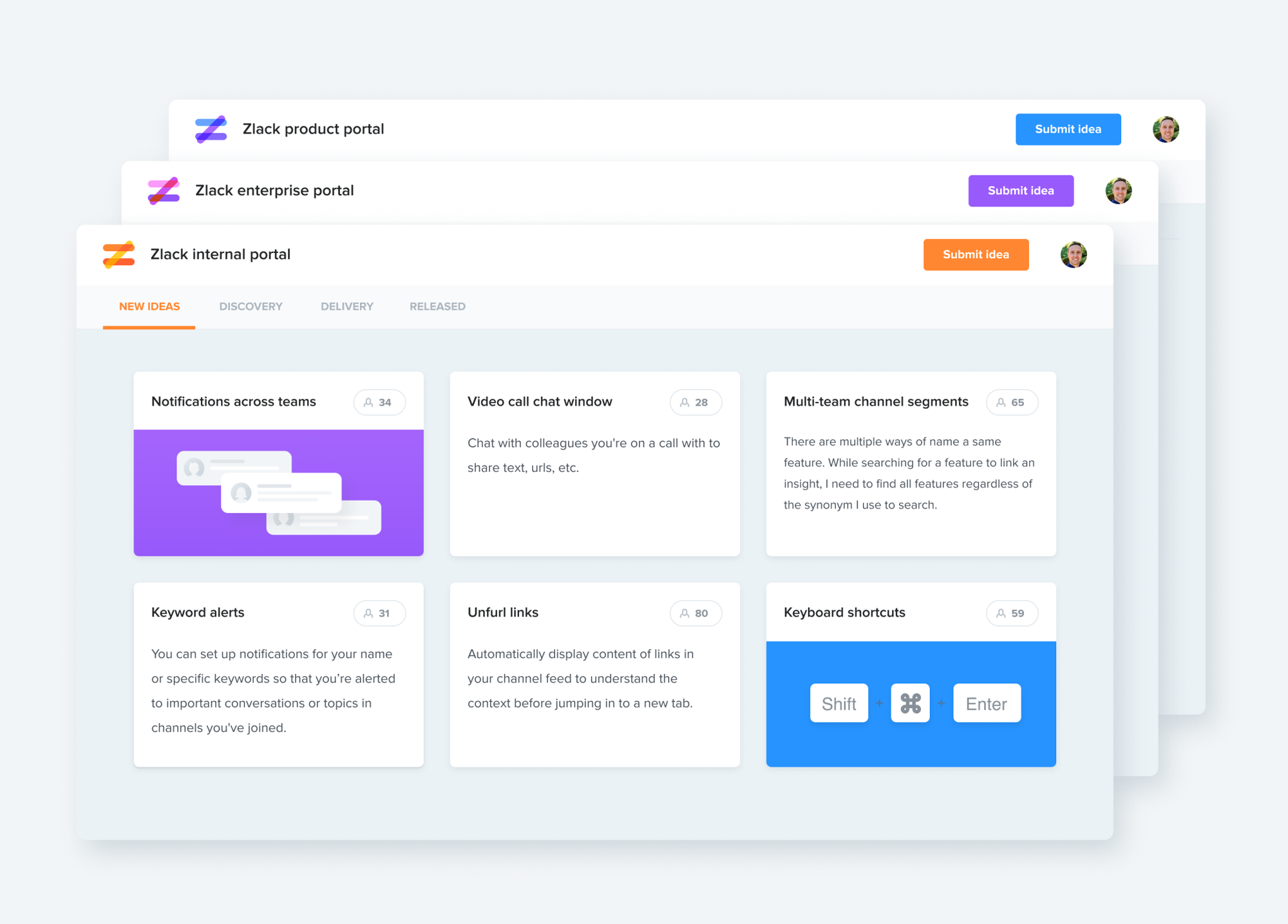 As usual, all ideas, requests, and feedback submitted to any Portal are routed back to your Insights board. And since the name of each note contains the name of the Portal it was sourced from, search can be used to zero in on notes arriving from a given Portal.
How to create, delete, or duplicate a Portal
Makers with admin access can create a new Portal by selecting the existing Portal's name to view all Portals currently in a workspace. Then select Create Portal.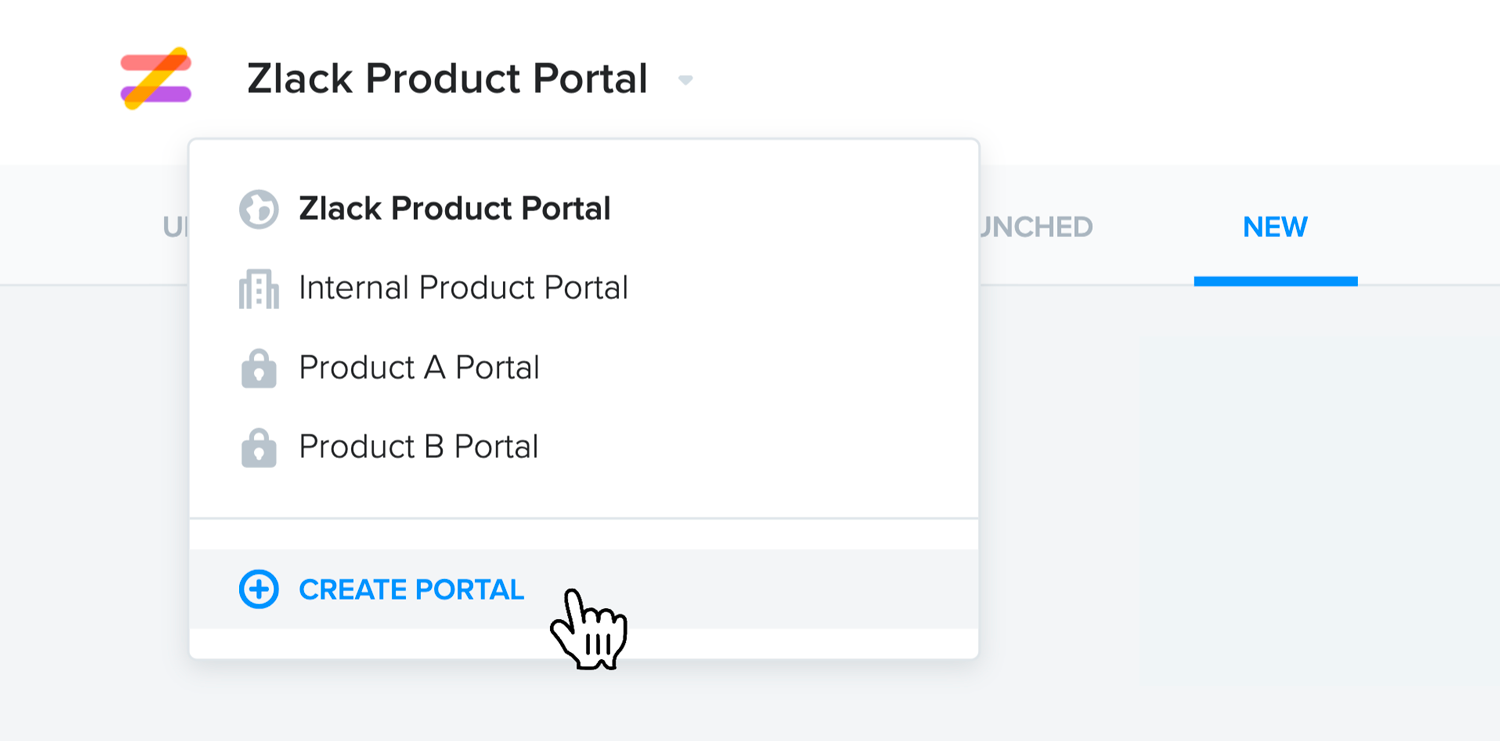 Duplicate or delete a Portal by selecting the menu beside its name: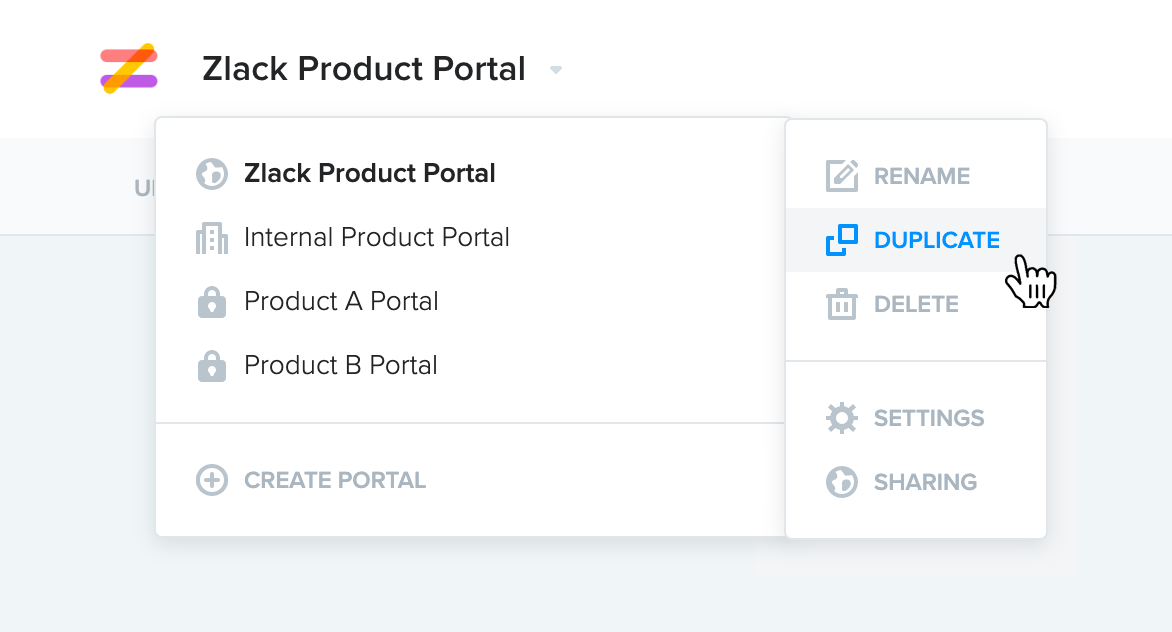 Adding features to multiple Portals
The same feature can be added to multiple Portals, which can be helpful if your customer-facing Portal is a subset of your internal company Portal, or if you have some features that relate to multiple customer segments.
You can review and update this information under Posted to Portals in a Portal card's details.

You can also use the Portals column to monitor which Portals each feature has been added to (see below).
Note that it is not currently possible to customize a card's public name/description for each Portal it's been added to.
Monitoring which features have been added to a Portal
Use the Portals column on your Features board to monitor which features have already been posted to one or more Portals, and which tab/subsection it's posted on.
This is also a great way to add/update many Portal cards in one sitting. (Note that it's not yet possible to add features to a Portal in bulk, as it's necessary to first update the content that will be displayed on each feature's Portal card.)
Selecting Edit Portal postings opens Portal card details in the side pane, where you can update the card's name/description and which Portals it's posted to.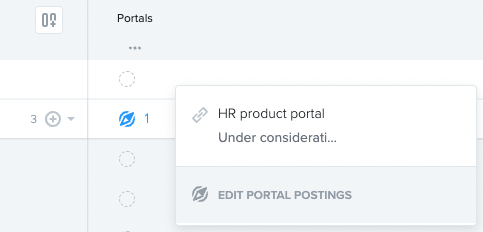 Find the Portals column under MISC. in the field configurations bar.
Embedding your Portal & enable SSO
Want to bring your Portal to where your users are? Embed your Portal on your website or application.
For embedded Portals, you can also now enable Portal SSO to automatically authorize users who are submitting ideas and feedback, without requiring them to verify their identities via email.
More info: Embed your Portal
See also