Based on analysis of aggregated Portal activity data and inputs from Productboard users, the best practices below can help you increase the amount of feedback users submit on the Portal, the amount of time they spend there, and how often they return. 
The end result is more high-quality feedback for your product team and more engaged customers who are invested in your product and where it's headed next.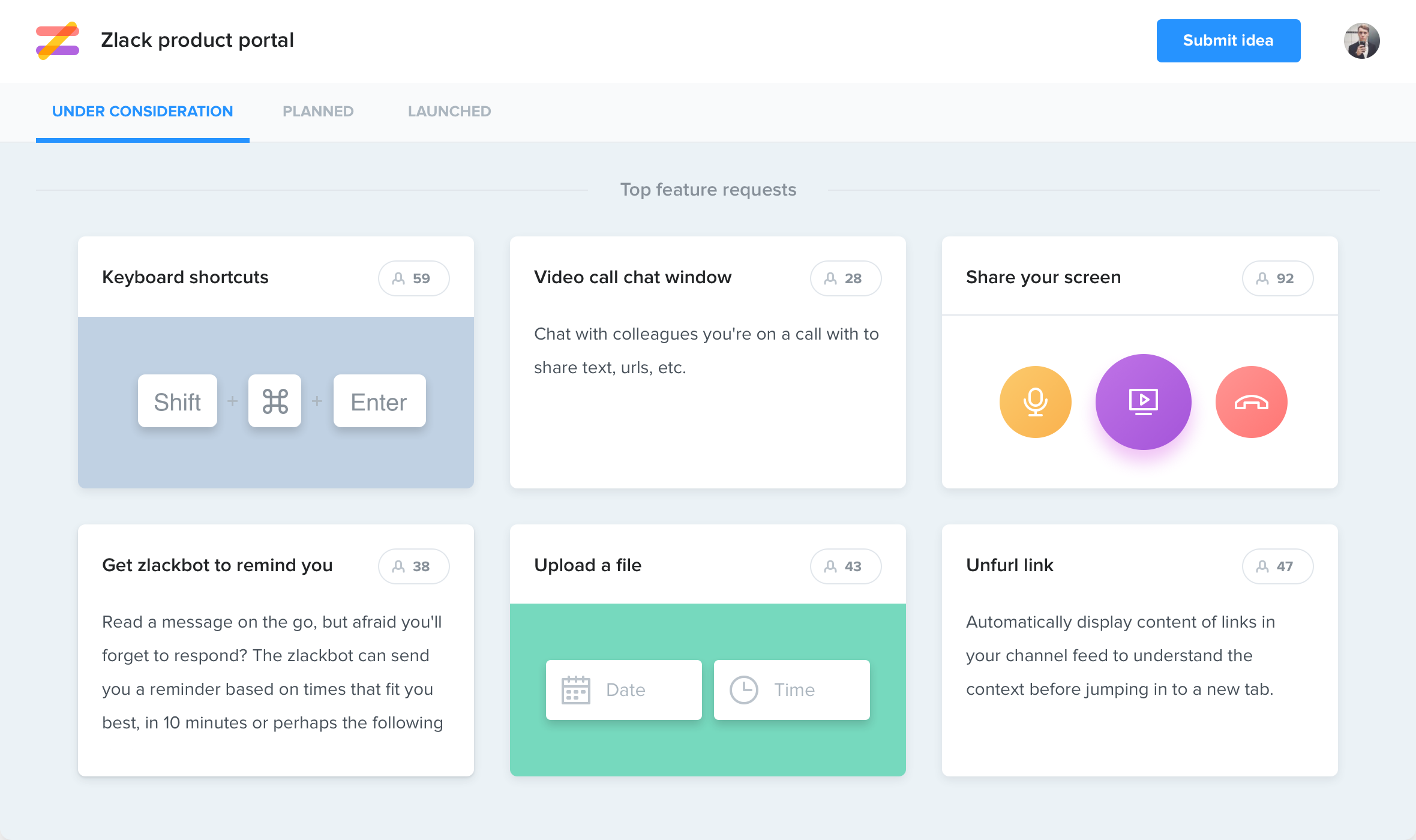 In this article:
Limit the number of Portal cards
When considering which features to add to your Portal, focus on those that you think have the most promise. Attempting to add too many of your ideas risks overwhelming users.
Also, consider how you might use Portal tabs or subsections to break up large sets of ideas and help users quickly find those they care about.
Keep Portal card descriptions succinct
Aim to explain each idea in 1-3 sentences or break up content with subheaders or lists where appropriate. For cards without images, users will be able to read these descriptions without even opening the Portal card, so see if you can fit the main idea "above the fold".
Including URLs in your Portal card description? If you're linking out to related surveys, designs, help articles, or even other Portal cards, use markdown to format your links and avoid pasting in the entire URL.
Follow the markdown pattern below:

Encourage users to submit feedback
When users submit feedback on an idea (rather than just reading about it) it gives you the chance to learn something new. It also means you can follow up with the user down the road. When writing Portal card descriptions consider whether there are particular questions you're trying to answer. What can you ask users to draw out the kind of feedback most likely to be valuable?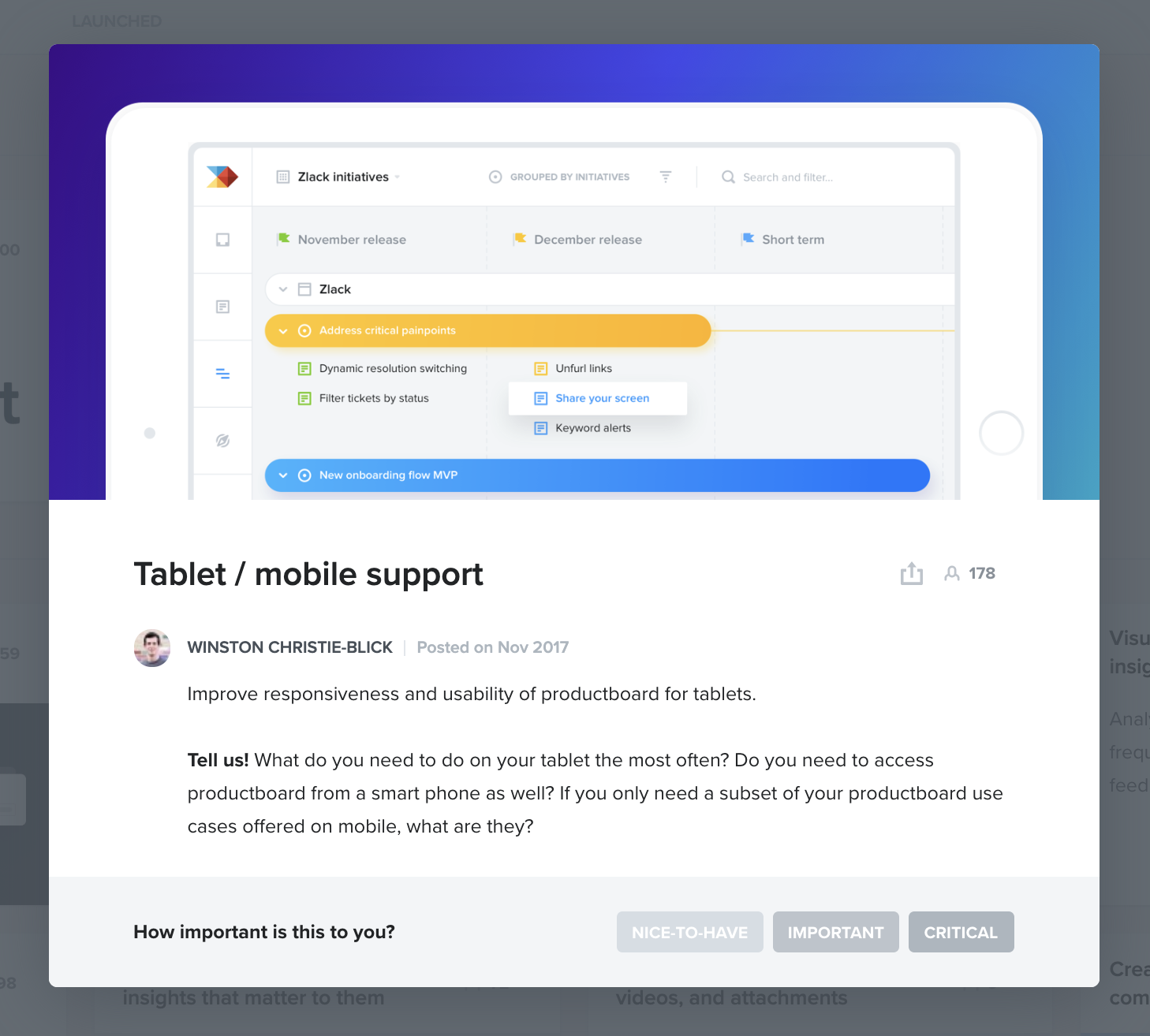 Make your Portal cards beautiful
The best way to make your Portal pop is with well-designed Portal card graphics.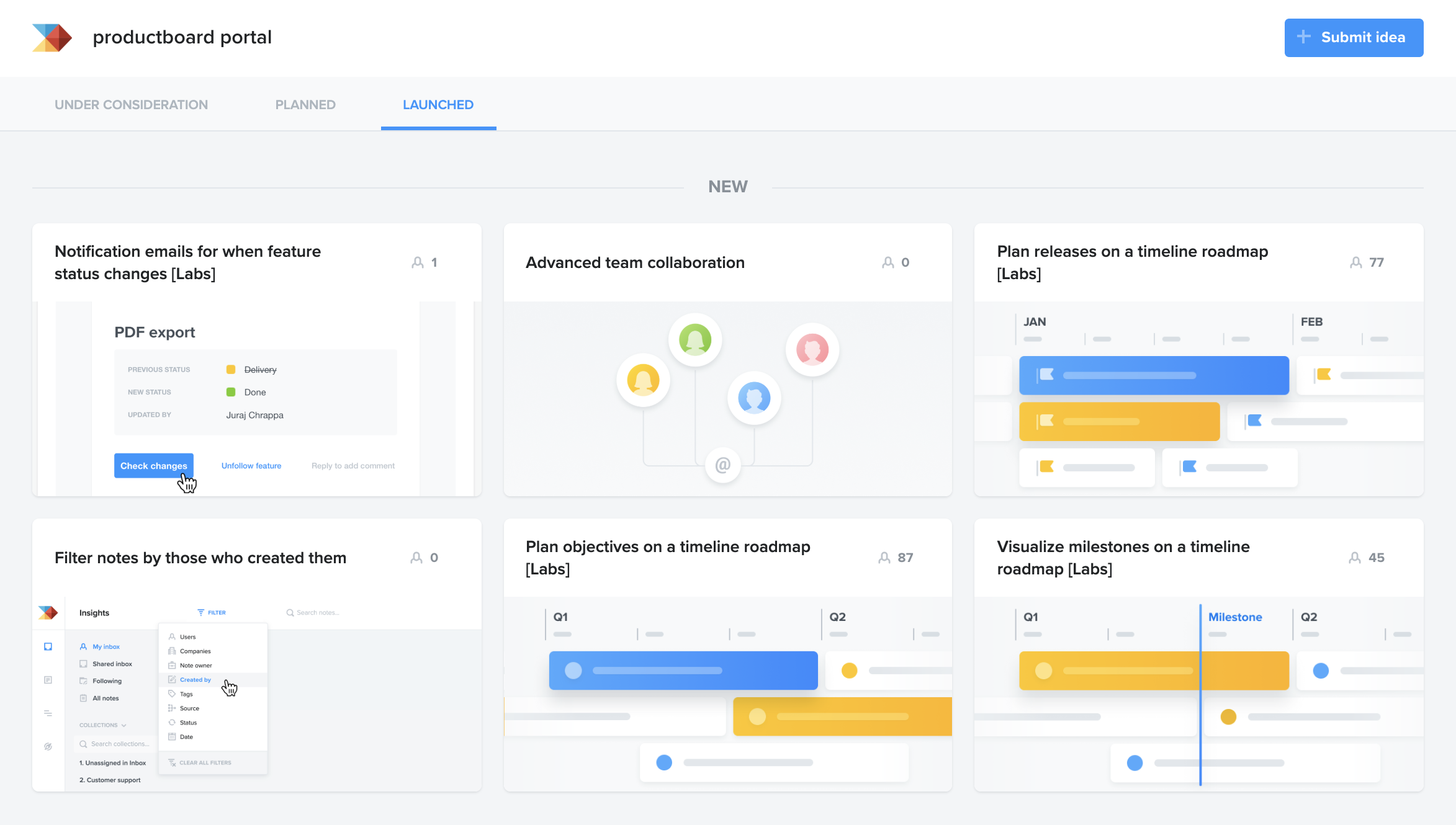 Optimal graphics are wide and short — 1480px wide by 643px tall. While it's best to design graphics accordingly, you might find yourself adapting graphics you already have.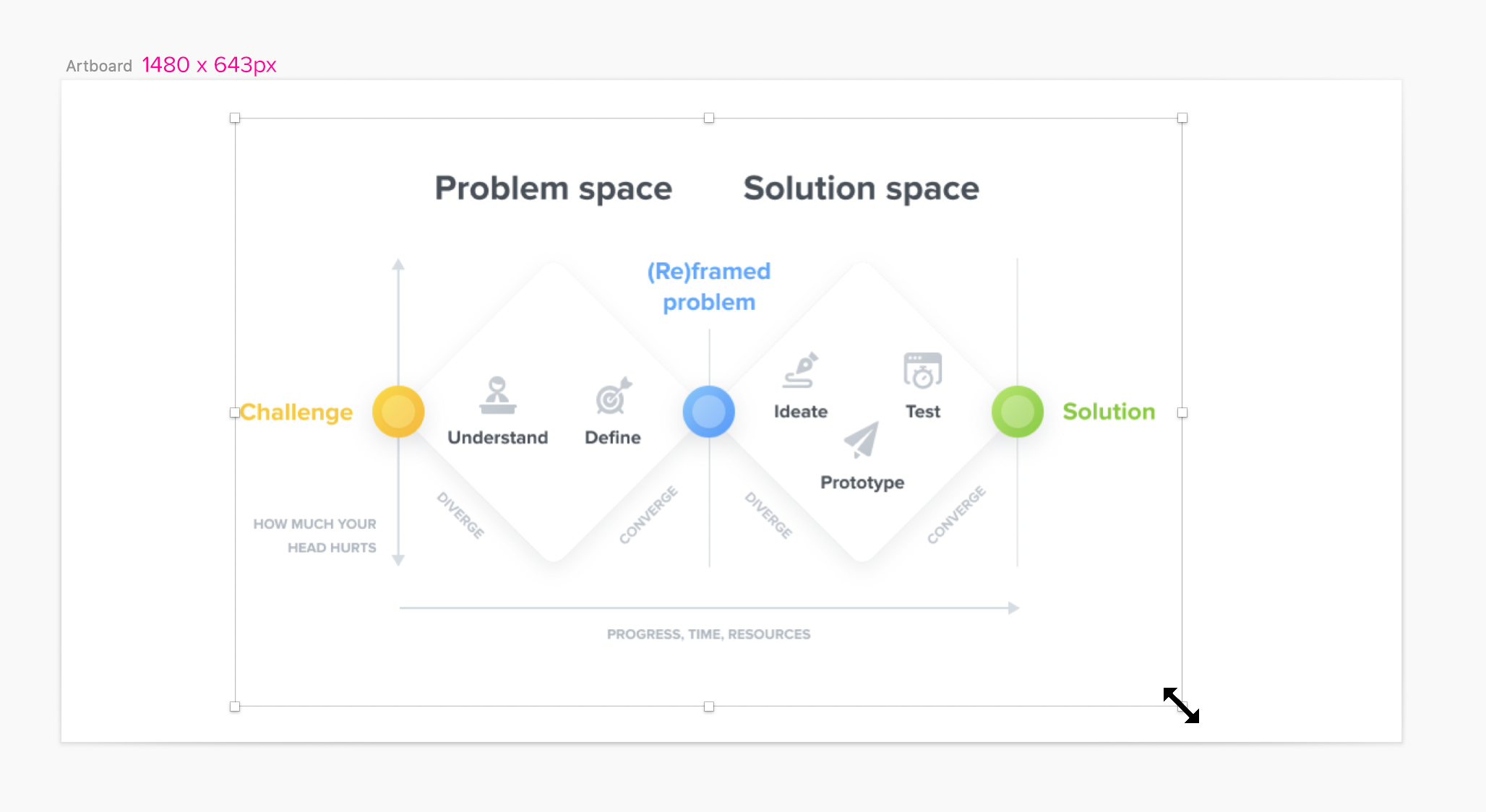 When an image is uploaded to your Portal there are limited options for resizing or repositioning it within the allotted frame, so it's best to do this within a design tool like Sketch, Figma, or Photoshop. There you can flexibly resize your graphic within a 1480px by 643px artboard/frame/canvas — then export the entire thing to PNG or JPEG and upload.
It's also common for Portal tabs showing new ideas to provide fewer graphics since they represent early concepts.
In any event, you'll want to pay closer attention to the text appearing on cards without graphics, which display part of the description instead. Take note of what text appears "above the fold" for each card since that's what users will see while perusing.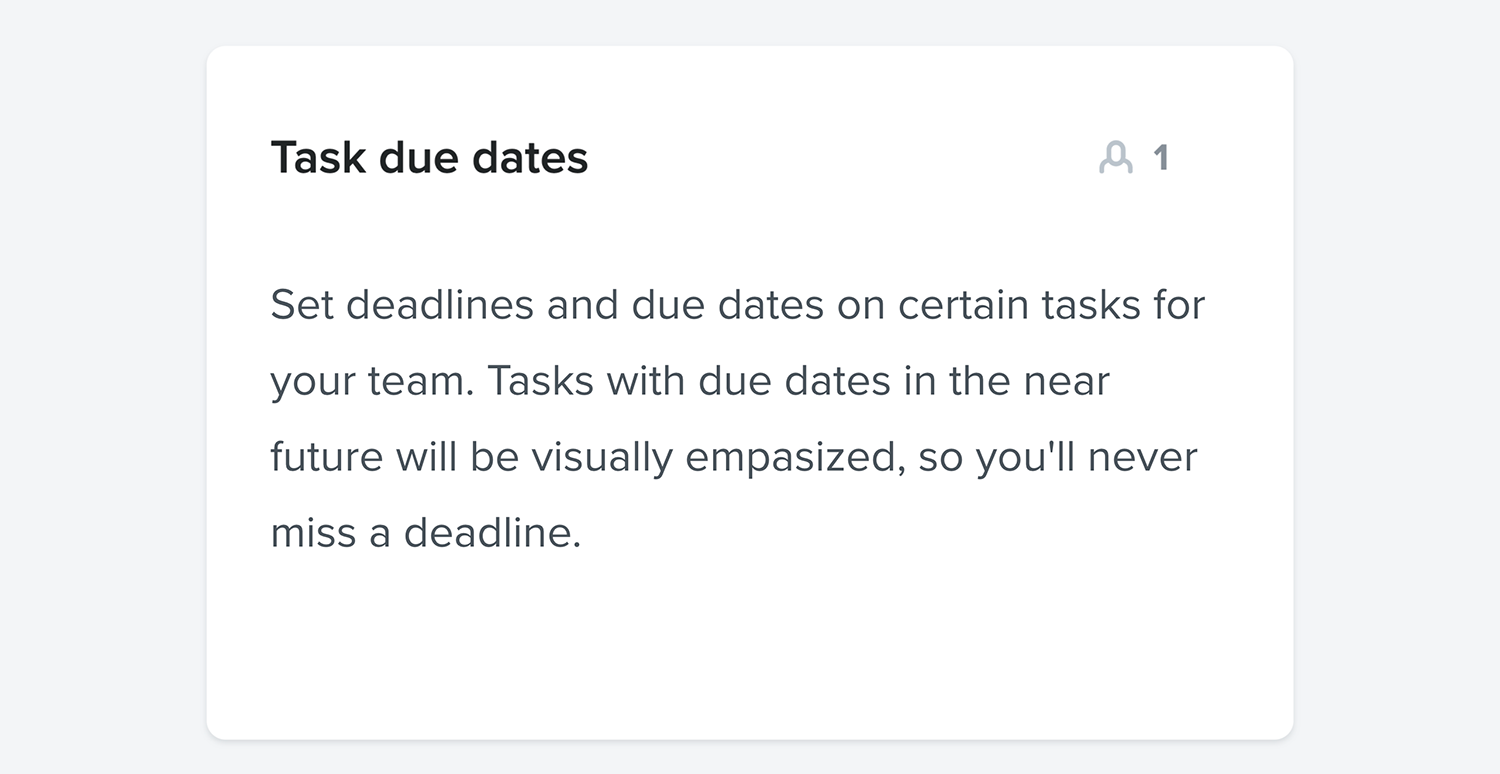 Drive users to your Portal
The best way to drive users back to your Portal is with emailed Portal card updates, sent when there is progress that can be shared with users who provided feedback on an idea in the past. 
Emailed updates send users back to your Portal while reinforcing the idea that their feedback is being heard and acted upon. Once back on your Portal, users can review the feature in question as well as see what else they've missed, what's planned, what's been launched, and submit more feedback.
Consider other ways to drive Portal traffic as well! 
Include a link to your Portal within your app. 
Plug your Portal in new feature announcements and other email campaigns. 
If your Portal is public, share it routinely on social media. Add it to your social profiles. Add a link to your signature line in emails.
See if sales will plug your Portal with prospects to show off your team's velocity and commitment to delivering the right features, faster.
A final tip: To make it even easier to plug your Portal consider setting up redirects from easy-to-remember URLs to each of your Portal tabs. Here's what we use at Productboard.
If you use a text-expansion tool, you can even create shortcuts for yourself to insert these URLs more rapidly. (On macOS you can use the native text replace feature to achieve the same.)
For example, to link others to the Portal tabs cited above I've set up the following text expansion shortcuts:
Keep your Portal up-to-date
It might be no surprise that Portals that remain up-to-date see more traffic and engagement. Users can trust them to be accurate and will be curious to see what's new since they last checked.
Maintain your Portal
At regular intervals:
Review ideas and their descriptions
See which ideas can be removed from the Portal for now
Add promising new ideas
Ensure ideas are on the right tab or subsection based on recent progress
Evaluate the order of cards on each tab (not surprisingly, those toward the top get the most activity)
If your team uses checklists to track all that needs to take place when a feature goes into discovery or delivery or is launched, consider adding an update Portal card as an action item.
Consider rotating interesting ideas through a "Featured" section
Some have found success with a featured tab or subsection that spotlights interesting recent ideas and is often updated to reflect new ones. It offers assurance that whenever users return to your Portal they'll see something new. Just keep it short (4-8 cards max) and update it regularly!
A twist on this idea is a User Submissions tab, spotlighting select ideas contributed by users through the Portal. It's a way to encourage users to submit brand new ideas you might not have thought of.
See also