Use the Productboard and Jira one-time import when you want to bring issues from your Jira backlog to Productboard. You can Set up auto-import if you want to automatically import Jira issues that meet your pre-defined SQL rules.
In this article:
One-time imports
Maker admins can perform one-time imports of Jira issues into Productboard from Productboard's Jira integration settings. This is especially helpful if you previously used Jira to organize your feature backlog and are adopting a product management system for the first time.
If you want to import many issues, it's recommended that you do so in batches that will all be added to the same area of your product hierarchy.
When you map custom fields of the same type between Jira and Productboard these fields will be one-time imported from Jira to Productboard.
This applies only:
To fields that are of the same data type. (Productboard supports text (plain-text), number, and dropdown custom fields).
If the fields were mapped BEFORE the one-time import. 
Note: This does not apply to the Jira system fields, Timeframes, and Tags. We will support these in one-time import soon.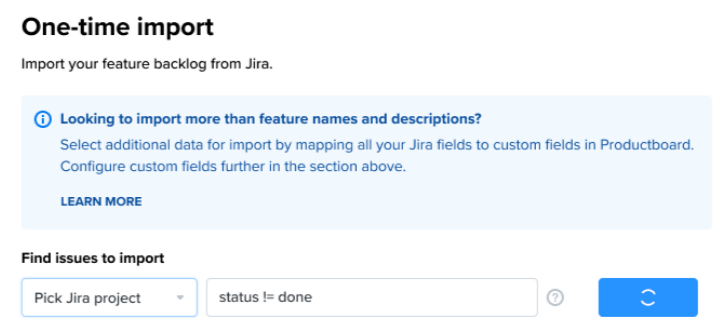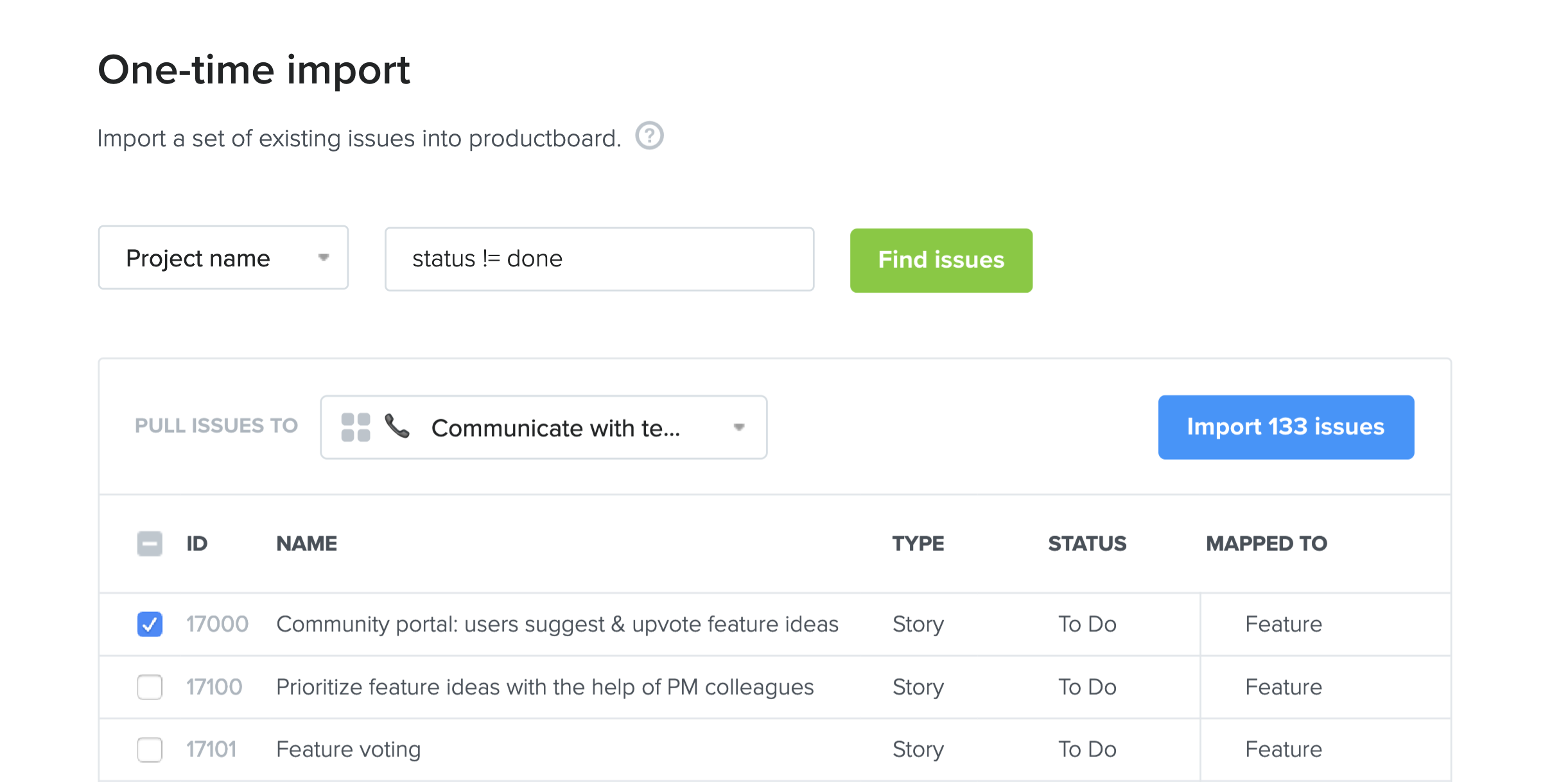 Automatic imports
Maker admins can also use JQL to auto-import certain types of new issues into Productboard on an ongoing basis. For example, if your team logs certain types of unexpected behavior directly in Jira, you may decide to add these to Productboard as well so they can be prioritized against other feature ideas. These features are automatically tagged Jira-auto-import so you can easily find them in Productboard. (Psst...need help writing a JQL query? Here's a cheat sheet.)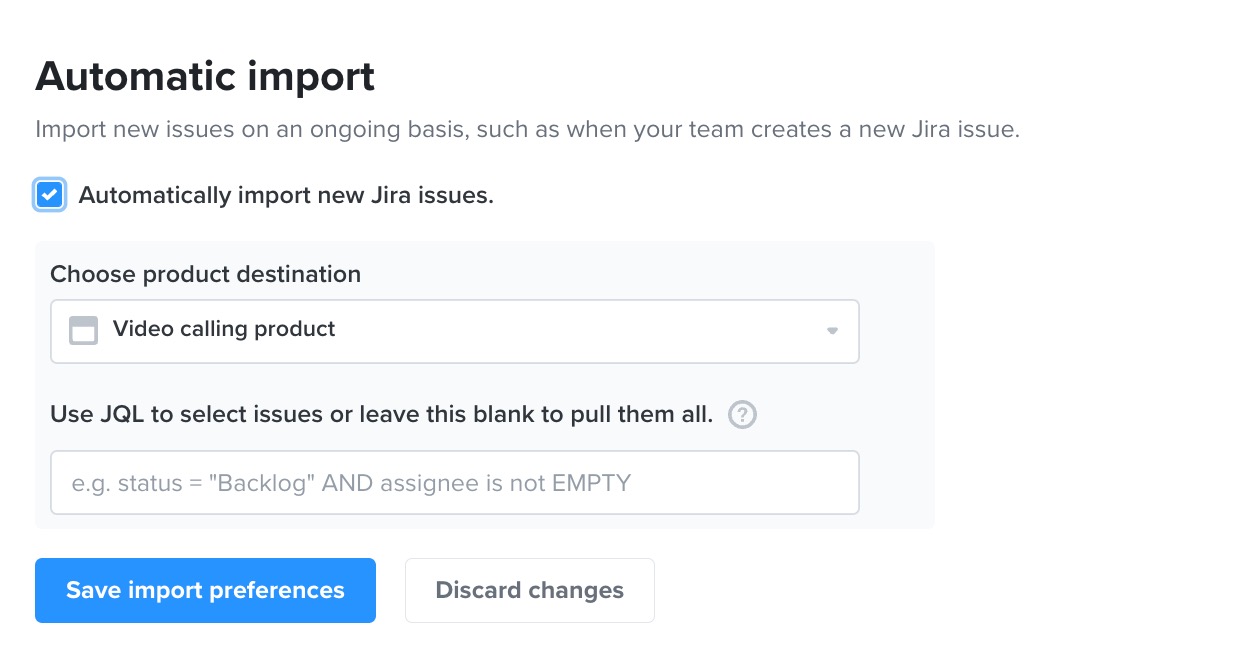 Important: Using a blank JQL will result in issues being imported from all Jira projects in your Jira instance. We recommend using a simple query such as project = "Project Name" to limit auto-imports to only the Jira projects you are syncing with Productboard.
FAQs
Is it possible to import existing Jira
releases

into Productboard?

Not quite; there is no direct action to import or export releases from one system to another. If one release is missing in the other system and is assigned to a feature (or issue) that is linked or being imported or pushed, the release is automatically created in the opposite system and correctly assigned.
Can Jira issues be auto-imported based on a status filter using JQL?
Unfortunately no. Jira creates an issue with the default status first and then applies the change to the desired status. As a result, the webhook is not fired and the issue is not auto-imported.
Note: The issue can be located using JQL in the Jira or the issue can be imported using the One-time import feature as it correctly matches the status later. 
school

Productboard Academy Webinar

Learn best practices for setting up your Jira integration in our on-demand webinar. A member of Team Productboard will explain key concepts, share tips, and answer all your questions so you feel prepared to hit the ground running.
Note: Webinars are available for trial users and paid customers only.
school

Productboard Academy Course

Take a look at our quick tip academy course on safely activating the JIRA Integration. You can safely turn it on and configure it however you like before information starts flowing back and forth. Here's a video walkthrough if you don't believe us.
See also: