Great news: your initial prep work is done! You've made your product hierarchy, and filled it with all the feature ideas, and created your first insight. You're ready to start bringing all those research notes, feature requests, and pieces of feedback into your account!
By sifting through all this feedback in one place, it will be easier to spot trends, identify themes, and zero in on the most impactful ideas in your hierarchy. Ready?
In this article:
How to prepare for migrating your feedback
First, spend 10-20 minutes brainstorming the different sources of the feedback you receive. Here are a few potential sources:
User interviews
Feature request emails
Support tickets
Feature request forums
Win/loss analysis
Feedback from white-glove customers
How to import notes via a spreadsheet
The simplest way to bring a large number of notes into Productboard in a structured way is by importing a spreadsheet.
Download our sample CSV / Excel template to ensure your data is formatted correctly.
Importing feedback directly from support tools
Importing feedback from other tools via Zapier
Zapier makes it easy to import notes from an endless variety of sources. Using ready-made templates, you can specify a trigger in your favorite app which will push that feedback into your Productboard Insights board
While the full list of templates is found on the Productboard + Zapier landing page, here are some common integrations to push feedback into your Insights board:
Importing feedback via email
No more digging through your email inbox to find relevant conversations, user research notes, or feature requests! Preserve your inbox (and your sanity) by forwarding relevant emails directly to Productboard.
Click your workspace name in the top left corner, then select Integrations:

Scroll down and select Email integration. Click the toggle to enable the integration. Your unique email address will display below:

Tip: Create an easy-to-remember email alias for your unique email address, like "feedback@yourcompany.com". Doing so will make it super simple for everyone else to send feedback straight to Productboard, not your email inbox!
Add your unique email address or your easy-to-remember alias to your contacts. You're all set!
P.S. If you're using Gmail, add your Productboard email to your contacts list before setting up any filters or auto-forwarding. Adding your email to your contacts will prompt a confirmation email with a URL you need to click. You don't want that confirmation email to be auto-forwarded into Productboard!
How to process your historical notes efficiently
Whew, all those notes are finally consolidated in one place. Nice work! Now comes the fun part: processing those notes to identify patterns and generate a prioritized list of features.
Remember, the key elements of a well-processed note:
Note has a user and company (optional)
Relevant content is highlighted and linked to a feature
Degree of importance is specified
Relevant tags are added
Don't forget to click "Process" when you're done!
We have a few tricks to make this initial review go quickly!
Use filters to find notes related to a given idea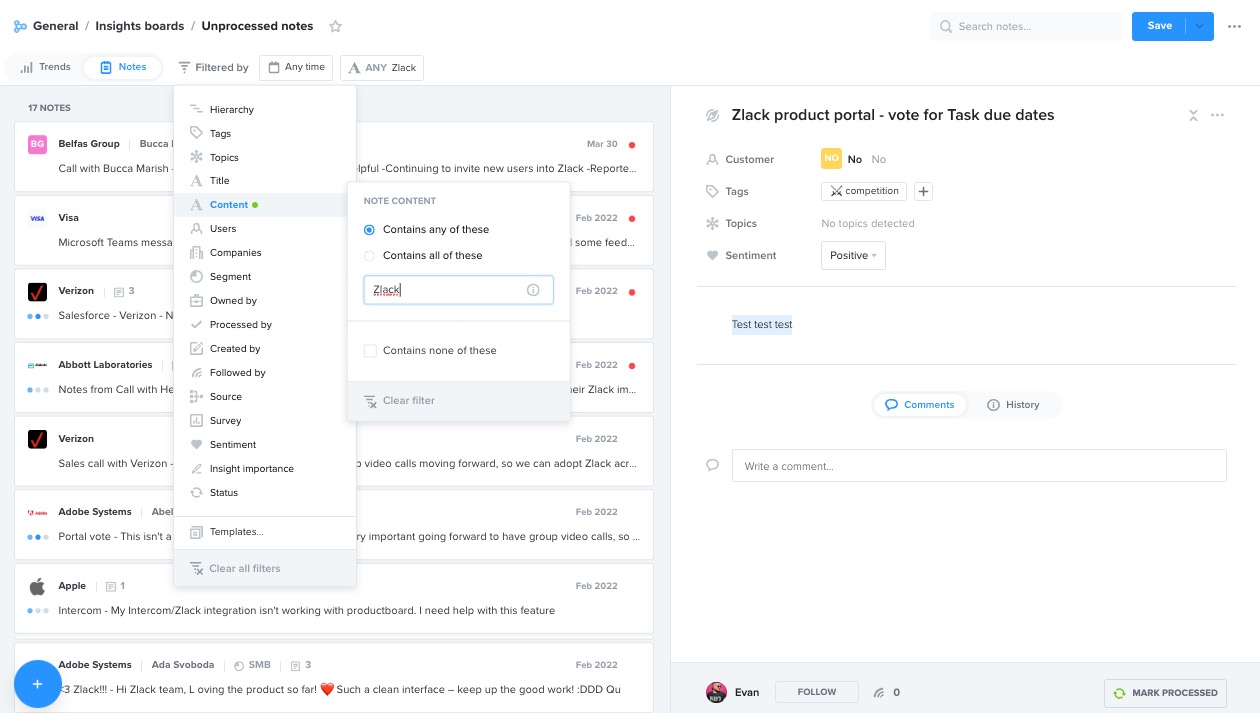 This makes it easy to review all the feedback you've received about a given topic in a single session.
Process notes in bulk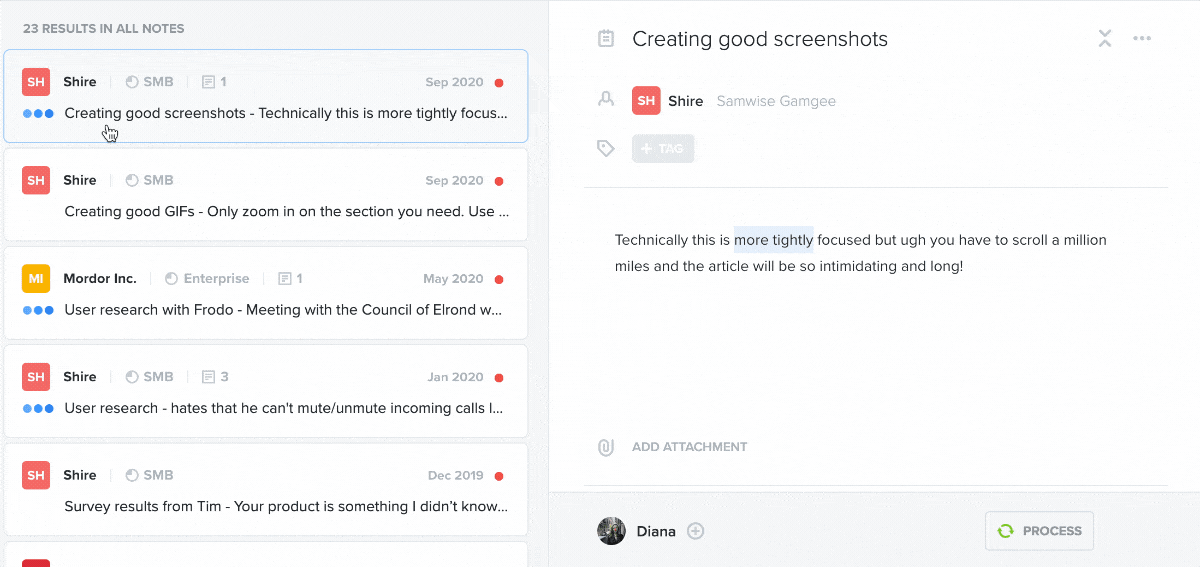 You can select a range of notes by holding shift or selecting the checkboxes beside their name. In the notes sidebar, you can then use the following bulk operations:
(Un)process
Archive
Delete
(Un)assign owner
Add followers
Tag
Update Users/Companies
Once you're done, just deselect all the updated notes.
Next Steps
✅ Upload notes from all your various spreadsheets and archive them at last! 🎉
✅ Connect Intercom conduct a one time import of historical feedback conversations (if applicable).
✅ Create an easy to remember alias for your unique email address.
✅ Clean out your email archive! Forward, forward, forward.
✅ Work your way towards inbox zero in Productboard by processing your historical notes.