Great product managers understand how to identify the needs of specific groups within their larger user base, so they can provide specific solutions that serve their needs. Productboard's customer segmentation enables you to group similar companies together and identify which features each segment needs the most.
In this article:
How to add company data into Productboard
Companies can be added into Productboard in four ways:
Companies can be added manually, one at a time, via Companies in the Data section on the left sidebar.
Companies can be added automatically via an integration like Zendesk.
Customers on Enterprise plans can add companies in bulk via CSV.
Customers on Enterprise plans can add companies via Salesforce.
How to create manual user segments
User segments group together key individuals, regardless of whether they work at the same company. This is especially helpful for VIP stakeholders, like board members or investors.
Click the  Add Column button and select Segments on the Features board.

Click (+)Create segment.


Give your user segment a name


Click the toggle to display this segment on your Features board.
Choose Users segment from the dropdown menu.
Click (+) Add user and select the user you want to add to your user segment.

Your user is now associated with your new user segment.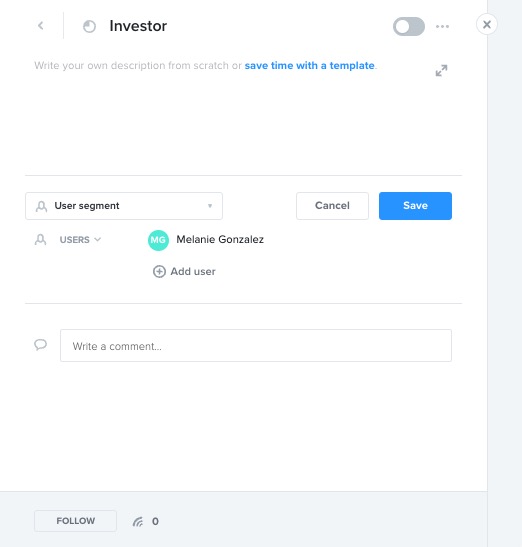 How to create rule-based company segments using Dynamic Customer Segmentation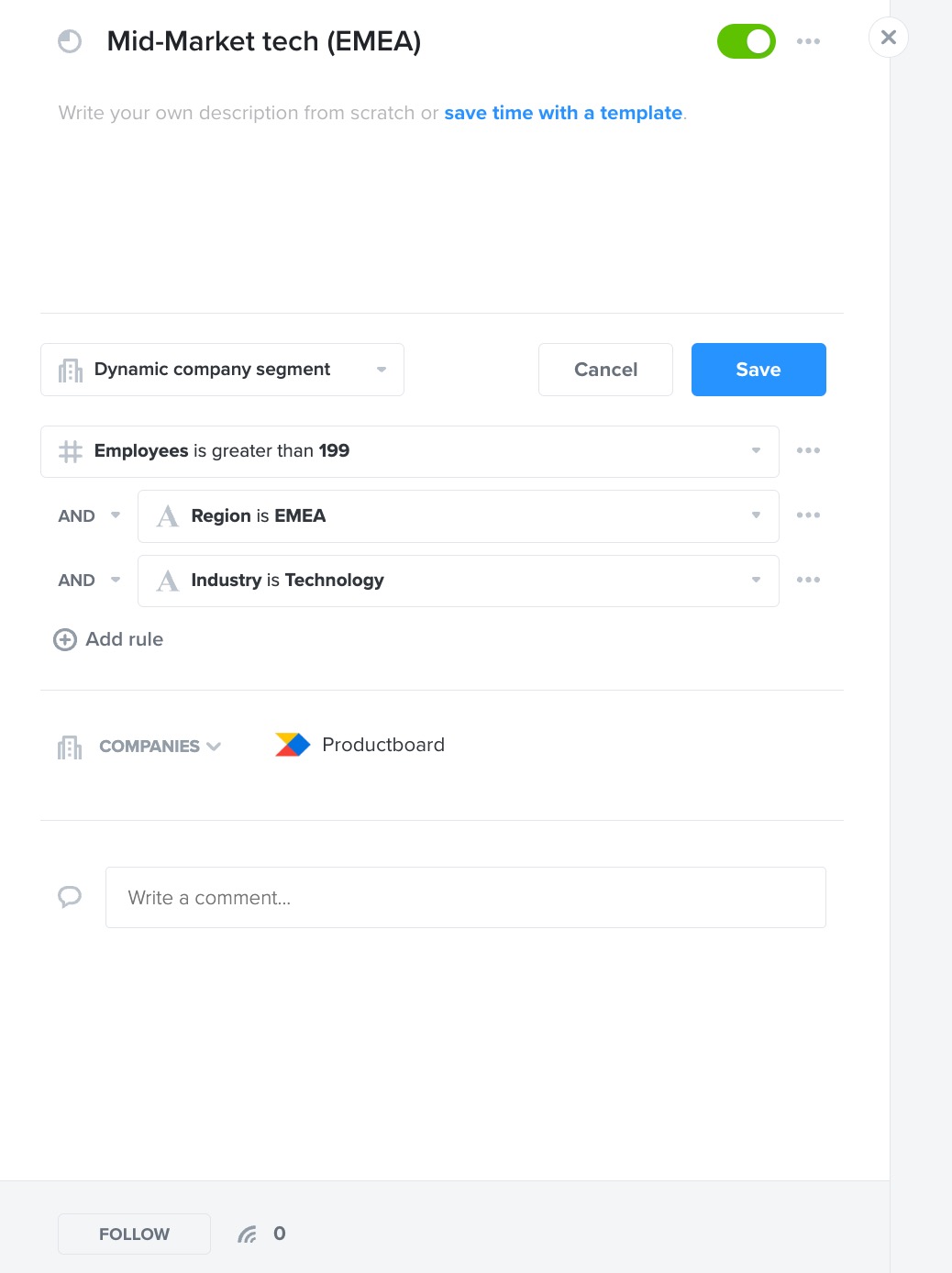 You can use Productboard's Dynamic Customer Segmentation to create rule-based segments that update automatically using criteria that you define.
Begin on your Features board.
Click the  Add Column button and select Segments.
Click Add new segment to create your first rule-based segment.

Give your segment a name.
Select Dynamic company segment from the dropdown menu.
Click Add rule.
Define the properties of your rule.
Continue clicking Add rule until you have listed your segment's desired rules. Each time you add a new rule, the preview of your segment will recalculate.
Click Save to confirm your rules for your segment and assign all matching companies.
When you are finished, click the toggle to turn the segment on in your Features board.
Viewing aggregated data for a segment
If you have imported custom numeric values for your companies, you will see aggregated values for those fields previewed below. These aggregated values are based on the companies included in your dynamic segment:

You can click on the dropdown menu to select a different aggregate value.
These aggregate values help product teams connect their prioritization decisions to the company's bottom line - without switching tools!
How to use segments during prioritization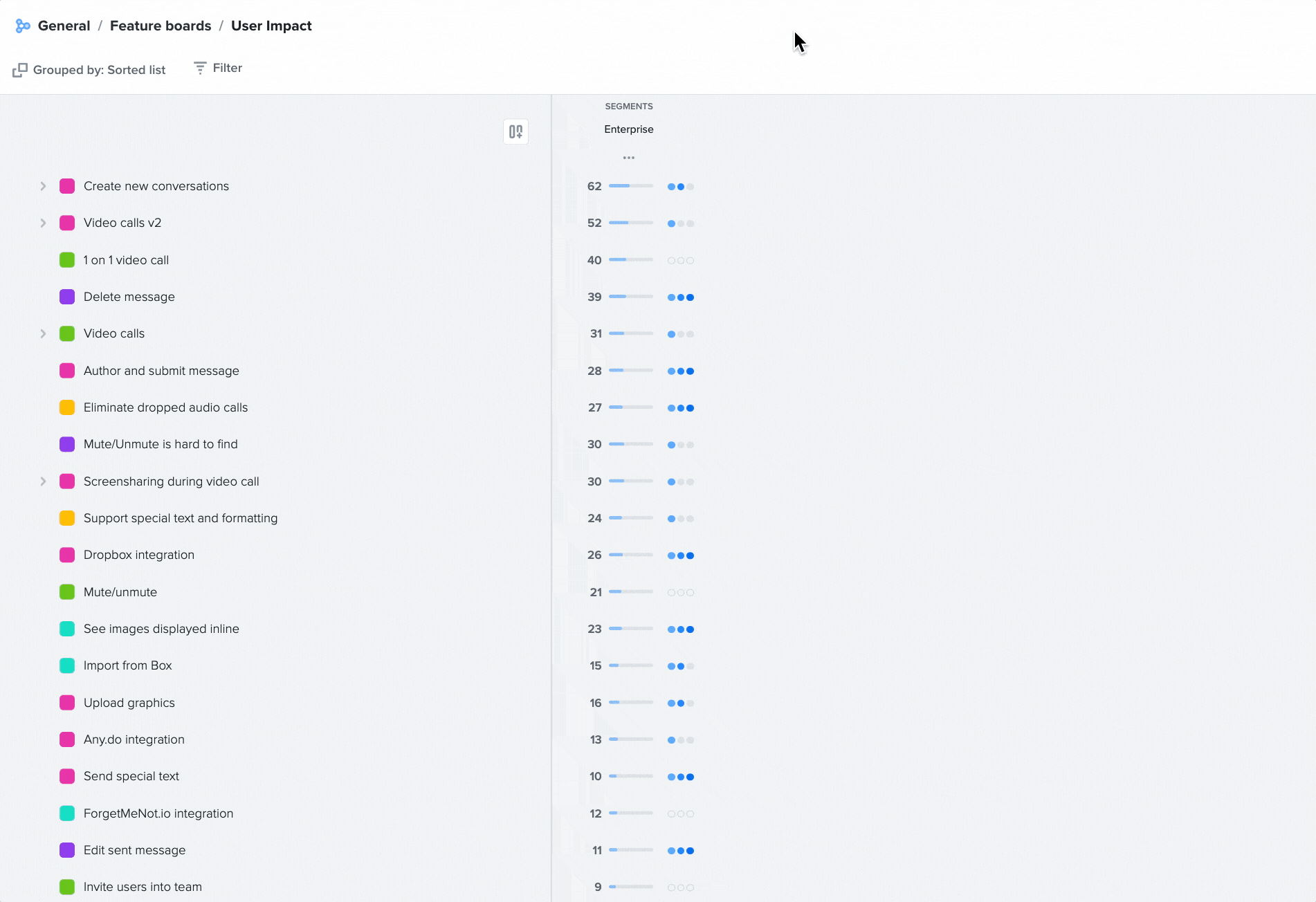 When viewing a segment column on the Features board, you'll see two types of data:
Left side: User impact score. Just like the traditional user impact score, this number represents the number of companies in your segment that need a feature, weighted by the degree to which they need it. In the example above, three companies in the EMEA segment say this feature is critical (+3), so the EMEA user impact score is 9. This field is especially powerful if your organization generates lots of Insights from feedback.
Right side: Importance value. Perhaps you're a brand new Productboard customer or an early-stage company, and you don't have many Insights linked to your features. Perhaps you simply know that a feature will be important to a segment, regardless of whether they're reaching out about it (e.g., "GDPR compliance features" for EMEA customers). By clicking on the three dots, you can manually assign a degree of importance to a feature for a specific company segment.
Filter features by segment values
Using these two fields, you can filter your features to reveal only those which are most compelling for your segment: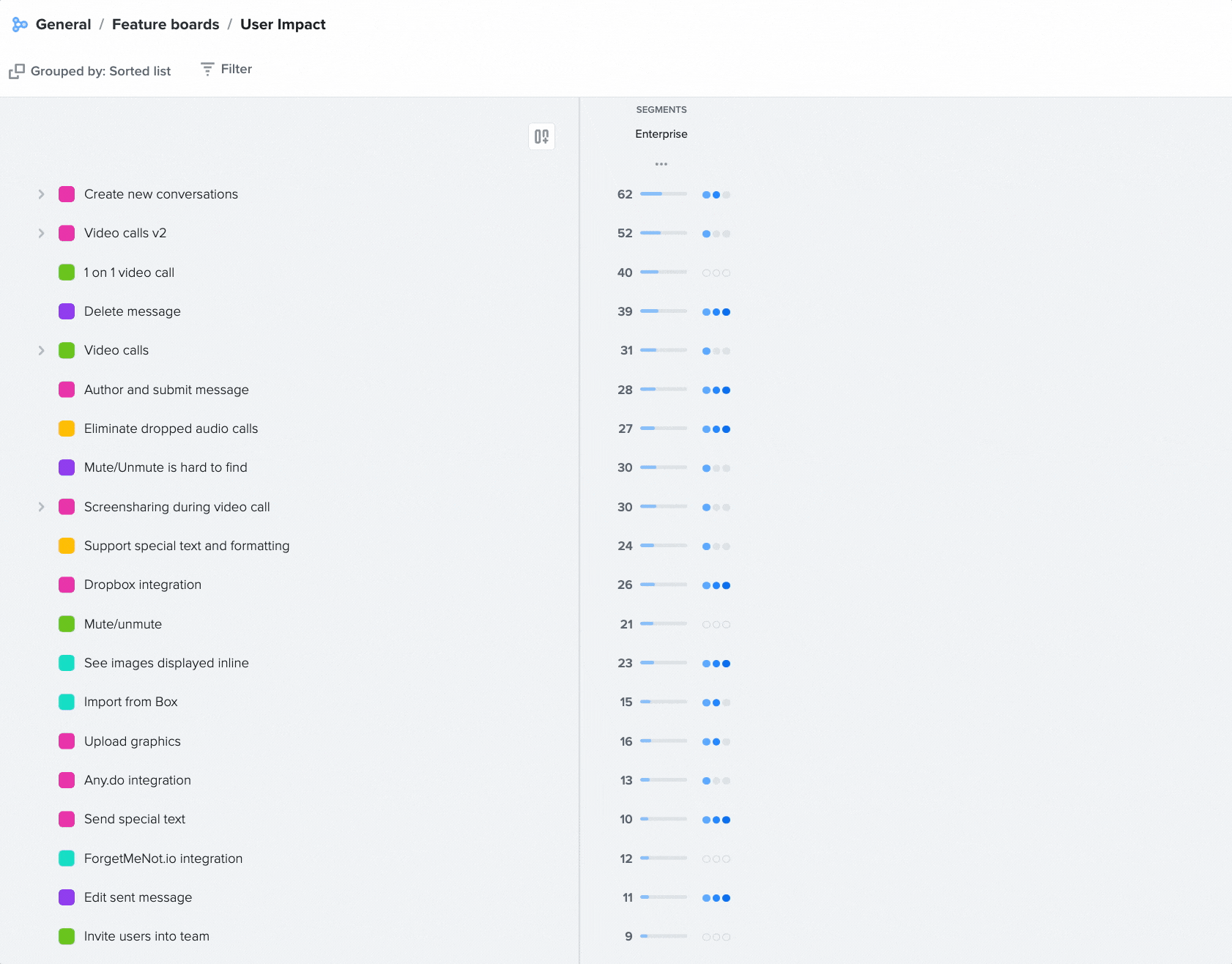 Click the  icon underneath your segment's name.
Select any combination of filters for insight rated (a.k.a. assigned by users), the recency of the request, and the segment importance (a.k.a. assigned by your team). In the example above, the list of features is filtered to show only those Critical and Important feature requests received from Enterprise companies in the last 90 days.
Sort features by segment values
Our Sort functionality will reveal the highest impact, highest priority features for your segments.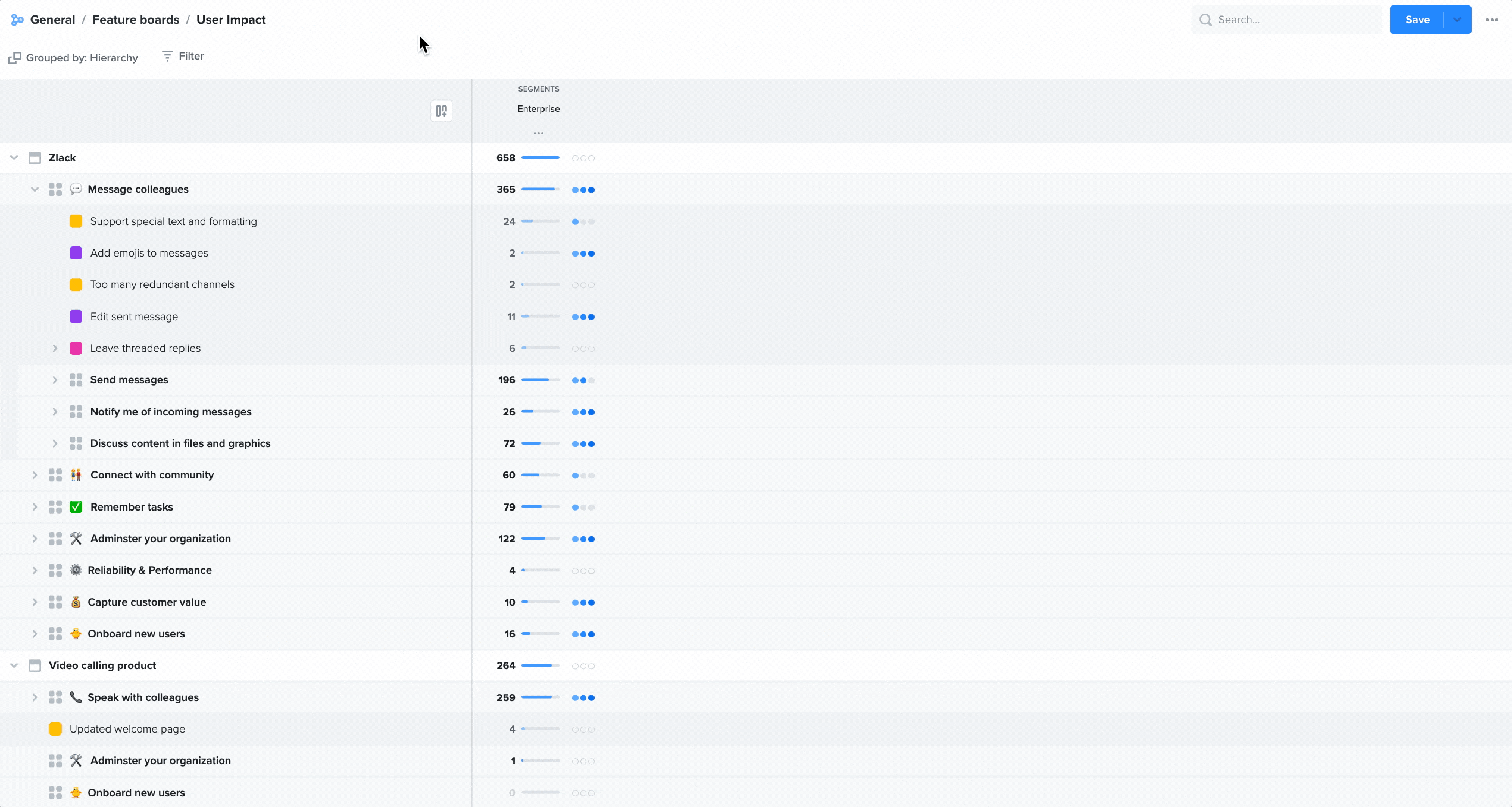 Select Sorted list from the header bar.
Click the  icon for your desired segment.
Click Sort by column.
You can filter by Insight score (generated by company) or Importance Value (generated by your team).
Note: If you're constantly revisiting the same configuration of columns and filters, save time by creating a saved view that you can return to repeatedly. Just click Save in the top right corner, or click the + icon next to your Feature boards folder and select feature board.
How to use segments to organize feedback
Applying a segment filter to your Insights board will surface only the notes submitted by employees at the companies in your segment:
On the Insights board, click the Filter icon.
Select Segment.
Select one or more company segments.
If you know you'll want to organize your notes this way, again and again, customers on an Enterprise plan can create an Insights board to sort those notes automatically.
See more: