Reports provide built-in dashboards that help you better understand how your product team operates. With Reports, you get an overview of where your team spends the most time, so you know what to focus your efforts on as a team.
Using Reports, your company can become more customer-centric, prioritize what's most important for your customers, and increase team alignment.
In this article:
Accessing Reports in your Productboard workspace
To access all reporting menus, in Productboard, click on the Reports icon (
) in the sidebar: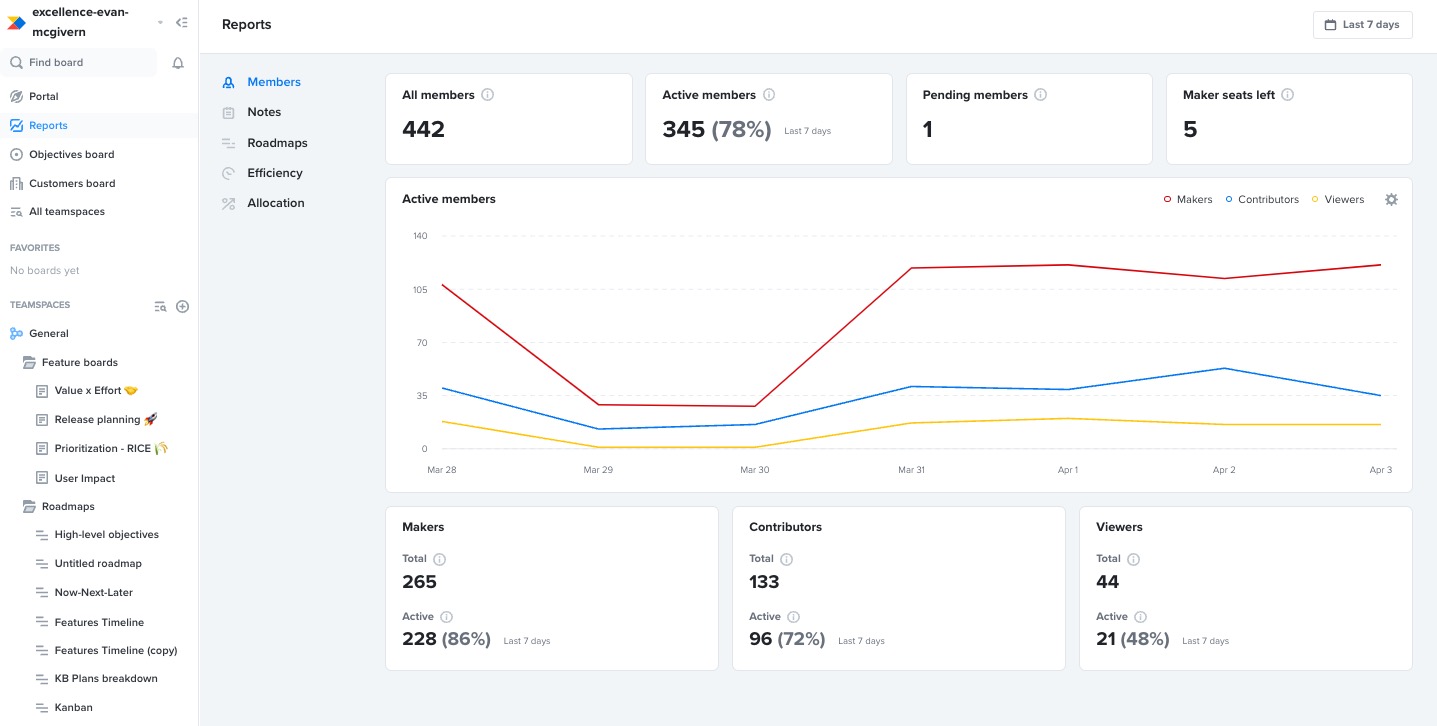 From here, you can access the following reporting menus:
Members -

Adoption at a glance

()
Notes -

Notes and feedback

()
Roadmaps -

Visitors and visits

()
Efficiency - How quickly teams can deliver customer value from start to finish ()
Allocation - Understand Where and how you are investing your resources ()
You'll learn more about what you can find under each menu in the following sections.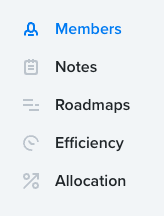 Enabling reports for makers
Reports are enabled by default for makers with admin access, but you can also give Reports access to makers.
To enable reports for makers:
In Productboard, click the workspace name on the top left. Then click on Settings ():


Under Features for bigger teams, toggle on Enable Reports for other makers:

Navigating through the reporting menus
Each reporting menu has a description under the title and a built-in dashboard.
On the dashboards, you can see the definition for each data point by hovering your mouse over the Info icon (
):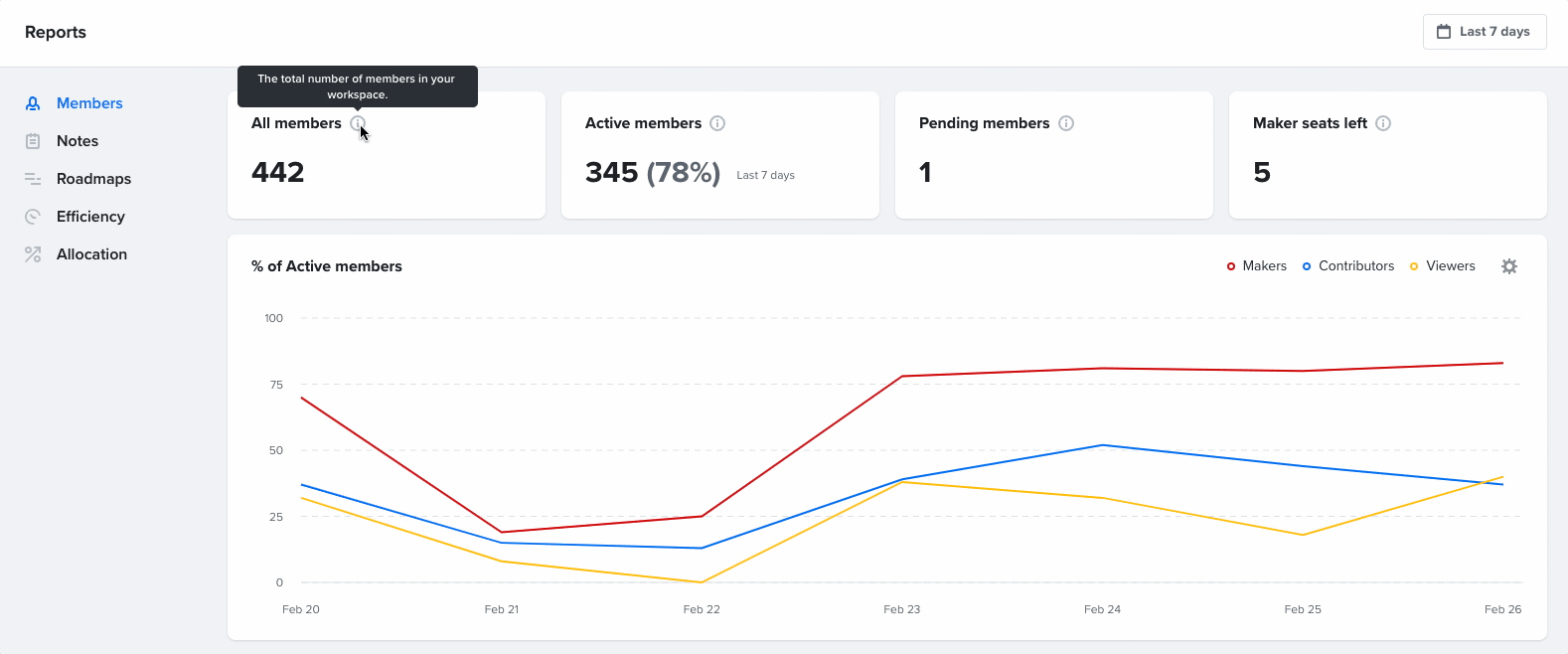 For every built-in dashboard, you can also select a time range: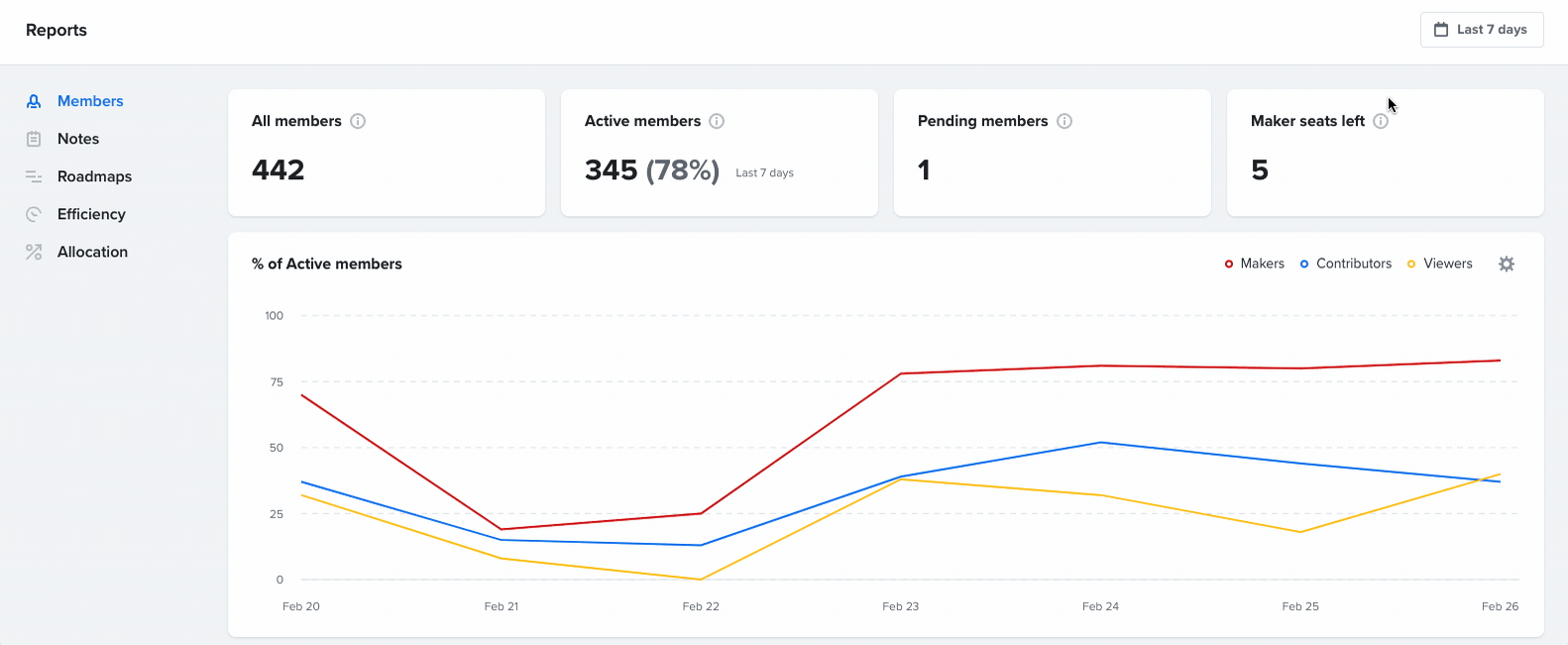 Below, we'll dive into each menu in more detail:
Exploring the Members menu
Under Overview, you'll find a high-level overview of adoption data. The data presented here will help you to:
Understand the overall Productboard adoption over time.
Manage and allocate your maker seats.
Understand which members' roles need help to use Productboard.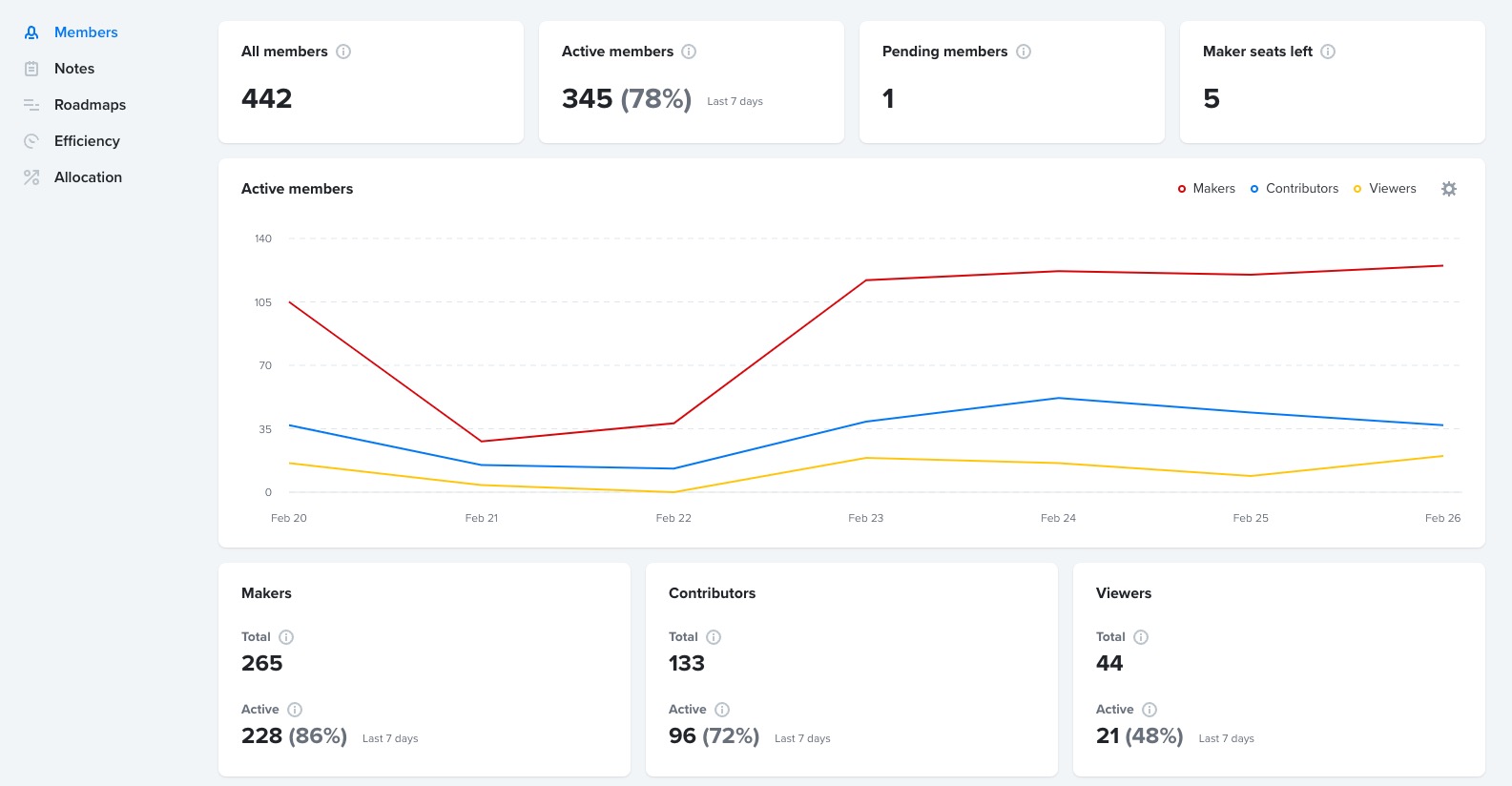 On the Active members' graph, you can click on the cog icon (
) to visualize the exact number or percentage of % of Active members:

Exploring the notes menu
Under Insights, you'll find data on how your organization works with feedback. The data presented here can help you to:
Understand if your team is actioning on the feedback.
Understand what the feedback source is.
Understand each maker's activity related to working with feedback.
On the bar chart, you can click on the cog icon (
) to select the feedback source you'd like to see: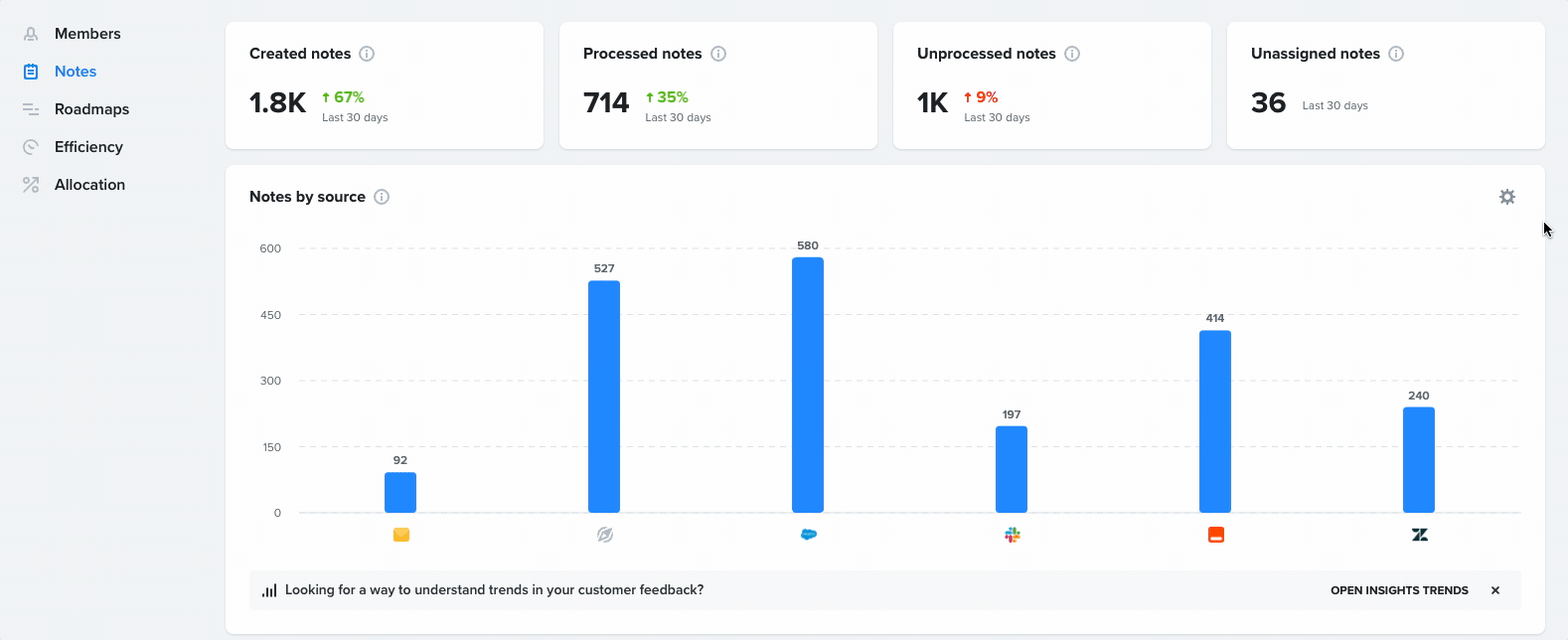 Exploring the Roadmaps menu
Under Roadmaps, you'll find data on how your stakeholders are using the roadmaps. The data presented here can help you to:
understand if stakeholders are visiting roadmaps to drive alignment
understand who are the top visitors and the top-visited roadmaps
You can click on the cog icon (
) to switch between the absolute number or percentage on the line graph: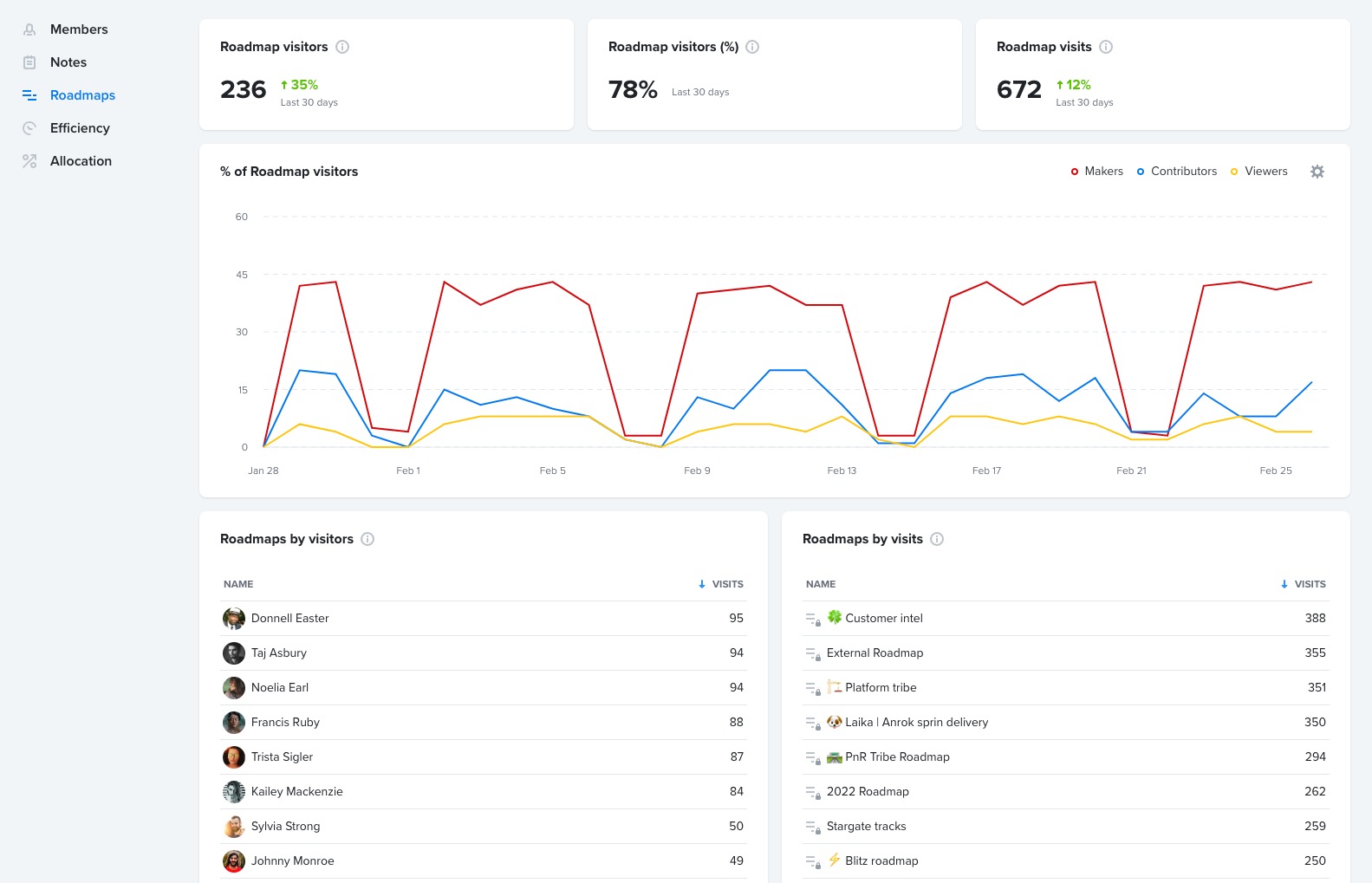 Exploring the Efficiency menu
Under Efficiency, you can understand how quickly your product teams are at turning ideas into customer value from start to finish. For more information, see the article Report Efficiency.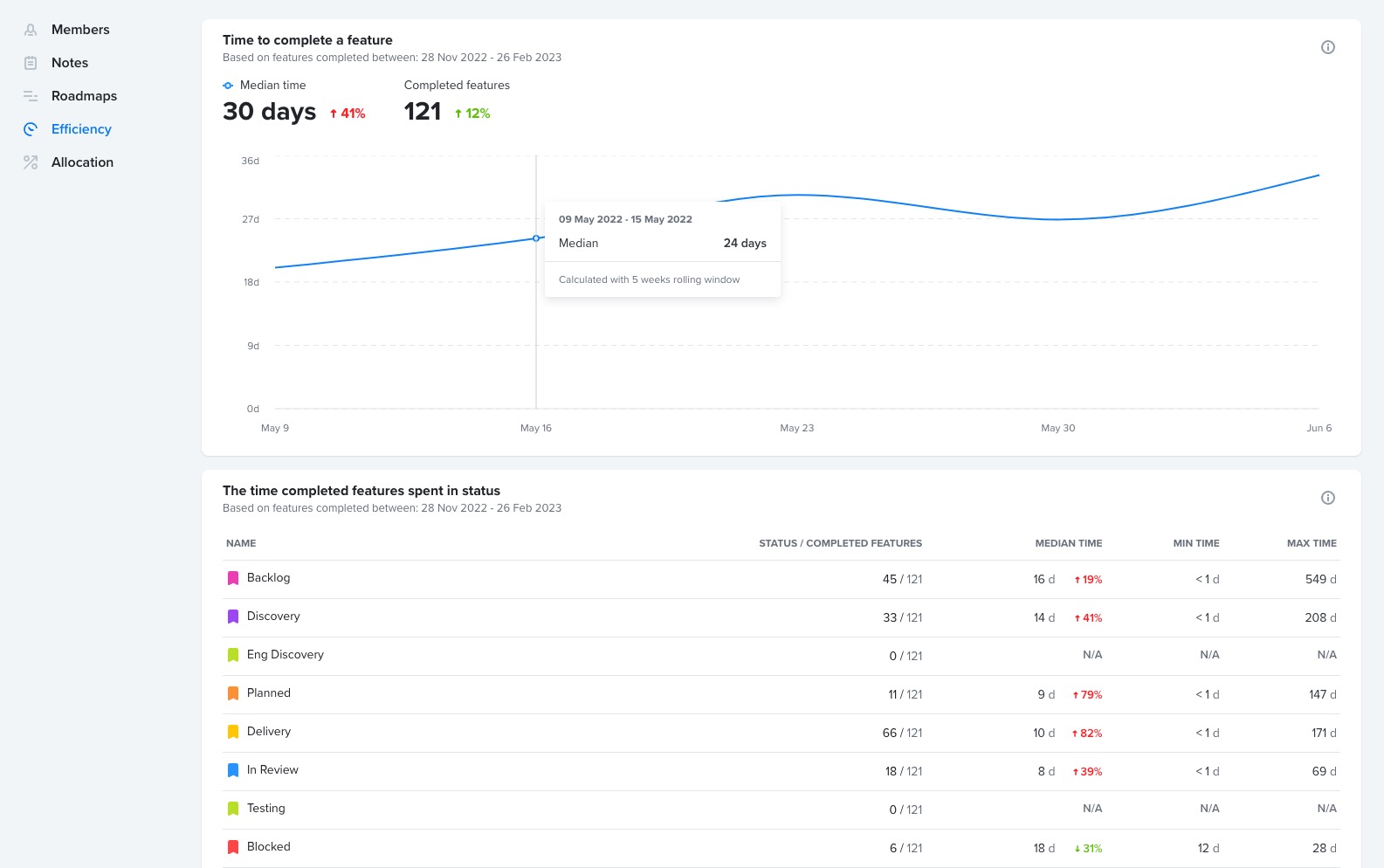 Exploring the Allocation Menu
Under Allocation, you can understand where and how you invest your resources. This will help you to assign resources for growth initiatives, customer retention, and driving down debt. This report lets you track your investments across every strategic area and align your priorities against people resources. For more information, see the article Report Allocation.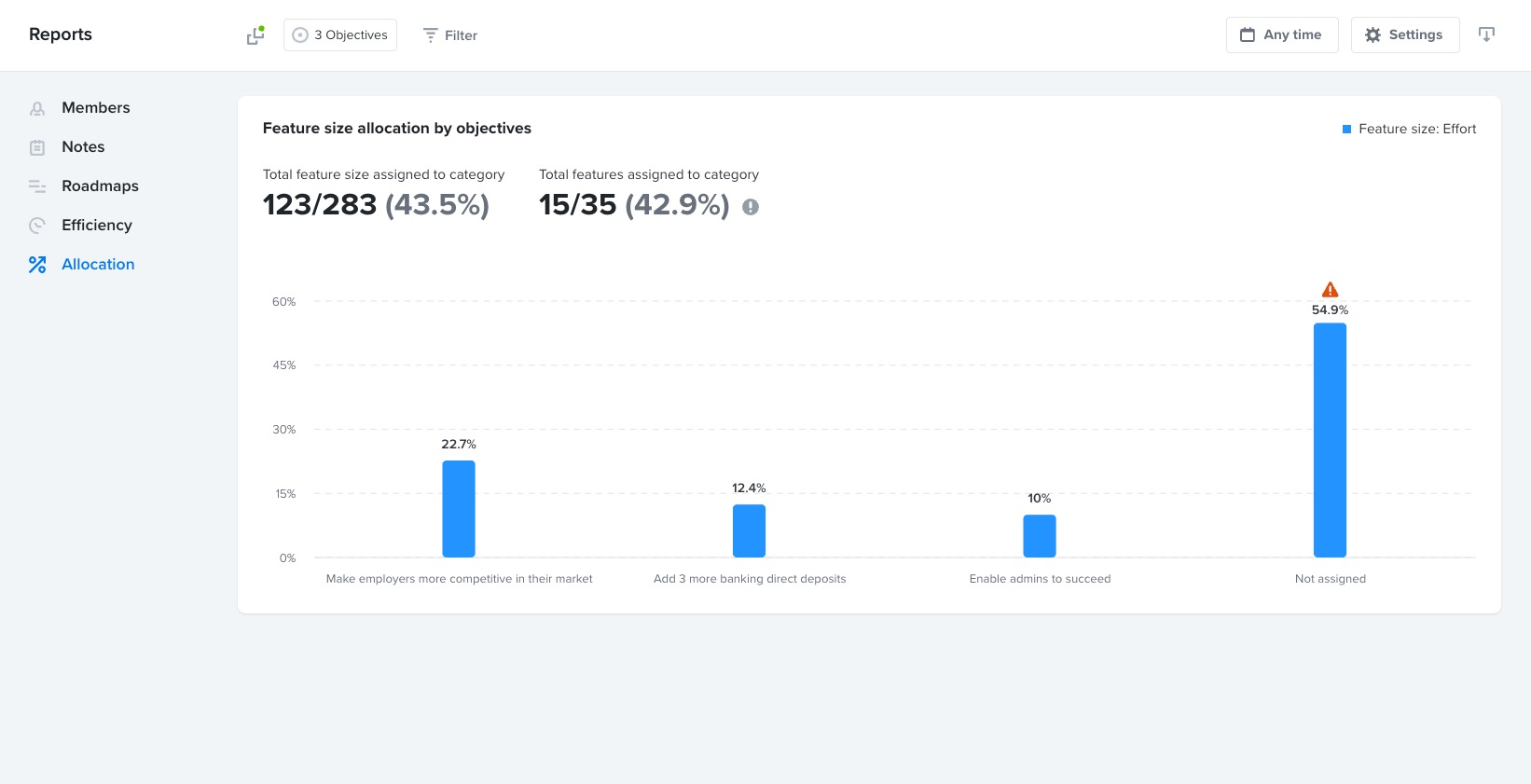 FAQs
What date ranges can you use in Reports?
You can go back historically by 12 months. We are working on extending the time range further back in time.