Now that you've directed ideas, requests, and pieces of feedback into your Insights board from various sources, you have a single, centralized, searchable repository. Well done!

To reap the fruits of your hard work, you can review Insights trends to get a comprehensive and visual overview of the most important customers' issues. 
Trends is a summary layer that sits on top of the Insights board to visualize how your feedback changes over time. Insights Trends can help you prepare for strategic planning or in situations where needs change quickly, i.e., during a pandemic, in volatile industries, or after you run a campaign.
In this article:
Accessing Insights trends
As a maker or contributor, you can switch between viewing your notes or your Trends on the Insights board, allowing you to dive into the details or zoom out.
You can apply notes filters to the entire Insights board so that you can refer to all the individual Notes a trend consists of or check out the summary trend for a specific subset of notes. 
For more information, see Filter the Insights board to find relevant feedback.
To access Insights trends:
Click on the trends icon () on the Insights board.
To change the timeframe, use the date filter (). You can choose to display trends within the predefined values: All time, last 7 days, last 30 days, last 90 days, or last 12 months. Or you can set your custom range.
Identifying trending feedback
Insights trends allow you to quickly identify and stay on top of the most relevant, recent, or trending themes in your collected feedback.
You can also see how these themes change over time and which segments are talking about them. There are five pre-configured modules available. You can learn more about each below:
Notes created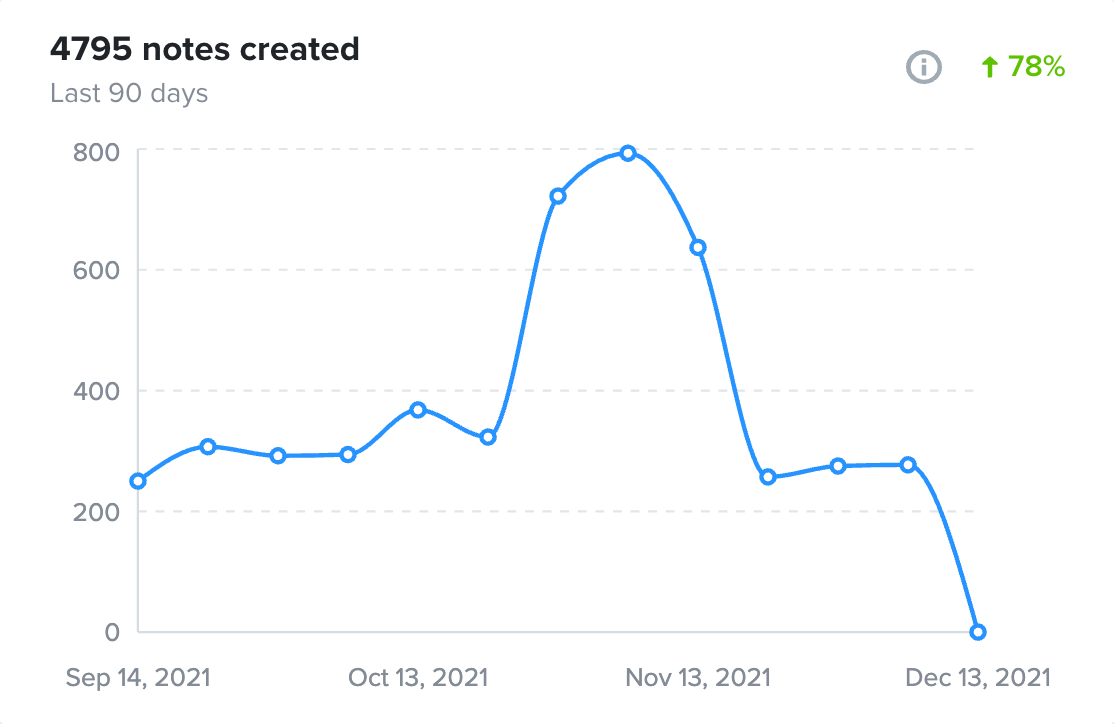 Trending segments
Trending features
You can use this module in different ways:
You can click on a (sub)feature/component/product name directly in the module to open it in the sidebar. Here, you can review what the feature is about, which objectives it supports, whether it's already on the roadmap, and much more.
When you switch over to the Insights tab, you can review all the underlying insights to dig further into the feedback.
You can also follow the feature to monitor its progress or mark it as a candidate for your future roadmap.
If you want to see a broader set of information about individual features, you can also use the user impact score to surface your top-requested features on the Features board.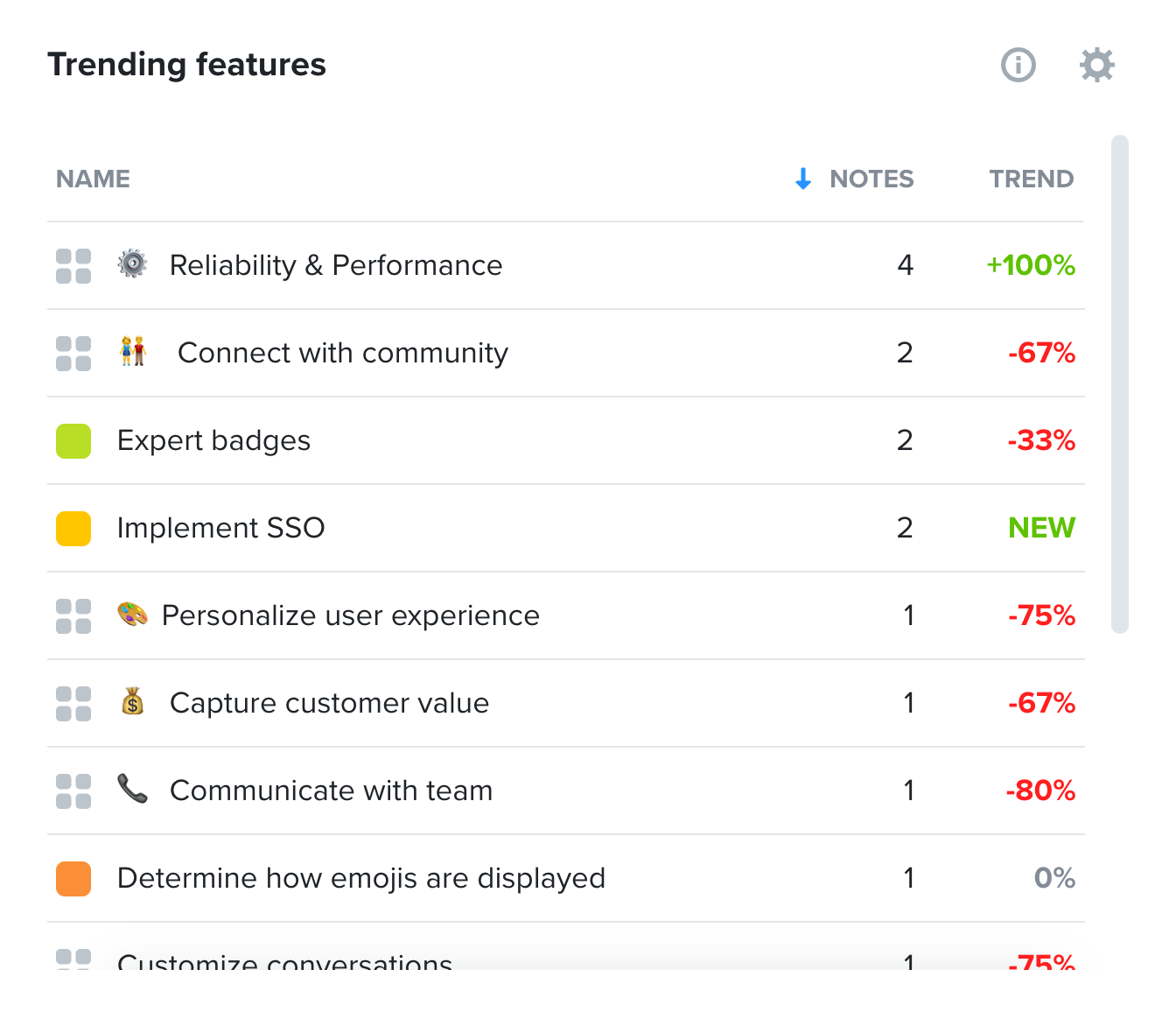 Trending features configuration
Whether you are a product leader or individual contributor or work for an enterprise or a start-up, you may need to look at more or less granular feedback depending on the situation.
You can toggle hierarchy entities (product, components, features, sub-features) on/off to see only those you care about in an uncluttered view by clicking on the Settings icon (
).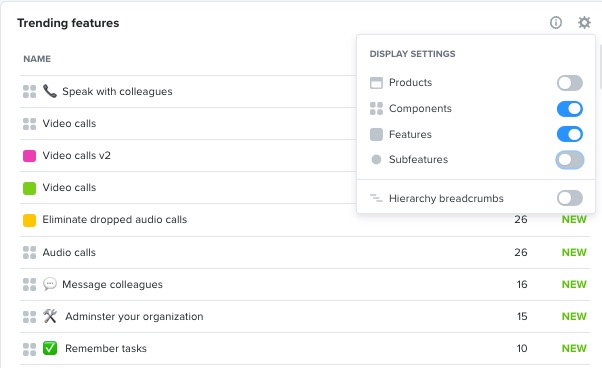 Trending tags
Here are a few tips to bring more value to this module:
• You can assign tags in bulk to all notes that fit certain criteria. For example, you could use a filter to surface all notes that contain specific keywords.
• Do a little clean-up exercise, merge duplicate tags, and remove those you no longer use. Learn more about managing tags in this article: how to manage tags.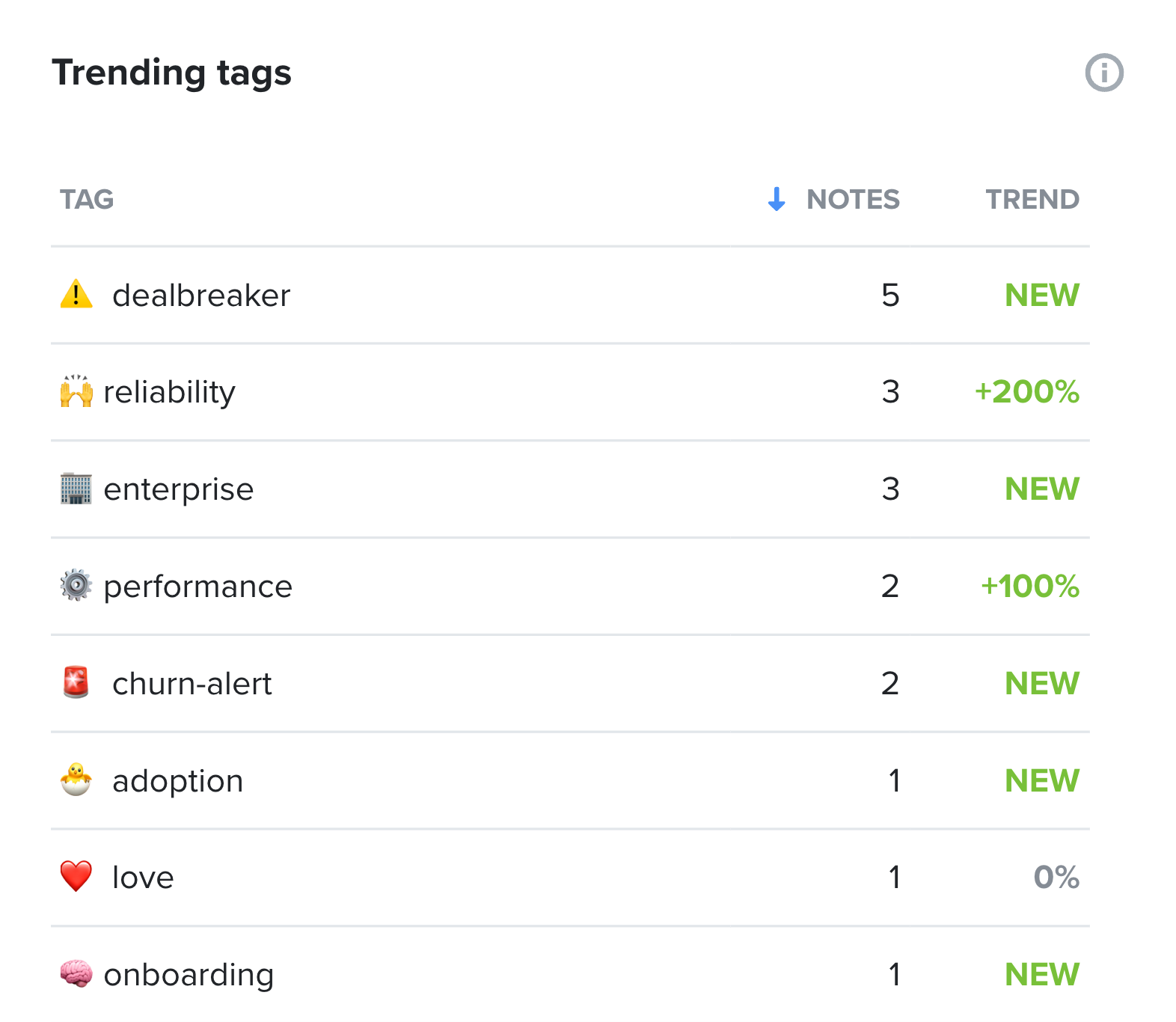 Trending topics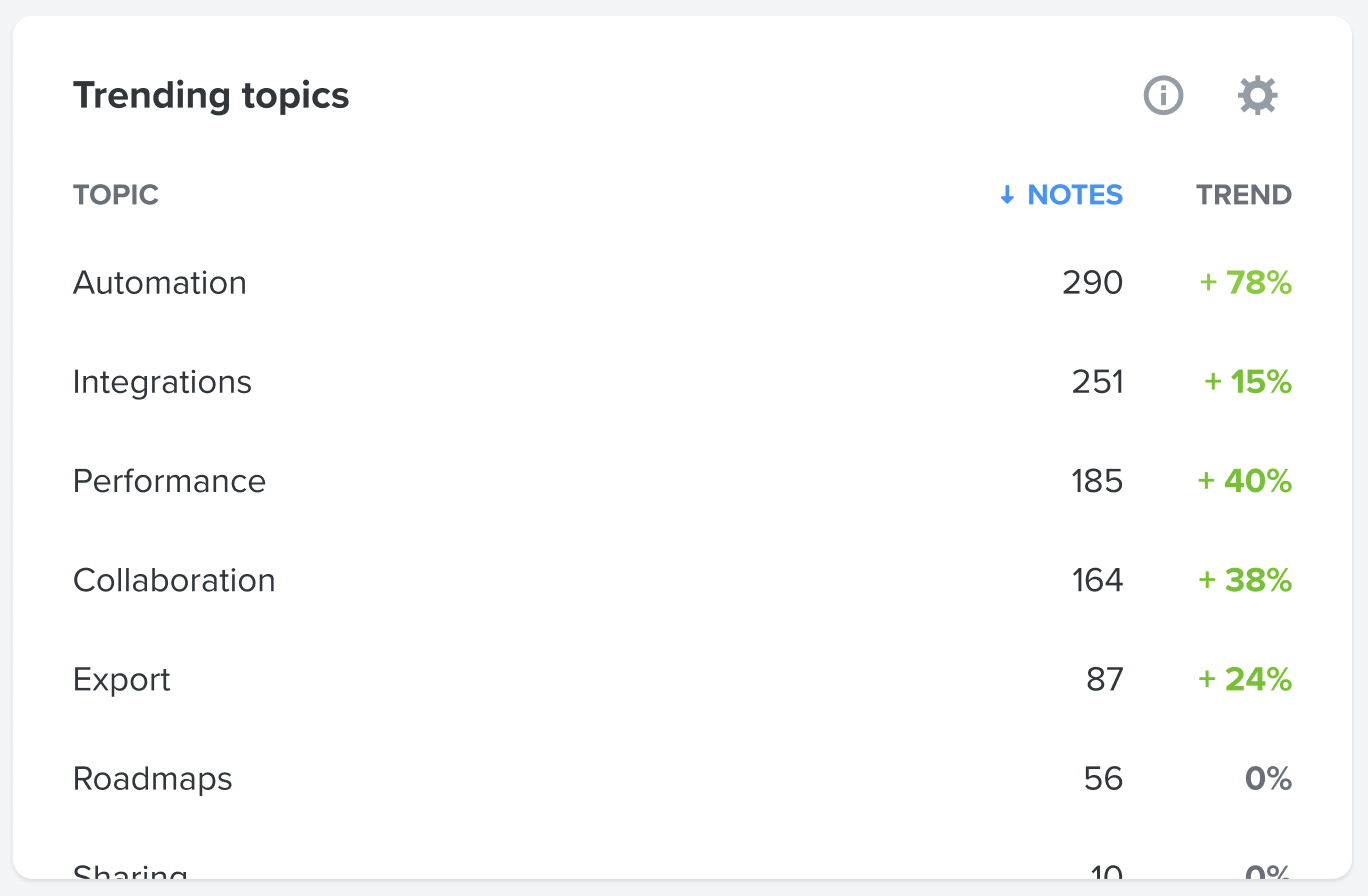 Finding trends that are most relevant for you
Whether you are a Head of Product for a large company or a Product Manager responsible for part of your company's portfolio, different notes subsets will be more or less relevant. To find trends that matter to you, utilize note filters, Insights boards, and the search bar.
This way, you can easily zoom in on feedback for a specific timeframe, your product area, a strategically important segment, or a specific source. This flexibility allows you to look at trends in all collected feedback or a particular topic.
Mapping unprocessed feedback with Insights trends
Insights Trends can help you shorten the time to identify opportunities if you have loads of notes but little time to process them. Unlike the features board which relies on manual linking of notes to features, Insights Trends allows you to use standard search to quickly check hypotheses about a specific subject across all of your collected feedback without reading and processing notes one by one.
Use case: Imagine a scenario where leadership is considering an addition to the product offering. The product team

hasn't focused on collecting feedback

for this specific offering to date, but you remember reading about something similar in your notes.

To back up your assumptions, you can search for specific keywords and see if the search surfaces any existing Trends.

For example, if you were thinking of adding mobile apps to their product, they could search for keywords like mobile, ios, android, app, and so on.
Receiving notifications for weekly Insights Trends
Insights trends weekly email digest gives makers and contributors an overview of trends in their workspace to help them understand where they need to focus their efforts or if anything needs their attention.
In the weekly email digest, you can see the following:
The number of new notes created on the last completed week in your workspace and the trend compared to the previous week.


The top trending features in your workspace. How many notes were created for those features on the last completed week, and how do they compare to the previous week.


How many notes were assigned to you by the end of the last completed week.
In the email, you can click on each area, and that'll take you to your workspace to dig deeper into the trends.

Disabling the weekly email digest
To disable the weekly email digest, follow these steps:
Click on the Workspace name on the top left.
Then click on My account.
On the profile page, scroll down and toggle off: Insights digest.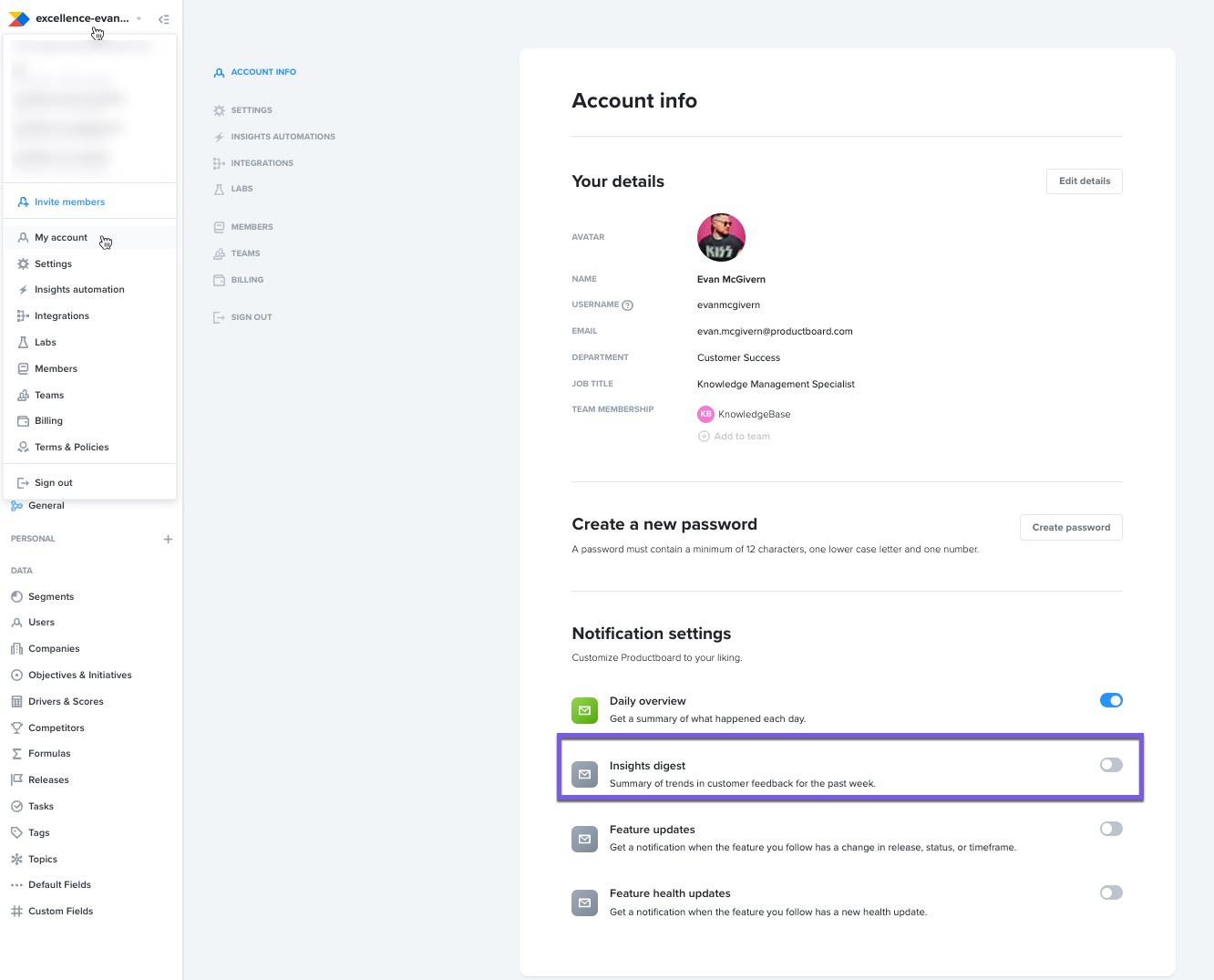 See also: