If you're using Productboard to manage multiple products, you can either manage all products out of a shared Productboard workspace or across several.
The best option for you will depend on how interrelated or discrete your products are.
In this article:
Managing multiple products out of one workspace
For organizations with interrelated product offerings with overlapping user bases, standardized product prioritization processes across all products
Benefits of using just one Productboard workspace:
Shared Insights board – You'll have a common repository of product ideas, requests, and feedback from colleagues and customers including inputs on all products.
Shared prioritization criteria – Fields like objectives, segments, and drivers can span across all products' feature ideas.
Shared Roadmap – Visualize all products' features in a single portfolio roadmap.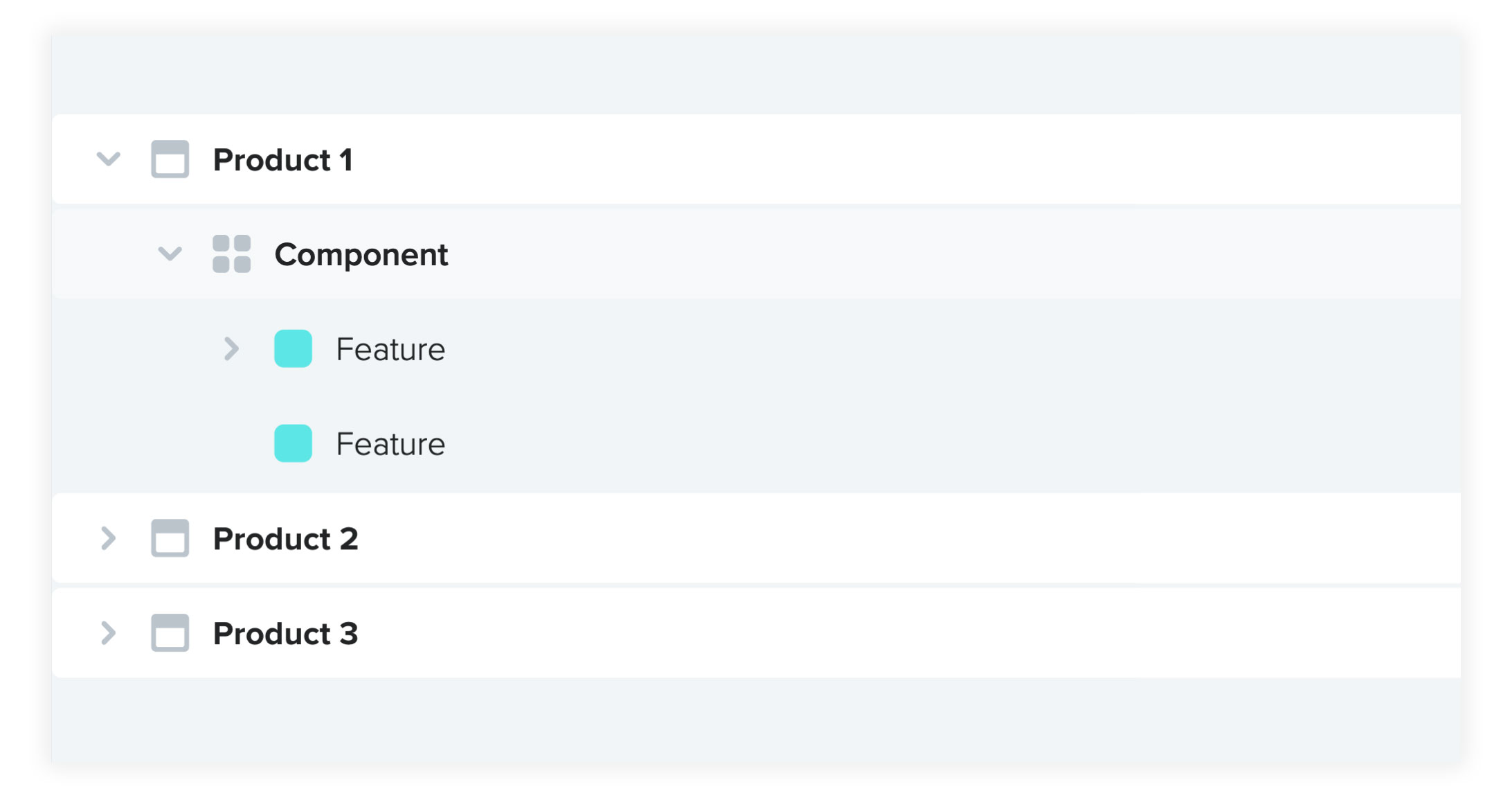 Additional functionality to help you manage multiple products and teams in one Productboard workspace:
Product-specific fields – If you manage multiple products out of the same Productboard workspace, makers can associate fields with specific products to ensure each teammate can focus on the fields most relevant to them. More info
Multiple release groups – If you have multiple teams running on different release schedules you can manage these each as a separate release group in the same Productboard workspace. More info
Multiple Portals – You can now create multiple Portals for different products or audiences, all within the same Productboard workspace. More info
Customizable field sharing settings – Optionally, restrict access to certain data fields to just makers or make them private. More info
Capture saved views of your Features board – Save views of your boards that show just the data most relevant to your product area. Optionally, customize the sharing settings of these views so they are kept private, only shared with certain roles or select individuals. Views could also be saved that capture data spanning all products for a holistic view of what's being prioritized, planned, and delivered. More info
Create different roadmaps – Tailor different roadmaps for different audiences. Roadmaps can be saved and updated in a similar way as saved views on the Features board (see above).
Insights board tags – To help product managers find and process the incoming notes that matter most to them, you can pre-tag new notes arriving on your Insights board — whether they're arriving by email, Slack, Zendesk, Intercom, or the Chrome extension.
Multiple Jira integrations – With the Jira integration, you can push different features into different Jira workspaces. Set up multiple Jira integrations in parallel to push the same feature to multiple Jira workspaces or instances.
Enforce SAML SSO  – Manage colleagues' access to productboard in one place.
Enforce Google SSO – Require colleagues to access Productboard via Google SSO to easily manage their access to Productboard and other tools in one place.
Advanced team management - Makers that have full-access access to a product will be able to set the company-level access to full-access, read-only or restricted access to other users

product anywhere in Productboard. More info

Segment your Insights board by product - You can now personalize your Insights experience for immediate access to the feedback that matters most to you — with less noise from feedback that's not relevant to your customers or product area of focus. More info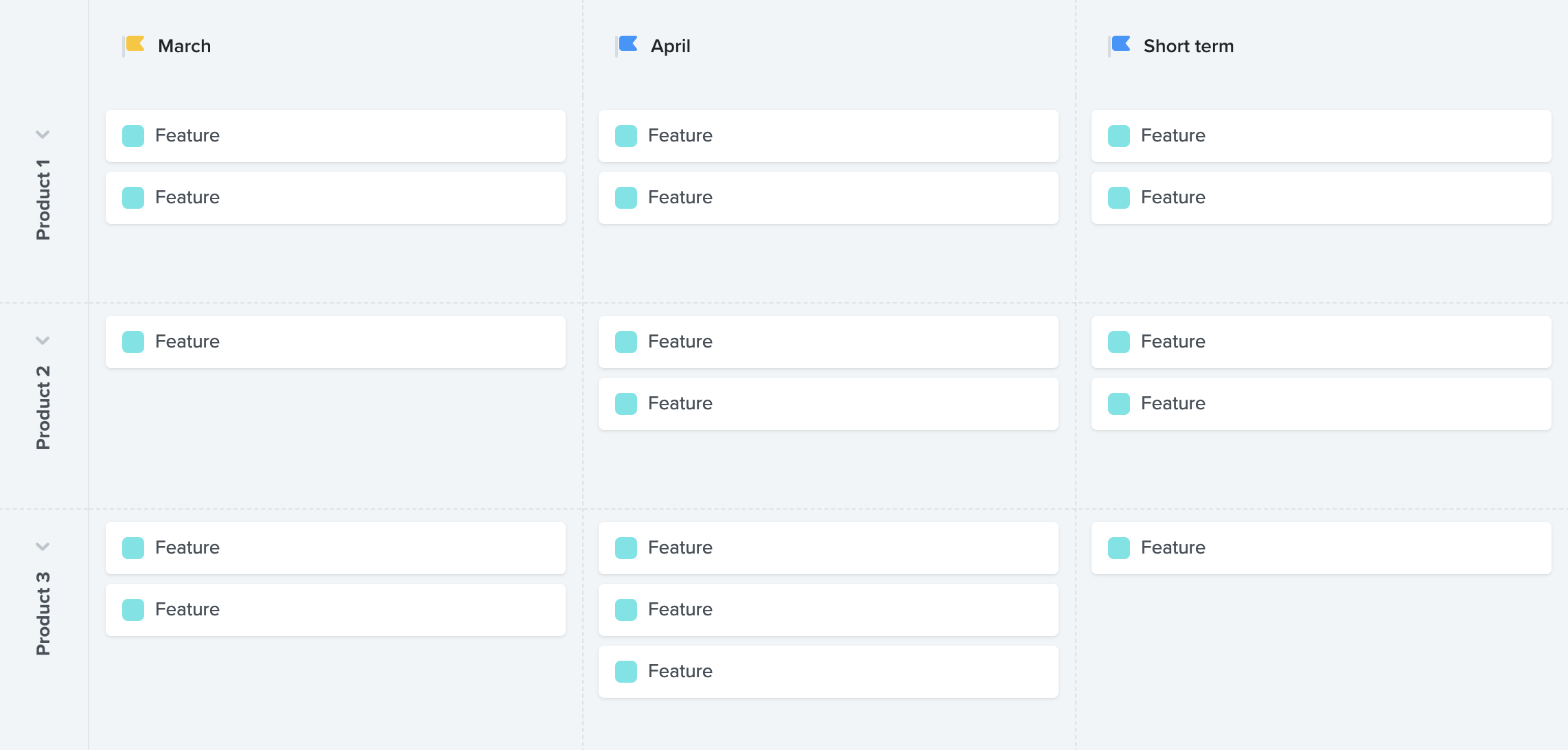 Limitations of using just one workspace:
User roles and permissions are at the workspace level, so anyone invited into your workspace will have access to all products. However, with product-specific fields and saved views, you can help colleagues focus on the products that matter most to them.
Roadmaps only display one release group at a time. If you have multiple release groups (to manage different products' release schedules), you can view each of these release plans, in turn, switching between several different roadmaps. Or you can use an additional "roadmap bucket" release group that spans all products to display their features on a single roadmap. (This would involve managing multiple releases for each feature — it's a more granular release, and it's a less granular roadmap bucket release.)
Managing multiple products across several workspaces
For organizations with distinct product offerings with discrete user bases, and unique product prioritization processes for different products
Benefits of using multiple Productboard workspaces:
Granular user permissions – Ensure everyone can only access data for the products that matter to them.
Discrete Insights boards – Separate repositories of product ideas, requests, and feedback from colleagues and customers.
Discrete Features boards – Feature ideas for each product are kept entirely separate.
Additional considerations:
Workspaces are discrete environments – Each Productboard workspace is accessible at a different URL.
Users can be shared across workspaces – The same Productboard user may be invited into multiple Productboard workspaces with a different user role in each workspace.
It's easy to switch between workspaces – Once logged in to Productboard, users who are members of multiple workspaces can seamlessly switch between them using the workspace switcher in the main menu.
Limitations of using multiple Productboard workspaces:
With multiple workspaces, it won't be possible to get a single unified portfolio roadmap that spans all your products. (You will be able to easily toggle between their roadmaps, however.)
Compared to setting up SSO for a single workspace, there may be more management overhead to managing multiple Productboard workspaces in parallel.
You'll need to set up processes in your organization to ensure feedback for different products gets sent into the correct Productboard workspace.
Any ideas, requests, or feedback from customers/colleagues that relate to multiple products will have to be sent into both workspaces.
Learn more
Looking for more info? Reach out to a member of our team at suppport@productboard.com.