Note tags
On the Insights board, note tags serve as a flexible way of categorizing notes, allowing you to filter for them later.
Tagging individual highlighted insights is being deprecated June 22, 2020. You will still be able to tag at the note level.
Filtering by tag
Selecting multiple tags filters for those notes that have all the selected tags.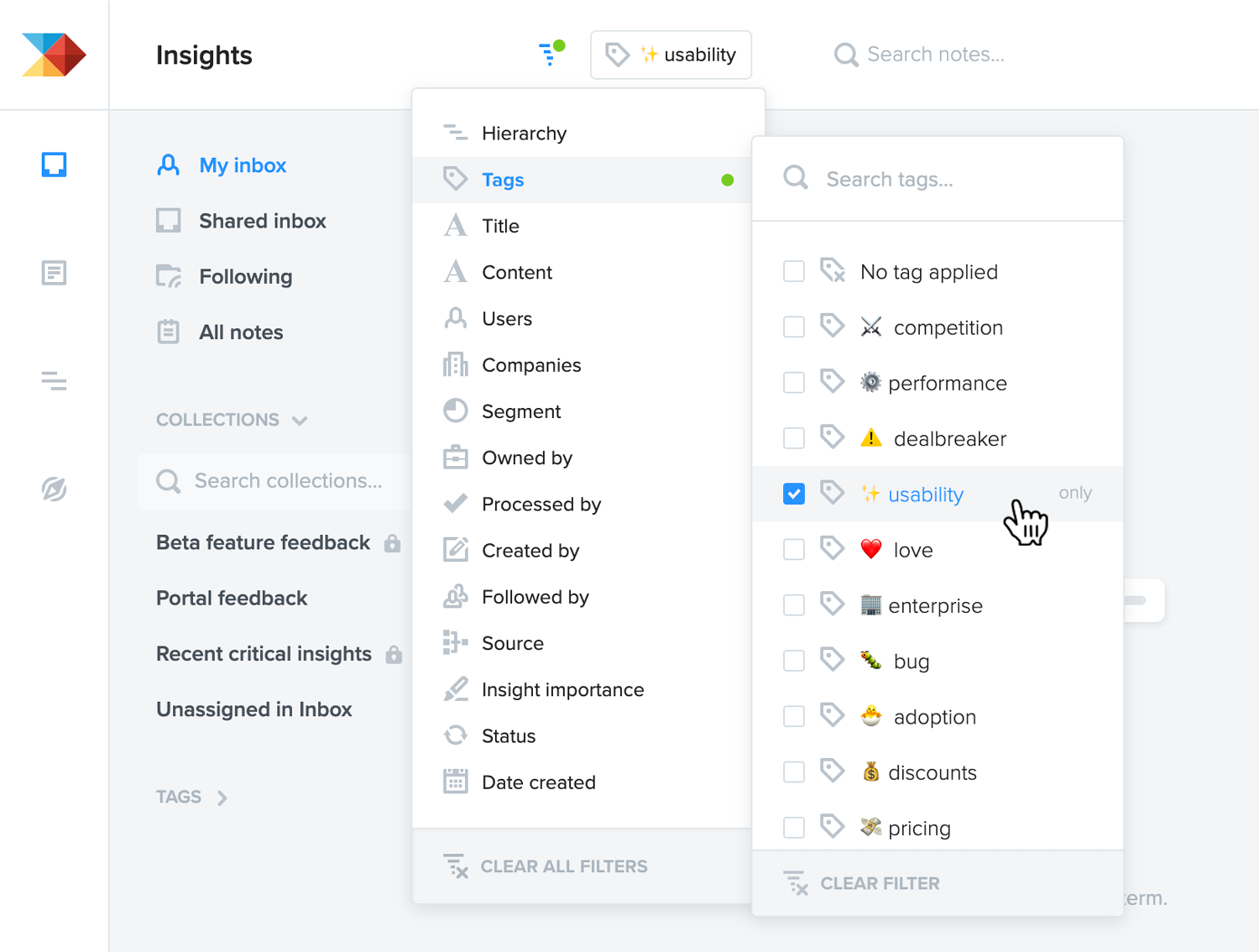 You can also use the tag cloud to filter notes. Here too, filtering by multiple tags shows only those notes that have all the selected tags.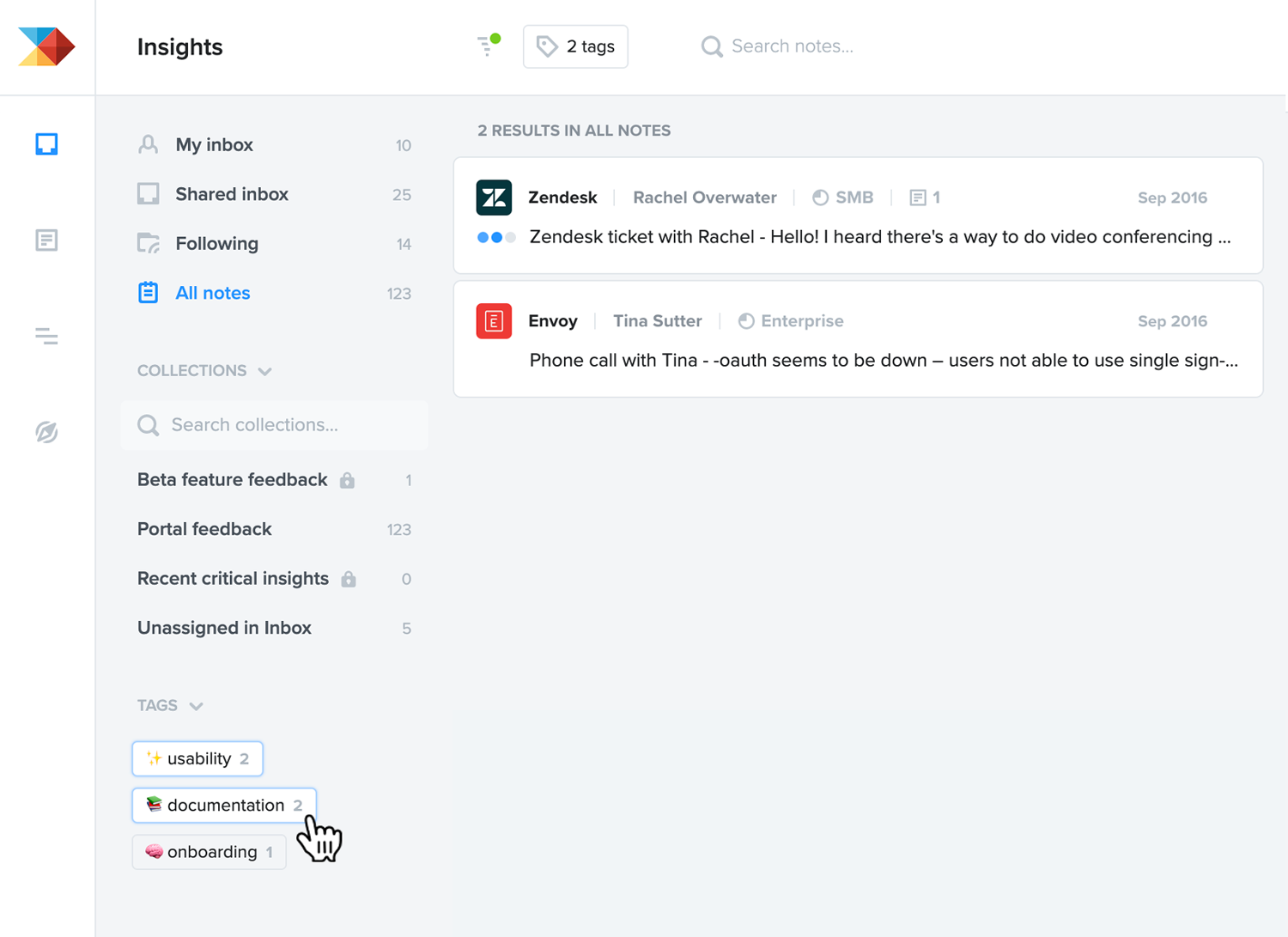 Multi-selecting notes to apply tags in bulk
You can multi-select multiple notes to apply one or more tags to all of them.
Importing tags from integrated solutions
Tags on Intercom and Zendesk conversations are automatically imported to the Insights board when new conversations/tickets arrive in Productboard.
Feature tags
On the Features board, tags can be applied to features, subfeatures, and components using the Tags column.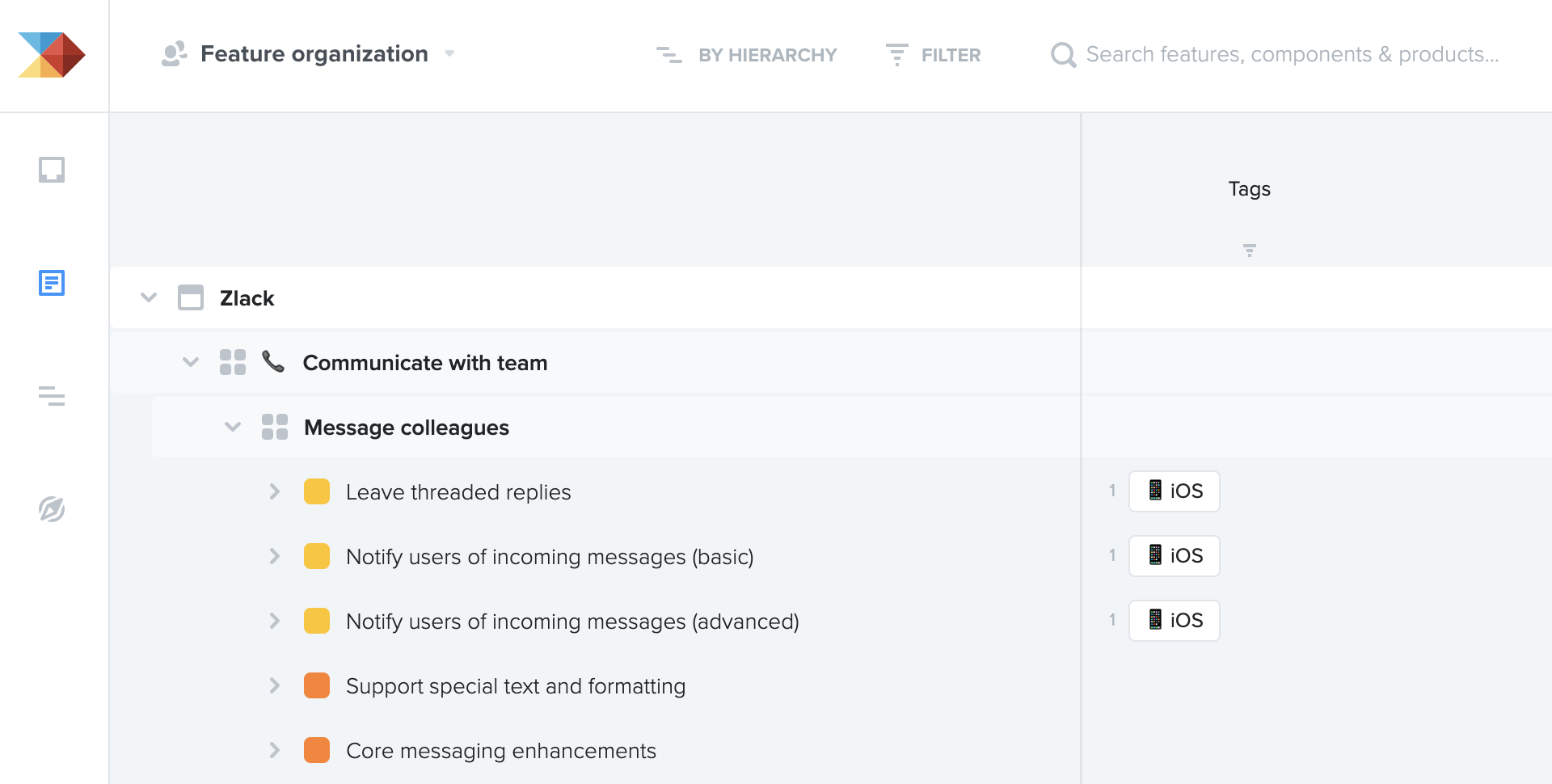 They can also be applied by selecting an entity to open its details in the side pane.
You can filter features by tags from the filter dropdown.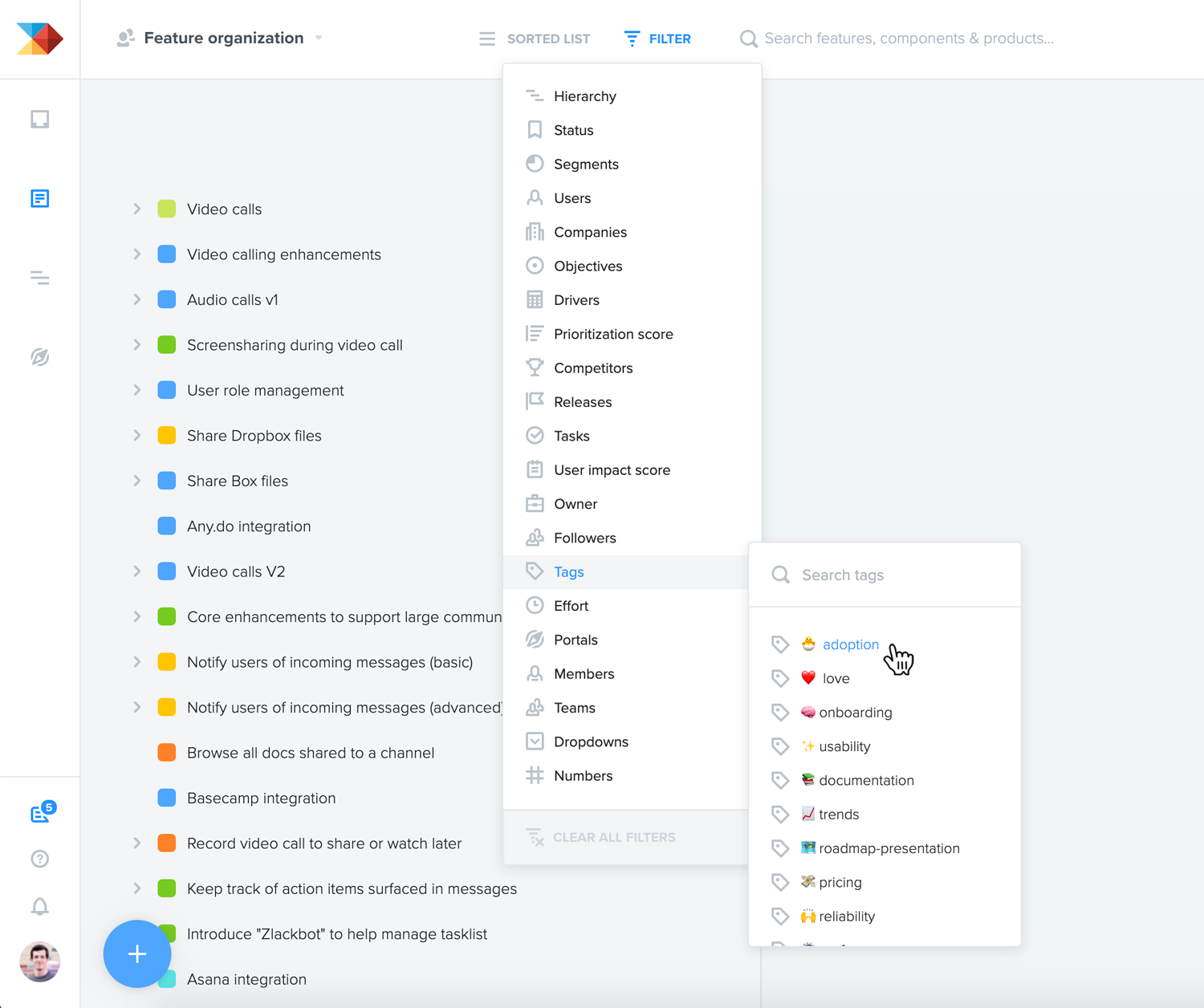 You can also apply a tag filter directly on the Tags column, which has the same effect.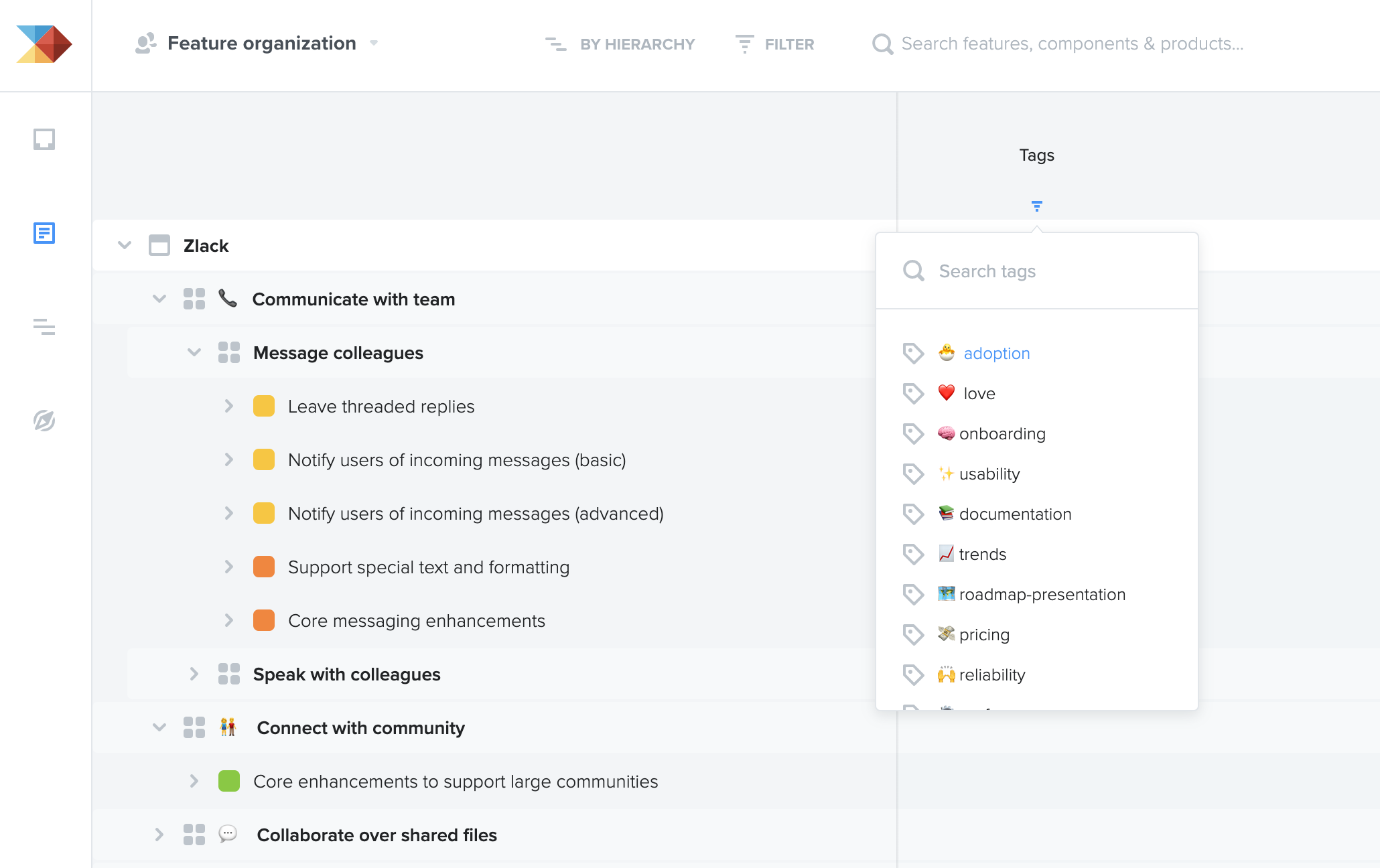 Integrations with delivery planning tools
When you push features from Productboard to Jira, Trello, or Pivotal Tracker, your feature tags in Productboard will not carry over to those other tools.
When pushing features to GitHub, you have the option of syncing Productboard tags to GitHub labels.
Tags are case insensitive
Productboard's tags are case insensitive. If you apply a tag to some note/feature that is identical to an existing tag (apart from capitalization), Productboard will adhere to the capitalization of the existing tag.
Tag Management
You can delete, rename, and merge tags on both the Insights and Features boards.
Access tag management:
On the Insights board, select Tags above the tag cloud.
On the Features board: From the column configurations bar to the right of your screen, select MISC., then Tags.
Here you'll see the list of all note and feature tags. To rename a tag, select its name to edit it.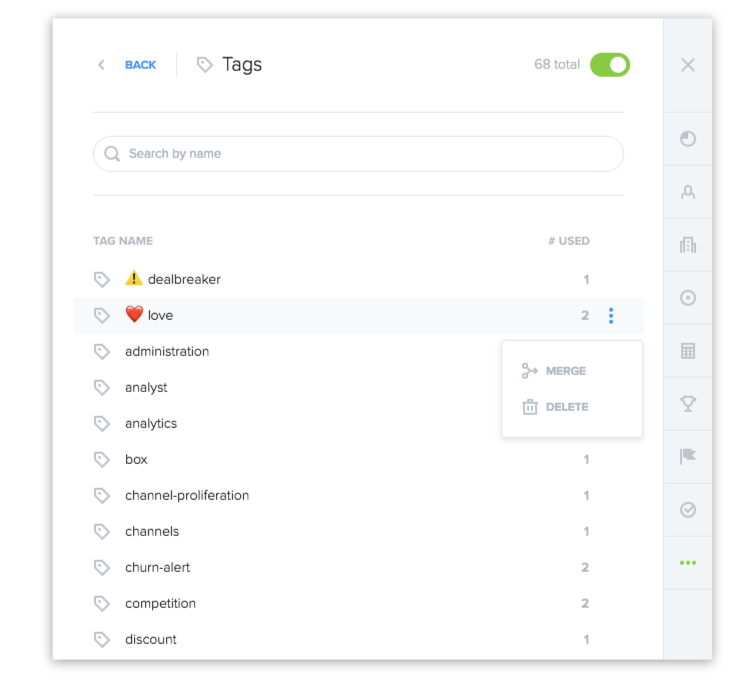 See also