Pricing
Productboard has subscription-based pricing, which is largely dependent on the number of makers that will be given full edit rights to your boards. The price per maker is determined by plan type. You can learn more about our plans on the in-app Billing page.
Billing cycles
Productboard subscriptions can be billed monthly or yearly. Our monthly subscription is flexible and can be changed anytime to suit your needs. Our yearly subscription offers high value with a discounted price for your yearly commitment.
Managing your maker seats
You can see the number of available seats in your subscription by visiting your Billing page. You can add/remove seats by clicking on 'Manage seats'.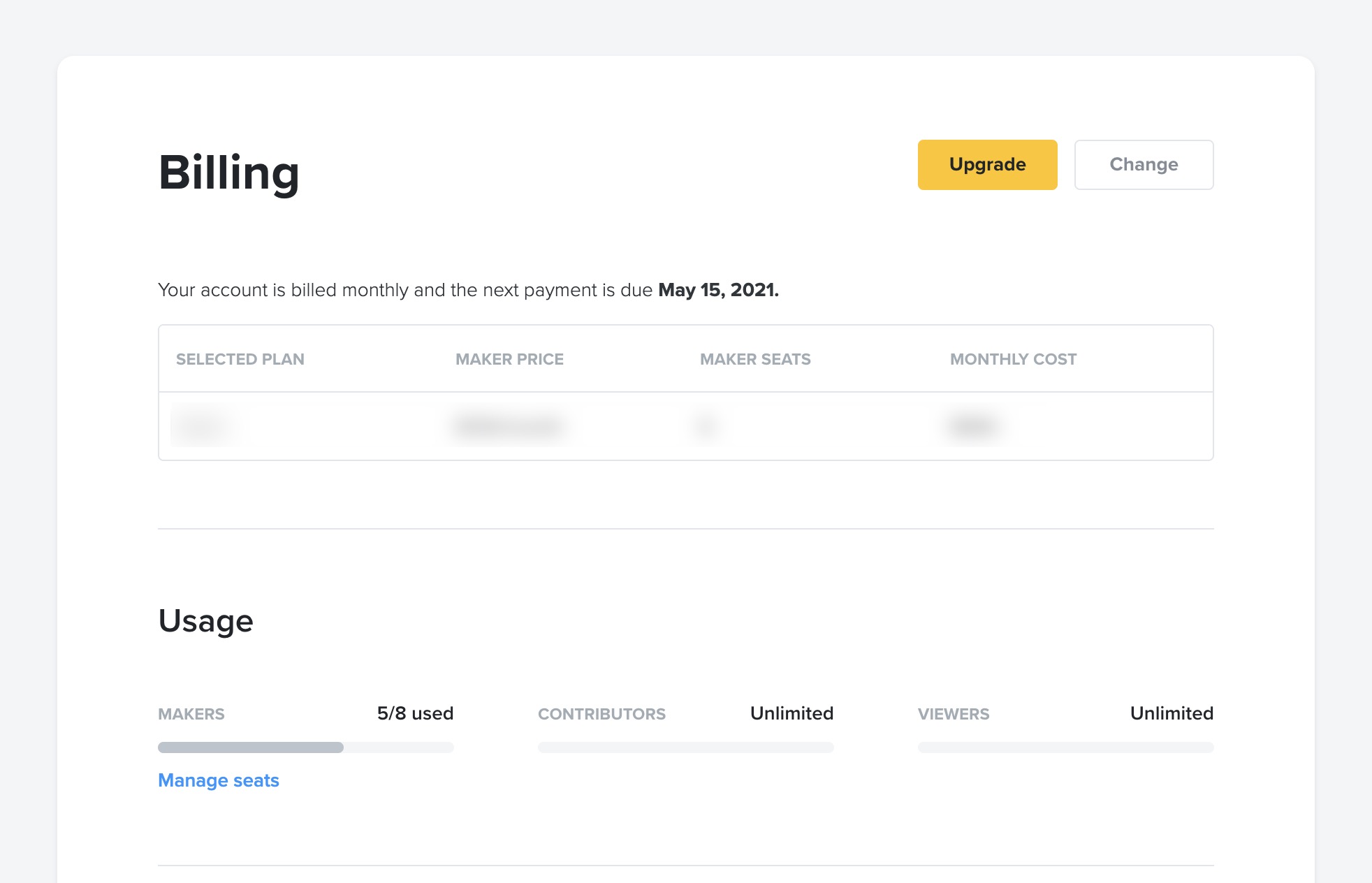 Adding/removing seats on a yearly subscription plan
If you've subscribed to an annual or multi-year plan, your contract is based on a fixed minimum of maker seats; reducing the number of seats in your plan or cancellation mid-term is not possible until the end of your Subscription Term is not possible until the end of your contract. However, if you'd like to add seats, you can do so in-app. You will be charged a prorated amount for the additional seats.
Adding/removing seats on a monthly subscription plan
You're free to add or remove seats at any time. Adding seats will result in a prorated charge based on the number of days remaining in your current billing cycle. Removing them will result in Stripe credit reflecting the number of days left in your billing cycle, so that you're only paying for what you've used.
Removing a user
Removing a user from one of your seats, will not remove that seat from your plan. Feel free to swap in another colleague instead!
Changing member roles
Once you've purchased one or more maker seats, you have complete flexibility over which members you choose to allocate them to. Seats are allocated automatically to anyone assigned the maker role. The role of each member can be adjusted at any time. This will only impact your subscription if the number of makers exceeds the number of seats purchased or the number of contributors exceeds your plan's limit. In both cases, you'll be prompted to update your subscription. Only Admins can add or remove team members or modify member roles from the Members page.
Changing your plan when on an annual subscription
Annual and multi-year plans provide a discounted rate in exchange for a year-long commitment. If you're on an annual plan but want to downgrade your subscription, you can do so during your renewal period.
Changing your plan when on a monthly subscription
You can upgrade or downgrade your plan anytime from the in-app Billing page, and move from monthly to yearly billing for a discounted rate.
Paying for Productboard
Upgrade to a paid Productboard plan by visiting the Billing page. Customers billed yearly enjoy a discounted rate, but you can also opt to be billed monthly.
Updating your billing details
Visit the Billing page to change your payment method, review your billing history, download an invoice, or change your plan.
Reviewing your invoices
Visit the Billing page to review your billing history. We also send a billing confirmation email every time a payment is processed (monthly or yearly).
Canceling your plan
If ever you need to mosey on, we're here to help. We kindly ask you to notify us as soon as possible.
Customers on an annual or multi-year subscription must notify Productboard of their intention not to renew 30+ days prior to the end of their subscription. If you give less than 30 days' notice, your subscription will renew without exception. Although we aim to provide courtesy reminders to our customers of an upcoming renewal, it is the customer's responsibility to notify us and designate the correct admin contact.
Customers on a monthly subscription can cancel their subscription anytime prior to the monthly renewal date.
We value your feedback. Thanks in advance for letting us know the primary reason behind your decision to leave, whether budgetary constraints or missing deal-breaker functionality. 🙏
Deleting data
Even if you cancel your plan, your data will remain on Productboard for up to 90 days after termination. If you'd like to return, you'll have access to your data within those 90 days. It is the customer's responsibility to export their data. For guidance, please refer to this article Exporting your notes into a CSV. After the 90-day period has passed from termination, we will automatically delete your data.
Billing Support / Contact a member of our team
Send us a message via our chat or email us at support@productboard.com.
Contract accounts
Customers on contracted accounts with billing and pricing queries related to a contract should refer to the Master Subscription Agreement or contact our finance team by emailing billing@productboard.com.