As the number of user insights flowing into Productboard increases, you'll need scalable systems to review and categorize them efficiently. Note views (formerly known as Collections) can help by grouping related notes so that:
Notes can be routed to the right product manager efficiently.
Makers can focus only on relevant notes without wading through piles of irrelevant notes.
Trends can be identified among related subsets of notes.
The end result is more actionable user insights, on hand to guide prioritization and design.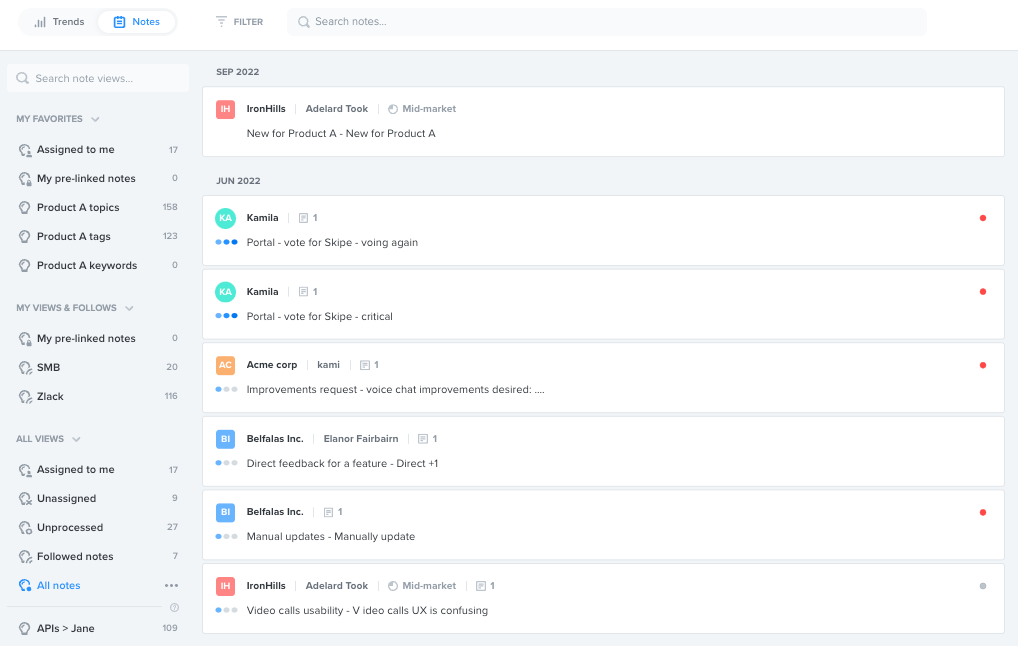 In this article:
How note views work
Note views act like smart folders which are defined by a set of filters. There are 3 types of Note views:
Default note views
Custom note views
Follows (Available only on a Scale & Enterprise plan)
Default note views
There are five default note views available to all members. They can be found pinned on top of the All views section in the left pane:
Assigned to me
Followed notes
Unassigned
Unprocessed
All notes.
They can be added and removed from favorites (Scale and Enterprise) but cannot be renamed, deleted, or shared.
Custom note views
Custom note views can be defined by any set of available notes filters.
Makers and admins can create and manage custom note views. Contributors can access custom note views that have already been created. All members can (un)favorite (Scale and Enterprise) custom note views.
Some custom note view examples
Critical recent feedback — Insight importance is critical, and the note creation date is from the last 30 days
Customer segment - Segment is "Enterprise".
Customer support — Note source is Intercom.
Portal feedback — Note source is Portal
Recent feedback — Note date is from the last 7 days
Customer success — Note owners include CSM A or CSM B, or CSM C...
Beta feature feedback — Notes tagged beta, and owner is me
You can also check out our recommended note view setup to help you route notes to the right maker and help makers turn feedback into actionable insights, faster and at scale.
Note: When you apply multiple filters to define a note view, only notes that meet all filter criteria will be displayed.
How to create a custom note view
On the Insights board, makers can create a new custom note view with the [+] icon beside All Note views

Apply some filters to zero in on a set of notes.

In the upper right, look for the Save button to update your note view to include these filters. (If you add additional filters later, you'll also have the option of saving them as a new view or discarding those changes to revert to the last saved view.)
How to manage a custom note view
Rename or delete a note view using the
menu beside its name. Here you can also toggle between keeping it private for you and sharing it with other members of your workspace.
Follows
Makers, admins, and contributors that follow a Product, Company, User, or Segment will see Follows as a note view in the My Views and Follows section of the Insights Board.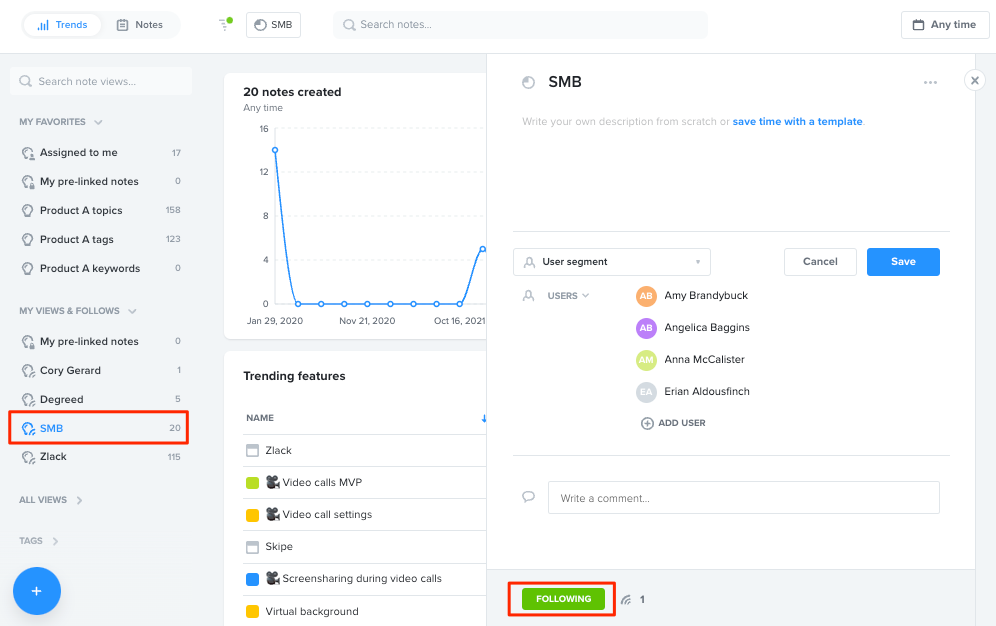 Follows can be added and removed from favorites. Follows are tied with the underlying objects and cannot be renamed, deleted, or shared directly.
Some Follows examples:
How to add a note view to your favorites
Makers and contributors can add or remove any note view to/from favorites.
Hover over the notes view you wish to add to favorites.
Click the menu on the right side.
Select Add to favorites.
You can now find the note view listed under the favorites menu.

tips_and_updates

Productboard Academy Quick Tip Video

Watch our quick tip video about creating a collection of insights using notes views.

👉 watch here 👈
FAQ
What actions are available on note views?
Different note view types allow members a different set of actions:
| | | | | | | | |
| --- | --- | --- | --- | --- | --- | --- | --- |
| New View Type | Improved VS New Functionality | Favorite | Rename | Set Filters | Delete | Share | Open Object Sidebar |
| Default | Previously Folders | ✅ | ❌ | ❌ | ❌ | ❌ | ❌ |
| Custom | Previously Collections | ✅ | ✅ | ✅ | ✅ | ✅ | ❌ |
| Follows | New Functionality | ✅ | | | | | |

Tied with followed object.
How can I reorder note views in my favorites?
Favorite note views are ordered by the timestamp of when the view was favorited last. If you want to change the order, you can remove some/all views from your favorites and then add them back on in the reverse order you would like to achieve.
See also