As the number of user insights flowing into Productboard increases, you'll need scalable systems to review and categorize them efficiently. Insights boards (formerly known as Note views or Collections) can help by grouping related notes so that:
Notes can be routed to the right product manager efficiently.
Makers can focus only on relevant notes without wading through piles of irrelevant notes.
Trends can be identified among related subsets of notes.
The end result is more actionable user insights on hand to guide prioritization and design.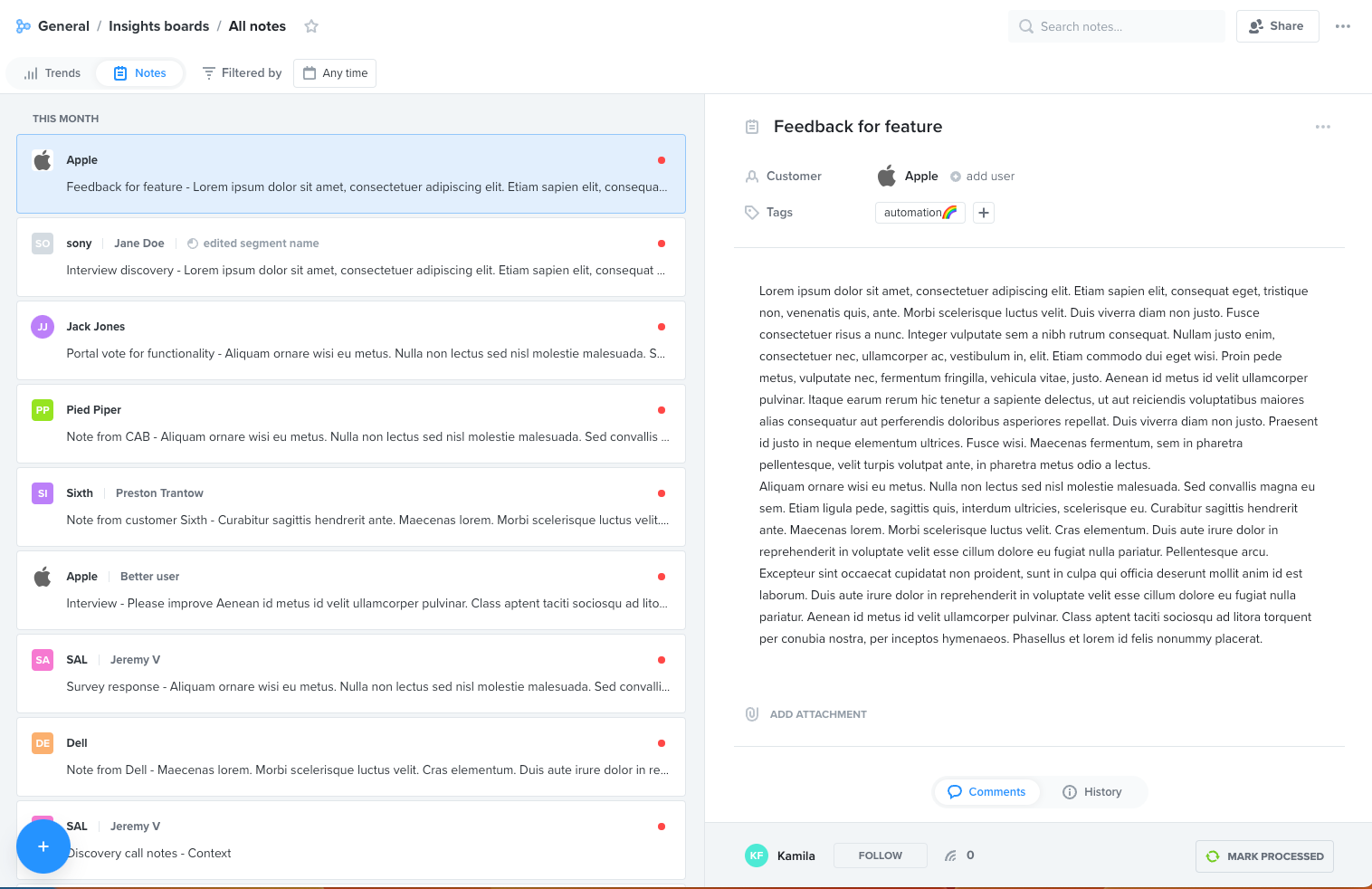 In this article:
How Insights boards work
Insights boards act like smart folders, which can be defined by any set of available notes filters.
Note: When you apply multiple filters to define an Insights board, only notes that meet all filter criteria will be displayed.
Makers and admins can create and manage custom Insights boards, subject to board ownership and locking permissions. Contributors can access boards that have already been created. All members can (un)favorite a board.
How to create a custom Insights board
In the main navigation, makers can create a new Insights board with the [+] icon beside a

teamspace or a folder

.

Apply some filters to zero in on a set of notes.

To quickly apply common combinations of filters, you can go to Note filter

templates

accessible at the bottom of filters modal.


In the upper right, look for the Save button to update your Insights boards to include these filters. (If you add additional filters later, you'll also have the option of saving them as a new board or discarding those changes to revert to the last saved board.)
Saving Insights boards
Saving a board captures the board's current filter configuration for later reference or sharing with others.
Saved Insights boards work similarly to Feature boards or Roadmaps.
If you're just starting out, you'll notice that any change you make in the filters of your Insights board gives you a new option to update the existing board (Save), save the current configuration as a new board (Save as new), or revert to the last saved version of the board (Discard changes).
Note data itself is not captured in the board, so any changes to a note's status, owner, or content will have no impact on saved boards' definition and vice versa. Changes to notes and their underlying data are automatically reflected on all boards where that note appears.
If you make changes to a board, it must be saved in order to be retained. Otherwise, when you navigate away or refresh your browser, the board will revert to the last saved version of the board.
Note: Trends vs Notes grouping nor the content of your search box is saved as part of the board. If you wish to save your keyword search, you can use the

title or content

filters instead. 
Renaming, deleting, duplicating, or moving a saved board
Additional configuration options are available by clicking the
next to boards name in your teamspace and Personal folder list or by clicking the
 in the top right of your board. You can rename, delete, duplicate, or move a saved board from here. These changes will be reflected for all with access to the board.
Sharing a saved view
Once you've saved your board, you can share it by clicking the Share button in the upper right of the Insights board header.

Newly created boards are private, with access limited to the person who created it. Makers can share a board with everyone in the workspace.
Note:

You can limit makers from updating views and saving changes by 

locking boards

.
Toggling between boards
You can switch between boards by clicking the board's name in your teamspaces or Personal folders and using the shortcut ⌘Command+K to find the board: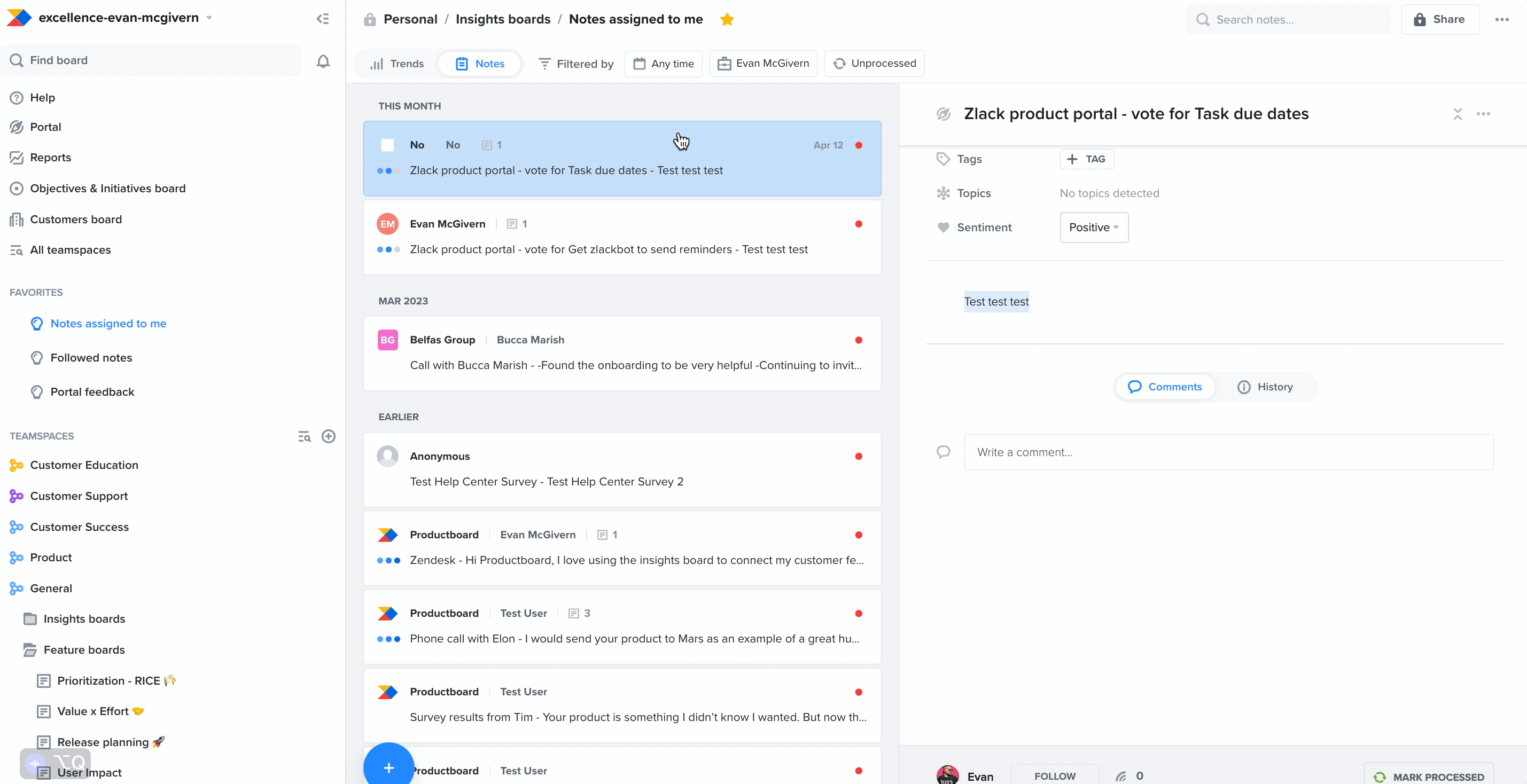 Adding an Insights board to your favorites
Makers and contributors can add or remove any Insights board to/from favorites. This includes boards in Teamspaces that they are not a member of.
Click the  next to board's name in your teamspace and Personal folder list or in the top right of a board header.
Select Add to favorites.
You can now find the note view listed under the favorites menu.
school

Productboard Academy Quick Tip Video

Watch our quick tip video about creating a collection of insights using notes views.
See also