Bring the power of AI to your product team with Productboard AI. Productboard AI gives you access to AI-driven functionalities directly in Productboard, helping your team save time, better understand customer feedback, and increase efficiency in daily tasks.
In this article:
What is Productboard AI
In the past, as product managers, we often spent hours every week reviewing incoming feedback, struggling to stay on top of it all. Then at times, we set out to research some user need, only to be faced with the colossal task of sifting through hundreds of pieces of feedback looking for relevant user insights. It was incredibly time-consuming work, and it meant we likely missed many valuable opportunities along the way.
With Productboard's new AI functionality, much of this time-consuming work of manually reviewing user feedback — and the risk of missing key user insights — is a thing of the past.
Productboard AI is a significant first step in Productboard's ongoing initiative to equip product teams with AI-powered capabilities to greatly enhance day-to-day work for product managers and revolutionize how entire product organizations operate. Based on OpenAI's powerful and versatile AI capabilities, Productboard AI helps streamline repetitive tasks, unlocks valuable insights from customer feedback, and ultimately helps product managers make more informed product decisions.
Features powered by Productboard AI
In its debut, Productboard AI will generate intelligent summaries of every major topic detected across all your user feedback.
You can access these summaries by selecting a topic listed on a given note, or from the trending topics module on the insights trends dashboard.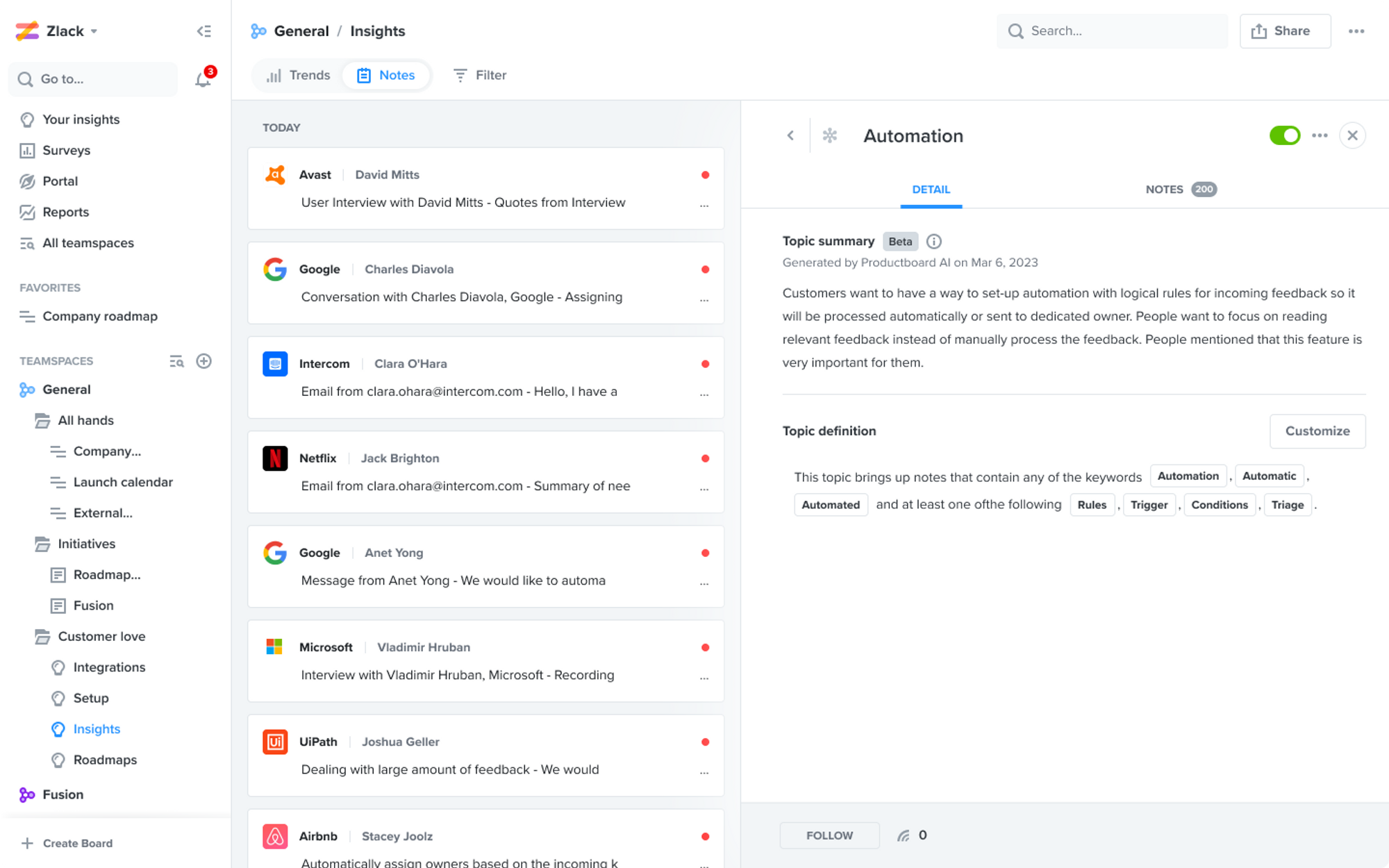 Select any topic that has been automatically identified in your feedback to access a smart summary about that topic.
Coming soon: AI-generated summaries for note views and conversational notes
Soon, you will also be able to access a summary of every saved view of your notes. No matter which filters are applied, Productboard AI will analyze all relevant notes and summarize the major takeaways.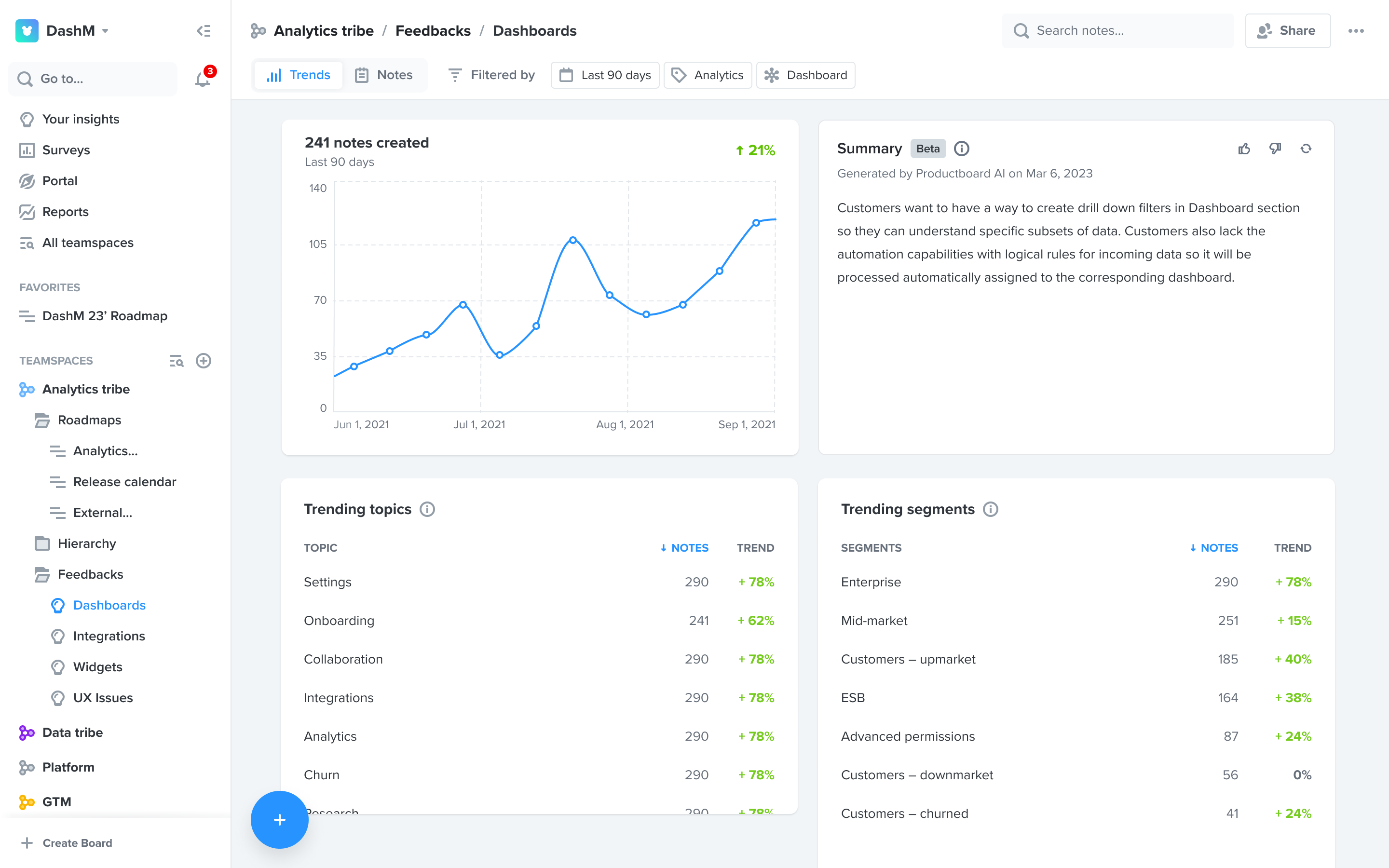 Conversational notes coming from Intercom or Zendesk integrations will also be automatically summarized, so you won't have to read every single one of then, saving valuable time.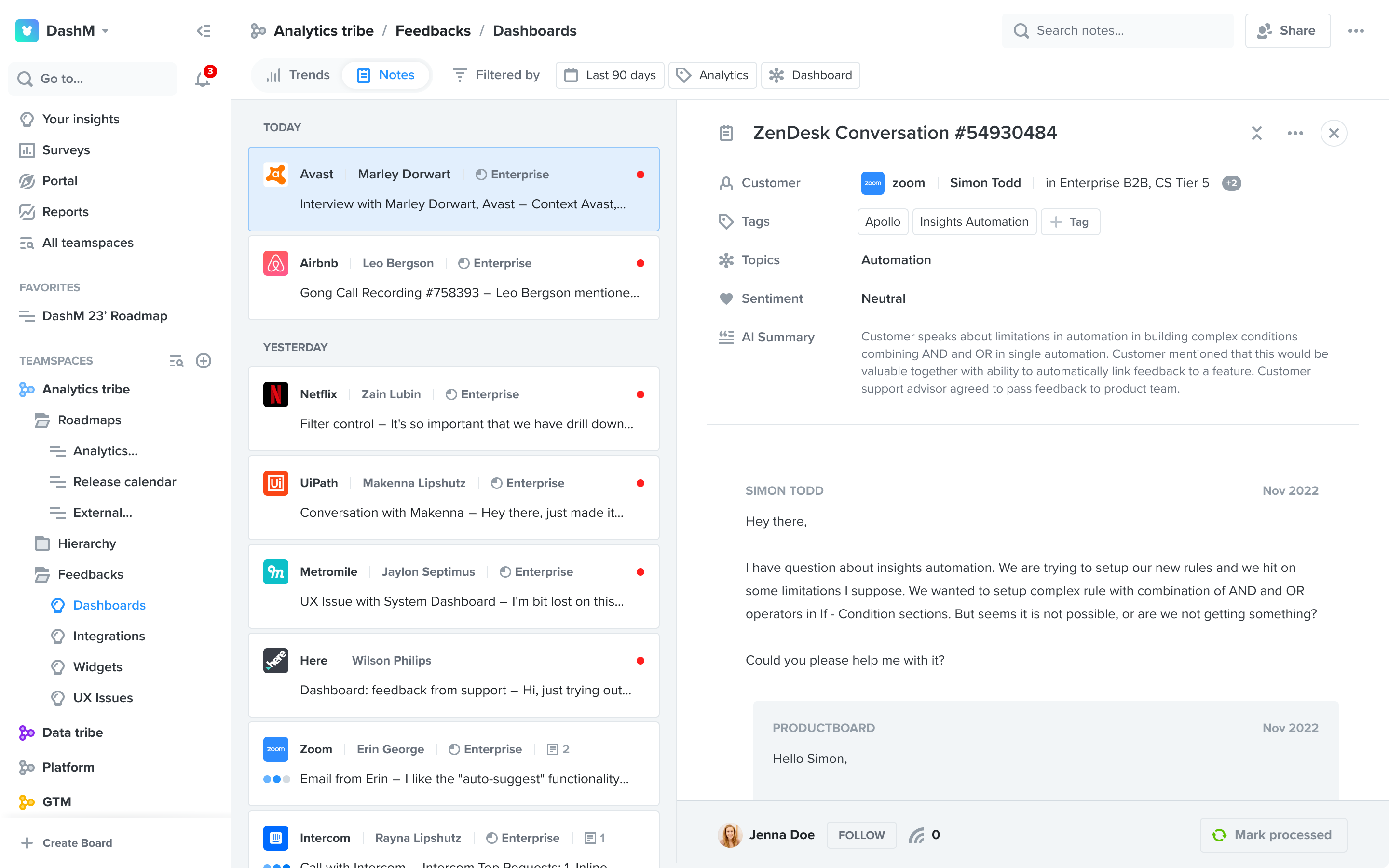 How to enable Productboard AI in your workspace
Productboard AI is disabled by default in every workspace and will not analyze any of your data until explicitly enabled by a workspace admin.
Once Productboard AI is enabled, capabilities powered by Productboard AI (like smart summaries for topics and note views) will become available for all workspace members with access to the Insights board.
Note:

To unlock smart topic detection, your workspace must contain at least 1,000 notes in English with some textual feedback.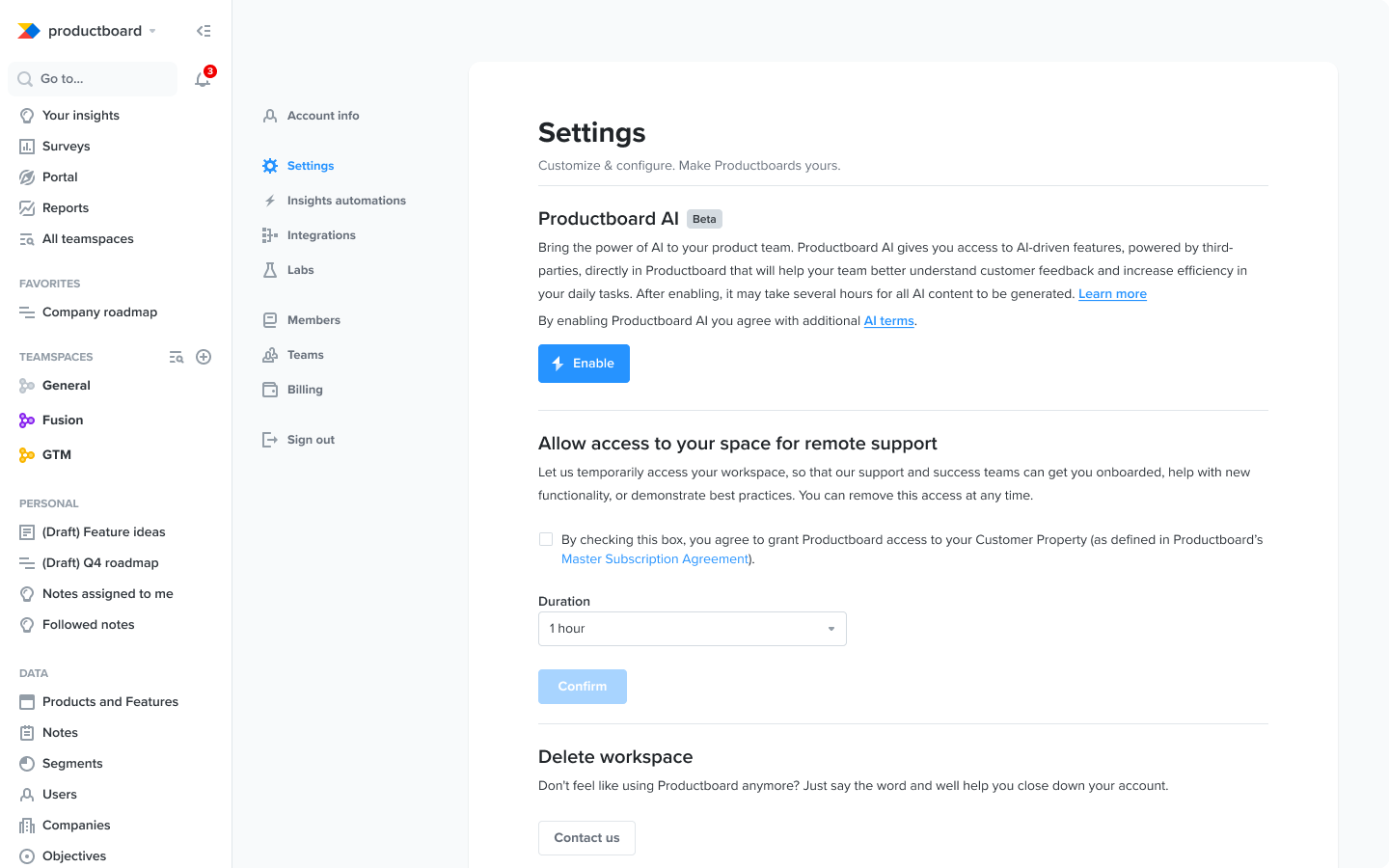 Steps to enable Productboard AI
Make sure you are a maker with admin access.
Go to workspace Settings.
Select Productboard AI.
Select Enable.
Review the additional details and select I understand.
How to disable Productboard AI
Productboard AI can be disabled at any time. This will result in features powered by Productboard AI being removed from your workspace. Your data will no longer be analyzed.
Steps to disable Productboard AI :
Make sure you are a maker with admin access.
Go to workspace Settings.
Select Productboard AI.
Select Disable Productboard AI  and confirm your selection.
Frequently asked questions
How accurate is Productboard AI?

Productboard AI uses AI to enhance your Productboard data and workflows. These technologies are remarkably powerful, but not infallible. Always check and confirm the results when using features powered by Productboard AI.

Is Productboard AI required for the use of Productboard?

No, Productboard AI is an optional offering to enhance your Productboard experience. It is not required for the use of Productboard or even for the use of Productboard's other smart capabilities. You can continue using smart suggestions, sentiment analysis, and smart topic detection without using Productboard AI. These capabilities are powered by Productboard's proprietary machine-learning models.

Will I lose data generated by Productboard AI if I disable it in my workspace?

If you disable Productboard AI, the functionality will no longer be available in your workspace. However, any data previously generated by Productboard AI, like intelligently generated summaries of user feedback, will not automatically be deleted.