Locking boards allows you to control who can save changes to the boards, whether it's a note, features, roadmap, or customers board. Locking or unlocking the view lets you control which maker can save changes to shared boards. This feature helps to prevent accidental changes to boards by other makers with access to the board.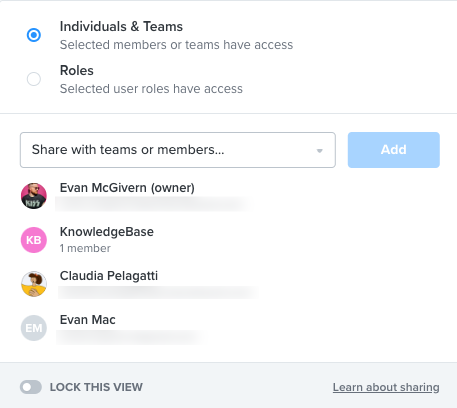 In this article:
Locking and unlocking boards
A board can be locked by toggling the option in the footer of the sharing settings.
This option is available to the board's owner and all admin makers.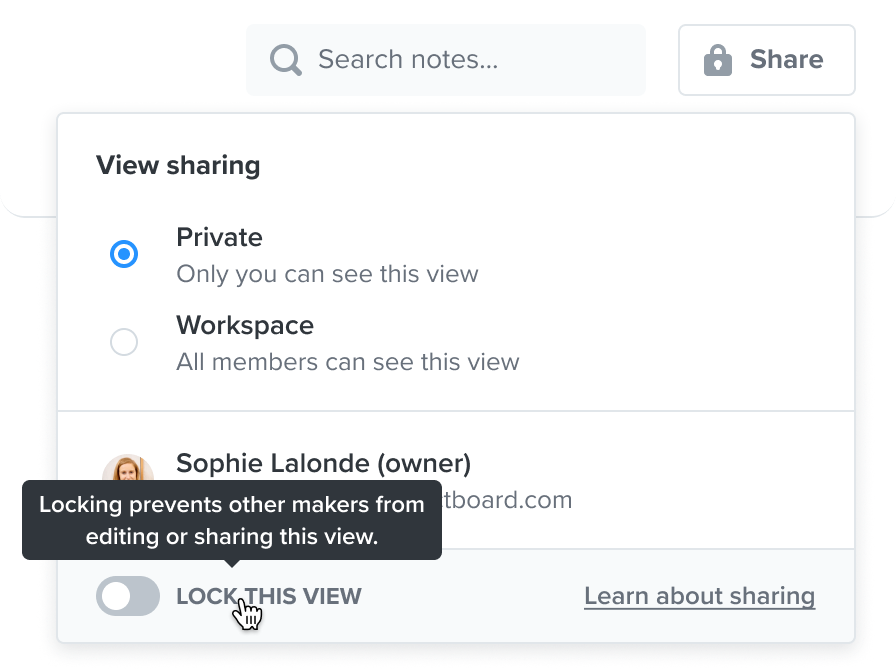 Understanding the locking restrictions
Boards can be locked by their owner or an admin with access to the board. A board must have an owner assigned for locking to be available. Boards created before the board ownership was introduced might have the owner unassigned. In those cases, an admin must assign an owner before locking becomes available.
Board locked
Once the board is locked, only the owner or the admins can save changes to the board, update the sharing settings of a board or delete a board.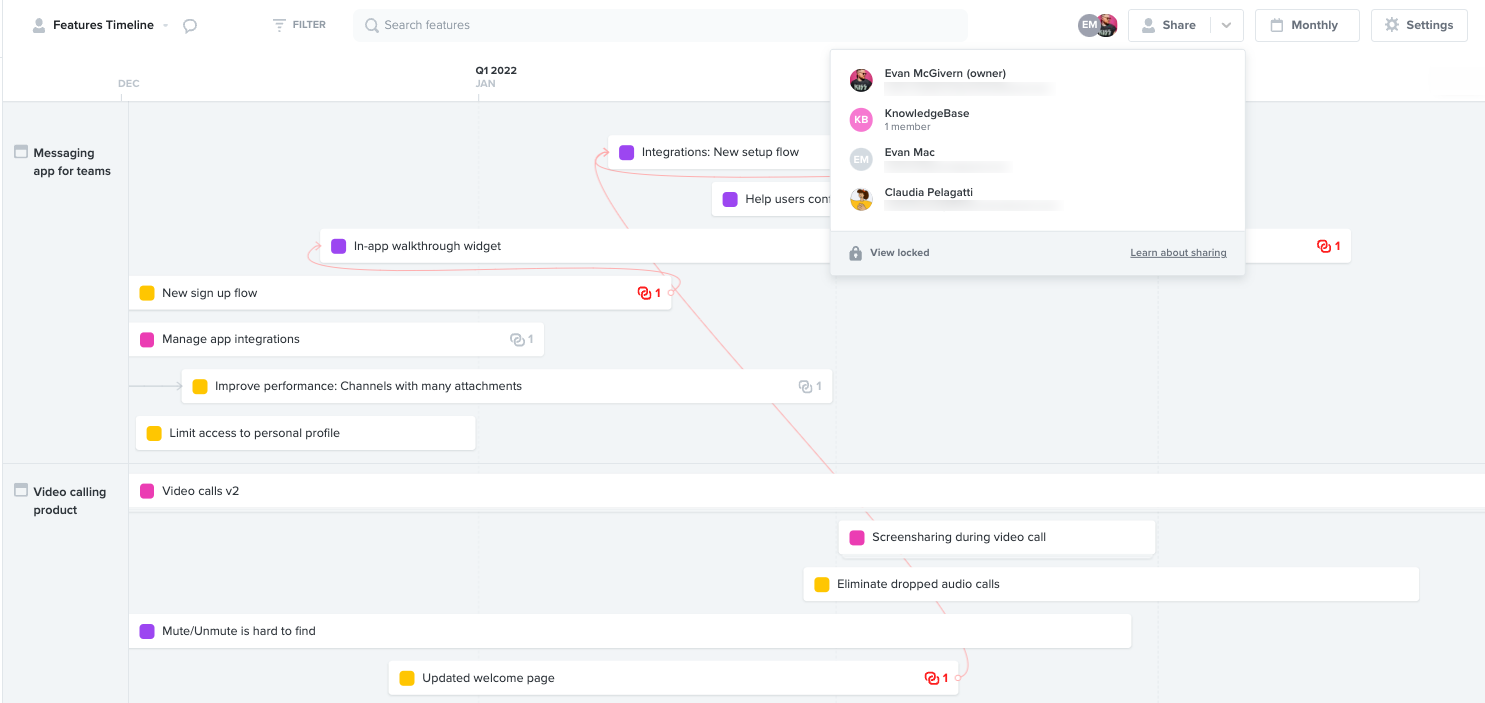 Makers with access cannot save changes to the original view; they can only save it as a 'new view.'
Makers with access can board the sharing settings but cannot change them.
Only the owner and Maker admins can save changes to the board and edit the sharing settings.
Only the owner and Maker admins can unlock the board.
Board unlocked
When the board is unlocked, all makers can save changes, edit sharing settings and delete the board.
All makers with access can edit the sharing settings or save changes on the board.
The owner and Maker admins can lock the board.
Board ownership
All newly created or shared boards have owners, but some of the older boards or boards with no longer active owners might not have the owner assigned. The owner must be assigned for the locking to be available. To lock a board, it needs to have an owner assigned.
To assign an owner to boards, follow these steps:
Click Share in the header of a board. (If you don't see the Share button, click the Save button, and the Share button will appear).
Click the Assign owner button and choose the board Owner. Alternatively, click the Options() button next to a name and click Make owner. This option is currently unavailable for note boards.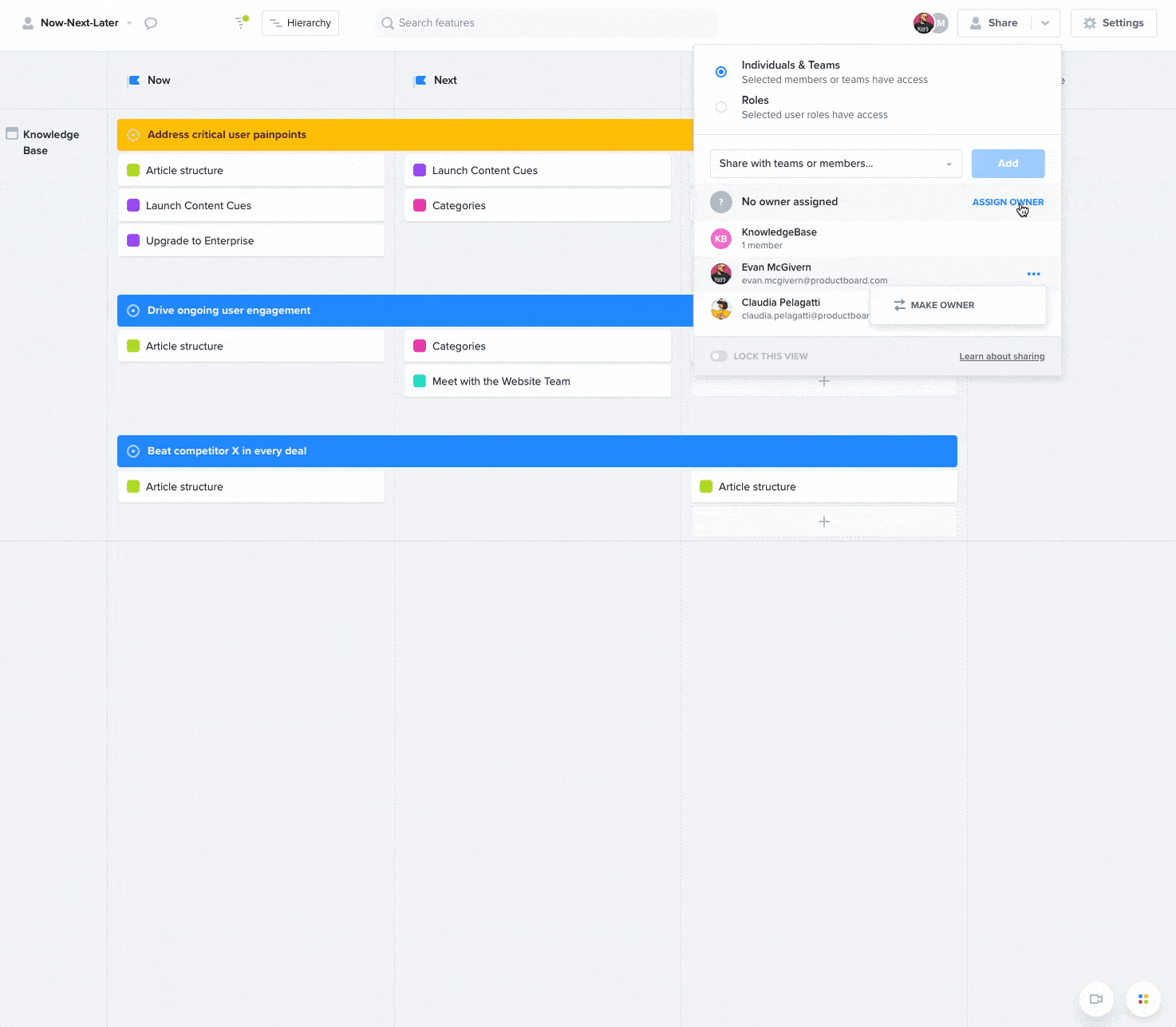 Note:

Only Makers with Admin access or the current owners of the view can assign owners.
Only makers can be assigned ownership. 
Admins can re-assign owners to all boards that are publicly shared.
Boards ownership and locking of newly created boards
When you create a new view (either via + Create view, Save as new or Duplicate actions), the creator is automatically assigned as the view's owner.
The owner can then reassign a view to another maker. The previous owner transfers their view edit rights to the new owner.
All newly created boards are created as private and unlocked by default.
See also: