Now that you've directed ideas, requests and pieces of feedback into your Insights board from various sources, you have a single, centralized, searchable repository. Nice work! By investing the time into processing your notes - that is, linking relevant snippets to relevant feature ideas - your team will always prioritize the right features and design solutions that solve user needs.
Read on for some techniques you can adopt to streamline your note processing workflows! ✅
In this article:
Find the notes that matter to you
Develop a system to route notes to the right product manager
When you come across a note that your colleague should process, assign them as owner so it will show up in their Assigned to me. You can claim notes for yourself in the same way.
If a note needs to be reviewed by multiple teammates, when the original note owner finishes reviewing the note they can assign it to another to review and mark processed.
Note: Only makers can mark a note as processed.
Another way to route notes to the right product manager is with note tags. Here each tag can represent different topics or product areas that map to areas of responsibility for product managers. Product managers can then create collections based on one or more tags (as well as other filters) to frequently return to that set of notes and ensure they get processed.
If your system relies on tags to route notes to the right product manager, that may impact the channels you use to get feedback into Productboard. The following integrations allow colleagues to apply tags to notes as they're being submitted:
You can also add tags while pushing a note via the Chrome extension:
Of course, anyone creating a note from within Productboard can also add tags.
A tag can be applied to all notes arriving by email. You can also create different email addresses for your workspace to pre-apply different tags. But unlike the other channels, tags cannot be customized for individual emails/notes. On the Insights board, you can filter by tags from the filter dropdown. Or incorporate them into collections.
Note: When submitting feedback via the Portal, it is not yet possible for a colleague to apply tags.
Process similar notes in one sitting
When you're processing notes on the Insights board, process similar types of notes together. If all the notes you review in one sitting relate to a single type of customer or a certain area of your product there will be less context switching required, and you'll be able to quickly link insights to similar types of features.
Filter by tag source, time period, note owner, user/company, or user segment
While you could set these filters each time you return to your Insights board, setting up collections makes it easier to return to these notes at any time.
Process notes in bulk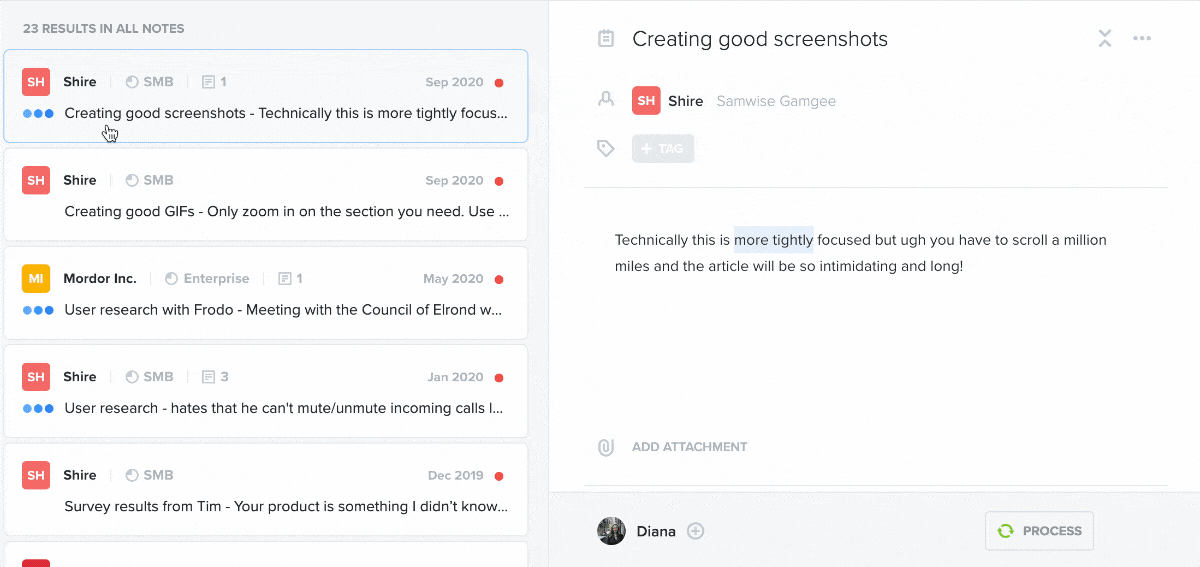 You can select a range of notes by holding shift or selecting the checkboxes beside their name. In the notes sidebar, you can then use the following bulk operations:
(Un)process
Archive
Delete
(Un)assign owner
Add followers
Tag
Update Users/Companies
Once you're done, just deselect all the updated notes.
Decrease your workload
When new notes arrive on your Insights board it's typically the responsibility of a product manager to process them. In most cases that means highlighting interesting insights and linking them to related feature ideas.
Send colleagues & customers with feedback and feature requests to your Portal.
When insights are added to a Portal card they'll automatically be highlighted and linked to the associated feature when they arrive on your Insights board!
Contributors (sales, marketing, customer success) can even vote on behalf of customers on the Portal.
When new insights arrive pre-linked to related feature ideas, it means less processing for you!
Find relevant feature ideas quickly
One of the things that can slow down processing notes on the Insights board is difficulty finding the right features to link insights to on the Features board. Here are some tips for optimizing the organization of feature ideas.
Limit the number of new features you create
Rather than create a new feature idea for every new user request ("User can't find export button" "User confused what 'print' button does", "Export data to PDF", "Export data to email"), try lumping many related requests under a broader feature representing a common need ("Help users easily share data with colleagues").
Occasionally review the features getting the most requests. If you notice they've been used to capture many insights related to several distinct needs then break them out into multiple features and re-link the insights.
If you already have many granular related/redundant features added to your Features board, you can merge them.
Adopt feature naming conventions that help you quickly find the right feature
When searching for features to link an insight to, sometimes you want to search for a feature based on some attribute you know it has that's not reflected in the component it's organized under. Filters for attributes like feature type (e.g. improvement, new idea, bug) aren't yet available in the linking popup but you can try experimenting with prefixes in feature names to represent such attributes. This can include emojis like 🐛 for bugs. If you enter the emoji into search it will return all features with names containing that emoji.
More ideas: Naming and defining feature ideas
Review and reorganize Features board hierarchy on a regular basis:
Reviewing your Features board regularly will give you an opportunity to clean up duplicates, reorganize your hierarchy, norm with PM colleagues on feature naming, and refresh your memory on how features are named/organized.
Archive features that you know you won't be working on in the foreseeable future because they're not viable/feasible or are not aligned with your current strategy.
See also: Maintaining your workspace
Use keyboard shortcuts
Speed up processing with keyboard shortcuts.
Use arrow keys to advance to the next/previous note in your Assigned to me.
Use the space bar (in conjunction with the arrow keys) to quickly multiselect several notes and apply a bulk update.
Press S to process/unprocess the selected note.
Press T to add a new tag.
Press A to archive a note.
Press DEL to delete a note.
In Productboard, type a question mark to view all available shortcuts.
Hire a user researcher, associate product manager, or intern
Organizations that face large volumes of inputs from customers/colleagues may see the value in finding gold nuggets of user insight amid the waves of incoming feedback, but struggle to stay afloat.
Many organizations have found success by adding an additional layer to the process: a team of user researchers dedicated to analyzing trends in incoming feedback (and also proactively seeking more feedback on certain topics).
Effective user research is an art, but if your main goal is triaging feedback and ensuring it gets routed to the right person, another option is to make this the responsibility of an associate PM or product management intern. There are few better ways to get acquainted with a problem/solution space, industry, or the product management profession by reviewing hundreds of pieces of feedback streaming in from customers. Associate PMs can serve as an initial line of defense by clearing out less relevant inputs, processing feedback on well-understood topics or those that are less important/urgent which the PM does not need to review.
If nothing else they can ensure that notes are routed to the right product manager for processing (often via the note owner field, or tags — see above).
Share your ideas
➕ Have ideas for how to make productboard better for processing ideas, requests, and feedback at scale? Submit your ideas on team productboard's Portal.
💡 Interested in sharing what's worked for your team? Share your best practices in the productleaders Slack community! (Send us a message or hello@productboard.com for an invite.)