There are nearly endless ways to arrange, sort, and filter your feature ideas on your Features board, but you'll tend to return to a select few board configurations for each of several PM use cases.
Organizing new feature ideas
Prioritizing what to build next
Planning when to deliver it
Monitoring each feature's progress toward delivery/launch
That's where boards come in.
In this article:
Saving boards
Saving a board captures the board's current configuration for later reference or sharing with others.
Saved Features boards work similarly to Insights boards or Roadmaps.
If you're just starting out, you'll notice that any change you make to your Features board gives you a new option to update the existing board (Save), save the current configuration as a new board (Save as new), or revert to the last saved version of the board (Discard).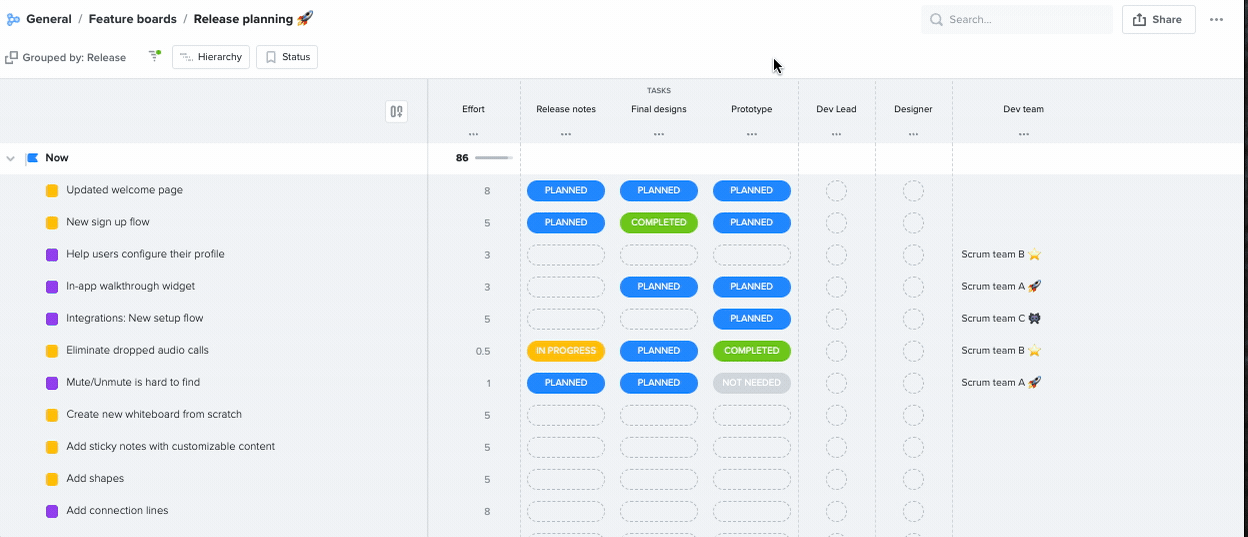 You can capture all the following board configurations in a saved board:
Which columns are showing
How features are grouped (e.g. Sorted list, Hierarchy)
How features are sorted (e.g. by user impact, prioritization score)
How features are filtered
Feature data itself is not captured in the board, so any changes to a feature's status, release, or driver score will not impact saved boards, and vice versa. Changes to features and their underlying data are automatically reflected on all boards where that feature appears.
If you make changes to a board, it must be saved in order to be retained. Otherwise, when you navigate away or refresh your browser, the board will revert to the last saved version of the board.
Toggling between different boards
You can switch between boards by clicking the board's name in your teamspaces or personal folders and using the shortcut ⌘Command+K to find the board: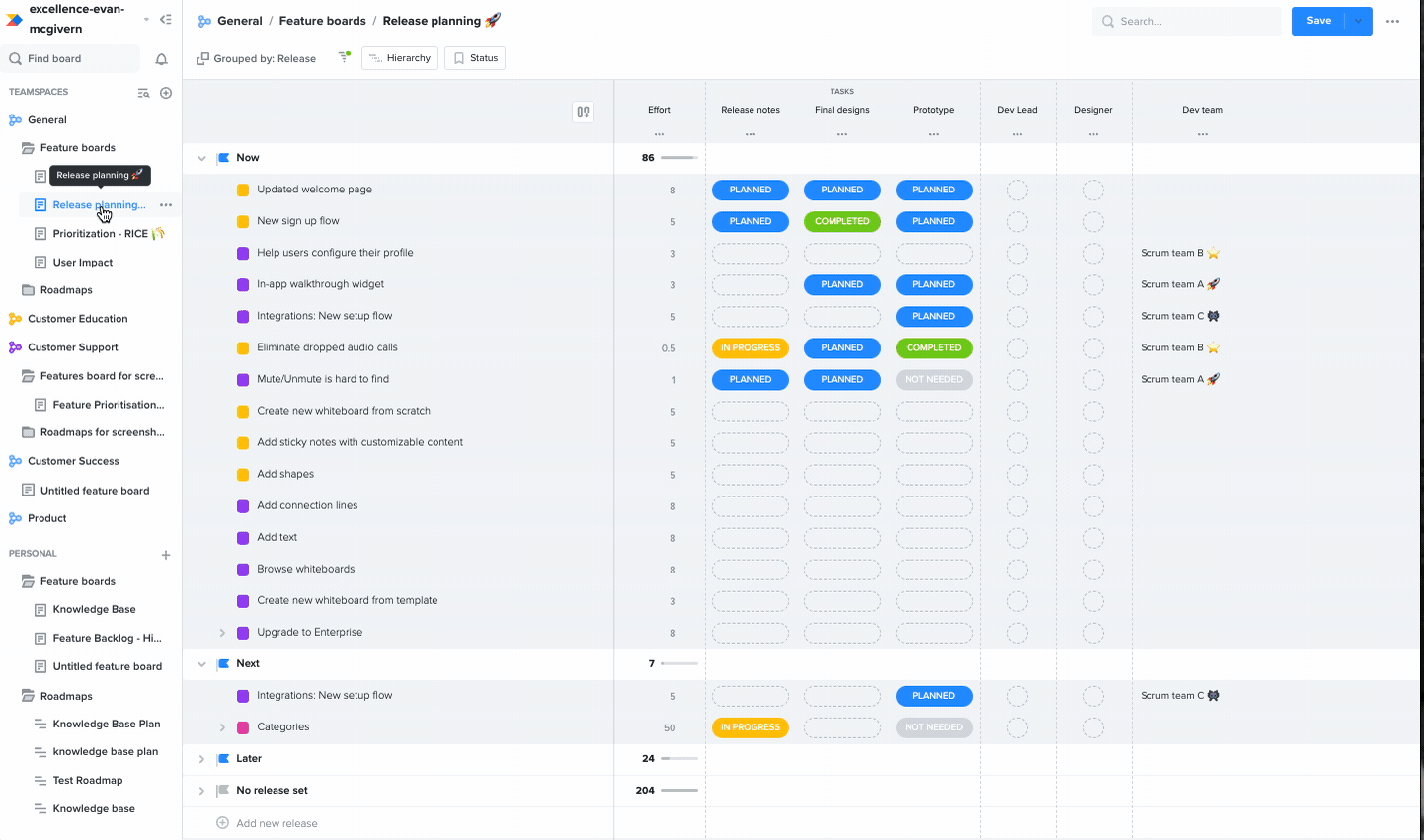 Renaming, deleting, or duplicating a saved board
Additional configuration options are available by clicking the
  next to boards name in your teamspace and personal folder list or by clicking the
 in the top right of your board. You can rename, delete, or duplicate a saved board from here. These changes will immediately be reflected for all with access to the board.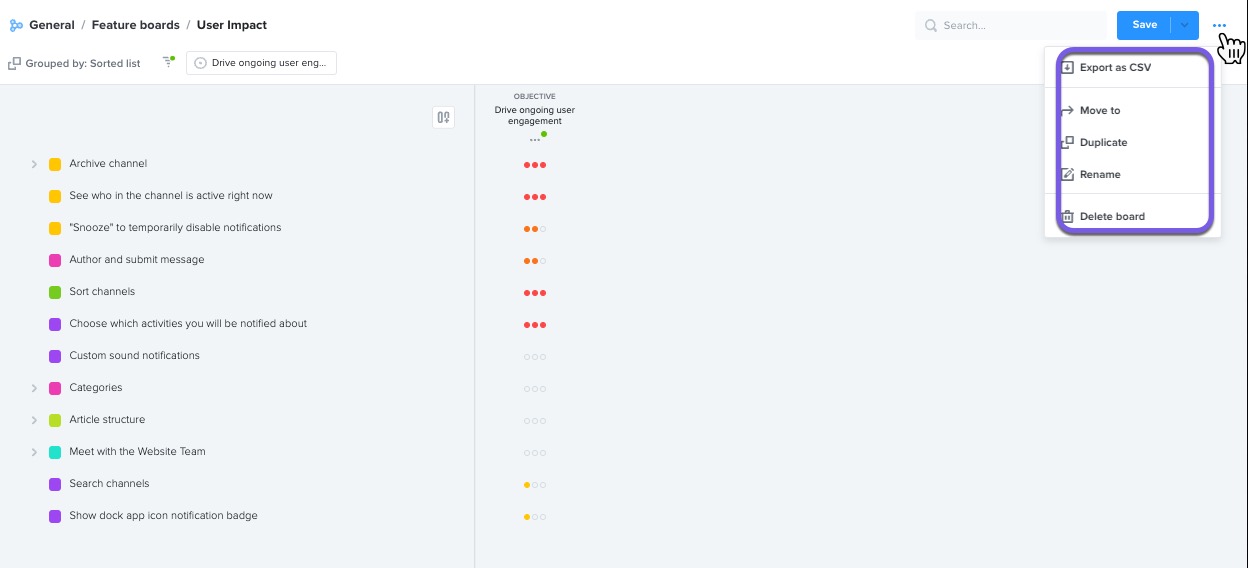 Moving a saved board
Once you've saved a board, you can move it between folders and teamspaces.
To move a saved board: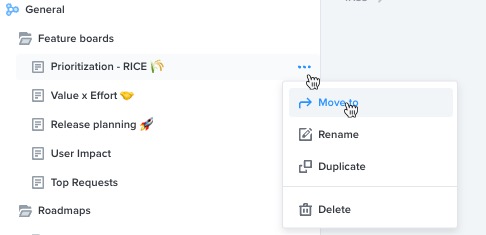 Click the  next to the board's name.
Click Move to from the dropdown menu.
Select the location you would like to move the board too. 
Sharing a saved board
Once you've saved your board, you can share it by clicking the Share button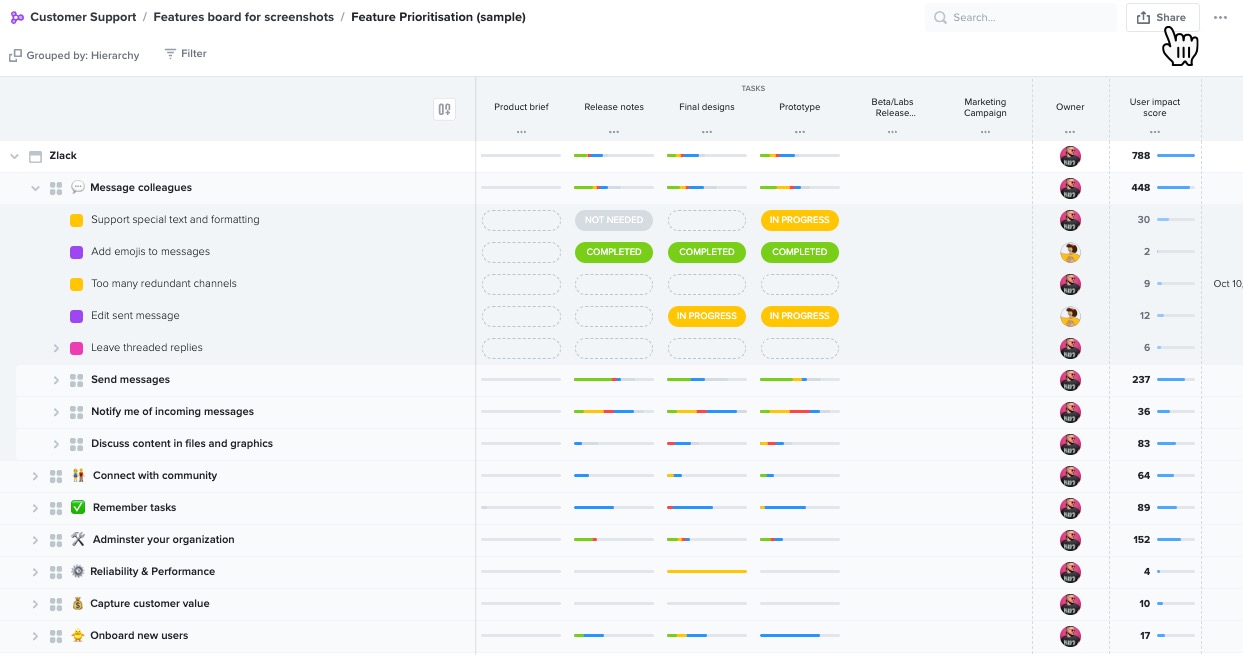 Using custom sharing settings 
You can access custom sharing settings by clicking the share button: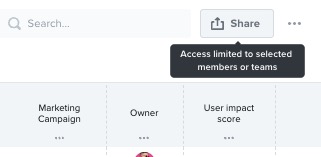 By default, boards are private, with access limited to the person who created it.
You can share a board with certain individuals invited as members in your workspace or everyone assigned to a certain team.
Alternatively, you can share a board with a specific role, for example, all makers, or contributors as well.
When you share a board with others, it will also show up in their list of boards.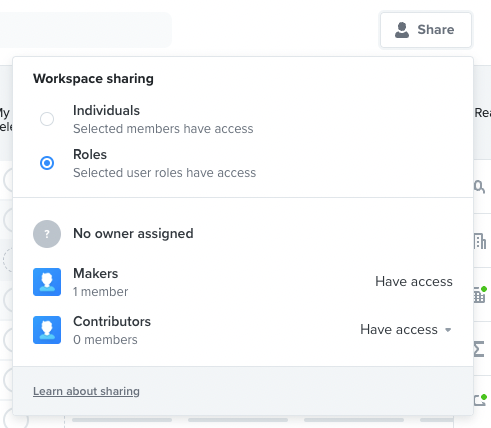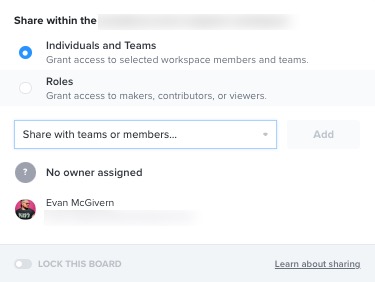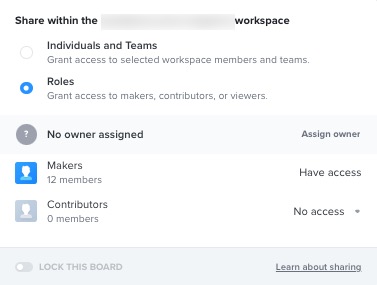 Which roles can edit saved boards::
Contributors can't update boards shared with them, nor can they create new boards.
Makers can update boards shared with them, and any changes they save will be visible to all.
When makers change an existing board, the change will only be visible to others when saved.
Note: You can limit makers from updating boards and saving changes by locking boards.
See also: