Product marketing plays a critical role in bringing a product to market successfully. And to do so, they need to work efficiently, collaborate with other teams, and stay on top of user needs and what's being released next. This is where Productboard comes in. If you're a product marketing manager looking to optimize your use of Productboard, here are some best practices to help you get started.
In this article:
Inform product marketing plans with customer insights
Productboard makes it easy to collect user feedback and incorporate it into your product marketing strategy. Use Productboard to create Insight boards, where users can submit feature requests, bug reports, and other feedback. You can also use Productboard to analyze user feedback and identify trends, so you can make data-driven decisions about your product positioning and messaging.


For more information, see Use Insights boards to group related notes
Go deep with VIP customers
Productboard provides a wealth of data and insights to help you make informed decisions about your product marketing strategy. You can use Productboard's customer board to better understand your customers and their needs. The customer board allows you to collect and organize customer feedback, feature requests, and insights from customer conversations, surveys, and interviews. By creating customer segments and personas, you can identify patterns and trends in customer behavior and preferences and prioritize the features and improvements that will significantly impact customer satisfaction and retention. Additionally, the customer board can help you communicate the value of the product to potential customers by providing insights into the specific pain points and needs of different customer segments. By leveraging the customer board in your decision-making processes, you can ensure that you are creating and promoting products that meet the needs and expectations of your customers.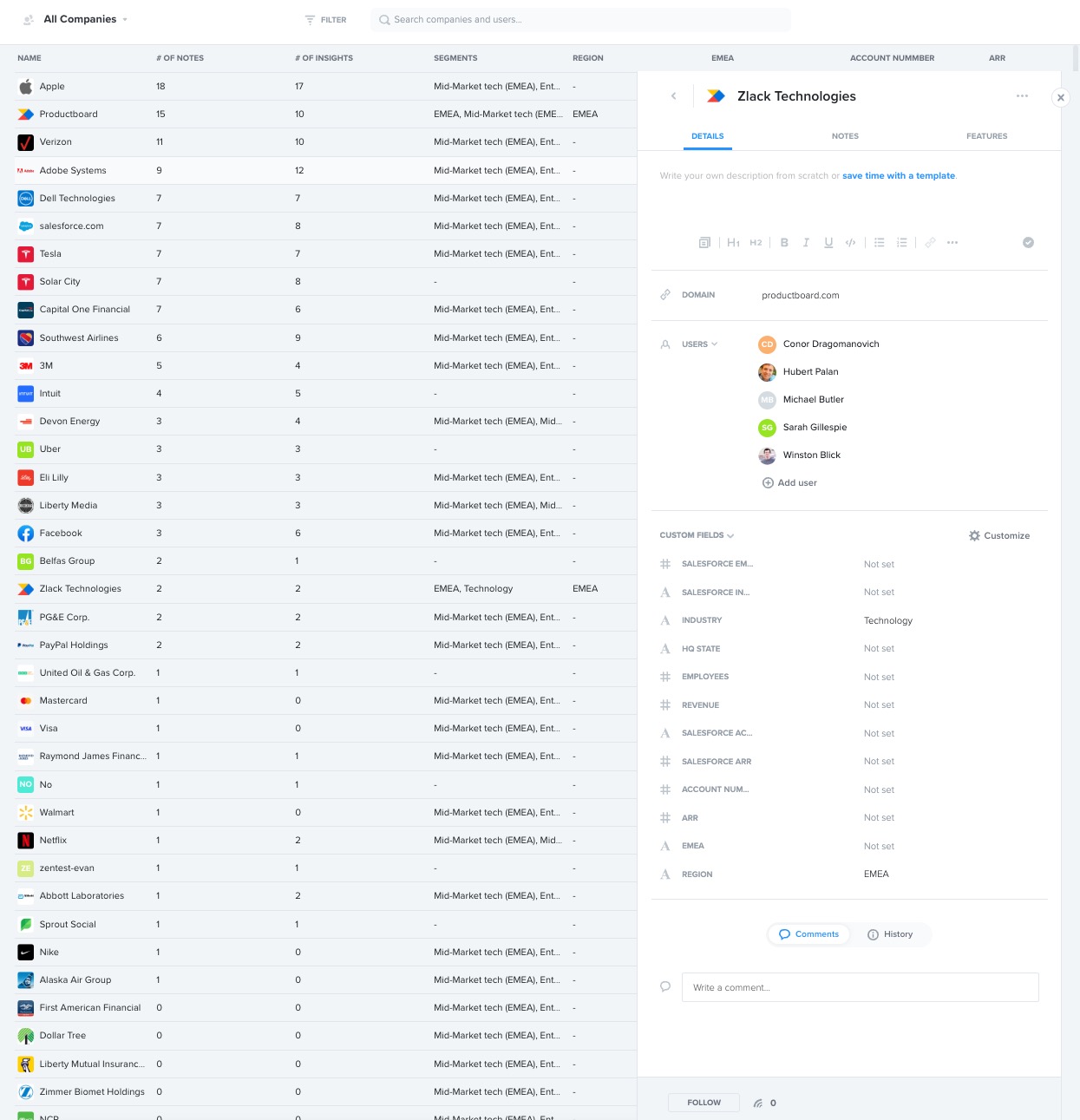 Prioritize and focus on the right features and initiatives
Productboard helps you prioritize your features and initiatives based on user feedback, market trends, and other factors. As a product marketing manager, you'll want to focus on the features and initiatives that are most likely to drive adoption and revenue. Use Productboard's prioritization tools to make sure you're working on the most important items first.

For more information, see Use the user impact score to surface your top-requested features.
Collaborate across EPD and GTM teams
Productboard is designed to facilitate collaboration between teams, including product marketing, product, design, and customer support. Use the teamspaces and folders to share information, get feedback, and stay aligned with other teams. For example, you can use Productboard to share your product positioning with the product team, so they can ensure that the product features and user experience align with your messaging.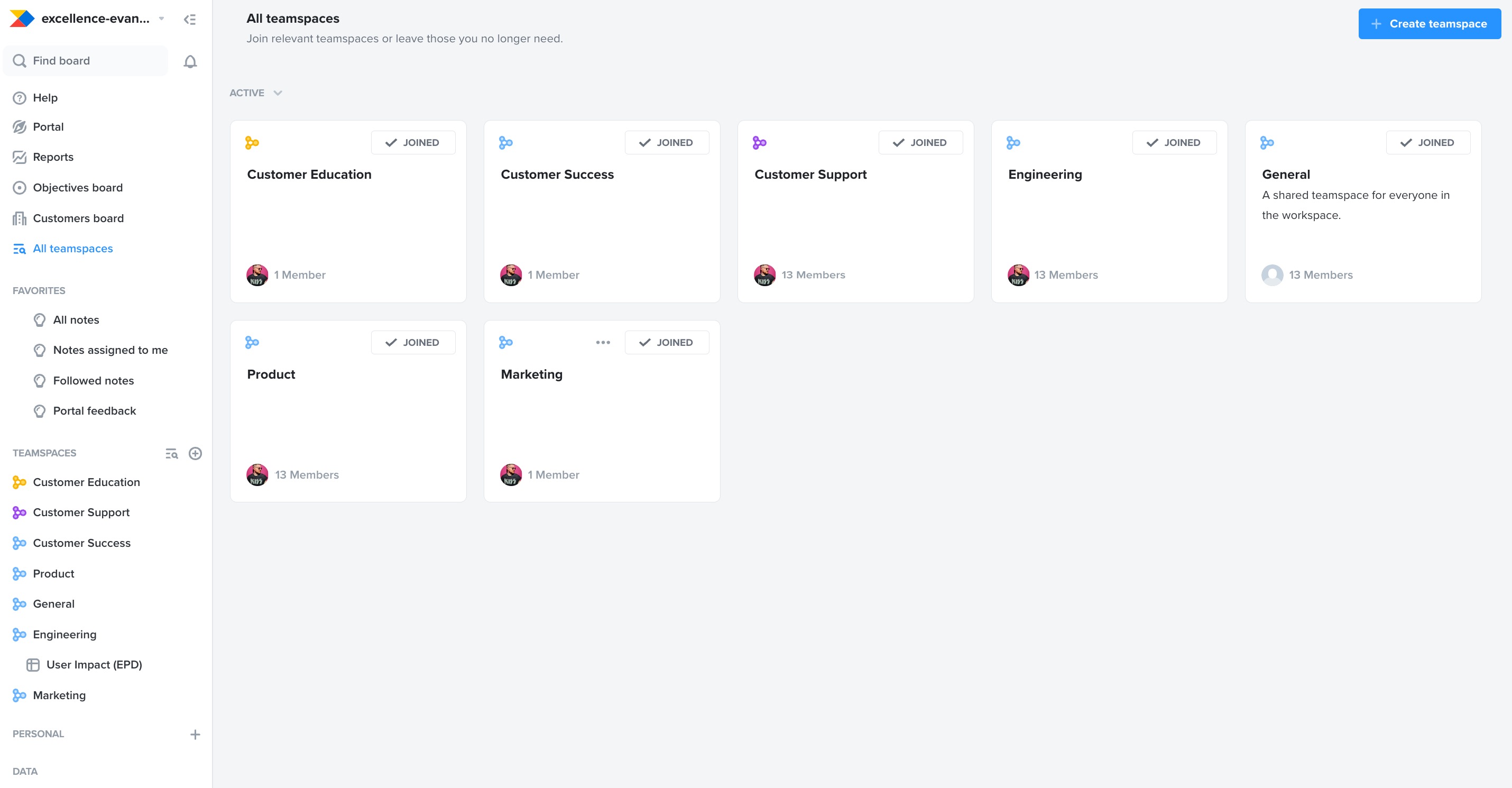 For more information, see Getting started with Productboard teamspaces.
By following these best practices, you can make the most of Productboard and improve your product marketing team's productivity and collaboration. With its powerful features and easy-to-use interface, Productboard is the perfect tool for managing your product marketing strategy.
school

Productboard Academy Content

To further enhance your Productboard skills and explore advanced features, we invite you to check out the Productboard Academy. It offers a wide range of courses and webinars curated specifically for product marketing managers like you, helping you extract the maximum value from the platform. So, don't hesitate to dive into the Productboard Academy and continue your journey towards becoming a Productboard power user.