Available on Scale and Enterprise plans.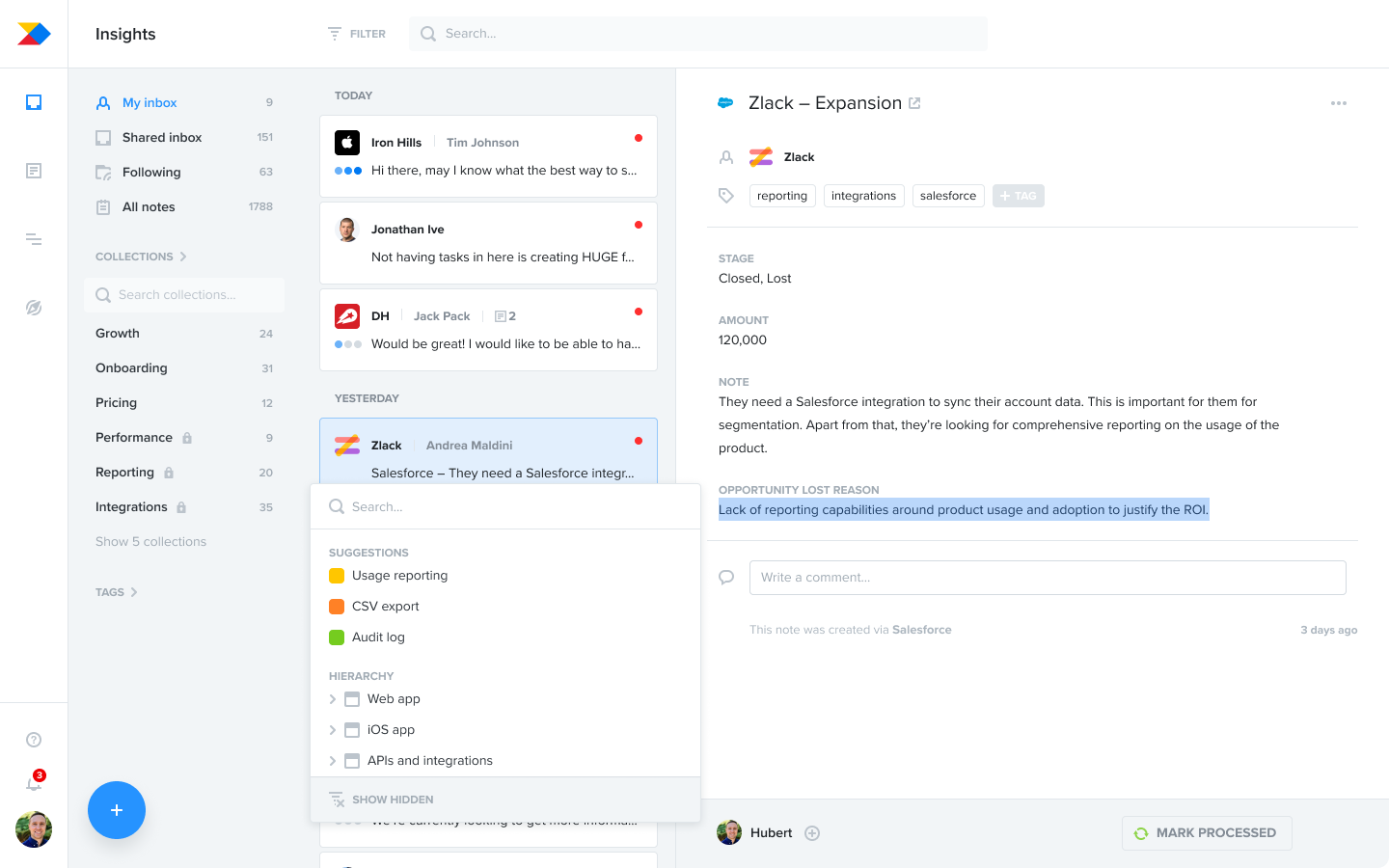 Note: This article concerns a feature in beta. If you're on a Scale or Enterprise plan, already using Salesforce opportunities and Productboard Insights, contact us here.
This article explains how to import opportunity data from Salesforce into Productboard. We'll automatically bring recently closed opportunities into Productboard, where they will appear as notes on your Insights board.
In this article:
How to import opportunities into Productboard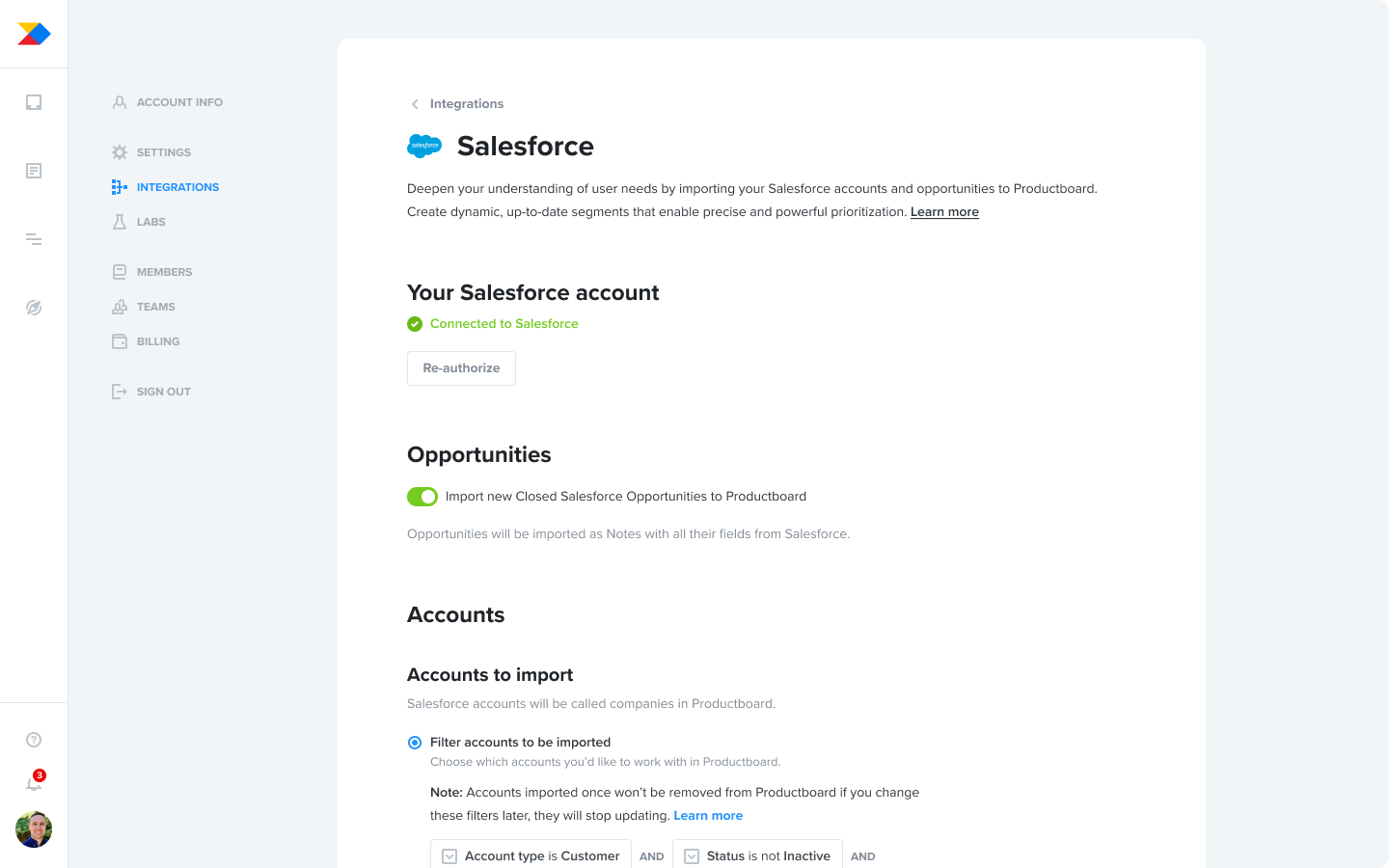 Click the avatar in the bottom left corner to access your main menu. Click

Integrations.
Scroll to the

CRMs

section.
Click on the Salesforce integration you've configured. (See Set up your Salesforce integration)
Under Opportunities, toggle on Import New Closed Salesforce Opportunities.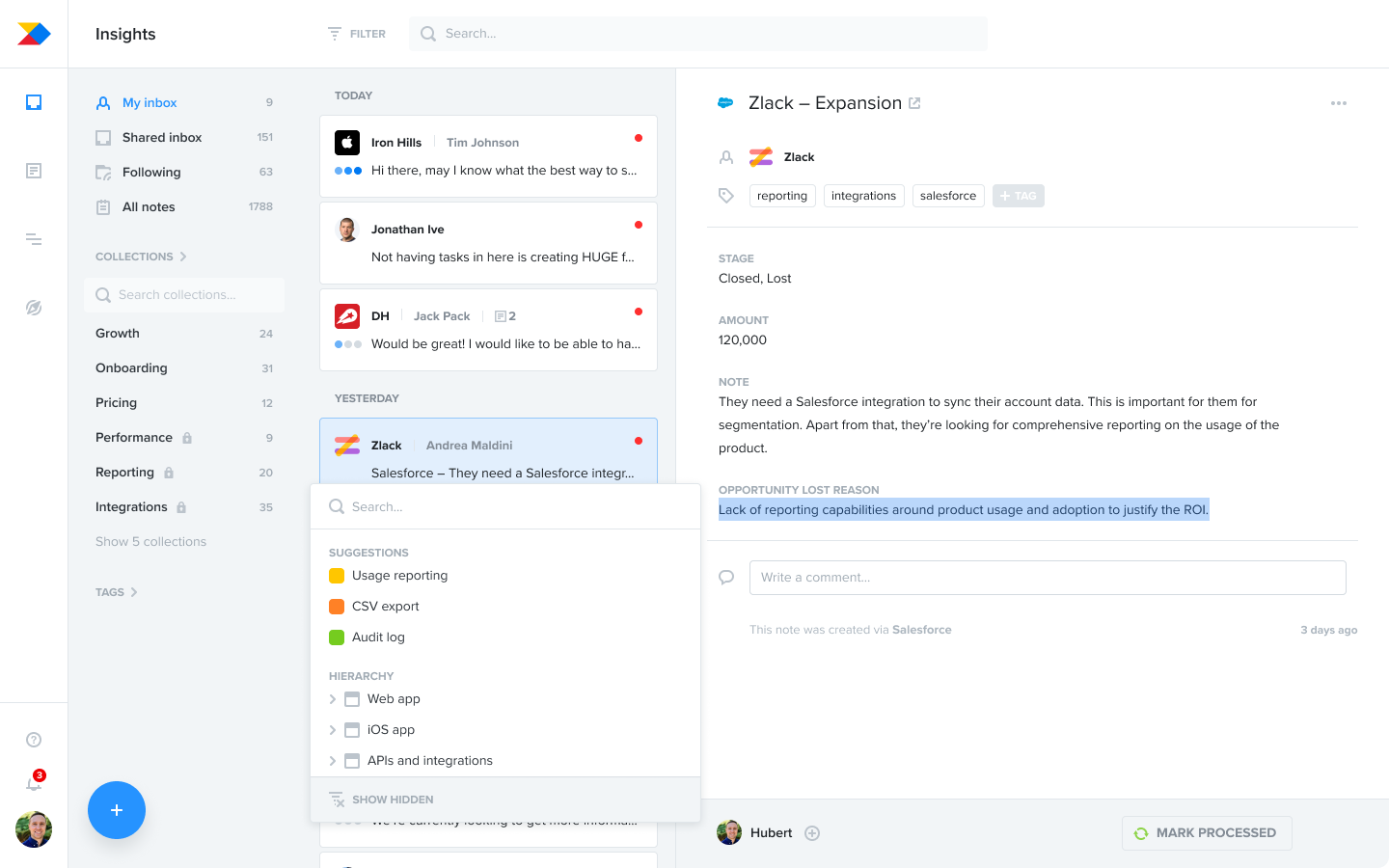 Your recently closed opportunities will appear automatically in your Insights board.
Highlight feedback from Salesforce opportunity fields to create Insights.

Need more context? Click the icon next to the note title to dive straight into the Salesforce opportunity.
How to create an Insights collection for all of your opportunities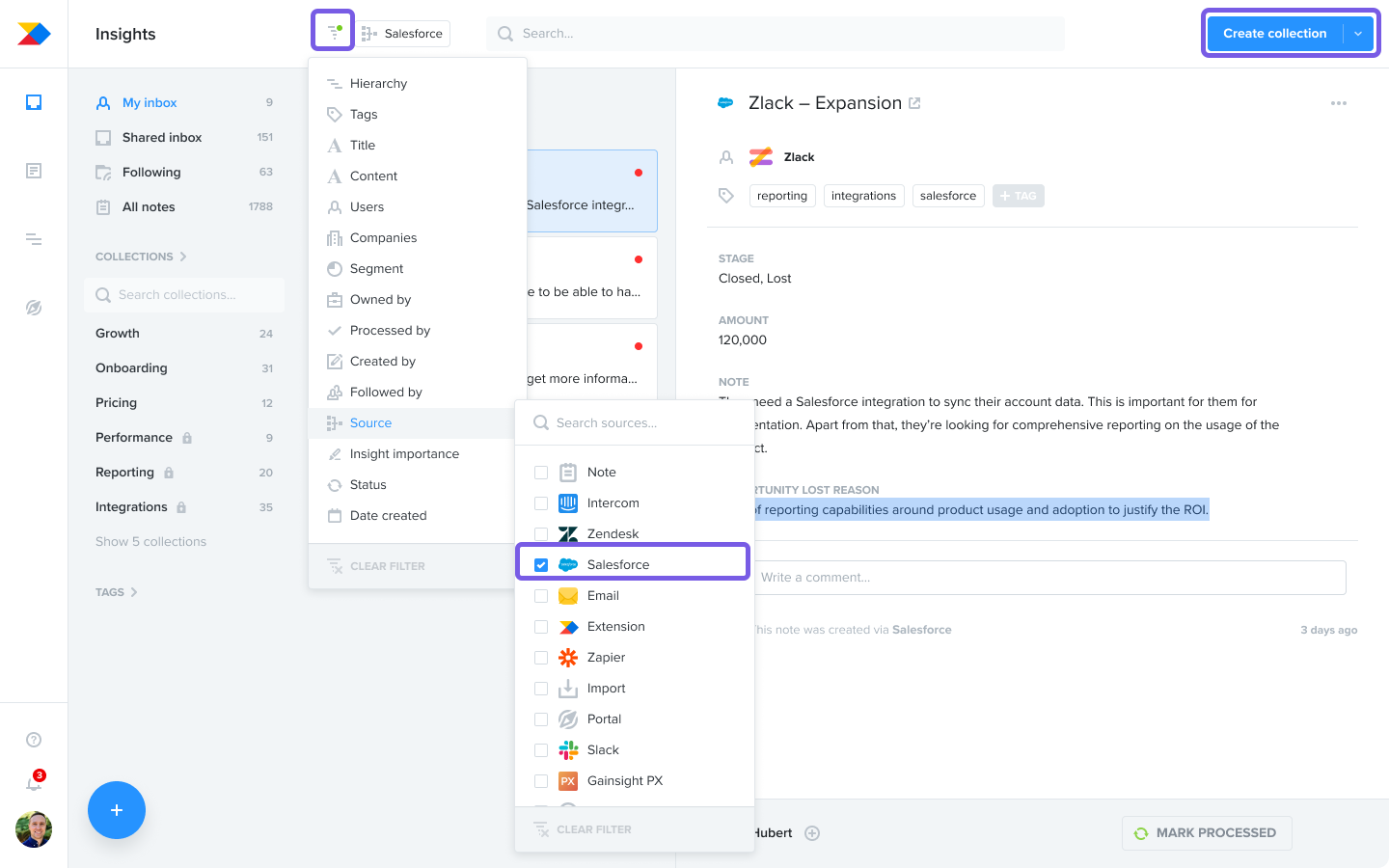 Click on the Filter menu.
Under Source, select Salesforce.
In the top right corner, click Create Collection. For more information about Collections, see here.
How to factor Salesforce opportunities into your prioritization process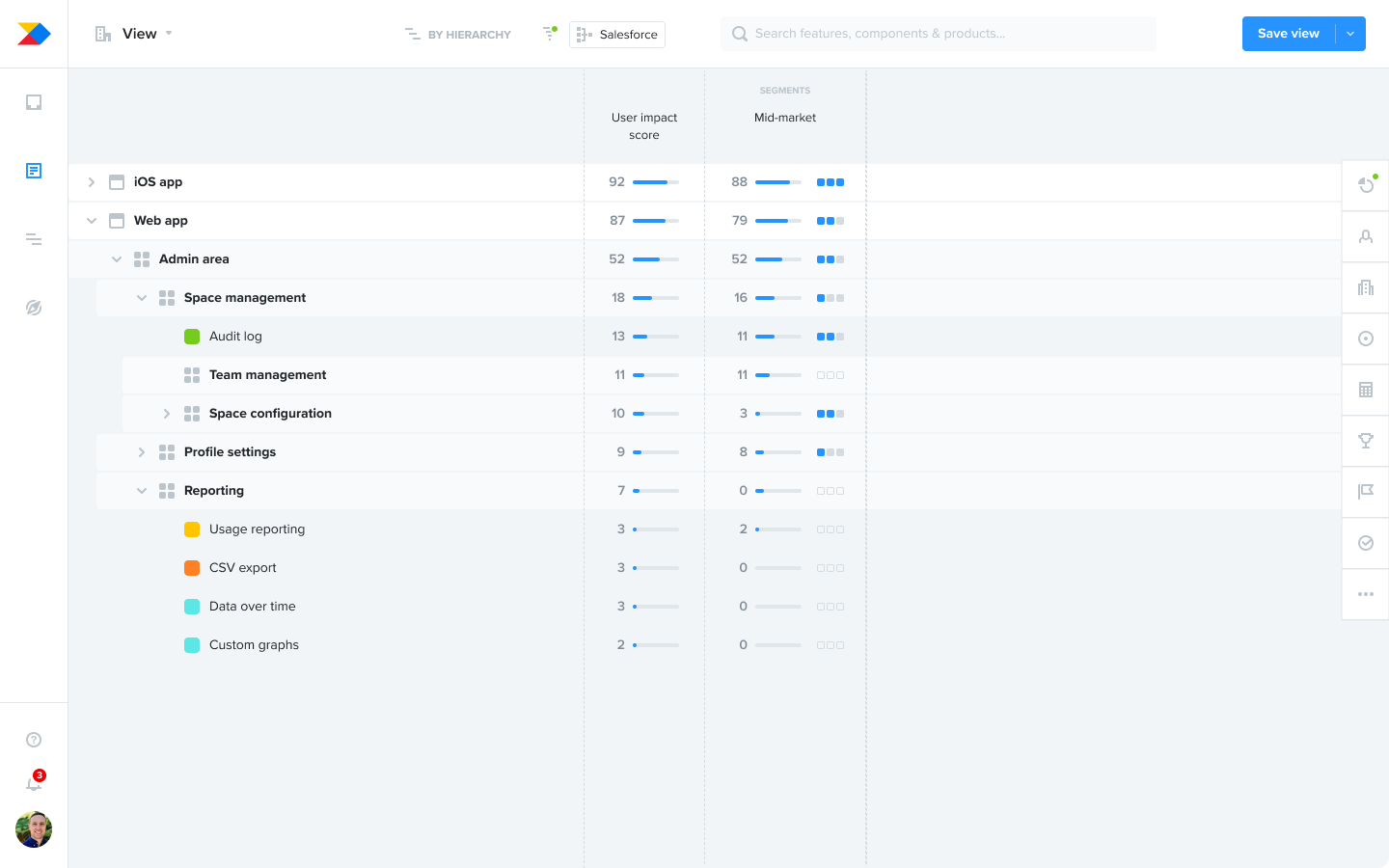 Linking the notes from your Salesforce opportunities to feature ideas (creating insights) generates user impact scores for easier prioritization. Want to see only the user impact scores generated by Salesforce opportunity notes?
On your Features board, click the Filter menu.
Under Source, select Salesforce.
Current limitations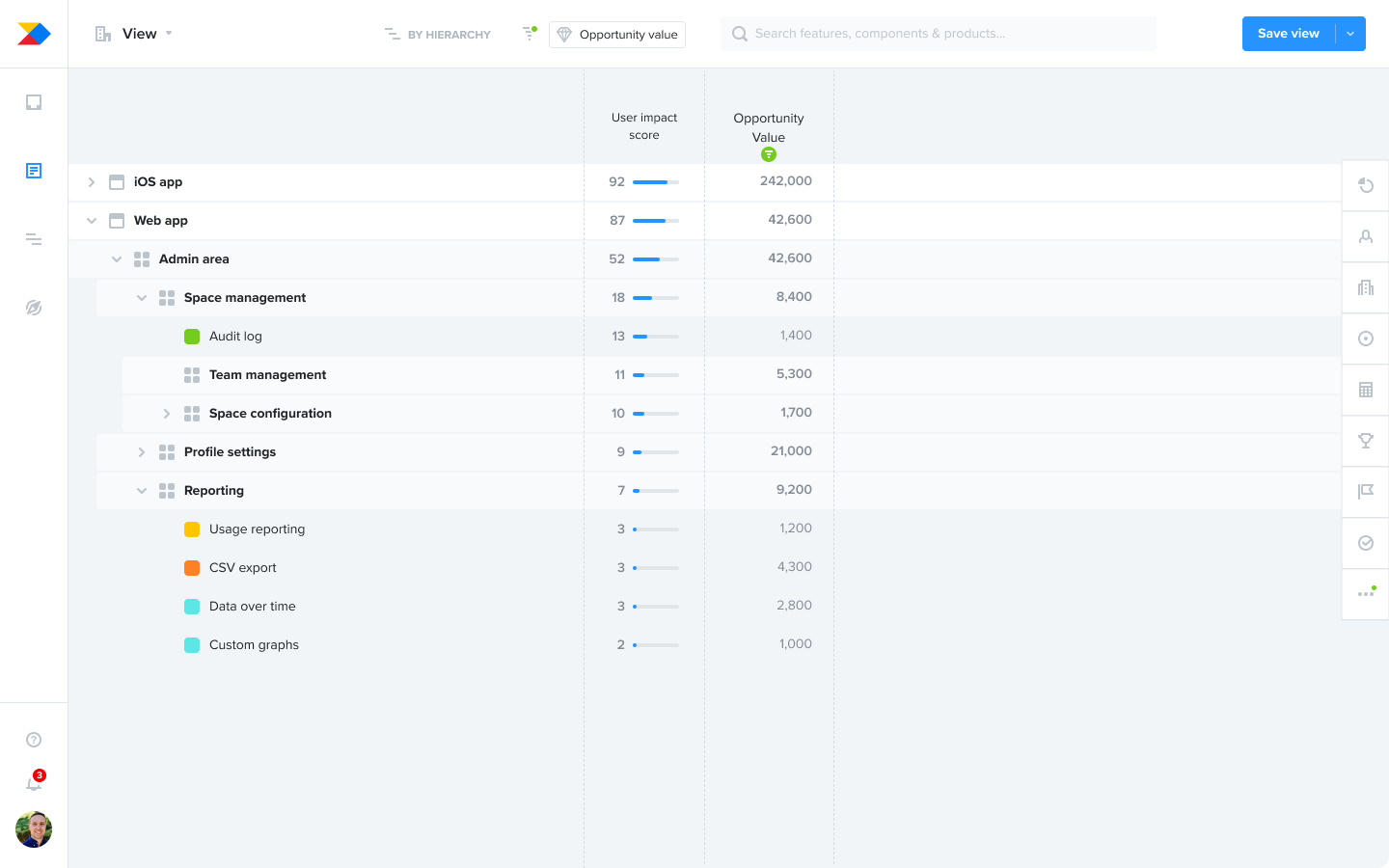 Coming soon: We're working hard to bring you Opportunity value aggregation, so you can understand how your feature ideas translate to the bottom line. 👷‍♀️
Users can only import newly closed opportunities at this time. We hope to allow importation of older closed opportunities!
Users cannot select/filter which opportunity fields will be imported. All opportunity fields with any value will be imported to Productboard. We hope to allow field selection soon.
Reference fields (except Account name and Opportunity owner), location and encrypted fields are not supported.
Frequently asked questions
I don't see newly closed opportunities in Productboard.
Make sure the Salesforce user who authorized the integration has the following permissions:

Push topics - Create, Read, Update, Delete (found under Salesforce Setup > Users > Profiles)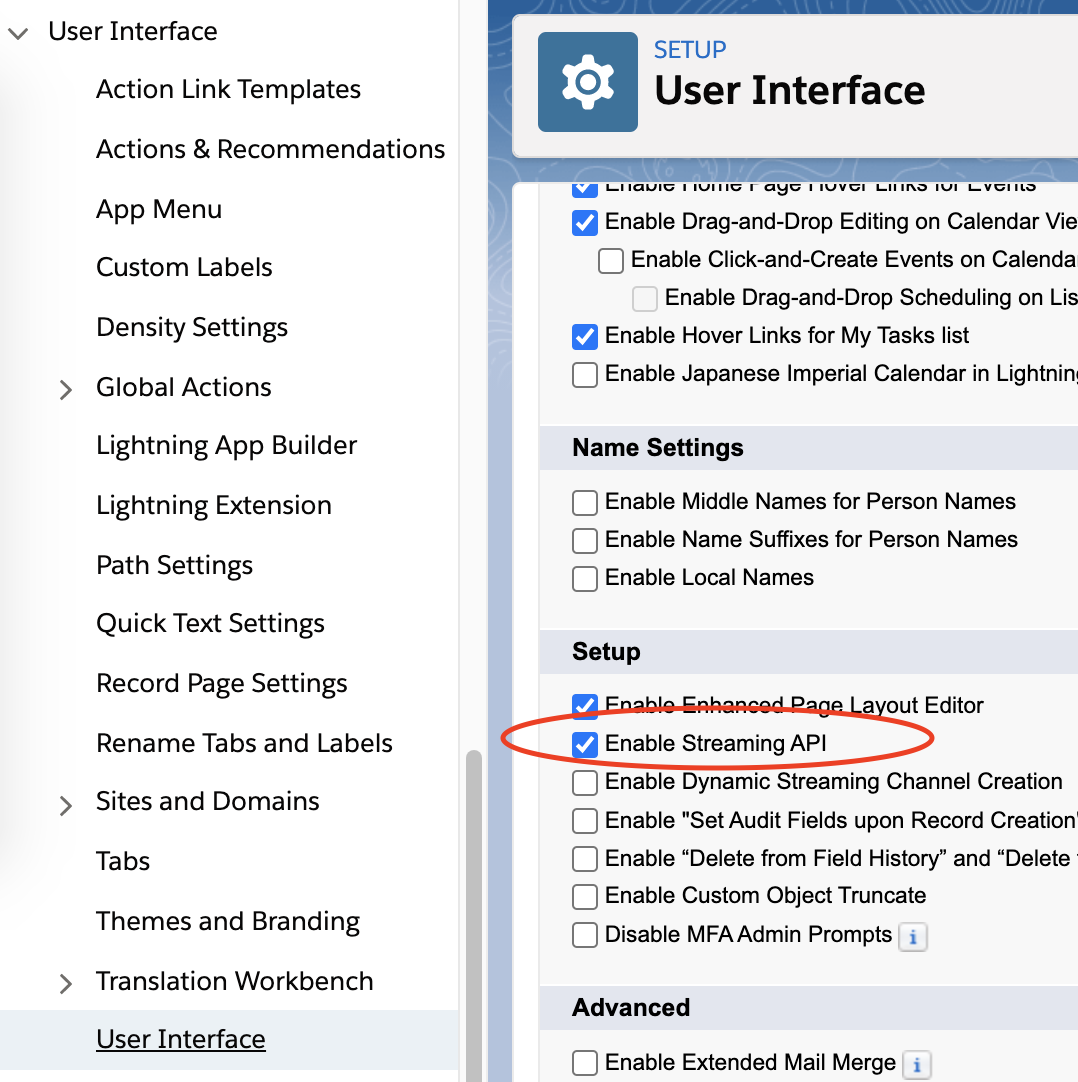 Make sure your Salesforce instance has the following enabled:
Streaming API (found under Salesforce Setup > User Interface > User interface)
This permission is enabled by default, but an admin might have changed it.
Learn more: