At Productboard, the most active users of our product are product managers (PMs). While designers and developers are some of the key contributors to the workspace, their usage isn't as high as those of PMs. In order to empathize with our users and build a great product, it's beneficial for designers to also become power users of the product. Here are some tips our product designers share on how to master Productboard and integrate it into their day-to-day workflow.
In this article:
Start by talking to your team
As Productboard is a tool for product management, designers can first talk to their PMs about getting more out of Productboard on a daily basis. There are a couple of areas in product management where designers can share some of the responsibilities that traditionally fall under PMs. In this article, we provide a list of where designers can find the use of Productboard very helpful.
1. Process incoming feedback
Best practice: Use Productboard for writing down the notes from research sessions with customers.
Create note views around things you care about, such as customer segments or usability issues, or ask your PM if they already have a view they can share with you. For more information, see the article Use note views to group related notes
Check out the latest trends to identify trends in collected feedback. This can be useful for understanding the usability and UX issues of your product, and seeing your customers' feedback linked to an improvement can help to build a stronger case for investing in the usability of your product.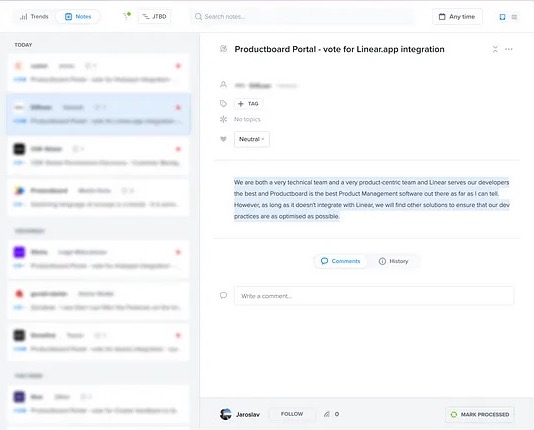 2. Understand hierarchy and structure
Know your hierarchy - There are tons of great ideas for your relevant domain captured in Productboard already, so having a PM walk you through it might be a great way to learn.
Create a Features board with the stuff you care about by filtering by your domain or by feature ideas, to have an overview and better understanding of the product structure and what features and subfeatures you have there. This will help with processing notes and knowing where each note should be linked or if a new feature should be created. For more information on feature boards, see the article Use views to capture common Features board configurations.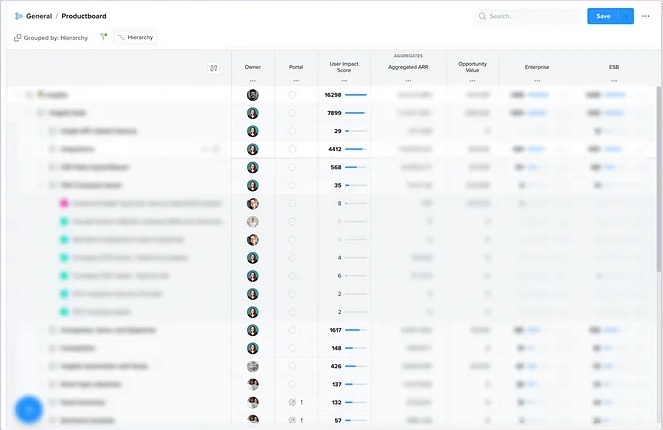 3. Plan and monitor delivery
Do your grooming and sprint planning prep in Productboard. Create a Features board grouped by release for your team. You can return to it regularly to see what's coming in the next sprints, and what still needs design, and update it.
For things going into delivery, try documenting them in their feature descriptions in Productboard: Collaborate with your PM on writing the acceptance criteria, and link the right designs and specs in the feature description by embedding content in the Productboard Editor . This will make it when you push features to Jira. For more information, see Pushing features and subfeatures into Jira
Create a custom task on your features hierarchy for "Design" so you know where design is needed to plan your activities. For more information, see Track Tasks for each feature
4. Recruit customers for research
Designers can also use Productboard to recruit interview candidates who are customers. You can do this without going through the spreadsheets using the Customer Board to see related customer context.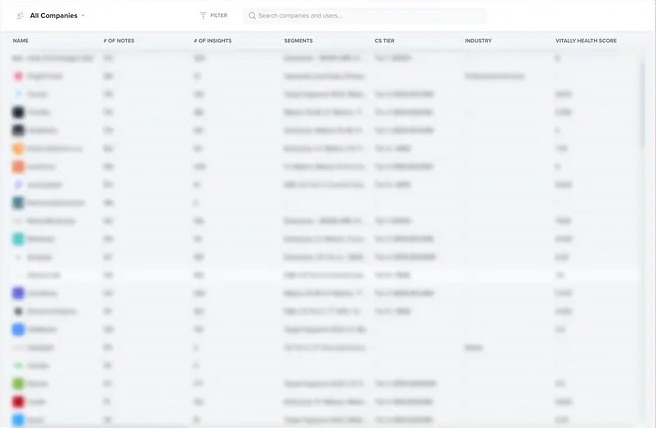 Building an interview candidates list
When you are working on a feature, go through the insights linked to it and build a list of interview candidates for the discovery and validation phases, as individual insights come directly from your customers.
Segmenting interview candidates
Segment interview candidates based on the data we have about the companies they work at. Segmenting can be by:
Employee size
Persona
Pricing plan
Whether they are a power user, or not
Tip: Look up the person from whom we have the insight on LinkedIn to see their job title. This is also useful to see if they are still working at the company.
Customer status
It is preferred to interview your current customers.
whatever else you think is valuable for your specific project
Our integrations with Mixpanel and Amplitude help you to define filters based on the data points you gather.
5. Tracking design system work
Productboard receives a diverse range of feedback, including feedback from your customers on specific components, and attributes such as legibility, contrast, color, and in-app text. Internally, designers discuss these aspects of the product during design critiques.
As a designer, you can push this feedback and link insights to your hierarchy that captures the structure of your Design system. This has been made even easier to do with our new FigJam integration, to ensure the output from your collaborative sessions is actioned on and incorporated into your product's plans.
Getting it into the habit
Just like any new habit takes time to form, making Productboard part of your day-to-day workflow requires dedicated time and effort. What would make this process easier is if the whole team uses Productboard together during any stage of product development. After all, Productboard is best when it is used with the whole team. Which will help you design and build products that meet and exceed your customers' needs.
school

Productboard Academy Content

To further enhance your Productboard skills and explore advanced features, we invite you to check out the Productboard Academy. It offers a wide range of courses and webinars curated specifically for designers like you, helping you extract the maximum value from the platform. So, don't hesitate to dive into the Productboard Academy and continue your journey towards becoming a Productboard power user. 
See also: